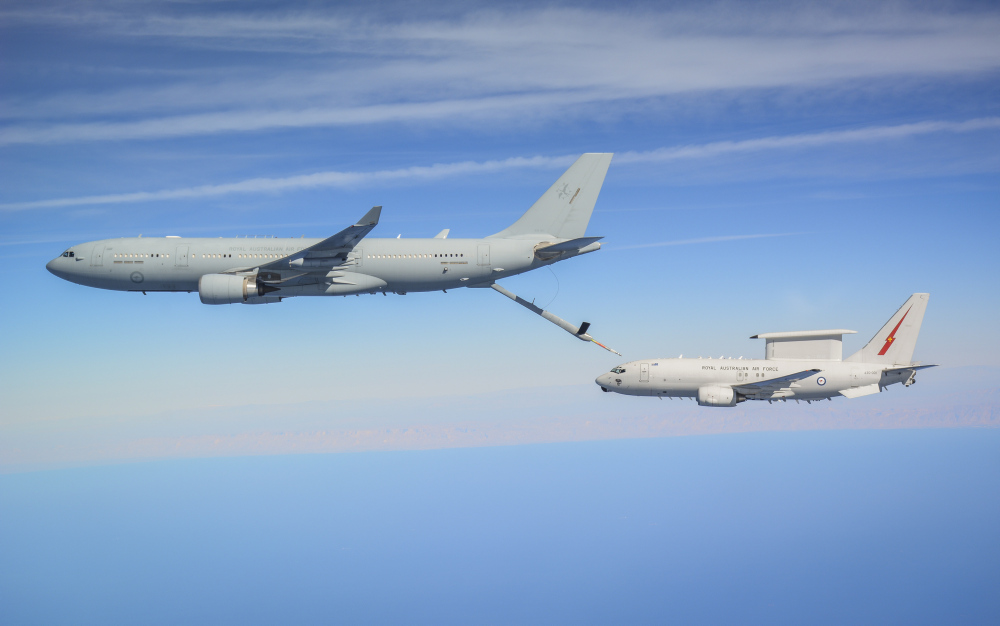 I have had a chance over the past few years to visit Williamtown Airbase several times and to interview those involved with standing up and evolving the capability of the Wedgetail within the Australian forces.
The Wedgetail has gone from being a troubled program to a trailblazing one in many ways.
The Wedgetail has been extensively involved in Middle East operations and recent Red Flags where the RAF could get a good first-hand look at the aircraft.
It is often referred to as an AWACS but is much more than that given the nature of its combat systems and its workflow configuration.
It is really a C2 and ISR aircraft with evolving tron warfare capabilities rolled into one.
And as a software upgradeable aircraft, those capabilities are evolving over time and in correlation with the evolving threat environments as well.
And with the Aussies and the Brits both operating P-8s, there is a clear opportunity to work the two platforms in a coordinated fashion.
Here is what Group Captain Bellingham, former 42nd Wing Commander,  had to say about that dynamic during my visit to Australia in August 2017.
Question: When we went to Fallon, it was clear that if the TTP efforts could be combined with software code rewrite at a place like NAWDC, the Navy's path to a kill web would be accelerated.
What is your thought about that kind of cross-linking?
Group Captain Stuart Bellingham: "It is essential.
"As we pair up the new platforms and sort through how to work together, we will shape the TTPs, for example, operating P-8s and Wedgetails.
"As our procedures evolve, we need to rewrite the software on each platform to maximize the ability to work together.
"In fact, later this year we are holding our first two day working sessions between the P-8 and Wedgetail communities which will be a foundation towards working towards that goal.
"When one looks towards the prospects of high tempo and high intensity operations, we will need well developed interoperability and that requires the new platforms, TTPs and software development all working hand in hand before we are in combat.
"Otherwise, we are at significant risk.
"If we can already have the same base line for how our ones and zeros communicate, that's half the battle to get there.
"Then we can just develop and evolve from that.
"I think it's going to be increasingly important.
Not surprisingly, the RAF is thinking along similar lines. 
In my visit to the ISTAR Force Commander at RAF Waddington in 2016, Air Commodore Dean Andrew took a very forward leaning look, one in which a platform like Wedgetail would fit into nicely.
"Both the F35 and P8-A are hugely software driven, which offers tremendous opportunity for connected computer generated training in federated systems – perhaps linked together as spokes to an overall ISTAR synthetic training hub which includes all of the other capabilities in the ISTAR Force."
We discussed the idea that as the core platforms are replaced by an all software upgradeable fleet, the possibility could exist to put the platforms in competition with one another for modernization upgrades.
"Which upgrade gets the priority for which platform to make the greatest contribution to the integrated ISTAR capability are the sort of decisions that should lie with the ISTAR Force in the future – it is at Force level, not within individual programmes and projects that the overall capability benefit can be seen and prioritized."
Now the UK Ministry of Defence has publicly acknowledged that it is seriously looking to acquire Wedgetail as part of its ISTAR force.
In a piece published on the MoD website on October 3, 2018, the approach was highlighted.
Speaking ahead of this week's NATO conference, Defence Secretary Gavin Williamson has announced that the Ministry of Defence is in discussion with Boeing and the Royal Australian Air Force about the potential for the E-7 Wedgetail radar aircraft to replace the current Sentry fleet.
 The E-7 Wedgetail Airborne Early Warning and Control (AEW&C) System is able to fly for long periods of time and manage the battlespace from the sky, providing situational awareness and tracking multiple airborne and maritime targets at the same time. It then uses the information it gathers to direct other assets like fighter jets and warships. It has already been proven on operations in the battle against Daesh in Iraq and Syria.
Further discussions are set to take place before any investment decision is made, as the MOD follows a stringent approvals process to ensure the aircraft meets the military requirement and represents value-for-money. If selected, UK industry could be involved significantly with the programme, from modification work to through life support.
Speaking ahead of the meeting of Defence Ministers in NATO, Defence Secretary Gavin Williamson said:
"The Wedgetail is the stand-out performer in our pursuit of a new battlespace surveillance aircraft, and has already proved itself in Iraq and Syria. Running air operations from the sky, it could be an excellent asset for the RAF and give us a real edge in this increasingly complex world.
"Our future with Australia will already see us operate the same maritime patrol aircraft, world-class Type 26 warships and supersonic F-35 jets. Wedgetail may join that formidable armoury and help us work together to take on the global threats that we both face."
Following market analysis and discussions with other potential providers, the MOD has concluded that the potential procurement of the E-7 represents the best value for money option for the UK against need, whilst representing a significant opportunity for increased defence cooperation and collaboration with our key ally Australia.
The MOD will work closely with Boeing to ensure Britain's leading defence industry could also benefit from any deal.
Named after Australia's largest bird of prey, the wedge-tailed eagle, the high-performing aircraft has been proven on operations with the Royal Australian Air Force, having seen action against Daesh over Syria and Iraq and impressing US Forces in the 'Red Flag' series of large-scale exercises.
The Wedgetail uses a standard Boeing 737 airliner modified to carry a sophisticated Northrop Grumman active electronically-scanned radar and can cover four million square kilometres over a single 10-hour period. If selected, it would replace the E-3D Sentry, which entered service in 1992.
It is a proven and reliable aircraft that has been in-Service with the Royal Australian Air Force for some time, with potential to considerably reduce the risk normally associated with acquiring a complex new platform of this nature. The aircraft is based on the Boeing 737 airliner family as is the P-8A Poseidon maritime patrol aircraft due to enter service in 2019.
The news represents a further development of the UK's increasingly close military capability and industrial relationship with Australia, who recently selected the British Type 26 design for its future frigate. That decision confirmed the UK's world-leading ship design capabilities, whilst strengthening collaboration in anti-submarine warfare and demonstrating the value of the global five-eyes partnership.
With its proven interoperability, the Wedgetail could also link up with the RAF's latest arrival, the F-35 Lightning, providing pilots with the latest intelligence and situational awareness demonstrating how a modernised next generation Air Force can fight and win in an increasingly complex and dangerous environment, characterised by high speed and low observability.
With Australia also a partner in the F-35 programme, the RAF and the Royal Australian Air Force will have further opportunities to work together across platforms and with other allies such as the United States to share and collect data and conduct joint training missions, all leading to faster, more effective and more integrated combat forces.
The featured photo shows a E-7A Wedgetail preparing to refuel with a KC-30A Multi Role Tanker Transport as part of an air-to-air opperation during Operation OKRA. November 25, 2017. Credit: Australian Department of Defence.
A recent article by Max Blenkin published in Australian Aviation on October 3, 2018 provided further details on the possible acquisition.
Minister Pyne and Defence Industry Minister Steve Ciobo said this would further deepen Australia's relationship with the UK and was an endorsement of a crucial part of Australia's air combat capability.
"The Wedgetail is a great Australian success story, designed for the Royal Australian Air Force with investment by the Australian Government and significant contribution by Australian industry, it is a highly advanced world-best aircraft," Pyne said.
"Widely recognised as the most advanced aircraft of its type in the Western world, the Wedgetail provides state-of-the-art airborne surveillance, communications and battle management systems."
Pyne said RAAF Wedgetail aircraft, based on the widely-used Boeing 737, had been deployed in the Middle East since October 2014 in support of operations against ISIL, with the aircraft achieving a 98 per cent mission success rate.
He said Australia's experience in operating the Wedgetail presented a significant opportunity to work closely with the UK through cooperative development and industry collaboration.
More than 200 Australian companies had contributed to Wedgetail acquisition and sustainment and stood to benefit from what could become one of Australia's most significant defence exports.
"A UK procurement will add to the global fleet of Wedgetails, already including Australia, Turkey and South Korea, which can be supported and sustained by Australian industry and create hundreds of Australian jobs," Minister Ciobo said….
"Deeper engagement between both countries' defence industries, including through increased exports and industry partnerships, will further strengthen our bilateral relationship with the United Kingdom."
A good article looking at UK replacement options for its aging AWACS fleet can be seen here: