The Australian ARH Replacement Program: The Apache Option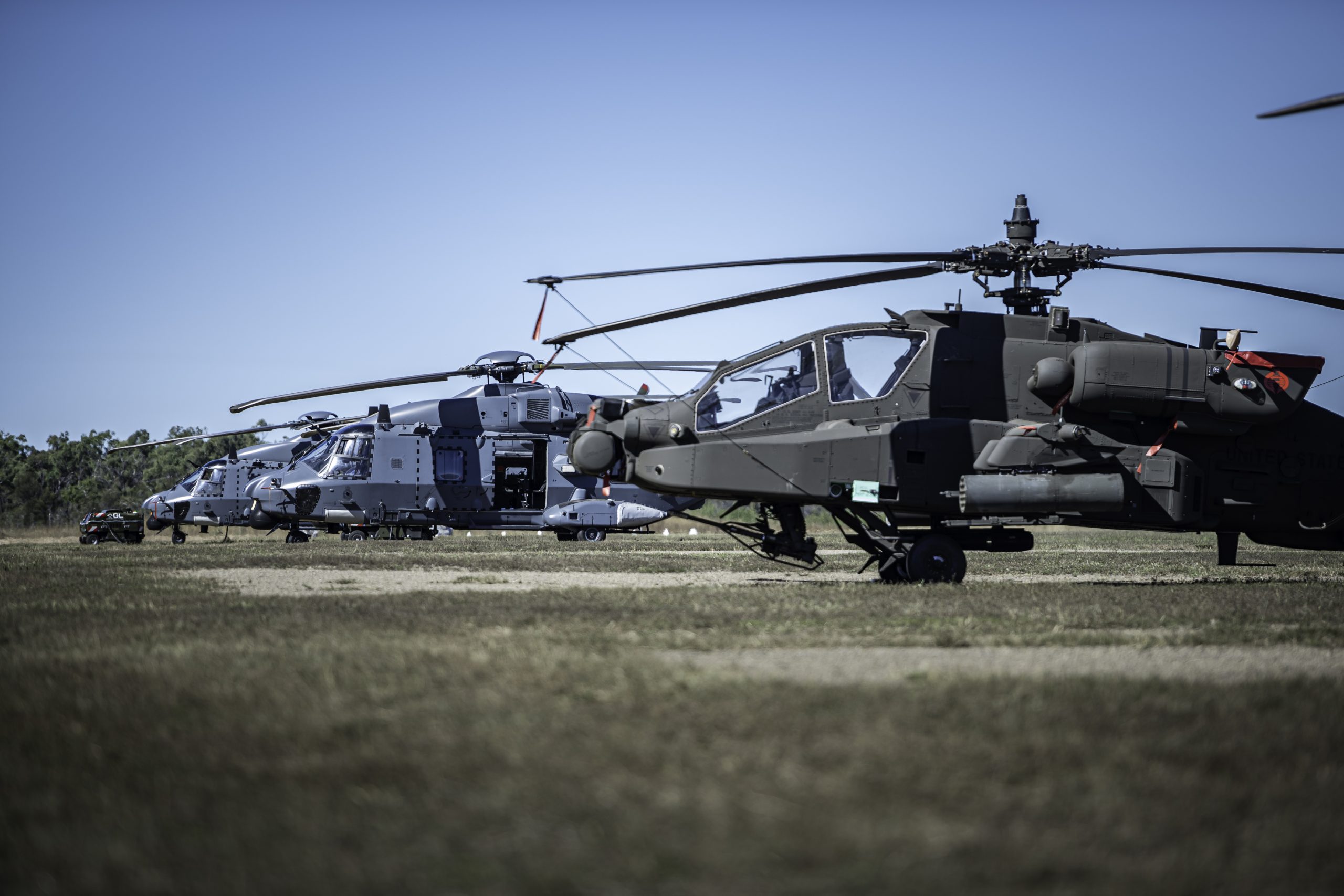 In responding to what he felt was an unfair set of comparisons in the RUSI Australian report on ARH replacement options, Andrew Mathewson, Managing Director, Airbus Australia Pacific, argued: "Does it make sense to spend in excess of four billion dollars on replacing the ARH Tiger fleet with a like-for-like conventional helicopter…."
This may fit a Tiger to Apache discussion, but really does not fit a Tiger to Viper discussion. The Tiger was developed from the outset as a competitor to Apache. The Tiger and Apache were designed for Army concepts of operations. The Viper was designed for USMC concepts of operations which are very different from that of the US Army, and with the dynamics of change within the US Navy's amphibious task force increasingly so.
But I will focus on that in later articles, first by addressing the question of the strategic direction of the Australian Army and then upon the Viper in the evolving USMC concepts of operations and compare the two.
The Apache has several advantages over the Tiger. It is embedded in a very large global force structure.
Not only is it the bedrock US Army attack helicopter, but according to the US Army webpage the Apache has the following FMS partners on the program: Egypt, Greece, India, Indonesia, Israel, Korea, Kuwait, Netherlands, Qatar, Saudi Arabia, Singapore, Taiwan, United Arab Emirates, United Kingdom, Japan and Morocco.
The Australian Army would benefit from US Army upgrades as well as global partners investments in upgrades as well.
The Apache flies with the AN/APG-78 Longbow Fire Control Radar which gives it radar coverage.
But the system was not used in Afghanistan in its designed role for finding and designating targets for its RF Hellfire missiles.
In an August 30, 2019 press release, Boeing provided a press release highlighting the advantages of Apache for the Australian Army.
CANBERRA, Australia,  August 30, 2019 – Boeing today offered the AH-64E Apache to the Commonwealth of Australia in its search for a new reconnaissance helicopter platform.
The government is seeking 29 helicopters that would reach full operating capability by 2029. It's also seeking the availability of local industrial capability to sustain the fleet. The aircraft would replace the nation's current fleet of Eurocopter Tiger helicopters.
The Apache, flown by the United States and 15 other countries, has recorded more than 4.5 million flight hours with the U.S. Army alone. There are currently 1,180 Apaches in service today.
Australia would not only benefit from the AH-64's mission capabilities, it would also enjoy its technological and strategic advantages against adversary aircraft; a global parts and supply network and a domestic training, support and sustainment team. Boeing's Australia operations currently support the nation's C-17 Globemaster III, Airborne Early Warning & Control and other systems, helping to grow Australia's domestic aerospace and defence industry and supply base.
"Boeing's AH-64E Apache is known for its survivability, sustainability, interoperability and reconnaissance capability," said Terry Jamison, Global Sales and Marketing, Defense, Space and Security. "As an Apache operator, Australia would join coalition countries, including the US and UK, and regional partners Singapore, Indonesia, Japan and the Republic of Korea."
Australia would also benefit from the US Government's Apache Modernization program, which will see the platform upgraded through the late-2040s and beyond to ensure global fleet partners continue to operate the most advanced multi-role combat helicopter for decades to come.
Boeing's proposal is in response to a request for information from the Commonwealth of Australia's LAND 4503 Armed Reconnaissance Helicopter (ARH) replacement program.
"The benefits of Apache for Australia are more significant than continued platform upgrades," said Darren Edwards, vice president and managing director, Boeing Defence Australia. "Boeing plans to deliver support services in-country and engage local suppliers to maximise Australian industry involvement for the ARH replacement program."
In a June 29, 2020 article published by Australian Defence Magazine, the focus was upon Boeing's AIC model for the Australian Apache bid.
Boeing says it will replicate its established Australian Industry Content (AIC) model if the AH-64E Apache is selected for Australia's armed reconnaissance helicopter replacement under Land 4503.
Boeing has a network of Australian industry partners on the sustainment and training programs it delivers for rotary and fixed wing aircraft, including F/A-18F Super Hornets, EA-18G Growlers, CH-47F Chinooks, P-8A Poseidons and E-7A Wedgetails.
"We have successfully introduced more platforms acquired through the foreign military sales (FMS) process by the ADF than any other industry partner in Australia," Scott Carpendale, Vice President and Managing Director, Boeing Defence Australia, said. "To ensure success for our customer and Australian industry, we have developed and replicated a model that increases AIC over time."
Boeing has offered the AH-64E Apache for the Land 4503 program and is proposing acquisition through a FMS agreement followed by sustainment and engineering services through a combination of FMS and direct commercial sale.
"Our solution provides the ADF with a proven, military-off-the-shelf platform supported by a low risk, mature sustainment solution that can rapidly achieve initial operational milestones and enable the expansion of in-country sustainment capabilities with Australian industry partners," Carpendale said. "We have maximised in-country services on all of our Australian programs and we will do the same on Land 4503."
To grow AIC on the Land 4503 program, Boeing is establishing the Boeing Rotorcraft Network – Australia (BRN-A) to bring together Australian industry across its rotorcraft programs including the CISS and Helicopter Aircrew Training System programs.
And in an article by Greg Waldron published by Flight Global on September 15, 2020, a virtual media event by Boeing for Australia was highlighted.
The presentation highlighted Apache's "interoperability with a broad number of allies who operate the type, cost certainty under the US government's Foreign Military Sales process, and a long upgrade roadmap stemming from the US Army's plans to operate the type until at least 2060."
Jamison also highlighted that the UK has operated Apache's from vessels at sea, which of course, is similar to how the French have operated their Tigers.
But it is from vessels at sea rather than an integrated part of an air naval task force.
The at sea issue is an important one for both Airbus and Boeing, so there is a clear focus on how their helicopters are expeditionary in a maritime domain.
But to be clear, this is from the sea, not at sea as an integrated maritime strike force element.
Frankly I have spent time in both the UK and France and have discussed at length with relevant military officers how these rotorcraft have been used as part of an assault force from the sea, with clear understanding that they are not designed to be part of what the USMC is focusing upon on its reworking with the US Navy of amphibious task forces.
An article which discusses the "Apache at Sea," was published by ADM on April 5, 2020 provides further details on the from the sea point.
The Apache serves the US Army and how it operates using attack helicopters.
This means that it goes as part of a larger force package, and is supported as part of a force package.
The Apache has been deployed worldwide with the US Army, but as part of a sustained Army presence.
It is not known to operate with a small or even modest logistics support capability.
Some sense of how the US Army uses the Apache as part of a larger force packages was highlighted in the Task Force Hawk operation.
In an article by Ben Lambeth published in Air Force Magazine on February 1, 2002, this aspect was highlighted.
 At first glance, the idea of using Apaches to reinforce NATO's fixed-wing aircraft seemed entirely appropriate, considering that the AH-64 had been acquired by the Army expressly to engage and destroy enemy armor. As Pentagon spokesman Kenneth Bacon put it in announcing the deployment, they would offer NATO "the type of tank-killing capability that the bad weather has denied us. It will give us the capability to get up close and personal to the Milosevic armor units units in Kosovo."
In a normal weapons load, the Apache mounts up to 16 Hellfire anti-tank missiles, 76 folding-fin anti-personnel rockets, and 1,200 rounds of 30 mm armor-piercing ammunition. With that armament, it gained deserved distinction by destroying more than 500 Iraqi armored vehicles during Operation Desert Storm.
Yet in Desert Storm, the Apaches had deployed as an organic component of two fully fielded US Army corps. In this case, the Army was being asked by SACEUR to cobble together an ad hoc task force designed to operate essentially on its own, without the backstopping support of a fielded US ground combat presence in the theater.
The Army is not configured to undertake such ad hoc deployments, and its units do not train for them. Instead, an Apache battalion normally deploys only as a part of a larger Army division or corps, with all of the latter's organically attached elements.
Accordingly, the Army was driven by its own standard operating procedures to supplement the two Apache battalions with a heavy additional contingent of ground forces, air defenses, military engineers, and headquarters overhead. As the core of this larger force complement, now designated Task Force Hawk, the Apaches were drawn from the Army's 11th Aviation Brigade stationed at Illesheim, Germany. The deployment package included, however, not only the two battalions of AH-64s but also 26 UH-60L Black Hawk and CH-47D Chinook helicopters from the 12th Aviation Regiment at Wiesbaden, Germany.
Additional assets whose deployment was deemed essential for supporting the Apaches included a light infantry company; a Multiple Launch Rocket System platoon with three MLRS vehicles; a high-mobility multipurpose wheeled vehicle (humvee) anti-tank company equipped with 38 armed utility vehicles; a military intelligence platoon; a military police platoon; and a combat service support team.
The Army further determined a need for its Apaches to be accompanied by a mechanized infantry company equipped with 14 Bradley armored fighting vehicles; an armor company with 15 M1A2 Abrams main battle tanks; a howitzer battery with eight 155 mm artillery pieces; a construction engineer company; a short-range air defense battery with eight more Bradley armored fighting vehicles armed with Stinger infrared surface-to-air missiles; a smoke generator platoon; a brigade headquarters complement; and diverse other elements. In all, to backstop the deployment of 24 attack helicopters to Albania, Task Force Hawk ended up being accompanied by a support train of no fewer than 5,350 Army personnel.
The Apache solves some of the Tiger issues. The Australian Army would be part of a much larger community than the Tiger community. The Australian Army would have access to a wider range of technologies than with Tiger.
But it is essentially doing the same missions as designed for the Tiger.
It is a question of the like for like replacement, but the advantages of the Apache being part of a larger allied community clearly weighs in the Australian decision makers minds.
But there is a larger question:
What is the role of the Australian Army in the decade ahead and where would either the Tiger or Apache fight in?
Or put another way, is Tiger or Apache the best solution for the evolving ADF and its power projection role in the region and the concomitant role for the Australian Army?