Acquiring C-130Js for the FAF and the Luftwaffe: Building Out Lift Capabilities for a Forward Deployed Force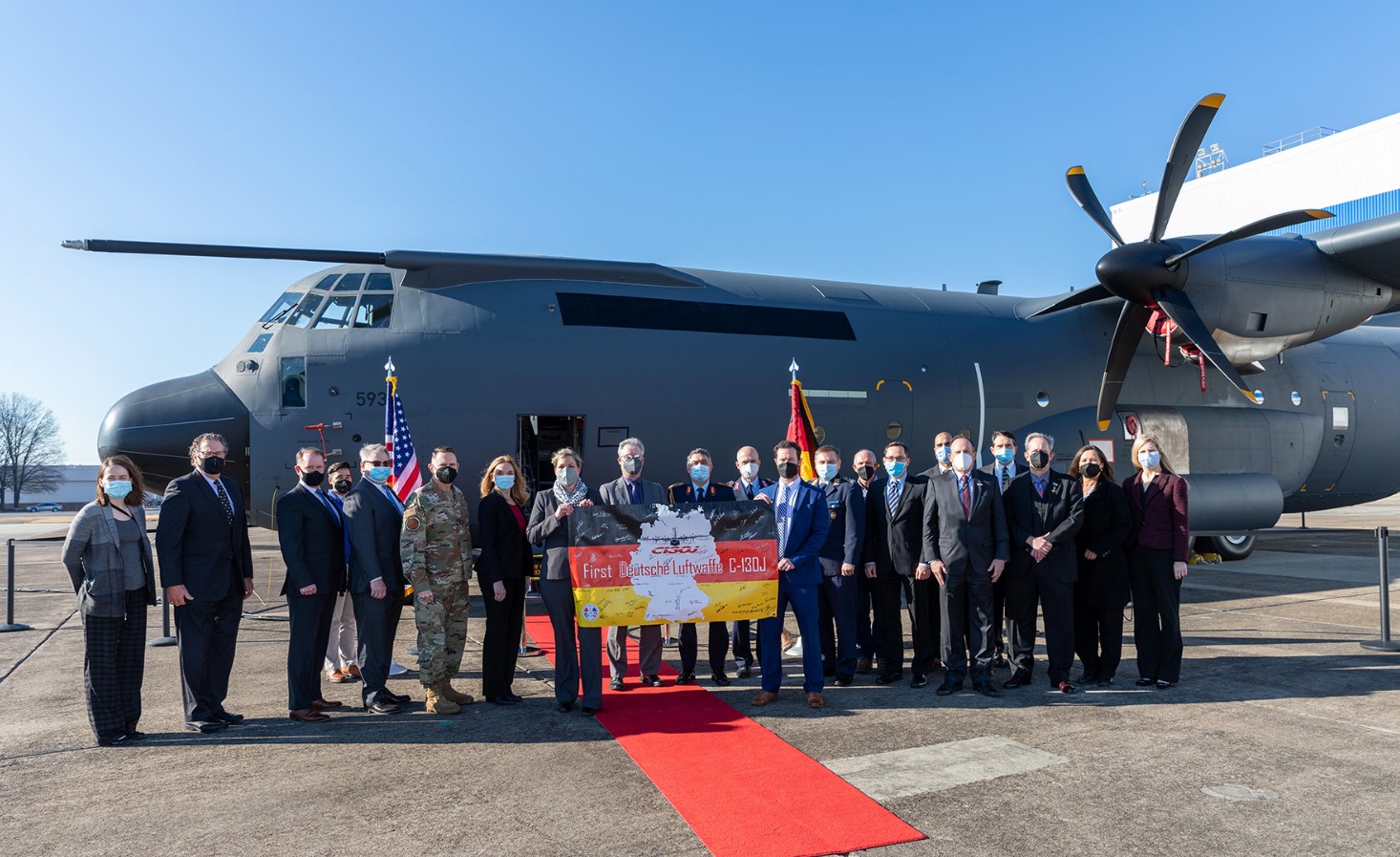 The French and the Germans have built a joint C-130J squadron.
The decision to acquire the aircraft was to provide for a core capability which the A400M did not fill, but was a recognition that a wide-range of lift capability was needed to support forward deployed operations.
In an article which we published on February 8, 2018, we underscored the initial decision and its logic.
In a deal made prior to President Macron becoming President, France and Germany agreed to join forces and share costs of the new squadron.
There will be 4 C130Js on the French side to be acquired by 2019 and 6 on the German side after the Bundestag's expected green light in 2019.
The IOC (Initial operational Capability) is planned for 2021 and the FOC (Full Operational Capability) by 2024.
In a recent piece by Murielle Delaporte published on Breaking Defense, the acquisition of the aircraft and its importance is highlighted.
"To some French observers, purchasing American military transport aircrafts seems like heresy.
"It's an admission of failure of the A400M European adventure, many argue.
"But this nascent fleet of C130Js is really the stepping stone towards a new Franco-German bilateral unit (some refers to it as a squadron) to be based in 2021 at FAB Evreux and symbolizes the drive towards the dream of a true European defense both French President Macron and German Chancellor Merkel aspire to.
"It also marks one of the fastest major military acquisitions in French history. 
"Barely two years passed between approval of the actual FMS contract in January 2016 and the delivery of the first C-130J-30 to France last December at the Lockheed Martin facility in Marietta, Ga.
"The contract includes support, spares and a two-year maintenance program, as well as training in the U.S. centers consisting in 10-month periods for pilots ad loadmasters, and two to three month periods for non-flying staff.
"The training for loadmasters is especially important, as, the same way than on A400M,  that profession is changing while taking over more responsibilities in flight.
"This move was decided with the signing of a pooling and sharing agreement by former French minister of defense Jean-Yves Le Drian and his German counterpart Ursula von der Leyen in April 2016 (hence before Emmanuel Macron became president last June); it was then reinforced with a bilateral cooperation agreement signed between Maj. Gen. Philippe Coindreau and Vice Chief of Defence Vice Adm. Joachim Ruhle in October 2017.
"Concretely, the deal is for both nations to join forces and share costs, i.e. respectively 4 C130Js on the French side to be acquired by 2019 and 6 on the German side consequently to the Bundestag's expected green light in 2019.
"The IOC (Initial Operational Capability) is planned for 2021 and the FOC (Full Operational Capability) for 2024….
"Having several assets with different strong points is actually a bonus in military planning as it offers more options at a time when allied armed forces are especially in demand on very harsh territories.
"For the French Air Force, which has been operating for several years in the Sahara-Sahelien region (with the Barkhane Operation) and over Syria and Irak against terrorist groups (with the Chammal Operation), the A400M, which can carry 30 tons in 6 hours on a flight between Orléans and N'Djamena in Chad, the C-130H-30, which can carry 7 tons in 8 hours, and the C-130J-30, which can carry 10.5 tons in 7 hours, are all complementary.
"They offer self-deployable and self-sustainable assets which France can use on its own or within a coalition of allies, such as Germany and the United States."
Germany received its first of six C-130Js in 2018.
This was less than three years after the German defense procurement agency and the USAF signed the first agreement.
As a Defense Brief article published on February 2, 2022, underscored:
Germany and France intend to operate a joint fleet of C-130Js, which would consist of five C-130J-30 airframes and five KC-130Js. The latter provide an aerial refueling capability. Germany will be contributing to the fleet with three aircraft of each variant.
The binational fleet will fly from Évreux in Normandy, which is home to the French Air Force's 62nd Transport Squadron. This is also where a joint training center is being established by Rheinmetall and Thales under a contract from March 2021.
With more than 40 different versions of the C-130J developed to date, and over 2,500 aircraft in use by 69 countries, the C-130J is the longest-produced aircraft in the world.
Compared to its predecessors, the C-130J reduces manpower requirements, lowers operating and support costs, and provides life-cycle cost savings. Compared to older C-130s, the "J" model climbs faster and higher, flies farther at a higher cruise speed, and takes off and lands in a shorter distance.
Many of the articles discussing the joint acquisition highlight that the J was being purchased to fill the gap which the retirement of the Transall opened up.
But the A400M was procured to fill this gap as well.
So the broader point is that lift is so important with its capability to support a multi-domain force, that you cannot fill the need with simply one platform.
And indeed, the J does things which the A400M cannot do, notably with regard to a wider range of helicopter refueling and an ability to fly into a wider range of landing locations.
And the bi-national squadron has indeed already operated to support forward defense in Europe, which is what I am arguing is the strategic thrust of any German defense reset.
One of the best overviews of the joint decision by France and Germany to acquire the C-130J and to operate as an integrated squadron has been provided by Babak Taghvaee in an April 15, 2022, article published by Aviation News Magazine.
As the author underscored: "Despite currently having just five Super Hercules on strength, this small bi-national squadron has already played a vital role supporting counterterrorism operations across Africa, humanitarian efforts in Afghanistan and now NATO's efforts to enhance the defence of its eastern flank amid the ongoing Russia-Ukraine war."
Taghvaee provided a very accurate assessment of why the aircraft was acquired by both France and Germany.
"Designed primarily as a tactical airlifter, the Airbus A400M is capable of performing a number of secondary roles, including air-to-air refuelling (AAR) using the probeand-drogue method. While the type has already been proven in this role with the GAF by supporting the air arm's Eurofighter Typhoon fleet, the aircraft has remained an unsuitable AAR platform for helicopters.
"This was one of the key factors behind both Germany and France's selection and procurement of the KC-130J, the extendedrange tanker variant of the indomitable C-130 Hercules.
"In 2015, France and Germany chose the Super Hercules as a complementary medium transport asset for its A400Ms, as well as to bridge a capability gap triggered by lengthy delays and numerous overrun costs in the European airlifter's problem plagued programme. However, to reduce the cost of operation and maintenance, it was decided to form a binational squadron."
The author provided details on the aircraft procured by the Luftwaffe.
"The procurement also included eight Link-16 MIDS (multifunctional information distribution system) terminals (one per aircraft, plus two spares), eight AN/ALE 47 electronic countermeasure dispensers (one per aircraft, plus two spares), eight AN/ AAR-47A(V)2 missile warning systems (one per aircraft, plus two spares), eight AN/ ALR-56M radar warning receivers (one per aircraft, plus two spares) and eight MX-20 electro-optical/infrared imaging systems (one per aircraft, plus two spares).
"With Germany opting for the AN/APX-114/119 Identification Friend or Foe Mode 5 for its aircraft, it also requested a joint mission planning system, secure communications, precision navigation and cryptographic equipment, as well as night vision devices, support and test equipment….
"The German Super Hercules are configured with slightly different equipment compared to their French counterparts. The key difference is the installation of an inflight refuelling probe enabling them to receive fuel from the AAE's KC-130Js, Boeing C-135FR Stratotankers and Airbus A330-243MRTT Phénix tankers."
And the author also underscored the role of the newly acquired C-130Js in Germany's engagement in European forward defense.
"This need (for airlift) has been reinforced by the ongoing threat of Russia occupying the southern Ukrainian province of Odessa in an attempt to cut off Ukraine's access to the Black Sea. If Russia were successful, this would effectively landlock Ukraine and cut it off from overseas trade.
"The threat of such an occupation of the Odessa Oblast by Russian Armed Forces resulted in the launch of a programme to boost the defence of NATO's eastern flank, particularly in Romania which shares a 618km border (both land and maritime) with Ukraine. In the event of an occupation of this border, and the potential Russian invasion of the Balkan nation, the vastly outnumbered Romanian Armed Forces would need the full support of other NATO members to strengthen its defence and capabilities.
"In response, the French Army was tasked with deploying troops and equipment to Romania as part of NATO's Rapid Response Force to strengthen the country's border with Ukraine. With pair of Antonov An-124-100s from Ukraine's Antonov Airlines were chartered to transfer heavy equipment such as Renault GBC 180 all-terrain trucks, Panhard VBL light armoured vehicles, AMX-10 RC reconnaissance wheeled vehicles and VAB armoured personnel carriers to Romania's Mihail Kogălniceanu International Airport in Constanta, the Franco-German C-130J squadron was tasked with airlifting lighter cargo, including troops, weapons and ammunition.
"The first such flight was allocated to KC-130J 5874//61-PQ. Leaving Évreux at 0830hrs (local time) on March 8, the aircraft – crewed by a French pilot and German co-pilot – flew south to Avord to upload 15 tons of ammunition, before departing to Constanta. After transporting the cargo to Romania, the aircraft landed back home at 2120hrs (local time)….
"According to the information available from military aircraft flight tracking websites, 5874/61-PQ also logged a flight to Rzeszów in Poland, just 55 miles west of the Ukrainian border, on March 6, 2022. It is believed that the aircraft was carrying MILAN light anti-tank infantry missiles that had been donated to Ukraine by France.
"The C-130J-30s and KC-130Js of the Franco-German Joint Tactical Airlift Squadron have already proven their value during operations such as Barkhane, APAGAN and in Eastern Europe. With the type already undertaking missions that were previously flown by the C-160s, the squadron has logged more than 6,000 flying hours since 2018."
In short, given a focus on forward defense air lift and tanking in all its variants is crucial.
But it is also to ensure complete integration across the lift and tanking force as well. Clearly, taking a joint squadron approach towards the C-130J by the French and the Germans supports that objective.
Featured Photo: Hand-over ceremony of the first German Air Force C-130J. Photo: German defense ministry