AltoCrypt Stick: Infrastructure and Platforms Innovation of the Year In Australian IT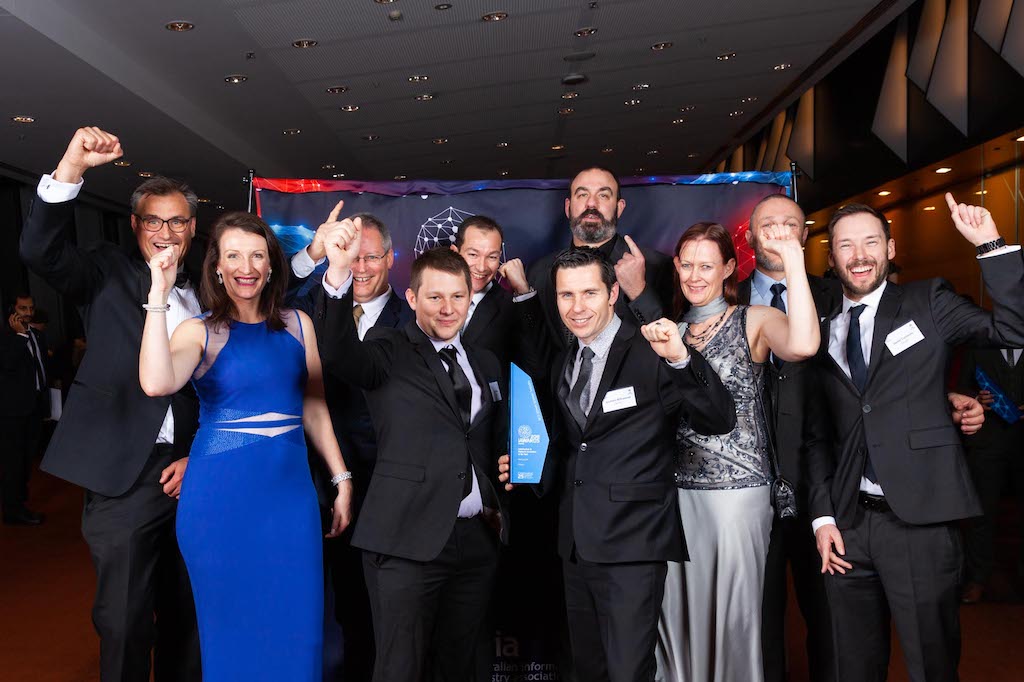 We have interviewed the CEO of Penten and have followed up that interview with the impact of the new approach to mobile security on building a fifth generation force with Air Vice-Marshal (Retired) John Blackburn.
Late last month, Penten received recognition for their significant achievement.
Penten's AltoCrypt Stik was the winner of the Infrastructure and Platforms Innovation of the Year at the 2018 National AIIA iAwards
Canberra, Australia – 31 August 2018
At the Melbourne Convention Centre last night, the team at cyber innovator Penten was recognised with the 2018 National iAward for Infrastructure and Platforms Innovation of the Year for the AltoCrypt Stik at the National Australian Information Industry Association (AIIA) iAwards, the nation's leading awards program for technology innovation.
Developed with UK partner Amiosec Ltd, the AltoCrypt Stik helps Defence and Government workers use wireless devices such as laptops and tablets in classified environments. Described as a game changer in the mobility of highly sensitive information, the AltoCrypt Stik is a small USB device that finally enables Defence and government workers to use laptops in all areas of operation.
Earlier this year Penten was awarded a $1.3m contract through the Defence Innovation Hub to deliver secure wireless devices to counter new cyber threats and streamline information in deployed headquarters of the Australian Defence Force (ADF).
Penten was formed only 3 years ago with a simple vision to solve some the hardest cyber security problems faced by Australia and it allies. From 4 then to a team of 50 today, Penten has evolved as one of Australia's emerging cyber security innovators helped by AustCyber, Australia's Cyber Security Growth Network.
Based in Canberra, the Penten team have created world leading technologies that protect Australia's most classified information from its most sophisticated cyber adversaries.
Penten CEO, Matthew Wilson said "2018 continues to be a year of rapid growth for the team behind the AltoCrypt Stik as the change the technology enables is recognised and sought by governments around the world."
AltoCrypt Stik is the first in a family of secure mobility solutions that are enabling mobile secure access to classified information for government.
"Recognition from Australia's ICT industry through the iAwards is humbling for the Penten team, we are so grateful to the AIIA for the opportunity to share our innovation story and excited by the doors the award will open."
AIIA CEO, Rob Fitzpatrick said "What we've seen from our finalists this evening is awe-inspiring. It's real proof of the power of innovation to change our world."
2018 marks the 25 year anniversary of the Australian Information Industry Association (AIIA) iAwards, which is Australia's longest running and most broadly scoped innovation recognition program, promoting excellence in the Australian digital ecosystem. Previous winners include Altassian, Wotif and WiseTech Global.
https://www.penten.com/press-release/penten-takes-home-national-innovation-award/