CIVMEC and the Australian Offshore Patrol Vessel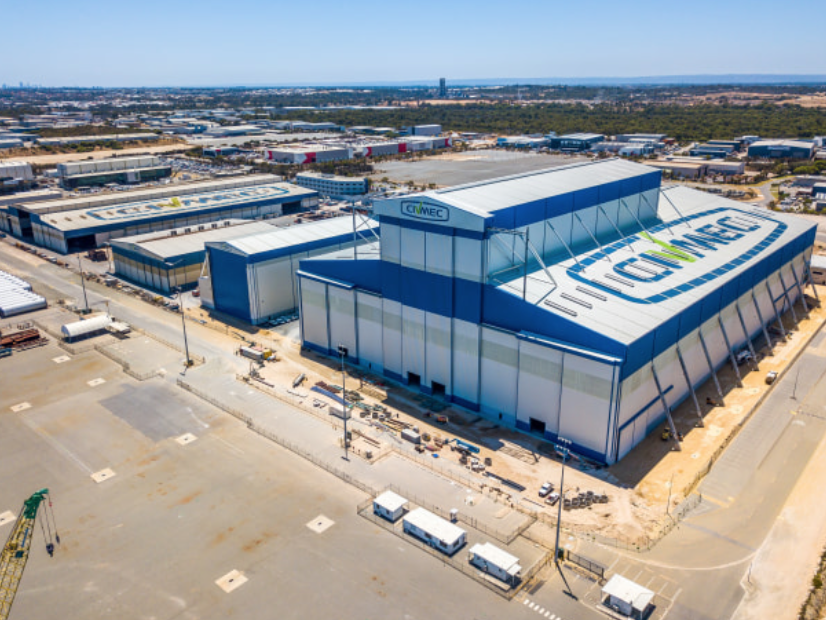 The Arafura class offshore patrol vessels (OPV) are being built for the Royal Australian Navy (RAN). The new OPVs are intended to replace the existing Armidale class and Cape class patrol boats, Huon class coastal minehunters, and Leeuwin class survey ships in service with the RAN.
The program is building a single class of ships to perform the functions of four legacy ships. This has its challenges, notably in terms of ensuring that the ships can be configured for the different missions, but the advantages of a common build of a class of ships in terms of manufacturing, sustainability and possibilities for export are obvious.
The OPVs in the class will be able to perform maritime patrol, response duties, and constabulary missions. The vessels can be customized to perform mine hunting, hydrographic survey, fisheries patrol, disaster relief, and unmanned aerial system (UAS) missions.
The Arafura class vessels will be interoperable with the fleet of Australian Border Force, Australian Defence Force units, and other regional partners to perform a range of missions.
Following the build of the first two vessels in South Australia, the next 10 vessels will be built at the new $80-million shipbuilding facility in Henderson, WA.
The OPV project is the first of the new shipbuilding projects to be built under the framework of a "continuous shipbuilding approach."
CIVMEC is an integrated, multi-disciplinary construction and engineering services provider and is partnered with the prime contractor on the OPV project, Lürssen.
CIVMEC on their website describes their role in the project and in Australian shipbuilding, in general.
Civmec is an integrated, multi-disciplinary construction and engineering services provider to the Oil & Gas, Metals & Minerals, Infrastructure and Marine & Defence sectors.
Established in 2009, Civmec is one of Australia's leading providers of turnkey solutions across a range of core capabilities.
Our vast self-performance capability enables us to respond agilely to our clients' needs and our commitment to innovation and technology enables us to work smarter, providing value-driven solutions. Focused on establishing long-term partnerships and working collaboratively with clients and delivery partners, we have played a significant role in the delivery of some of Australia's most complex projects, including in remote, logistically challenging environments.
Our strategically located facilities in Western Australia and New South Wales support our vertically integrated operating model. Our state-of-the-art west coast facility in Henderson is set on 200,000m2 of land in the Australian Marine Complex precinct, with direct waterfront access. It is the largest fabrication facility of its kind in Australia and will be further enhanced by the addition of a 53,000m2 (usable floor area) assembly and maintenance hall currently under construction.  When complete, this will be the largest undercover modularisation and maintenance facility in Australia.
In early 2016, Civmec acquired Australia's largest privately-owned engineering and shipbuilding company, Forgacs, located on 227,000m2 of land with riverfront access, just 14 kilometres from the Port of Newcastle in New South Wales. These facilities have been developed as Civmec's east coast base. Other operations around Australia include Broome (WA) and Gladstone (QLD), with projects located across the country.
MARINE & DEFENCE
Our ability to provide the Marine & Defence sector with a fully integrated service offering, for the repair, maintenance and construction of naval and commercial vessels and the provision of Defence Estate works, is underpinned by our multi-disciplinary capabilities and specialised waterfront facilities.
Our facility in Western Australia is located within the Australian Marine Complex (AMC), the Southern Hemisphere's premier integrated marine industrial precinct, providing protected deep water harbours and extensive multi-user loadout facilities. When complete, our new assembly and maintenance hall will be one of the most efficient and innovative in the world, delivering a new world-class resource to the Australian maritime landscape and significantly enhancing the capability available at the AMC.
The 53,000m2 (usable floor area), 18-storey high, purpose-built facility will be the largest undercover modularisation and maintenance facility in Australia. With significant crane capacity of 400T at a height of 40m and 20T at a height of 60m, the centre bay of the main assembly and sustainment hall has an internal length of 187 metres and stands 70 metres high. The door clearance is 42 metres wide and over 60 metres high, enabling the bay to accommodate large vessels including complete Air Warfare Destroyers and Frigates.
Our west coast facility, together with our shipyard on the east coast, situated on the Hunter River near the Port of Newcastle and incorporating 535 metres of river frontage and two ship basins, enables us to provide a significant Marine & Defence service offering, both nationally and, ultimately, internationally.
Vessel Construction, Repair & Maintenance
We provide a comprehensive service for the construction, repair and maintenance of vessels of any size, with our integrated, self-performance capability including heavy engineering, modularisation, specialised surface treatment and industrial insulation.
Defence Estate Works
As an integrated, multi-disciplinary construction and engineering services provider, we can also support the delivery of Defence Estate projects, including new construction projects and facilities upgrade and maintenance works aimed at restoring or sustaining capability of existing facilities and infrastructure.
Australian Maritime Shipbuilding and Export Group
Civmec has partnered with Luerssen to form a new company, Australian Maritime Shipbuilding and Export Group (AMSEG). It combines our specialist steel manufacturing capability and infrastructure with the shipbuilding and design expertise of Luerssen, to develop a new world-class sovereign shipbuilding capability for Australia.
AMSEG is chaired by former Chief of the Royal Australian Navy and former Chairman of ASC Shipbuilding, Vice Admiral (retired) Chris Ritchie.
In April 2018, Luerssen Australia awarded Civmec the contract for the Royal Australian Navy's SEA 1180 Offshore Patrol Vessel (OPV) program.
The project includes the supply and processing of steel for 12 vessels. Following the build of the first two vessels in South Australia, Civmec will undertake the fabrication and consolidation of the following 10 vessels at its new world-class main assembly and sustainment hall in Henderson, Western Australia.
The preparation and profile cutting of steel plates for the first two vessels being built in South Australia is ongoing at Henderson.
Delivery of the OPV program is enabling us to unlock the value of local steel shipbuilding. We are investing in skills and the transfer of knowledge with local subcontractors and suppliers to support the establishment of a competitive Australian shipbuilding industry and supply chain that can eventually export to the global market. When fully operational, the main assembly and sustainment hall will provide employment opportunities for up to an additional 1,000 Australians, including 100 new apprentices and trainees.
The new OPV fleet will be named the Arafura class in deference to their planned primary area of operation – the Arafura Sea lies west of the Pacific Ocean, overlying the continental shelf between Australia and Indonesian New Guinea.
The primary role of the OPV will be to undertake constabulary missions, maritime patrol and response duties. State of the art sensors as well as command and communication systems will allow the OPVs to operate alongside Australian Border Force vessels, other Australian Defence Force units and other regional partners.
The lead vessel, HMAS Arafura, is planned to enter service in 2021.
16155_Civmec_Defence_Brochure_Insides_WEB_tiny