Entering a Strange World: The Coming of the Tiltrotor Aircraft to the USMC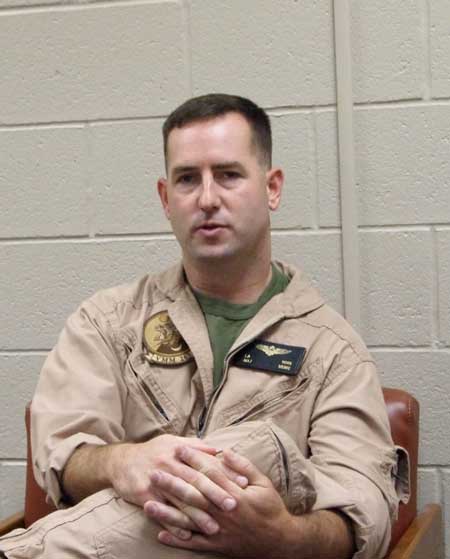 An Interview With Major Lee York: Fall 2010
10/05 /2010 – In a wide-ranging interviews with Osprey pilots and maintainers at New River Air Station discussing their operational experience with the Osprey, one pilot highlighted with a single story the impact of the Osprey's speed on operating in the battlespace.
SLD: Could you tell us about your background?
Major Lee York: My name is Major Lee York. I started out as a CH-46 pilot and did two deployments.
The first one was in 2002; we deployed on a 24th MEU and participated in OIF and then after that came home and then we went back out with 24th MEU again.
This time in Iraq 2004-2005, set up deployment there, and came home with 263 and stood the squadron down and then transitioned to the V-22 and then I deployed with VMM-263 as a first operational V-22 squadron to Iraq for seven months.
After that, we came home and then went to the VMMT-204 to train new students on how to fly V-22 and then I'm back at 263 again.
SLD: What was your operational experience in Iraq with regard to the ability to land the Osprey in spots similar to your helo? Because of your experience of flying rotorcraft in the first deployment and then Osprey's in the second, your perspective would be definitive on this point.
Major Lee York: I have read all stories, all the naysayers, that the V-22 can't replace the FROG. But my experience says the opposite.
The landing zones if used in '04-'05 with the FROG, we went back in '07 with V-22 and we landed in I would say 95 percent of the same zones. The same number of aircraft, two FROGs, two V-22s we put at the same zones and we were able to do it.
And I'm talking the same exact place, you know, Ramadi and other cities, on landing zones that we've landed earlier with FROGs and now with V-22s. For the guys who said that they couldn't do it, well, they're wrong.
Three Ospreys Coming Into Land in Close Quarters During USMC Exercise
(Credit: USMC)
SLD: You had an anecdote, which underscores the impact of speed in the battlespace?
Major Lee York: We took some soldiers out to the West of Iraq.
The crew chief comes up to us and tells us that the guys won't get out of the plane.
We're like, what are you talking about? They said we're not there yet.
And we said, "What are you talking about?" He then said, "The last time we did this flight it took an hour and a half.
We've only been in the plane for 40 minutes so we can't be there yet."
"The last time we did this flight it took an hour and a half. We've only been in the plane for 40 minutes so we can't be there yet."
We told him to tell the Marines that "we were cruising at 230 rather than at 120 so we were there. I swear we're here, you know, we're not going to send him somewhere where he is not supposed to be."