Indian Army's Artillery Modernization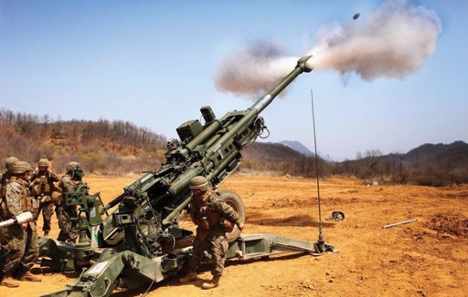 India is facing challenges at its northern and western borders and both China and Pakistan have stated their ability to escalate the situation. India has to be prepared for a two-front conflict, in multiple domains.
Artillery remains an important Arm irrespective of the domain of Warfare. It is heartening to note that Artillery continues to modernize at a deliberate pace thereby improving the Manoeuvre and Firepower capabilities of the Indian Army.
At present it is equipped with a variety of surveillance devices, Guns, Mortars, Rockets and Missiles. The surveillance devices are a part of the Surveillance and Target Acquisition (SATA) Regiments. Reports indicate that more UAVs have been and are being acquired, and placed under the Aviation Arm of the Indian Army. In any case the surveillance centres are still under Artillery, and that UAV pilots are being moved now to Aviation. Nonetheless, being state of the art weaponry, it would take some time for a comprehensive handing over of the device.
The indigenous Swathi Weapon Locating Radar (WLR) has also been inducted and additional orders are being placed.
As regards Guns, the Artillery Regiment is equipped with a wide variety. The Field Regiments possess either 105 mm Indian Field Gun /Light Field Gun or 122mm Field Howitzer. The Medium Regiments possess 130 mm Medium Guns, 155 mm Bofors Medium Gun (39 caliber) and a few regiments of 155 mm (45 calibre) Soltam Guns. The Self-Propelled Regiments are equipped with the K 9 Vajra and the Light Regiments are equipped with 120 mm Mortars.
The Regiment is also holding Rockets and Missiles. The Rocket Regiments are equipped with 122 mm GRAD BM -21 rockets, 214mm Indian Pinaka Rockets and 300 mm Russian Smerch Rockets.
BrahMos Range being Extended
The Missile Regiments are equipped with the Supersonic Cruise Missile BrahMos which has a range of 290 km. Recently India has joined the Missile Technology Control Regime (MTCR) which has resulted in lifting on international restrictions. Trials are on now for extending the range up to possibly 400 km. A hypersonic version of the missile which flies at five times the speed of sound is reportedly being developed to reach three times its range, say 800 to 900 km.
Dhanush, the Upgraded Bofors, and Other Guns
The Regiment has inducted the 155 mm (45 calibre) Dhanush Gun systems manufactured by the Ordnance Factory Board (OFB) derived from the Transfer of Technology (ToT) that came with the acquisition of Bofors. The Army has placed an indent for 114 of these Guns, reportedly to be followed by a further order of about 300 Guns.
The upgraded Gun is designed, developed and Made in India which enhances our indigenous capability of manufacturing the state of the art equipment.
The other Guns are the 155 mm Ultra-Light Howitzer (39 calibre) and the Self-Propelled Gun K 9 Vajra (52 Calibre). The Ultra-Light Howitzer (ULH) is manufactured by BAE Systems and is being procured through the Foreign Military Sales (FMS) Government-to-Government route from the United States The induction process has started from November 2018 and it is presumed that the first regiment is in good shape.
Dhanush
While a few pieces have been obtained from the Original Equipment Manufacturer (OEM), the rest are being Made in India by Mahindra Defence. The Gun is extremely light and can be helilifted by a Chinook, CH 47 C Helicopter which is procured by the Indian Air Force. It is expected that 145 pieces would be added to the inventory.
The K 9 Vajra is a Self-Propelled (SP) Gun which is an indigenised version of the South Korean SP Gun Made in India by Larsen and Toubro Limited (L&T). The Gun would be utilised in the desert regions bordering our Western Front and would be the first SP Gun after the 105 mm Abbot and the 130 mm Catapult to be inducted into The Indian Army. About 100 pieces would be the initial order.
The first Gun was inducted in November 2018 and more are to be Made in India with assistance from Samsung Techwin. L&T moved with incredible speed and completed the order of 100 Guns by 18 February 2021. The Gun originally meant for the deserts is now being tried in Eastern Ladakh and may lead to additional orders. The quality of the Gun is good and may be exported if permitted.
What have we to prepare for?
The current situation in Afghanistan compels us to be ready for hostilities. China is extremely active extending its Belt and Road strategic initiative through Pakistan. The battle space is likely to be:
Hybrid
Multi domain environment.
Short notice, high tempo and high intensity.
Enhanced Battle Space Transparency.
Deeper and wider contact zones with Non-Contact Warfare.
Greater use of precision weapons.
Network Centricity both of platforms and systems.
Asymmetric Nature.
To be fought against a backdrop of Nuclear, Biological and Chemical Warfare.
Artillery's Rapid Development
The Indian Artillery is currently on the threshold of a new era with modernisation moving at a steady pace.
The Regiment has expedited the modernisation process particularly with regard to Guns and Ammunition. There has been a great breakthrough as far as indigenous development is concerned with the development by DRDO of the Advanced Towed Artillery Gun System. (ATAGS). Two prototypes have been developed by Bharat Forge and Tata Strategic Engineering Division. During the development trials the Bharat Forge Gun has achieved a range of over 48 Km in September 2017.
ATAGS
This is a great achievement and the process of User Trials followed by General Staff evaluation has begun. This would really ensure that a Gun which is designed and developed in India enters our inventory.
Another encouraging report is about the Autonomous Towed Howitzer Ordnance System (ATHOS 2052) being sourced from Elbit Systems of Israel and to be Made in India by a private or public sector company. The 155 mm (52 caliber) gun has been declared as L1 for the Towed Gun project.
It is reportedly cheaper than the Trajan Gun offered by French Nexter and its Indian partner L&T. The proposed order was for 1580 guns. Now that ATAGS is also under production by DRDO, the order would be initially for 400 Guns. We would have to wait and watch how ATAGS proceeds further.
Mounted Guns
The Mounted Gun System is in the Request for Proposal (RFP) stage. Numerous contenders exist: Modified Dhanush, Nexter with L&T, Tata/Denel, BAE/Mahindra, Kalyani/Elbit and Yugo Import/Punj Lloyd. Being an important Gun, the process has been revisited.
This is an extremely important system as the Gun could be employed universally and has the Gun mounted on the vehicle.
Pinaka
The Extended Range Pinaka Rocket of 60 km also shaped well in the trials undertaken by DRDO in November 2020. The Pinaka and the Smerch (form Russia) must be configured for deployment in the mountains and the Gunners need to address this issue with deliberation. We also need a long-range Mortar for which suitable efforts must be put in.
UCAVs and Loitering Missiles
The Artillery Regiment must guide the Indian Army in the procurement of Unmanned Combat Aerial Vehicles (UCAVs) and Loitering Missiles. To enhance our surveillance of Depth Areas we would need Aerostats which would help us in acquiring targets. Our surveillance equipment needs to be beefed up with additional equipment as also there is a dire need for Satellites to provide surveillance and target acquisition. The Artillery Combat Command and Control System (ACCCS) will be combining these elements to provide Synergized Firepower. The system needs to be updated and introduced in all formations.
Precision Guided Munitions
As regards ammunition, we need to seriously examine the employment of Precision Guided Munitions (PGMs) to ensure destruction of targets by accurate fire.
The Regiment of Artillery needs to seriously consider this aspect and evaluate our requirements considering the prevalent operational environment. Further, Sensor Fuzed Ammunition needs to be procured for precise engagements of mechanized targets.
The Army has already procured the GPS guided precision Excalibur munition for the M 777 from the US. Made by US military technology giant Raytheon, and BAE Systems, it can hit targets with an accuracy of just two meters, if required. There are variants for 75 to 150 meter accuracy.
These PGMs can be used on various guns with Indian Artillery, and at least 10 to 15 percent of the requirement should be of PGMs. Precision engagement helps destroy specific targets with surety, and also avoid collateral damage.
Wish List
It is time now to think about the future. Our Wish List should be:
PGMs which could be co-developed between the DRDO and Raytheon. The 155 mm Excalibur is an excellent PGM which could be Made in India. It is an excellent weapon against targets needing precise engagements, including terrorist hideouts across the Line of Control.
The UCAVs are the need of the hour. These could be Made in India with assistance from DRDO.
Development of 200 km Gun using rocket projectiles. DRDO could co develop this with Lockheed Martin which has developed a 62-calibre naval gun and is keen to Make in India.
We have recently test fired a Hypersonic Missile. BrahMos must be made a Hypersonic Missile at the earliest to ensure we can match our Northern adversary.
There is a need to develop Directed Energy Weapons, particularly Microwave Weapons which can be used on Missiles, Lasers on UCAVs, and the Electromagnetic Rail Gun as developed in the US by General Atomics.
Loitering Ammunition for engagement of fleeting targets.
Conclusion
One Point, that the Artillery must get involved in development and production to ensure that they get what it wants and continues in their race forward.
This article was published by India Strategic in December 2021.