Japan's First Delivered Osprey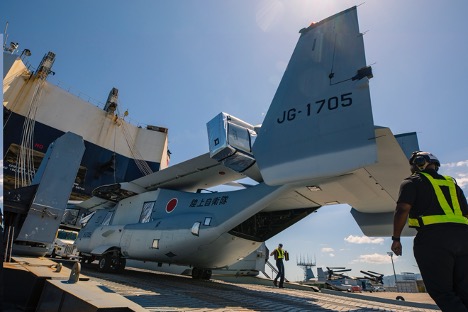 Japan accepted delivery of its first Bell Boeing V-22 Osprey on Friday, making it the first nation outside the U.S. to own and operate the tiltrotor aircraft.
The Japan Ground Self-Defense Force (JGSDF) took delivery of the aircraft at Camp Kisarazu, across the Tokyo Bay from Yokosuka, according to news releases from Bell and Boeing, who collaborate on the aircraft program.
"Congratulations to Japan on becoming the first international operator of the Osprey," Kurt Fuller, Bell Boeing program director, said in a release.
"The delivery of the Japanese V-22 represents a milestone for revolutionary aircraft capabilities for the Government of Japan and is a testament to our enduring friendship. The Osprey will provide Japan a tremendous advantage, unlike ever before, to respond to a broad range of challenges throughout the Asia Pacific region."
The Japanese V-22 variant has a unique configuration with a Japanese-specific communication system, according to the news releases. Despite the different communication system, JGSDF personnel have been working with U.S. Marines since May to learn how to operate the aircraft ahead of accepting delivery of their own Osprey.
The featured photo: V-22 Ospreys bound for Japan Ground Self-Defense Force (JGSDF) units arrive in Japan at Marine Corps Air Station, Iwakuni, May 8, 2020. The V-22 off-load marked the first time JGSDF V-22s arrived on Japanese soil. US Marine Corps photo.
For the rest of the article, see the following:
Japan Self-Defense Force Accepts Delivery of First V-22 Osprey