LCA Tejas Full Operational Capability Takes to the Skies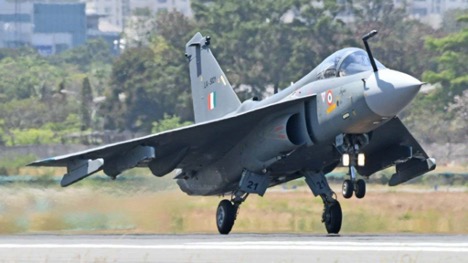 After a long delay, the first Light Combat Aircraft (LCA) Tejas in FOC (Full Operational Clearance) standard finally took to skies on its maiden flight from HAL's Bangalore airfield on March 17, 2020.
The aircraft (SP-21), with tail number LA-5021, took off at around 1240 hrs. HAL's Chief Test Pilot (Fixed Wing) Air Cmde KA Muthana (Retd) was at the controls for the flight that lasted for 40 minutes.
"The flight signifies exemplary team work between various stakeholders of the LCA Tejas programme such as HAL, Directorate General of Aeronautical Quality Assurance (DGAQA), Centre for Military Airworthiness and Certification (CEMILAC), Indian Air Force (IAF) and Aeronautical Development Agency (ADA)", said HAL CMD, R Madhavan.
Compared to IOC (Initial Operational Clearance) aircraft, the FOC standard LCAs are equipped ith advanced features such as air-to-air refueling, Beyond Visual Range (BVR) missile systems, etc. The FOC aircraft also imbibe a lot of manufacturing improvements which are reportedly based on the operational feedback of LCA IOC fleet currently operating with No. 45 squadron based at Sulur.
According to HAL, it achieved the momentous feat within a record time of 12 months after release of 'Drawing Applicability List' (DAL) and SOP by CEMILAC. However, it may be recalled that clearance for the production of FOC standard LCA MK I had been announced with much fanfare during the Aero India Show held at Yelhanka, Bangalore in February 2019.
It is worth noting that LCA Mk I was given IOC approval as far back as in January 2012, which itself took place after three decades of LCA development and around a dozen years after the aircraft prototype's first flight in 2001.
It took another 4 ½ years before HAL could handover IOC LCAs to IAF to form its first Tejas squadron that too with just two aircraft. It another three years plus for No. 45 squadron ('Flying Daggers') to get full complement of 16 fighters.
As per the initial plans, the second (FOC standard) Tejas squadron (IAF has earmarked No. 18, 'Flying Bullets' for the re-equipment) should have been formed by 2016, which as can be seen, can only be formed in 2020-21. HAL still has to produce three more IOC Tejas to complete the order for 20 aircraft. In addition, it would have to produce 20 FOC aircraft to fulfill the order for 40 Mk I LCAs, not to speak of the eight trainer version twin-seaters that it has to produce concurrently.
In the midst of all these delays, based on HAL's promises, IAF had also committed to buy 83 LCA Mk IAs (73 single-seat and 10 twin-seat) to raise another four squadrons with Tejas aircraft. These aircraft with notable improvements that included AESA radar, better EW suites and more potent weapons were to be ready by 2019 for the commencement of their inductions into the IAF.
However, after years of financial wrangling, it was only recently that HAL agreed to reduce the costs from a staggering Rs 58,000 crore ($8.3 billion) to a more reasonable figure of Rs 39,000 crore ($5.6 billion) for 83 LCA Mk IAs. The development work would hopefully start now, but there is still a question mark as to when would these aircraft become available for operational inductions into the IAF.
Bitten by the global impact of 'Corona virus', it is clear that India would also go into a slowdown mode in its economic growth with defence budget (especially the Capital expenditure on new acquisitions) becoming the first casualty.
Under these circumstances, it would be imperative for HAL to get its act together to deliver the promised LCAs without any further delays, lest the IAF is left facing a situation wherein it falls even below the PAF holdings in terms of number of jet fighter squadrons.
This article was published by India Strategic on March 18, 2020.