Nigeria Prepares for Its Super Tucanos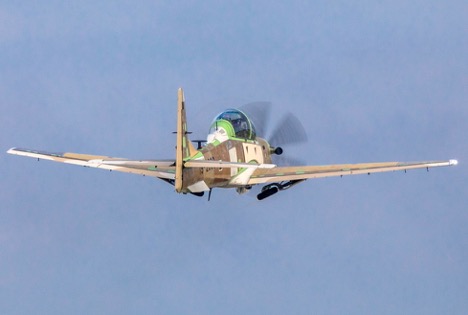 The first A-29 Super Tucano light attack and trainer aircraft for the Nigerian Air Force (NAF) has performed its maiden flight ahead of delivery next year, while the US Air Force prepares to train Nigerian pilots on the aircraft in the coming months.
Embraer announced the first flight on 17 April together with its partner Sierra Nevada Corporation (SNC). Nigerian Super Tucanos are being manufactured at SNC's facility in Jacksonville, Florida, and this is where the maiden flight took place.
Embraer and SNC said production of all 12 Nigerian Air Force aircraft is underway, with deliveries expected to take place as scheduled in 2021.
"The NAF A-29 aircraft will now begin mission modification and final testing in Centennial, Colorado. Following final testing, before delivery, NAF pilots will train in the aircraft," Embraer said.
"This is an exciting milestone in the production of these A-29s for the Nigerian Air Force. The Jacksonville production line is active, and Embraer and SNC look forward to seeing these aircraft continue to roll off the line in the coming months," said Jackson Schneider, president & CEO, Embraer Defence & Security.
"The aircraft met or exceeded all the requirements and we are very pleased with the successful flight," stated Ed Topps, vice president of Tactical Aircraft Systems and programs for SNC's IAS business area. "SNC and our partner, Embraer, are certain the Nigerian Air Force will be pleased with these aircraft."
In December 2018, SNC and Embraer were awarded the contract to deliver 12 A-29 Super Tucano light attack aircraft to the Nigerian Air Force. The contract for the NAF includes ground training devices, mission planning systems, mission debrief systems, spares, ground support equipment, alternate mission equipment and support.
The contract for the 12 aircraft is worth $329 million, although the total not-to-exceed amount is approved at $344 727 439 and is to include Forward Looking Infrared (FLIR) systems for six of the aircraft. These systems will be funded separately. They are believed to be AN/AAQ-22F electro-optical/infrared systems. It is expected that Nigerian Super Tucano will be armed with Paveway II guided bombs and laser-guided rockets.
Meanwhile, the US Air Force last week announced that Moody Air Force Base in Georgia will host a stateside mission to train Nigerian Air Force pilots and maintenance personnel on the Super Tucano. The temporary programme will fall under the 81st Fighter Squadron, an existing A-29 Light Air Support training squadron that currently trains Afghan Air Force personnel. This programm will ensure the Nigerian Air Force receives the support and training it needs to safely and effectively employ the A-29 aircraft.
A-29 training has been conducted at Moody for the Afghan Air Force since 2014. Mirroring training for Afghan partners, US Air Force advisors will provide flying, aircraft maintenance, and ground training device instructors and operators to support training of Nigerian personnel.
The new mission is anticipated to bring approximately 100 additional personnel to Moody, including Nigerian military, civilians and contractors required to support training on 12 aircraft. The programme will train an initial cadre of Nigerian personnel, to include both maintenance personnel and pilots, who will become instructors.
Under current plans, the aircraft may begin to arrive at Moody in mid-2020 and the unit is planned to become fully operational in the first quarter of 2021.
Nigerian Super Tucanos will be based at Kainji Air Base in the west of the country, with upgrade and renovation work scheduled to be carried out at the base ahead of delivery. Kainji Air Base is located in the western state of Niger at the southern end of Kainji Lake and is currently the home of the Nigerian Air Force's 407 Air Combat Training Group.
This article was published by defenceWeb on April 20, 2020.