Payloads and Platforms: The Case of Intrepid Tiger II and the Osprey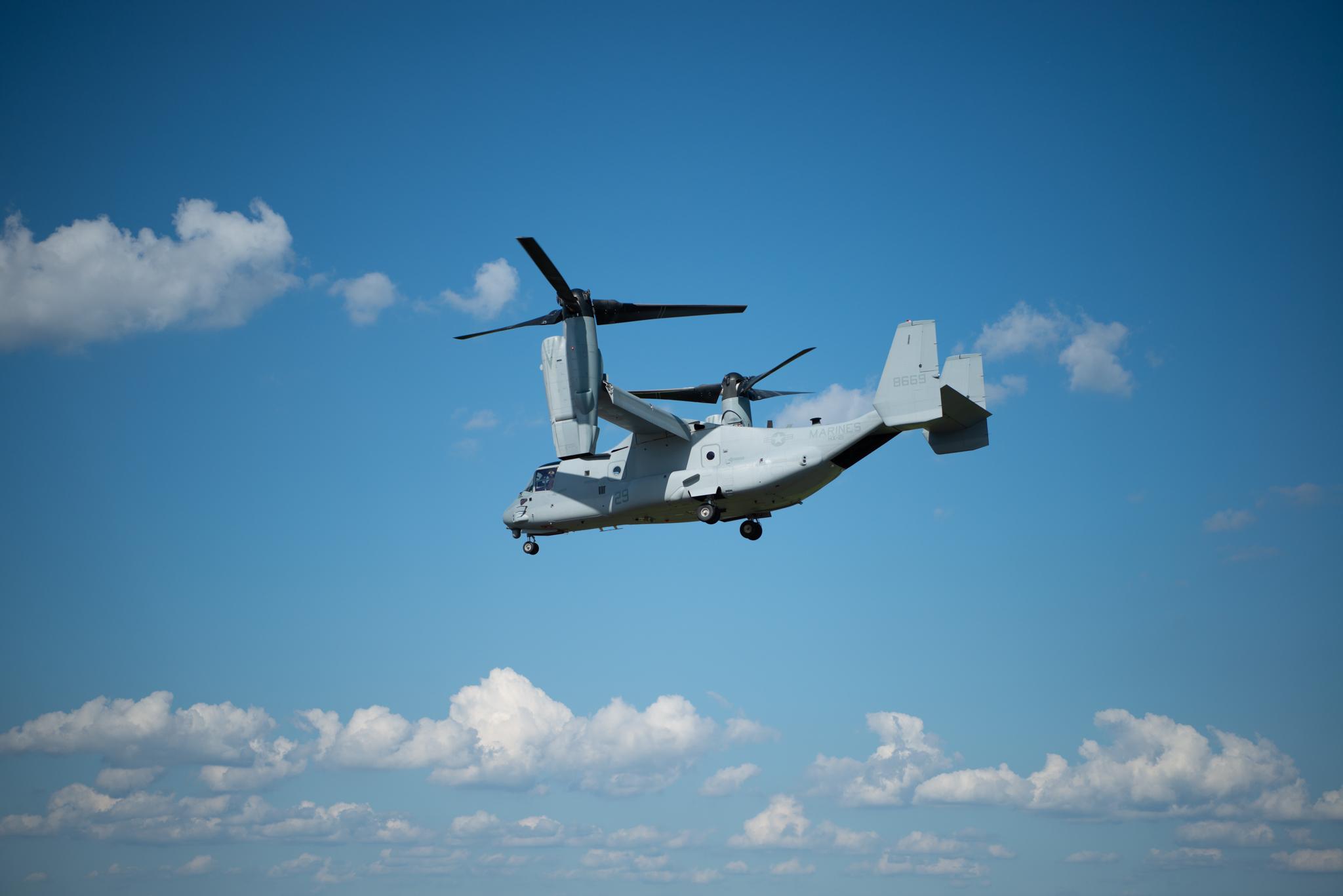 In our forthcoming book entitled, The Emergence of the Maritime Kill Web Force: Deterrence and Warfighting in the 21st Century, we have highlighted the payload/utility function of platforms within a kill-web enabled force.
In both an offensive or defensive combat engagement moment, successfully getting "weapons on" is essential. Using the famous OODA loop equation can bring a clear understanding of the complex dynamics in building a scalable combined fleet kill web payload utility (PU)  function. Observe/Orient (O/O) is target acquisition (TA) and Decide Act (DA) is target  engagement.[1]
Both TA and TE can be expressed in a very simple formula.  The conceptual formula is TA and TE with more effective employment of all payloads available to the battle commander. It is the process of understanding and applying in combat the huge complexities of such a formula that is the challenge.   
The quality of uniformed military personnel is critical, and the ability to mobilize rapidly and effectively is crucial. The tactical skills of combat leaders at all ranks are essential, and the correct focus on constant appropriate training makes it all come together. U.S. military doctrine must always be dynamic enough to empower all the crucial intangible components of a payload utility function when war breaks out.
Late in the last century Andrew Marshall Director of Net Assessment in the Department of Defense, for whom we both had worked,  pointed out a coming revolution in military affairs (RMA). RMA was his insight that emerging combat will have two very interesting components:  Precision guided munitions, with remote sensors and Information War.
Be able to merge precision guided munitions with remote sensing while striving for the timeliest information available is the responsibility of a nations fighting force to always focus on command and control. If the C&C function at any level has a breakdown the ugly, very true cliché, comes in play; the enemy always gets a vote. The value of accurate secure information for target acquisition and then target engagement transmitted at the speed of light is everything especially now with the emerging threat of hypersonic precision guided munitions. The challenge is to "Fight at the Speed of Light," communicating the threat vectors of emerging all aspect hypersonic threats, from submarine launched HSCM to ships and planes, to stratospheric incoming maneuvering hypersonic warheads.
Given competent skilled commanders there are two qualities of a fighting force that are needed for the force to derive the full capabilities of its weapons systems. Both are essential to crafting successful Kill Webs.  The first is motivation or dedication, or call it; will, heart, ambition, or competitiveness. It is the quality that makes fighting personnel appear enthusiastic rather than lackadaisical or dispirited. The second is a forces technological capability which is the ability at the appropriate level to have the capacity to understand and operate the rather sophisticated equipment associated with modern war.
Marrying force motivation with technological capability allows a superior force to achieve combat performance over the enemy. It is a combination of appropriate combat equipment at all levels of any engagement operated by trained individuals. Inventory of weapons systems and platforms, including sufficient munitions at the start of a war can also make all the difference.
Over the course of a campaign significant other demanding factors come to bear: the time factor of both battle damage repair along with any possible industrial surge combined with sufficient logistical supply/resupply. Concurrently, ensuring a pipeline of well-trained individuals from E-1, basic enlisted rank to 0-10, Admiral or General is all again simple to identify but a huge challenge to get it so right at the time of initial conflict.  Trained humans matched up to technology are an obvious statement and makes all the difference as a combat campaign progresses.
21st century warfare technologies concepts of operations and tactics and training are in evolution and revolution. The biggest challenge in the rapidly exploding human/electronic delivered information dynamic in this 21st Century challenge of modern war because it is all about the  ability to have the combat team make accurate decisions using information sensor/shooter light speed communication technology.
A key payload in evolving combat is clearly "tron" warfare capabilities, or the ability to use digital systems in offensive-defensive combat operations.
This is why enabling a unique platform with speed and range for an insertion force with such capabilities is a key element of force enhancement.
Recently, at Pax River, PMA-234 released an announcement with regard to such a change.
The U.S. Marine Corps' newest Intrepid Tiger II (IT II) Electronic Warfare (EW) capability flew for the first time on an MV-22B Osprey June 15.  
"The significance of this developmental test flight was two-fold," said U.S. Navy Capt. Michael Orr, Airborne Electronic Attack (AEA) Systems (PMA-234) program manager. "Not only was this the first time we've integrated the Intrepid Tiger II capability onto an Osprey but also the first time the capability has been incorporated internal to a platform."
PMA-234 Marine Air-Ground Task Force EW Team Lead Bill Mellen said the typical, externally mounted pod was not an option because the MV-22 tilt rotor aircraft does not have traditional wing stations from which to mount podded payloads. The AN/ALQ-231(V)4 IT II system's upgraded design consists of a roll-on/roll-off rack-mounted payload, controlled from a laptop in the aircraft cabin.
The IT II is a precision, on-demand, EW weapon system designed to provide Marine Corps fixed and rotary wing aircraft with an organic, distributed, and networked EW payload that can be controlled from the cockpit or by a ground operator.
The (V)4 system design will include state-of-the art upgrades, utilizing government and commercial-off-the-shelf technologies and jammer techniques that will allow the Marine Corps to keep pace with the ever-evolving threats on the battlefield, and provide the needed adaptability to allow for future iterations of expanded frequency coverage and advanced capabilities, said Mellen. 
"As the 21st Century Battlespace becomes more complex and more contested, military assets must support themselves across the entire spectrum of threats," said U.S. Marine Corps Col. Brian Taylor, V-22 Joint Program Office program manager. "The fielding of this upgrade provides a significant and incremental improvement in the V-22's organic electronic warfare capability, providing commanders more options to support our Marine Corps ground forces. This improves both operational safety to our aircrews and operational success to the commander, our ultimate goals in everything we do."
Following successful integration on the MV-22B, the IT II team will further expand the V4 design to include a counter-radar capability on the KC-130J aircraft, hoping to leverage much of the MV-22B technology, including the in-cabin rack-mounted payload design, Mellen said.
The IT II (V)4 is scheduled to begin fleet deliveries for the MV-22B in Fiscal Year (FY) 2023 to achieve Initial Operating Capability by the end of FY24 with an inventory objective of 42 total systems.
The IT II (V)1 is flown on the AV-8B Harrier, F/A-18 A++/C/D Hornets, and KC-130J aircraft, while the IT II (V)3 is flown on the UH-1Y Huey helicopter.
AEA Systems Program Office is responsible for acquiring, delivering, and sustaining AEA systems that provides combatant commanders with EW capabilities that are critical to operational mission success.
[1] For a more comprehensive look at the payload-utility concept see Ed Timperlake, "Shaping a Way Ahead to Prepare for 21st Century Conflicts: Payload-Utility Capabilities and the Kill Web," Second Line of Defense (September 14, 2017), https://sldinfo.com/2017/09/shaping-a-way-ahead-to-prepare-for-21st-century-conflicts-payload-utility-capabilities-and-the-kill-web/.
Featured Photo: The MV-22B Osprey flies for the first time June 15 with the latest Intrepid Tiger II (V)4 (IT II) Electronic Warfare payload. This marked the start of developmental flight testing for IT II (V)4 and the first time the payload is mounted internally on an aircraft. (U.S. Navy photo)