RAF A330MRTT: The Voyager in Action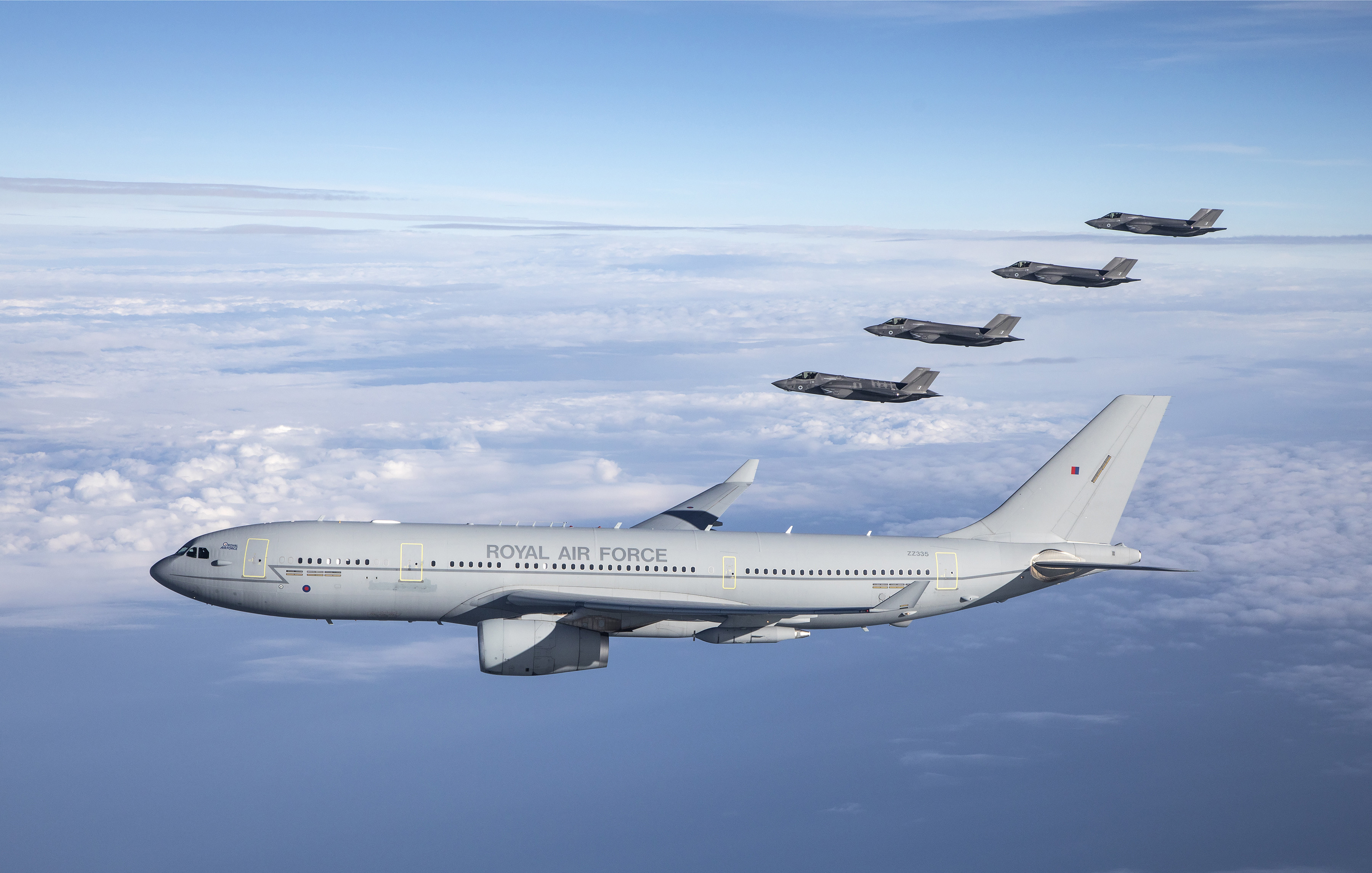 The RAF variant of the A330MRTT is called the Voyager and was purchased through a public-pirvate partnership approach.
According to the RAF website, the Voyager and its role within the RAF is described as follows:
Voyager is the RAF's sole air-to-air refuelling (AAR) tanker and also operates as a strategic air transport.  The aircraft is in service as the Voyager KC.Mk 2, equipped with two underwing pods for refuelling fast jets, and as the Voyager KC.Mk 3, with an additional centreline hose for use by large aircraft. 
CAPABILITY
Fuel offloaded during AAR is taken from the aircraft's standard wing and fuselage tanks, leaving the cabin free for up to 291 personnel and the hold available for freight.  As a tanker, capabilities include the ability to operate a 'towline', where the Voyager orbits around a prescribed area awaiting 'receivers', or in a 'trail', where it flies with a number of fast jets, refuelling them over long ranges while taking responsibility for the formation's fuel and navigation.
Alternatively, it can operate as a passenger aircraft in much the same way as a civilian airliner, but delivering personnel safely into theatre thanks to its defensive aids suite.  Voyager also offers considerable capacity for the movement of palletised and/or bulk freight in its lower fuselage hold.  A versatile aeromedical configuration, including the ability to carry up to 40 stretchers and three critical care patients is available, as is a modest VIP passenger fit. 
TYPE HISTORY
Airbus Industrie launched its combined A340/A330 programme on June 5, 1987.  It aimed to produce a family of closely related widebody airliners based on the four-engined, long-haul A340 and twin-engined, medium-haul A330.  The latter achieved its first flight, with General Electric engines, on November 2, 1992, with the initial Rolls-Royce Trent-powered machine following on January 31, 1994.
Typically for Airbus, the A330's pilots interact with its fly-by-wire system via sidestick controllers rather than the yoke traditionally associated with large aircraft.  The basic A330-200 and longer A330-300 have been developed into a wide range of subvariants offering revised performance and different maximum take-off weights.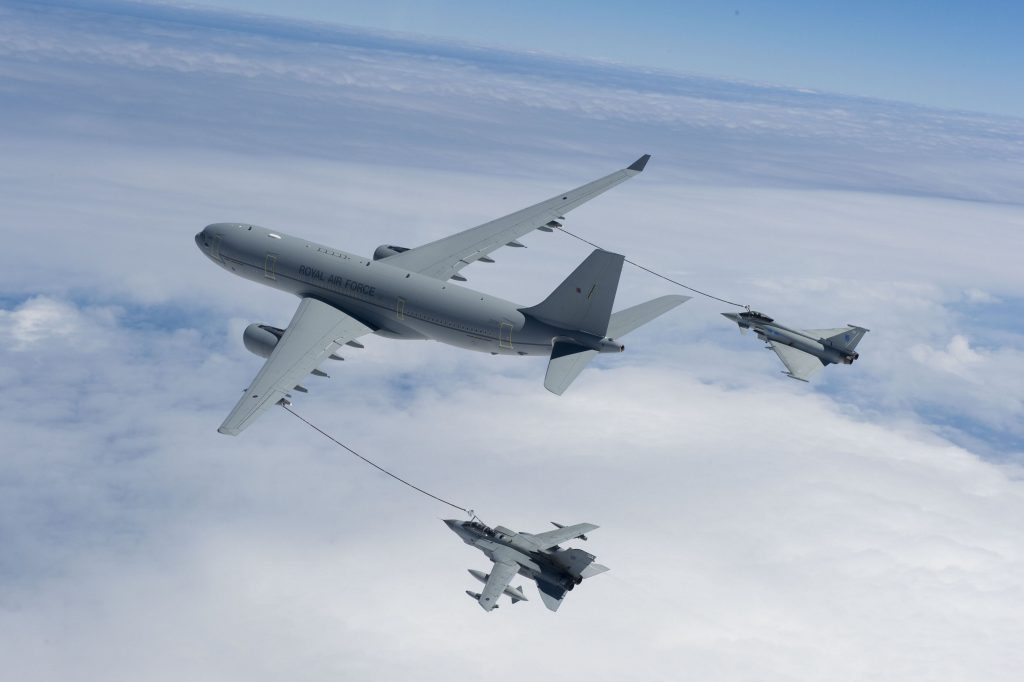 The earlier A310 widebody had found favour with several air arms as the basis for conversion into a military transport or multi-role tanker transport (MRTT), and Airbus recognised the type's potential as a possible TriStar/VC10 replacement in the early 1990s, trialling a modified aircraft alongside RAF fast jets in 1995.  
It was subsequently expected to offer the A310 MRTT against the UK's Future Strategic Tanker Aircraft (FSTA) requirement, announced as a likely private finance initiative (PFI) programme in 2000.  In the event, the procurement process was delayed and although Airbus did not tender, in 2004 the Ministry of Defence announced its intention to acquire a variant of the A330 MRTT.
Under a March 2008 agreement, the AirTanker consortium was selected to provide 14 aircraft under a 27-year contract.  This includes a so-called 'Core Fleet' of eight military serialled and one civilian-registered aircraft, supplemented by a 'Surge Fleet' of five civilian-registered aircraft that AirTanker uses commercially to generate additional revenue.  The surge aircraft are demodified very close to A330-200 standard and can be recalled for military use if required.
AirTanker owns, manages and maintains the aircraft and provides infrastructure, 
support, training facilities and some personnel, in particular Sponsored Reserve pilots and engineers.  Named Voyager in service, the A330 MRTT began RAF operations with 10 Sqn on May 12, 2012, flying an air transport sortie from its Brize Norton home base to RAF Akrotiri, Cyprus.
Issues with the drogues, or 'baskets' into which receivers insert their probes during refuelling operations delayed Voyager's debut in the tanker role, but these had been overcome by summer 2013 and the aircraft's ability to deliver fuel to a variety of RAF and allied aircraft expanded very quickly.  Also in 2013, 101 Squadron retired the RAF's final VC10s and began flying Voyager alongside 10 Sqn and AirTanker's reservists.
Although it ranges worldwide, Voyager remains home-based at Brize Norton.  One aircraft is always available on the Falkland Islands, primarily in support of the Typhoon QRA jets, but also available to the Hercules.  Another of the type operates the regular airbridge to and from the Falklands and Voyager is making a major contribution to Operation Shader, offloading fuel to RAF Tornados and Typhoons, and a variety of Coalition jets, including US Marine Corps Harriers and F/A-18 Hornets.
The Voyager has provided global reach for the RAF as they have operated their Eurofighters globally.  As then RAF Lossiemouth base commander, Group Captain and now Air Commodore Paul Godfrey put it with regard to their global deployments:
"In my entire time in the Royal Air Force, I've not seen a global deployment as we managed at the end of last year with our deployment to Malaysia, Japan and Korea.
Throughout the period we visited the United Arab Emirates, India, Malaysia, Japan, The Republic of Korea, Brunei and back through India, UAE and Greece which is about as global a deployment as you can get."
And flying with their Voyager is a key part of the global reach effort.
For example, in 2016, RAF Typhoons fly to South Korea to exercise with US and South Korean forces.
According to a news item on the RAF website published on November 8, 2016,between 4 and 10 November 2016, the Republic of Korea (ROK) Air Force hosted "Invincible Shield," the first ever combined air exercise with the US and the UK.
Four Eurofighter Typhoons from Royal Air Force (RAF) No. 2 Squadron deployed to Osan Air Base in Korea after conducting exercises in Malaysia and Japan. C-17 Globemaster transport aircraft, Voyager tanker aircraft, and around 200 RAF personnel will also participate.
And the Voyager carried personnel inside the aircraft and refueled during the deployment from its wings to provide both a lift and tanking capability during the flight to the mission.
Clearly, the Voyager and the A330MRTT are now part of the global allied tanking efforts.
For example, this May, RAF Mildenhall hosted the 5th annual European Tanker Symposium where Voyager was a key participant.
The symposium, held every year since 2012, allows NATO allies to share their experiences, discuss mixed tanker formation standards, and build on tanker integration.
The week-long event included mixed formation academics, discussions and flights in a KC-135 Stratotanker and a Royal Air Force Voyager. Ultimately, the event was to establish and initialize best practices when flying in a multinational formation, and the goal was once again achieved.
"This is one of the first times that we've gotten together as European partners to specifically concentrate on these tactics, techniques and procedures on how we operate together," said Lt. Col. Timothy Mach, 100th Operations Group deputy commander. "Being able to fly on the airplanes, we can all get an idea of the countries that don't normally do formation flying together, and we can start building those procedures."
Flying in a multinational tanker formation is something the ETS is trying to safely create. During the days leading to the formation flight, aircrew shared differences in the terminology and procedures they each use.
"I think the procedures have remained largely the same," said RAF Flt. Lt. Elizabeth Herbert, RAF Voyager captain. "It's the fundamental basics that are important — remaining a safe distance from each other when you meet up, and ensuring that you can remain in a close formation. It doesn't really matter what large aircraft you have in that scenario; providing we maintain these techniques, the type of large aircraft – whether currently or in the future – doesn't matter." 
The featured photo shows the Voyager bringing the first four F-35s home to Britain from the United States.
The first of Britain's next-generation fighter jets are set to arrive home tonight, two months ahead of schedule, in a major milestone for the Royal Air Force and Royal Navy.
The F-35s took off from Marine Corps Air Station Beaufort and were flown by British pilots of the newly-reformed 617 Squadron, which was immortalised by the famous Dambusters' raid during World War II.