RAF Refuels UK F-35s with the UK A330MRTT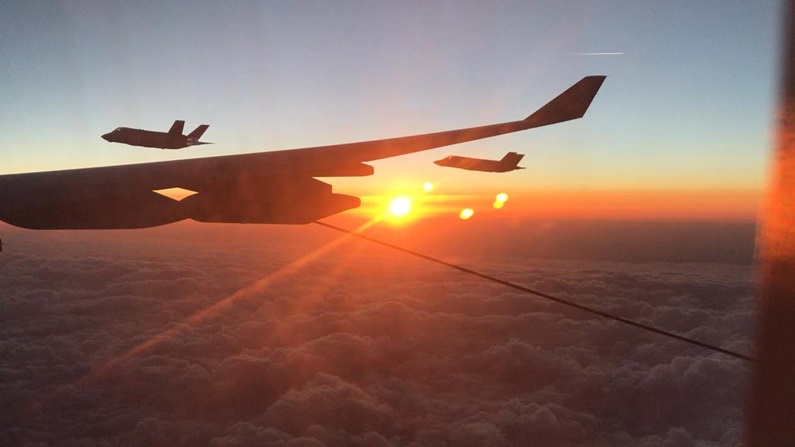 According to a story published April 12, 2108 on the UK Royal Navy website, the training of the Voyager tankers with UK F-35s was highlighted.
Thousands of feet above the Eastern Seaboard of the USA four British jets of tomorrow take on fuel from an RAF tanker – preparation for their impending arrival in the UK.
Fleet Air Arm and RAF crews are preparing around the clock to deliver the first F-35B Lightning II stealth fighters – the striking power of the nation's two new aircraft carriers – to their new home at RAF Marham in East Anglia.
Having learned the art of flying fast jets in the UK – earning their wings on Hawk trainers at RAF Valley – all pilots selected for the F-35 programme cross the Atlantic and learn to master the new fifth-generation fighter at the US Marine Corps' base at Beaufort in South Carolina.
Training on the multi-million pound jets will remain Stateside, but the UK's front-line F-35 squadrons – firstly 617 Sqn RAF, later 809 NAS – will operate from Marham, each with mixed RN/RAF air and ground crew.
There's just the small matter of 4,134 miles separating Beaufort and Marham – most of it Atlantic Ocean and the F-35B has a range of about 1,000 miles.
Hence the need for air-to-air refuelling (aka 'tanking')…several times.
So the RAF dispatched one of its Voyager tankers from 10 Squadron at Brize Norton to Cecil Airport in Jacksonville, Florida, to practise refuelling manoeuvres by day and night with the jets over the USA's east coast.
It's not the first air-to-air refuelling with the F-35Bs… but it is the first crewed entirely by the RAF.
Two RN and two RAF Lightning IIs manouevred into position to take on fuel – inserting the nozzle of their fuel intake (the probe), into the funnel-shaped drogue which delivers that fuel.
The tanker – a modified Airbus 330 airliner – can pump as much as 132,000lb of fuel over a five hour mission, or enough fuel to fill an F-35B's tank nine times.
The coming few months mark a key period in the rebirth of Britain's carrier strike force. As well as 617 Sqn debuting at Marham, in the late summer HMS Queen Elizabeth will conduct her first trials with the new aircraft off the east coast of the USA.