The Osprey Maintenance Challenge: The View from 2010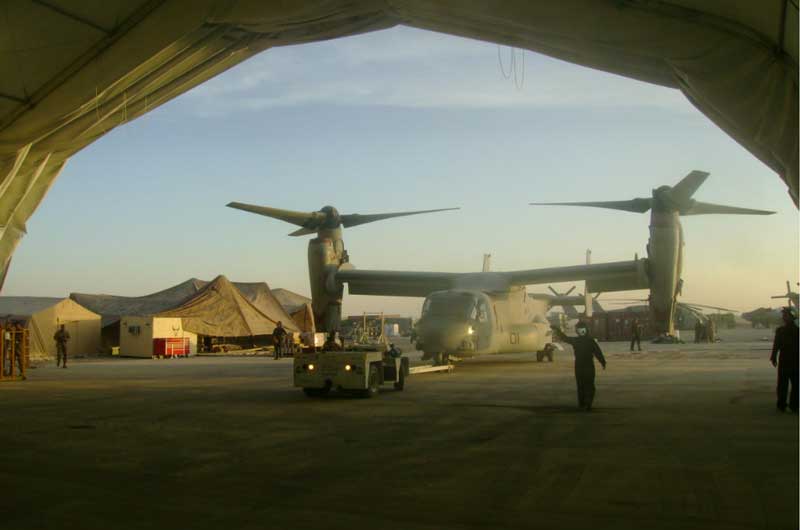 We have recently visited New River to talk with members of the Logs Demo team standing up the Osprey at New River.
More than a decade ago, we were present at the creation of the Osprey as a new combat capability for the USMC, and visited New River frequently starting in 2010.
To provide a baseline comparison to what the Marines did then and now in terms of standing up a new air capability, we are republishing several articles from those earlier visits.
This is the sixth in this series of insights into the brith of the Osprey Nation.
An Interview With Corporal Warshek And Sergeant Fante
11/28/2010
Second Line of Defense in late August 2010 talked to Osprey maintainers at New River Air Station.
One theme, which was discussed, was the challenge of maintaining the aircraft in the tough operating environment of Afghanistan.
It is one thing to maintain the aircraft in a facility such as New River with machinery to lift parts of the aircraft and a building to protect the aircraft from the elements.
In Afghanistan, the USMC has been operating the Osprey in very tough conditions, and did maintenance out of tents.
This is certainly a challenge when considering readiness for operations.
So when one thinks of readiness, it is one thing to talk about base operations, but another when talking about deployment in extreme environments.
SLD: Could you tell us about your job in maintaining an Osprey?
Corporal Warshek: I'm a dynamic component mechanic.
SLD: What is a dynamic component mechanic?
Corporal Warshek: We touch the rotor systems, the drive systems, flight controls. We would see the rotor heads, the swash plates, you know, pretty much the big components, the blades, everything like that that would fall under us.
SLD: Did you work on rotorcraft before?
Corporal Warshek: I've done all type manual series. I have worked on land and at sea.
SLD: Sergeant Fante, what is your background?
Sergeant Fante: Right now I work on the Osprey, but had six years experience in hydraulics and tire wheel shops. I've worked on all type model series from Iraq and on the ships. I've done C-130s and EA-6s, virtually in all of these on-sea, at-sea, on the land.
SLD: What has been the challenge of moving from rotorcraft to a tiltrotor craft?
Sergeant Fante: It was slow, really slow at first because mostly with lack of experience and lack of supply assets.
Whereas, with the 46 and the 53, we see a part come in and if you didn't know what it was, you can easily go to QA (Quality Assurance), go to a senior guy to get help. Until we get a part in, everybody is kind of scratching their heads.
We have to call a civilian an FS, field service representative and they'd have to come in and kind of guide us along.
The service vendors provided the transition, because we had no experienced Gunnys. The FSs here and they're very, very, very adequate.
They're awesome guys but before with the traditional aircraft we relied on the long experience of Gunnys.
And you have enough to pull in assets where you're going to have parts and you have 30 years experience producing parts so there's going to be a supply chain that's got capability built into it.
SLD: Whereas, in the case of the Osprey, the supply chain is new and you have challenges with availability of parts and metrics of performance and life cycle of those parts? So you're either going to have to adjust the metrics to make them realistic and you're certainly going to have to improve the product towards whatever the "normal" is.
That gets you back to your lack of experience issue.
There's no gunny to go to and say, okay, we're going to work in sync for a long time, you know, I'm looking at this part, is this normal, right?
It's hard to have a normal, when you don't have normal.
Sergeant Fante: We are dealing with a lot of new recognition issues with regard to the parts and their performance.
Corporal Warshek: There is the problem of dealing with changing capabilities. Certain pieces of gear change almost constantly as upgrades are made. This meant we had to learn to adjust.
For example, we just recently got in first two pendulum assemblies into our shop. We've never seen before. We rely on the SR's to provide guidance on how we would tackle something like that. The pendulum assembly attaches to the rotor head.
SLD: What was your experience in Afghanistan with regard to maintenance?
Corporal Warshek: I deployed with 261, VMM-261 when they went out.
Occasionally, we'd run in something like where would be in a situation where the service representative wasn't available or, we'd be on our own and the publications we were relying on was a little unclear or none of us had seen the problem before quite in the same way.
So we would draw upon the "Osprey Nation."
Osprey Operations in Afghanistan in Challenging Conditions
Credit: USMC
SLD: So you had to face two uncertainties: maintaining a new aircraft and operating in a tough environment? How did you handle that challenge? It must have been interesting.
Corporal Warshek: It definitely was interesting.
The space issue was probably our major focus.
If a rotor head were to go down, we didn't really have the space at I-level to fix that rotor head. We were working out of the vans.
And for the I-level, we were working out of cans, so we didn't have the space to actually put a rotor head in the cans, take it apart or anything like that, so we would have to rely on the squadrons, so that they may possibly give us a spot there, a hangar, work out there and use all their tools.
We're taking our tools down the flight line and basically we had to move our shop down there. This took a couple of hours just to move our shop.
For example, we would have a rotor headstand and a rotor head we fit on and would have to move that from where they were located on the compound down to the flight line.
This took a joint effort of supply and using a forklift, maybe a flatbed truck, somebody who would have a license to drive a truck, some way to get it off the truck when we would have to support the flight line.
SLD: Without breaking it.
Corporal Warshek: Absolutely. And then there is the challenge of dealing with the sand, which we had in Iraq.
If we get sand in the hydraulic system and sand goes rushing through there and it's absolutely destroyed. So if we've got a sandstorm coming in and we've got all these gear in the shop we're working on, if it's coming in through the seams, the doors, it's a potential serious problem.
The featured photo shows an Osprey Hanger in Afghanistan. Photo Credit: USMC