The USAF Works All-Domain C2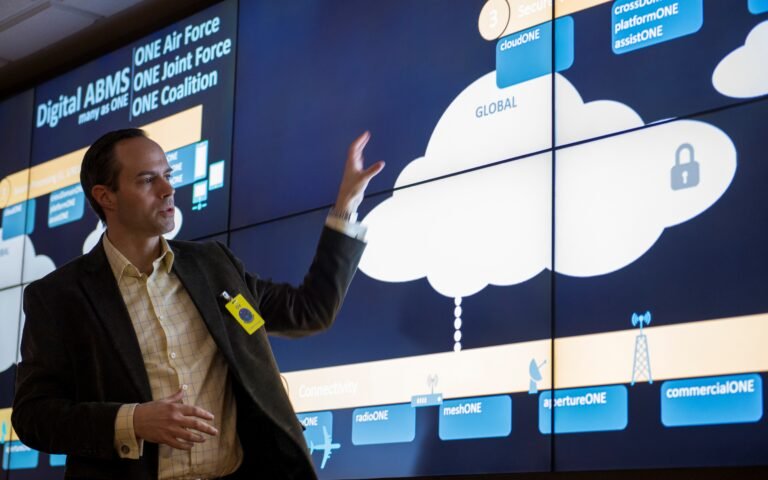 The development of Joint All Domain Command and Control (JADC2) is critical to ensuring the level of agility Air Force operators will need in future to meet the threats posed by peer competitors Russia and China, says Lt. Gen. Mark Kelly, Air Force deputy chief of staff for operations.
"We need to be as connected in a warfighting domain as in the civil domain," he told a Mitchell Institute event at the Air Force Association (AFA) here this morning. This is why Air Force Chief of Staff Gen. David Goldfein has made Joint All-Domain Command and Control (JADC2) his top priority, Kelly explained.
JADC2 is the term of art now agreed among the service chiefs for the concept of a C2 network linking all US sensors to all shooters — from all services, in all domains — so enemy forces can be rapidly targeted.
But, Kelly stressed, it also will enable rapid, more coordinated movement of Air Force — and other service — personnel and logistics, defense of forward bases, "blue-force" tracking and pretty much everything else involved in US forces taking to fight to the battlefield.
JADC2 largely will be comprised of new software systems, although some new hardware — such as radio antennas — also will be necessary, according to senior Air Force officials.
Noting that "most of the challenges we have in weapon systems aren't hardware-based but software-based," Kelly said the service will have to "leverage the brilliance of industry" in developing JADC2.
The Air Force's primary contribution to the joint development effort is a family of systems that mostly involve new software-based capabilities under the Advanced Battle Management System (ABMS).
As the Air Force Chief Architect Preston Dunlap told me last month, the ABMS family involves seven so-called "product categories" a la high-tech jargon:, i.e. types of technologies and capabilities that — like the ABMS concept itself — are now being developed via an iterative process every four months. All together, there are 28 discrete technologies/capabilities that fall under those seven categories.
The Air Force's $302.3 million 2021 budget request for ABMS describes the categories as:
"Digital Architectures, Standards, and Concept Development
Sensor Integration
Multi-Domain Data Management
Multi-Domain Secure Processing
Multi-Domain Connectivity
Multi-Domain applications
Effects Integration," that includes: "development and integration of open smart munitions that enable dynamic kill webs, attritable aircraft that generate combat mass and distributed effects, and real time updates to mission data files to improve electronic warfare system performance."
The technologies developed are being tested by in multi-service exercises. Air Force head of acquisition Will Roper explained to reporters on Jan. 21 that the first was held Dec. 16-18 in Florida, involving such things as a new "gateway" — essentially a radio and antenna system put together by Lockheed Martin, Northrop Grumman and Honeywell — that allowed Navy and Air Force F-35 Joint Strike Fighters to exchange data with F-22 Raptors with a low probability of detection.
The second exercise will be held in April. The service's budget documents show additional exercises in December 2020, April 2021 and August 2021. In between those exercises, related technologies are being tested by joint operators at the Air Force's Shadow Operations Center at Nellis AFB in Nevada.
Although the Air Force has yet to sort out the details of ABMS, the 2021 budget slates an impressive total of $3.26 billion for the effort through 2025.
Kelly admitted that the Air Force will face challenges — including cultural challenges — in moving from a platform-centric to a software-focused mindset, both internally and with Capitol Hill.
But, he said, he believed that if service leadership would "get out of the way of the young ones" it could happen relatively fast — noting his own need for  re-training "as an old guy" to use the modern F-35 cockpit, with young airmen were "practically texting me back and forth in the F-35 while I'm barely holding on." But, Kelly said, after 100 hours or so, he got the hang of it.
"As my wife would say, if they can make medicine out of moldy bread, they can make a JADC2 expert out of me," he quipped.
This article was published by Breaking Defense on February 12, 2020.
The featured photo shows Preston Dunlap, Air Force Chief Architect, briefing Department of Defense senior leaders on how the ABMS works during the first ABMS live demonstration at Eglin Air Force Base