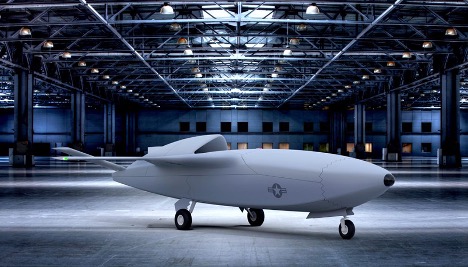 The Air Force plans to conduct operational experiments in 2021 with new unmanned aerial system prototypes for the Skyborg program, according to officials.
Skyborg is one of the service's top three "Vanguard" science-and-technology initiatives aimed at delivering game-changing capabilities for the future force.
The aim of the effort is to integrate attritable drone technologies with open missions systems to enable manned-unmanned teaming. The project is expected to lay the foundation for building a family of UAS that can adapt and make decisions at machine speeds.
The autonomous platforms are expected to operate as robotic wingmen for manned aircraft, perform dangerous tasks and serve as low-cost force multipliers on the battlefield.
The Air Force announced July 23 that it had awarded indefinite-delivery/indefinite-quantity contracts to Boeing, General Atomics Aeronautical Systems, Kratos Unmanned Aerial Systems and Northrop Grumman Systems that will enable the four companies to compete for up to $400 million in subsequent delivery orders in support of the Skyborg program.
For the rest of the article, see the following:
https://www.nationaldefensemagazine.org/articles/2020/7/28/air-force-to-fly-new-skyborg-drones-next-year