Globalization the Chinese Way: The Case of Huawei Technologies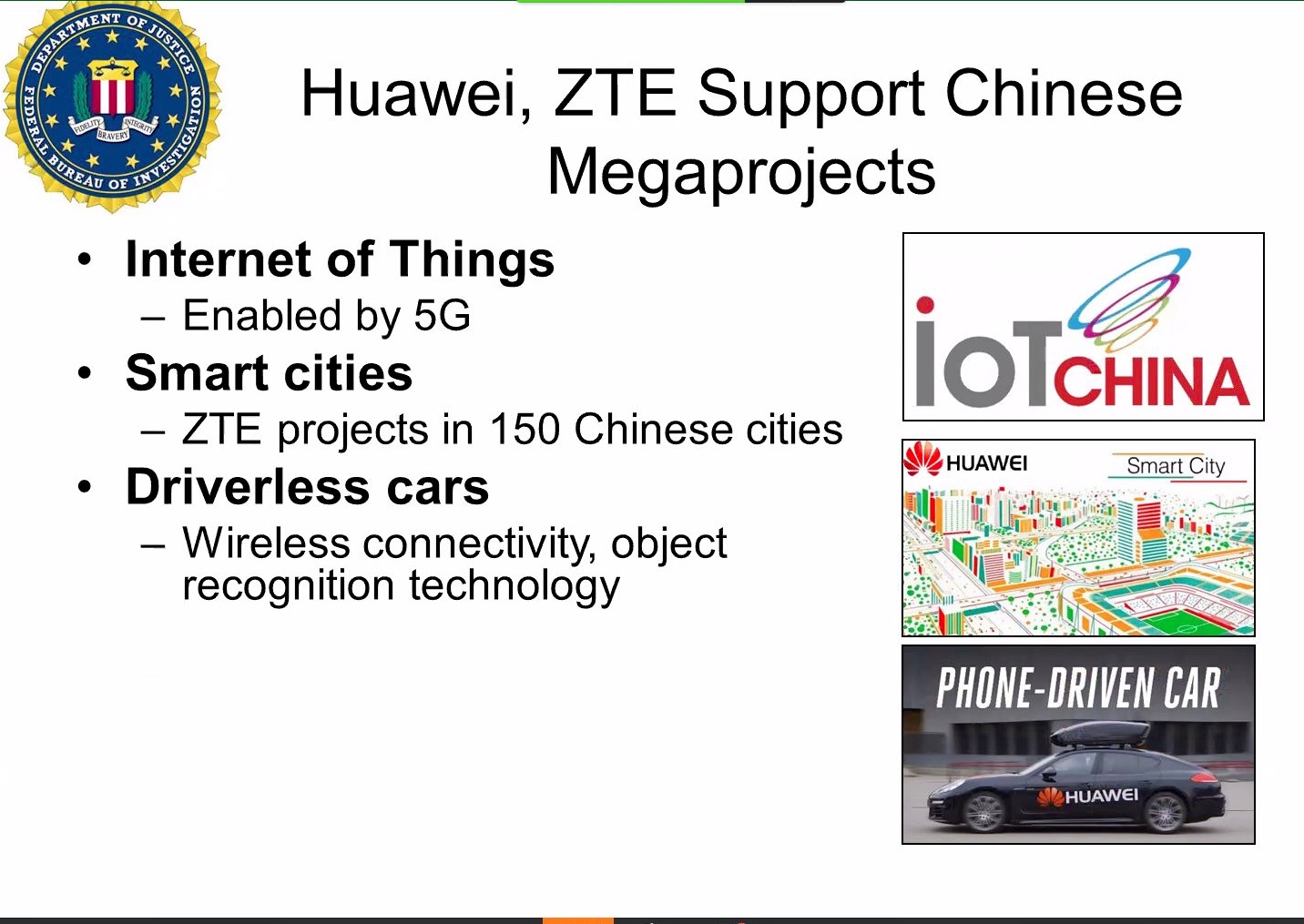 During an interview last year with Second Line of Defense, Ross Babbage, the well-known Australian strategist with many years of governmental experience as well, focused on the Chinese challenge to the liberal democracies.
What we're confronting is a new version of a long-standing theme in Chinese strategic thought which emphasizes the importance of shaping the strategic environment in your favor by reaching a long way into the enemy's camp, and putting him off balance, and getting him focused on internal problems and exacerbating those internal problems.
The goals are to distract and weaken the enemy and get him to not focus on things other than the main game.
The political warfare approach is one of interfering, disturbing, distracting, confusing, disrupting the institutions and the normal operations of democratic states.
The head of the Australian  Security and Intelligence Agency (ASIO) has stated that the scale and pace of foreign intelligence and  espionage activities in Australia is now higher than they were at the peak ofthe Cold War.
Question: What can be done?
Babbage: A key aspect of meeting the challenge is to recognize it exists and encourage the public focus on its existence and operations.
Regardless of domestic political persuasion, our people do not like to see this kind of authoritarian coercion operating in our society.
When they realize what is happening, they're upset , they're angry about what a foreign country could be trying to do, these sort of things, and they want to galvanize action.
And many pose the question of "What can we do to actually stop this and fix it?"
At present we are not telling the story of foreign political warfare broadly enough within our political and economic sectors.
We've got to improve our information operations. We need to throw sunlight on what these guys are doing and do so in a comprehensive and sustained manner.
In the case of the activities of Huawei Technologies, there appears to be growing recognition that globalization the Chinese way has a built in benefit to China from its participation – using its civil outreach to support its global security and military operations.
Examples of the awakening can be seen from a number of events and articles written in the past few months about those events.
In this November 3, 2018 article from The Australian, it is alleged that China has used Huawei to hack global networks.
Secret intelligence reports given to Australian officials outlined a case in which Chinese espionage services used telecommunications giant Huawei's staff to get access codes to infiltrate a foreign network.
The Weekend Australian has confirmed from a national security source that the intelligence highlighted the Chinese company's role in cyber espionage.
Huawei has been banned from any involvement in building the new 5G network in Australia ​- because of security fears but Chin​ese officials have urged the government to rethink the decision.
Recent articles in the EUOBSERVER have highlighted as well growing European concerns about Huawei as well.
From an article published on January 17, 2019:
Germany's government is mulling excluding China's Huawei Technologies from an auction on setting up fifth-generation (5G) mobile networks, reported Handelsblatt. The paper cites unnamed government officials amid broader fears that the firm does not meet the required security standards. The US has accused Huawei of acting on the behalf of the Chinese state, increasing the risk of industrial and cyber espionage.
From an article published on January 14, 2019:
Poland has said Nato and the EU should consider sanctions against Chinese telecoms firm Huawei after Poland arrested one of its employees for espionage on Friday. "It would make most sense to have a joint stance, among EU member states and Nato members," Polish interior minister Joachim Brudzinski said. Fellow EU security services recently ignored Poland's call to blacklist a Ukrainian activist on grounds she was a Russian spy.
From a December 7, 2018 article:
The EU's digital commissioner, Andrus Ansip, said on Friday that "we have to be worried" about Chinese telecommunications companies like Huawei. He was asked about the company after Canadian authorities arrested Huawei's chief financial officer. "They [Huawei] have to cooperate with their intelligence services," said Ansip. He added some Chinese firms are forced to install so-called backdoors in smartphones. "I was always against having those mandatory backdoors," he added.
In an interview Defense.info did in Helsinki last year with  the European Centre of Excellence for Countering Hybrid Threats.
During that visit, the focus of authoritarian states on leveraging the open economies of the liberal democracies and carefully leveraging opportunites was highlighted.
"And we are looking at a broad set of issues, such as the ability of adversaries to buy property next to Western military bases, issues such as legal resilience, maritime security, energy questions and a wide variety of activities which allow adversaries to more effectively compete in hybrid influencing."
And right on script, the Chinese private sector is playing its role.
In this January 12, 2018 article by Dan Strumpf of the Wall Street Journal, the threat posed by a Chinese company was highlighted by the US Army.
The U.S. Army said it removed surveillance cameras made by a Chinese state-backed manufacturer from a domestic military base, while a congressional committee plans to hold a hearing this month into whether small businesses face cybersecurity risks from using the equipment.
Fort Leonard Wood, an Army base in Missouri's Ozarks, replaced five cameras on the base branded and made by Hangzhou Hikvision Digital Technology Co. , said Col. Christopher Beck, the base's chief of staff. He said officials at the base acted after reading media reports about the company.
"We never believed [the cameras] were a security risk. They were always on a closed network," Col. Beck said. The decision to replace the cameras was meant to "remove any negative perception" surrounding them following media reports, he added, without elaborating.
A Wall Street Journal article in November highlighted the prevalence in the U.S. of devices made by Hikvision, the world's largest maker of surveillance cameras, which is 42% owned by the Chinese government. The Journal reported that some security-system vendors in the U.S. refuse to carry Hikvision cameras or place restrictions on their purchase, concerned they could be used by Beijing to spy on Americans.
The Chinese approach to globalization encompasses the use of its significant global private sector outreach, the nature of liberal economies which are not set up to prioritize the private sector and its relative flexibility to shape an effective security footprint useful for a variety of both commercial and national security tasks.
A recent article by Bill Gertz focuses on the Huawei challenge.
Huawei is the world's largest telecommunications company and made reported profits of $7 billion on $19 billion in revenue.
China expert Gordon Chang said Huawei is the core of China's plans to dominate the 5G telecom market that will provide high-speed telecommunications in the near future.
"Huawei has had a free ride for decades," Chang said. "Washington did nothing to stop its theft of U.S. intellectual property, or its other criminal activity, such as its blatant violation of Iran sanctions."
Chang urged the Trump administration and Congress to recognize Huawei as a "criminal enterprise" and enforce laws to counter its activities.
"The Trump administration should ban the importation into the U.S. of products that have benefitted from the theft of U.S. intellectual property, or which are sold by companies that have stolen our IP. That, of course, hits Huawei from two directions," he said.
Chang said the administration generously lifted sanctions on ZTE last year. "There should be no shows of leniency for Huawei," he said.
Ed Timperlake, a former Pentagon technology official and editor of the defense newsletter Second Line of Defense, said Huawei has a history of violating sanctions, including those imposed by the United Nations against Iraq in the early 2000s.
"Huawei in my professional judgement is an ongoing criminal enterprise using denial and deception techniques and a lot of money and influence to infiltrate their high-tech products into American and global communication networks," Timperlake said.
Timperlake urged the next defense secretary to be extremely vigilant toward the threat of Huawei infiltrating technology into Pentagon high-tech systems, including the $10 billion contract awarded to Amazon for a "Combat Cloud" initiative.
Rick Fisher, a China security analyst with the International Assessment and Strategy Center, said the public needs to be aware that Huawei's claim to be a private company is fiction.
"By Chinese law and regulation, all Chinese companies must obey the Chinese Communist Party and host CCP cells which both report to and take direction from the 'center,'" Fisher said.
"Huawei was founded with the aid and encouragement of the People's Liberation Army and has demonstrated time and again that it serves China's military and espionage objectives," he added.
The Pentagon is banned under a recent law from using any Huawei products over concerns the equipment is rigged to permit remote electronic spying by China's Ministry of State Security or PLA Strategic Support Force, that conduct electronic intelligence gathering.
Several other nations have banned Huawei products as well.
Gertz also provided in his article insights from an FBI brief to private industry about the threat posed by the Chinese approach.
The FBI stated in a briefing for corporate security officials last year on the Chinese telecommunications industry that Huawei and a rival telecommunications company, ZTE, are privately held companies but dependent on government for both resources and funding.
Huawei was labeled a Chinese "national champion" by the government. The official designation is used for state-owned entities and signifies that the conglomerate, which produces routers, cell phones, and other equipment, is a key element in Beijing's state-directed economic policies including the acquisition of foreign technology. Huawei is currently focusing on developing high-performance computers and cloud computing.
The FBI briefing said Huawei and ZTE engage in economic espionage for Beijing and noted that ZTE in the past was sanctioned for illicit dealings with Iran and North Korea.
In the industry presentation, the FBI stated that China's government uses Huawei and ZTE to advance national objectives. Those objectives include assisting Chinese intelligence and security services in the massive domestic electronic surveillance programs targeting Chinese citizens. The companies also are part of foreign influence operations aimed at reducing foreign resistance to China's drive for global supremacy.
The two telecom companies also are engaged in boosting China's economic growth by competing directly with the United States in leading development for 5G advance telecommunications technology and  artificial intelligence, the FBI said.
Additionally, Huawei is one of China's leaders in supporting several "megaprojects"—including an effort to control the emerging Internet of Things, the vaguely defined network of millions of internet-linked devices. A second megaproject is developing "smart cities" of wired communities that will facilitate greater Chinese government and Communist Party control.
The FBI briefing questioned whether Huawei or ZTE will be successful and noted concerns about industrial inefficiencies, pervasive Communist Party corruption, and weak corporate accounting and oversight.
"Foreign suspicion of Chinese companies is growing," the FBI stated.
What can be done?
Ross Babbage highlighted some key tasks facing the liberal democracies
I would identify a number of potential components of what one might call an effective counter strategy.
First is a denial strategy.
Here the objective is to deny, not just the operations and make them ineffective, but also to deny the political benefits that authoritarian states seek to win by conducting their operations.
Second is a cost imposition strategy.
We need to find ways to correlate their behavior with an imposed cost.  We need to make clear that if they are going to behave like this, it will cost them in specific ways.
Third is focused on defeating their strategy, or making their strategy counterproductive.
We can turn their strategy on its  head and make it counter-productive even within their own societies.
Their own societies are fair game given the behavior of the of our combined assets Russians and Chinese.
Fourth is to make it damaging, and even dangerous, for authoritarian regimes  to sustain their political warfare strategy.
Authoritarian regimes have their own vulnerabilities and we need to focus on the seams in their systems to make their political warfare strategies very costly and risky.
And we need to do this comprehensively as democratic allies.
There's no reason why we can't coordinate and cooperate and make the most of our combined resources, as we did in the Cold War..
But do we have the right tools and coordination mechanisms for an all-of-alliance strategy to work well?
In my view, the Western allies have a great deal of work to do.