European-Canadian Partnership Delivers A220: An Opportunity for Alabama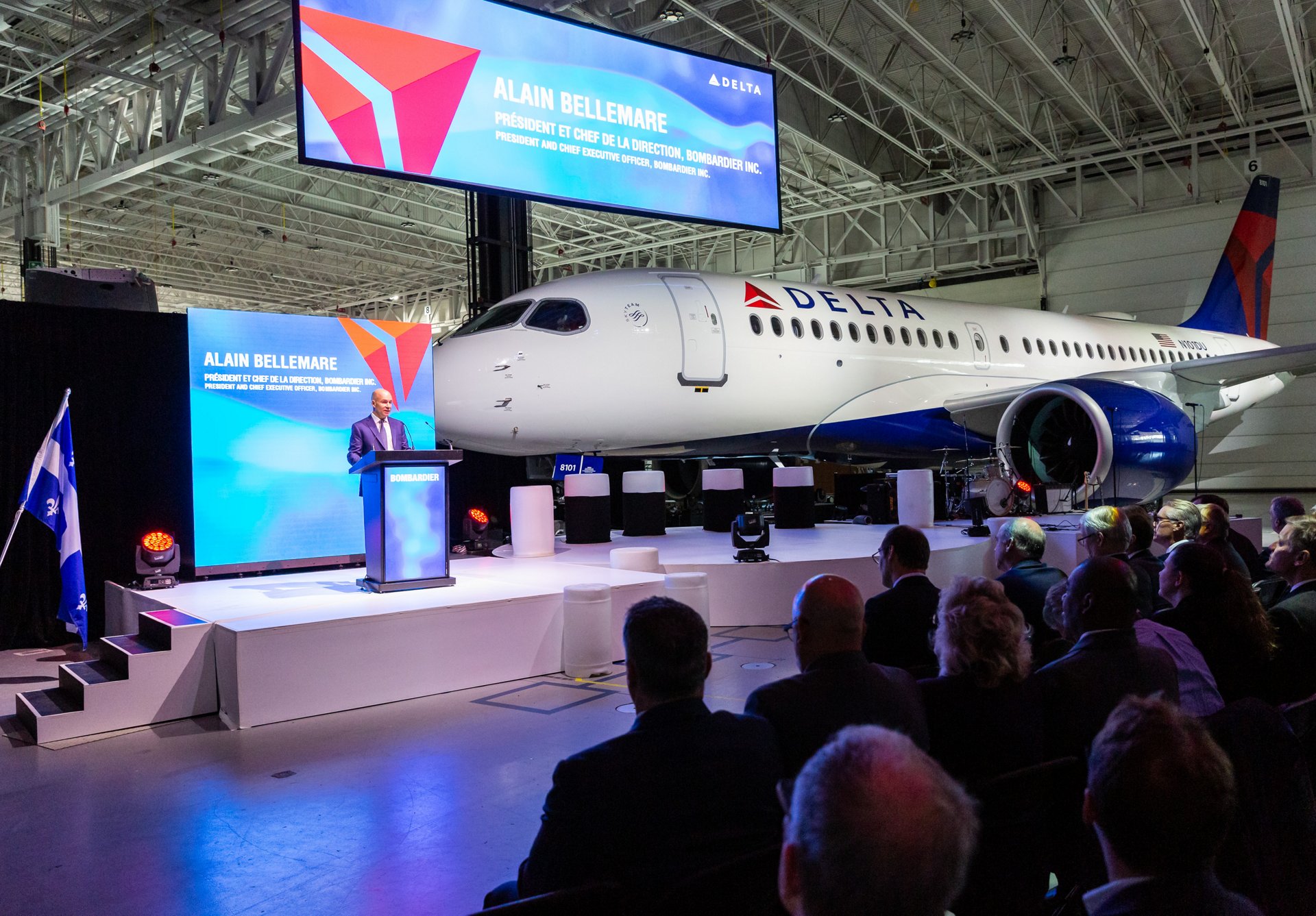 Airbus' global reach and scale combine with Bombardier's state-of-the-art jet aircraft in the A220 Family, now being produced in a partnership between Airbus and Bombardier.
Airbus manufactures, markets, and supports A220 Family aircraft under the aegis of the Airbus-Bombardier partnership, with Bombardier's two jetliners – previously designated the C Series – being brought into the Airbus commercial aircraft line-up.
These airplanes fill an important niche – covering the segment that typically accommodates 100-150 seats – and responding to a worldwide aviation market for smaller single-aisle jetliners estimated at some 7,000 such aircraft over the next 20 years.
https://www.airbus.com/aircraft/passenger-aircraft/a220-family.html?cid=psearchdef__global__us-en__br__google__ao-sem%7Ccommercialaircraft-a220family%7Cem__TF
And in a news release dated October 27, 2018, Airbus announced that Delta Air Lines took delivery of its first Airbus A220.
Airbus today welcomed Delta Air Lines as the first U.S. carrier to take delivery of the Airbus A220 aircraft.  On hand for the delivery ceremony at the aircraft's assembly line in Mirabel were members of the A220 team as well as government officials and executives from Delta, Airbus, Bombardier and Investissement Quebec.
 "It is with great pride that we take delivery of our first, state-of-the-art A220-100," said Delta Chief Executive Ed Bastian. "We have big plans for our A220 fleet and are confident that Delta customers and Delta people alike will be delighted with the in-flight experience provided by this thoroughly modern and efficient aircraft. We value our longstanding partnerships with Airbus and Bombardier and are grateful for the great design and manufacturing work done by the team here in Mirabel."
Delta's A220 will enter service in early 2019, making Delta the fourth global airline to operate the aircraft previously known as the Bombardier C Series. The C Series Aircraft Limited Partnership (CSALP) welcomed Airbus as lead partner earlier this year, prompting the change of name to the Airbus A220.  Delta is the largest A220-100 customer, with a firm order for 75 aircraft.
Guillaume Faury, President of Airbus' commercial aircraft business, said, "We at Airbus are dedicated to providing our customers the right products for a marketplace that needs modern, efficient and passenger-friendly aircraft – and the remarkable A220 certainly delivers. When a great airline like Delta puts a new aircraft into service as a platform for their outstanding passenger service, the entire industry takes note. The A220 team is gratified by the confidence that the Delta family has placed in this excellent, Canadian-born aircraft."
The A220-100 delivers unbeatable fuel efficiency. It brings together state-of-the-art aerodynamics, advanced materials and Pratt & Whitney's latest-generation PW1500G geared turbofan engines to offer at least 20 percent lower fuel burn per seat compared to previous generation aircraft.
With an order book of over 400 aircraft to date, the A220 has all the credentials to win the lion's share of the 100- to 150-seat aircraft market, estimated to represent at least 7,000 aircraft over the next 20 years.
As of the end of September, Delta was operating a fleet of 235 Airbus aircraft, including 182 A320 Family members, as well as 42 A330s and 11 A350 XWB, or eXtra Wide Body aircraft. The airline has more than 275 additional Airbus aircraft on order. Next year, Delta will become the first U.S. airline to operate the new Airbus A330neo.
A story by Lawrence Specker published on AI.com on September 14, 2018, the coming of the A220 to Alabama for production was highlighted.
It's a jet Boeing really didn't want the world to see, and one that Alabama can't wait to see more of: An Airbus A220-100 painted in Delta colors.
Bombardier and Airbus eagerly showed off photos of the new bird on Friday, after it rolled out of a paint shop at a Bombardier facility in Mirabel, Canada. Airbus said that when it's delivered, it'll make Delta the first U.S. airline to put an A220 in its fleet.
For now, Mirabel is the only manufacturing site producing the A220. But Airbus and Bombardier plan to build another assembly line at Airbus' campus in Mobile, Alabama, and begin delivering the jets in mid-2020. Executives said this week that preliminary work is under way and construction should begin late this year or early next year. When operational, that facility will provide hundreds of new aerospace jobs.
There's a lot of history behind this first Delta A220.
Bombardier spent years and billions of dollars developing what it called its C-Series jets, a family of cutting-edge commuter jets designed to carry roughly 100 to 150 passengers. The development effort strained the company's resources to the point where it might have struggled to reach its market potential with the new jet.
When Delta placed a big order for C Series jets in 2016, it triggered an international trade complaint in 2017 from Boeing. The U.S. manufacturer argued that Bombardier was benefiting from excessive governmental support and selling the jets at unfair prices.
Boeing won an initial ruling that resulted in a heavy proposed tariff. Airbus and Bombardier announced a joint venture — with Airbus holding a majority stake — and plans to build the jets in Mobile. Boeing decried the move as an impractical end run around the tariffs, and Delta at one point said it would wait for its jets to be made in the United States.
Boeing ultimately lost the dispute. It has formed an alliance with Brazil-based Embraer, which will help it compete in the potentially hot market for 100- to 150-seat jets. Meanwhile, Airbus officially renamed the C Series, rebranding it as the A220 family.
Given that Delta's 2016 purchase agreement was for 75 of the jets, it's quite likely that the Mobile assembly line will help fulfill the order. Other major A220 customers include JetBlue.
According to Airbus, the new jet will go through pre-flight activities next, followed by its first flight sometime this fall. It should go into service in early 2019.