European Sky Shield Initiative Update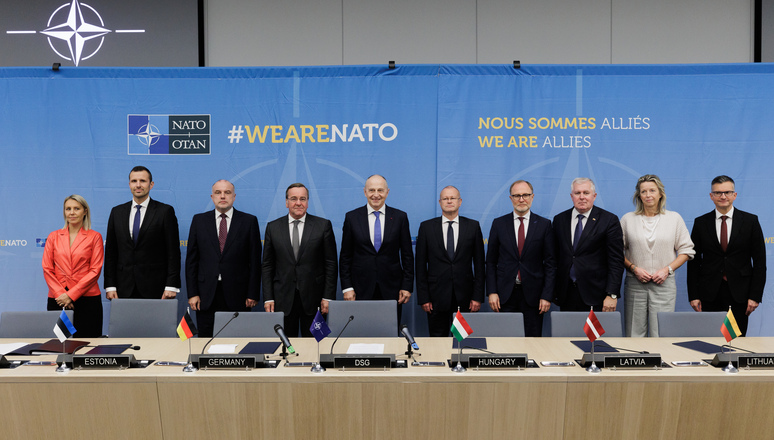 On 11 October 2023, NATO issued a press release which focused on the German-led European Sky Shield Initiative.
Defence Ministers from 10 NATO Allies came together on Wednesday (11 October 2023) to sign a memorandum of understanding to further develop the European Sky Shield Initiative. Under Germany's leadership, the initiative aims to bolster European air and missile defence through the joint acquisition of air defence equipment and missiles by European nations. This will strengthen NATO's integrated air and missile defence. 
"European Sky Shield Initiative, under Germany's leadership, shows the value of Allies stepping up to meet NATO's requirements, while ensuring interoperability and integration," said NATO Deputy Secretary General Mircea Geoană.
He added: "This initiative therefore, helps translate Allied commitments on defence spending into tangible capabilities available for our collective defence. It demonstrates the clear commitment of European Allies to fair burden sharing as well."
The European Sky Shield Initiative enables participating nations to jointly procure an air and missile defence system in an efficient and cost-effective way using interoperable, off-the-shelf solutions. This multinational approach offers a flexible and scalable way for nations to strengthen their deterrence and defence. 
The 10 NATO Allies participating in the initiative are: Belgium, Czechia, Denmark, Estonia, Germany, Hungary, Latvia, Lithuania, Netherlands and Slovenia.
Pierre Tran published an article on Second Line of Defense this summer which provided further analysis of this initiative.
Paris – Germany has kept the door open to France and Italy joining Berlin's project for an extended European missile defense system in response to the Russian invasion of Ukraine, a senior German government official said June 30.
"The European Sky Shield Initiative is open to all European partners, including France and Italy," the German official said.
The Russian deadly incursion into Ukraine last year led the German chancellor, Olaf Scholz,   to sign in October a non-binding letter of intent with 14 Nato allies to pursue the European Sky Shield Initiative (ESSI), an anti-missile system.
Switzerland said on July 4 it sought a place in that air defense system, just two days after Austria said it was seeking to join Sky Shield. The interest by two traditionally neutral nations was seen as pointing up the significance of the German-led project.
That weapons project, led by Berlin, rankled French president Emmanuel Macron, as the  system relied heavily on non-European weapons, namely the U.S. Raytheon Patriot missile for medium-range, and Israel Aerospace Industries Arrow-3 for long-range interception. The German Diehl Iris-T would be used to hit incoming short-range targets.
Macron saw that dependence on U.S. and Israeli weapons as a direct hit on his pursuit of the concept of European strategic autonomy, which called for orders for the European – including French – arms industry.
An order for the Israeli weapon is reported to be worth close to €4 billion ($4.4 billion).
"We need protection as soon as possible, not in 15 years," the German official said when asked about Berlin buying the Israeli anti-intercontinental ballistic missile.
Sky Shield fits in with Nato, in which the U.S. holds privileged position.
"Nato considers ESSI to be in line with its Integrated Air and Missile Defense," the official said.
The transatlantic military alliance is holding its two-day summit at Vilnius, Lithuania on July 11-12, and Ukraine's request for membership is expected to be high on the agenda.
Macron has switched French policy tracks and backs Kyiv's application to join Nato.  Previously Paris had kept Ukraine at arm's length from the alliance, looking to keep the peace with Moscow. But the invasion of Ukraine has changed that softly-softly approach, as can be seen with Macron ordering delivery of the SAMP/T Mamba missile system and armored vehicles to the Ukrainian forces.
That Paris policy switch has sparked "incomprehension" with Berlin, afternoon daily Le Monde reported July 2.
No Mamba
Absence of the Franco-Italian medium-range SAMP/T weapon from the German Sky Shield plan rubbed industrial salt into the political wound. That European anti-missile system relies on the MBDA Aster missile and Thales Arabel radar, produced by the Eurosam joint venture.
Switzerland's request to join Sky Shield followed Austria's, while Denmark and Sweden said in February they sought to join the anti-missile system. The U.K. was among the 14 nations which signed the letter of intent.
France, Italy, and Poland have not joined the Sky Shield project, but Germany has not ruled out the nations signing up.
The partnership is open to all European nations, the German official said.
Cities which would be covered by the anti-missile protection are classified top secret.
Macron called June 19 for European allies to order European rather than American weapons at a conference on air defense and  anti-missile strategy, held on the first day of the Paris air show. That conference was seen in part as a Paris riposte to the Berlin project.
Macron called off a long-awaited three-day state visit to Germany which had been due to start on Sunday, amid deep concern over riots and unrest across France in response to the police shooting of a 17-year old boy of north African parents in the suburbs of the capital.
The head of state had to leave early on Friday a European Union summit in Brussels due to violent protest and vandalism in the streets across the nation, with public buildings and stores attacked when the sun went down.
Macron's visit had been to mark the 60th anniversary of the bilateral Elysée treaty and close cooperation between France and Germany. The visit had aimed to strengthen ties between young French and Germans, in a bid to maintain close relations in future generations.
Meanwhile, Macron came under attack from the far right and far left for a perceived failure to calm the social turmoil at home.
The postponed trip to Germany came after Macron in March asking King Charles to desist from visiting France as his first foreign destination as the British head of state. A long running  strike of garbage collectors had left the streets of the capital in piles of stinking rubbish.
King Charles went instead to Berlin.
Mamba Upgrade
On the present SAMP/T Mamba, there is a "poor radar," which has a shorter range than the Aster 30 missile, said a research note on the recent Paris air show from Agency Partners, an equity research firm. That "clear weakness" means a "short engagement time."
The French armed forces ministry promoted an SAMP/T NG (new generation) version at the Eurosatory trade show for land weapons last year. This upgraded weapon consisted of new GF 300 radar with greater range of more than 350 km, and a longer range Aster Block 1 NT (new technology) missile capable of hitting ballistic missiles, with greater protection and better ergonomy for the command and control team.
Eurosam signed March 19 a contract for development of the Aster B1 NT missile.
That came after  a December 30 contract with the Occar procurement agency for almost 700  Aster missiles, in the 15, 30 Block 1, and Block 1 NT versions for the French and Italian armed forces, reported to be worth some €2 billion.
The upgraded Aster new generation version will continue internal competition with the  supply of distinct Leonardo and Thales radars to their respective client nations, and while this might offer "greater customer choice" in the open market, Agency Partners expressed scepticism on that approach.
Maiden Flight of Hypersonic Glider Missile
On missiles, France launched June 26 at 10 pm  its first test flight of an experimental hypersonic glide vehicle, dubbed V-Max. The manoeuvring missile, flying above Mach 5, was launched by rocket from the Biscarrosse test site, western France, operated by the Direction Générale de l'Armement procurement office.
Analysis of data received during maiden flight will lead to further experimental flights, the defense ministry said, and the missile carried technological innovation onboard.
Ariane Group, a specialist in space launchers, built the missile, and was backed by Onera, the research agency.
First published on July 5, 2023.
Featured Photo: Left to right: Ludivine Dedonder (Minister of Defence, Belgium); unknown; Juri Luik (NATO Permanent Representative, Estonia); Boris Pistorius (Minister of Defence, Germany); NATO Deputy Secretary General Mircea Geoană; unknown; Andris Sprūds (Minister of Defence, Latvia); Arvydas Anušauskas (Minister of Defence, Lithuania); Kajsa Ollongren (Minister of Defence, The Netherlands); Marjan Šarec (Minister of Defence, Slovenia)