Air Commodore David Bradshaw: Lightning Force Commander
Air Commodore Bradshaw was appointed as Lighting Force Commander, Royal Air Force Marham in April 2017 and he succeeded Air Commodore now Air Vice-Marshal H. Smyth.
Earlier, I have had the chance to discuss the standing up of the F-35 within the RAF with Air Vice-Marshal Smyth and that conversation in 2016 highlighted the core significance of RAF and Royal Navy collaboration in standing up the F-35 as a carrier based aviation system.
"As an RAF pilot with significant maritime and carrier operational experience, we are shaping a collegiate and joint way ahead with the Royal Navy which brings the RAF domain knowledge of ways to operate in the extended battlespace with the coming of the F-35B to the new Queen Elizabeth class carrier.
Being radical, I think it would make sense to put a picture of the Queen Elizabeth class carrier on our RAF recruiting poster;the RAF and the RN are jointly delivering the UK's future Carrier Strike capability, and a all RAF Lightning pilots will spend some of their time at sea, as I did throughout my 16-year career in Joint Force Harrier – we are forging an integrated approach together, which is incredibly exciting."
This collaborative aspect was driven home during the May 1 2018 visit to RAF Marham by having a chance to talk with both the RAF Lighting Force Commander and his deputy, Captain Adam Clink, Royal Navy.
Air Commodore David Bradshaw is a fast jet pilot with almost 3000 hours flying experience of which 2000 hours were in Harrier GR7 / 9 as a front line pilot, Qualified Weapons Instructor and Display Pilot. 
He has seen operational service over the Balkans and Iraq, the latter from both land and HMS Illustrious.
As a group captain, he commanded 904 Expeditionary Air Wing (EAW), Kandahar, followed by RAF Leeming and 135 EAW. Staff roles have included: Group Captain Lightning; Assistant Director (Integration) within the Directorate of Equipment Capability, Deep Target Attack; Chief-of-Staff Strategy within the Air Staff; and as the MoD member of the Prime Minister's Strategic Communications Team during the 2011 NATO intervention in Libya.
Air Commodore Bradshaw assumed command of the UK Lightning Force in spring 2017 and is responsible for generating an Initial Operational Capability in 2018 with an embarked operational capability from HMS Queen Elizabeth in 2020.
 The discussion with Air Commodore Bradshaw focused on standing up the Lightning Force at RAF Marham but in such a way that the RAF and Royal Navy could work together to shape innovative ways to pursue combat innovation in the period ahead.

Much of the effort currently under way at RAF Marham is to set up the F-35 while continuing to operate two squadrons of Tornados, but the infrastructure is being put in place to reach beyond that point and to shape the kind of multi-domain combat learning essential for effective 21st century operations.
Recently, I visited RAAF Williamtown and talked with Air Commodore Kitchner about the RAAF rebuild of the base and the transition in the next couple of years from Hornets to F-35s. My conversation with Air Commodore Bradshaw started with his comparing the RAF approach to that of the RAAF.
Air Commodore Bradshaw: "The RAAF at Williamtown have carved out an entire part of their airfield and have created a hugely impressive F-35 enclave in which everything needed to support the air system is clustered.
"We have taken a different approach, in part because we are operating two squadrons of Tornados at RAF Marham through the transition period but mainly to make best use of existing infrastructure to keep costs as low as possible while still delivering a Main Operating Base fit for the future.
"You can see going around the base the build up of our new F-35 infrastructure but see the Tornados flying over head.
"We need to manage both and we are leveraging Tornado infrastructure in part as well as we draw down the Tornado Force.
"For example, we are reusing Tornado hardened aircraft shelters from which to operate F-35s in the future."
The Dambuster squadron arrived on June 6, 2017 and thereby began its operational life at RAF Marham. As Air Commodore Bradshaw noted: "We are building out a standard squadron infrastructure that you expect but one modernized to exploit the best of F-35 and meet the security requirements as well."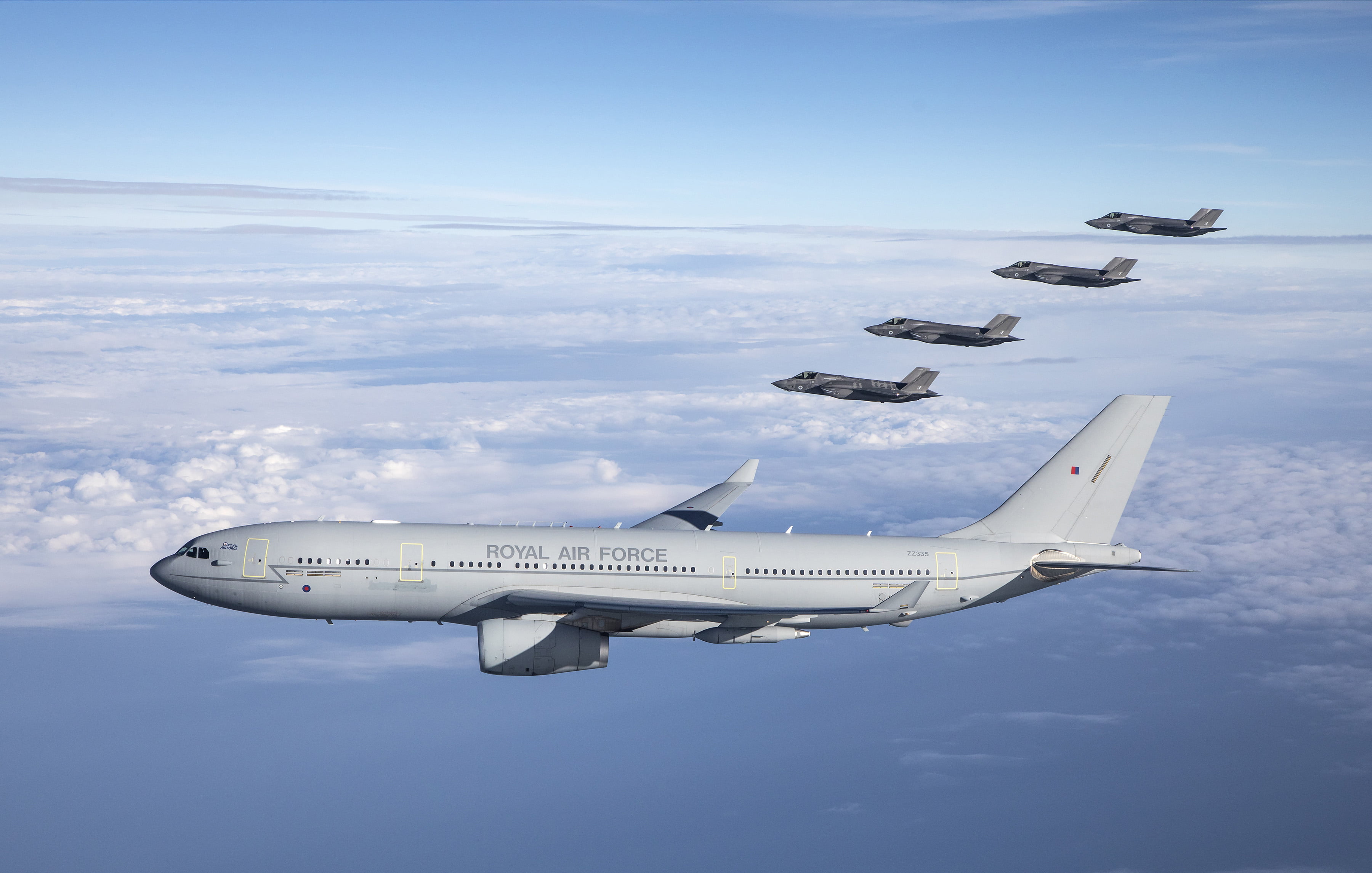 They are also building what they call "Freedom of Action" facilities to ensure UK sovereignty over their operational aircraft. Such a facility is the stealth finishing facility to ensure maximum stealth performance of the aircraft in operational conditions.
But the UK is building out from outset an approach to leverage the F-35 as a driver of combat innovation, something I like to call F-35 2.0.
This is how Air Commodore Bradshaw put it. "The F-35 Integrated Training Center is the jewel in the crown of the F-35 effort at RAF Marham.
"We are working from the start to leverage the synthetic training environment enabled by the ITC, to provide a foundational capability that can empower our broader effort.
"We call this broader effort the Defence Operational Training Capability (Air) Core System.
"This approach will be to link the various key warfighting elements together to innovate and train for the evolving 21st century battlespace."
"With the DOTC system, we are looking to work F-35 with Typhoon, with AWACs, with Type 45 Air Warfare Destroyer and our JTACs, to shape a multi-domain warfare approach.
"We are building the ITC as a key element not just to empower our use of the F-35 but to leverage its information and C2 capabilities to drive change throughout the force."
The UK has built an all-F-35 fast jet carrier. This makes it the only one in the world.
Although the US carrier community has certainly been a key partner in helping the UK stand up its new carriers, a point made often in discussions with the RAF and the Royal Navy, they are clearly going down a path of doing something a bit different.
This is how Air Commodore Bradshaw put it:
"We have designed the Lightning Force from the very beginning to be joint. My deputy is a Royal Naval officer. The entire Lightning Force is a mix of light and dark blue.
"From the outset, we have a different view to many other Air and Naval forces about how we will use our F-35s.
"Taking our unique joint approach either to a deployed operating location or onto the Queen Elizabeth Class carrier, we need to exploit the opportunity to do it the right way for the UK and not necessarily slavishly follow another model that might exist elsewhere in the world."
Obviously, with the political changes underway in Europe and elsewhere, the UK is looking to shape partnerships which protect its interests and provide strategic opportunities to shape its capabilities going forward.
And flying a force of F-35s and Typhoons provides them with an interesting opportunity to work with Europe going forward.
"With the F-35, we will have unique opportunities to work with our Northern European allies, including the Norwegian, Danish and Dutch Air Forces as well as out USAF neighbors at RAF Lakenheath.
"And with the Typhoon, we have good opportunities to work with the Germans, Spanish and Italians.
"And with the Italians flying a mixed force of F-35A, F-35B and Eurofighter, we have great opportunities to work together as well."
In short, shaping a new operating base at RAF Marham and working with the two Queen Elizabeth carriers provides a significant opportunity for shaping air combat innovation, including in the sustainment area.
The featured photo was taken during a 2017 visit to RAF Marham and showed the building of the new Maintenance and Finishing Facility. Pictured FLtoR Dean Burgess( Balfour Beatty) David Bradshaw RAF Marham Air Commodore.Rich Davies then RAF Marham Base Commander Group Captain. David Baird BAE. Richard Bannon
The featured photo shows Air Commodore Bradshaw n the F-35 integration simulator, August 16, 2017. Credit: BAE Systems.