Capt. Matthew Pottenburgh: CO of Patrol and Reconnaissance Wing Eleven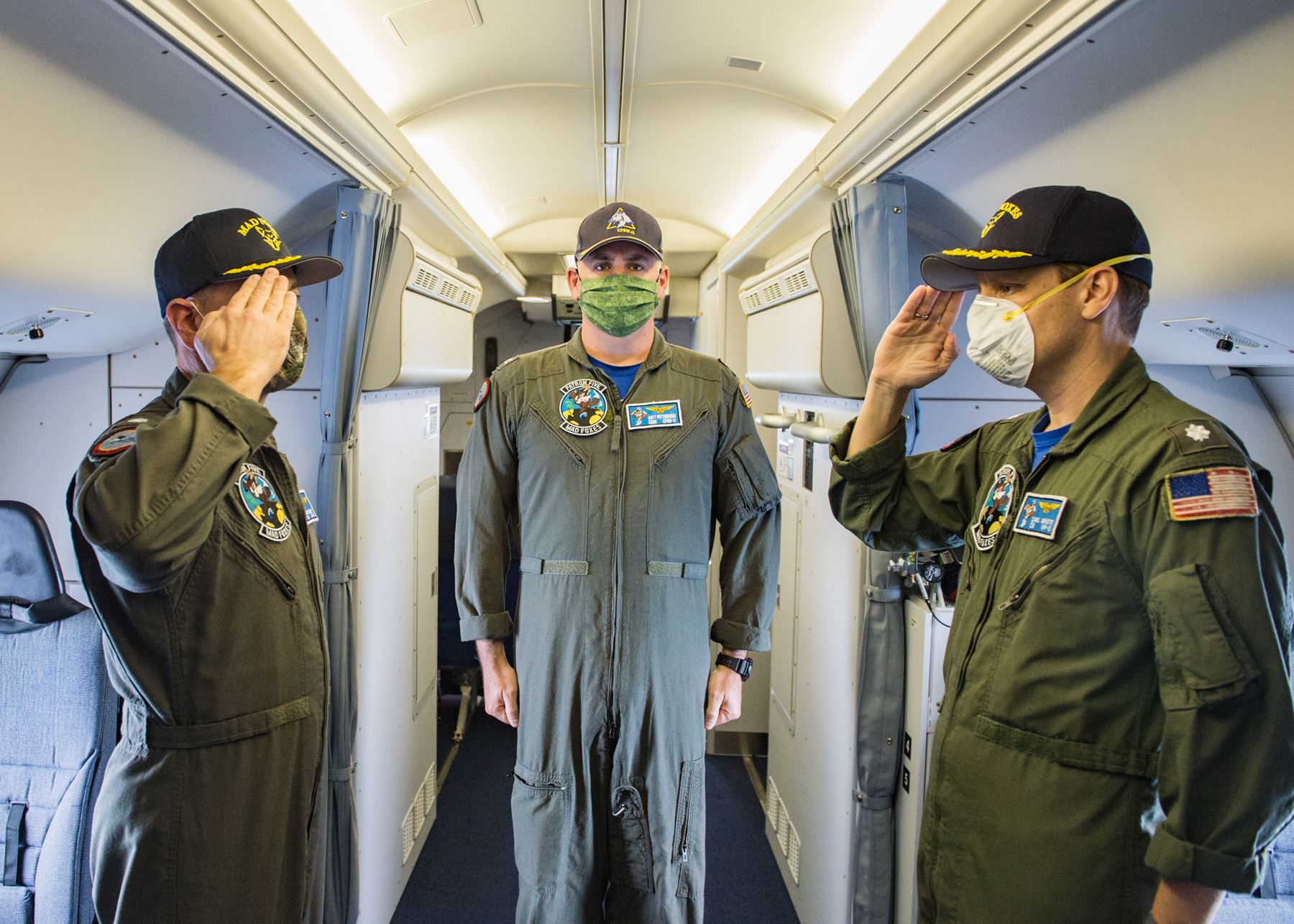 Earlier this year on March 12, 2020, Capt. Matthew Pottenburgh became the 58th Commodore in charge of Patrol and Reconnaissance Wing Eleven.
In an article by Lt. Zachary Galcynski, the Wing Eleven Public Affairs Officer, the event was highlighted as follows:
The Navy's Patrol and Reconnaissance Wing (CPRW) Eleven held a change of command ceremony aboard Naval Air Station (NAS) Jacksonville, March 12.
Vice Adm. DeWolfe Miller III, commander, Naval Air Forces/commander, Naval Air Force, U.S. Pacific Fleet, served as the guest speaker for the ceremony and highlighted the accomplishments of Capt. Craig Mattingly during his tenure, and welcomed Capt. Matthew Pottenburgh as the 58th commodore.
"He's a 'mission first – people always' leader and when he says, 'take care of your Sailors and families and they will take care of the mission' he means it," said Miller. "He walks that walk and has walked that walk ever since his first day as an enlisted Sailor in 1987."
Rear Adm. Peter Garvin, commander, Patrol and Reconnaissance Group, served as the presiding officer for the ceremony and discussed the stalwart professionalism, inspirational leadership, and operational focus exhibited by both Mattingly, and Pottenburgh.
"Patrol and Reconnaissance Wing Eleven has been very well served by Capt. Mattingly during his time in command, and we look forward to continuing that brilliant record of success under Capt. Pottenburgh," said Garvin.
Mattingly, a native of Austin, Kentucky, left the family dairy farm in 1987 to enlist as an aviation anti-submarine warfare operator in the Navy. He is a 1995 graduate of the United States Naval Academy where he received a Bachelor of Science degree in Oceanography. He also holds a Master of Science in National Security Strategy from National Defense University in Washington, D.C.
He took command of CPRW-11 as the 57th commodore in June 2018 and reflected on his time in command.
"I am proud to have led this great team. I can only ask that you continue to strive to be a competent, professional force which has no equal; that you lead Sailors with compassion, that you excel in the air, and that most of all, you continue to be better today than yesterday," said Mattingly. His flying tours include Patrol Squadron (VP) 50 during his enlisted days, and as a Naval Flight Officer (NFO) with VP-8 and VP-26 aboard NAS Brunswick, Maine, as a fleet instructor with VP-30, NAS Jacksonville and command of VP-9 at Marine Corps Air Station Kaneohe Bay, Hawaii to name a few.
As he thought about his original plans following the 2018 change of command and to present day, Mattingly reflected on the wing's accomplishments.  "Our focus will be to take care of our most precious assets, the men and women of CPRW-11. We will sustain current readiness of our P-8A squadrons and reserve P-3C squadron while incorporating the MQ-4C Triton in to the maritime patrol and reconnaissance force," said Mattingly.
During his tenure, Mattingly oversaw continuous squadron deployments, along with supporting Mobile Tactical Operations Centers engaged in various areas of responsibility.
Pottenburgh, a Galena, Ohio native, assumed command of the largest P-8 Poseidon, P-3 Orion and MQ-4 Triton Wing from Mattingly, who has commanded CPRW-11 over the last 21 months. Pottenburgh addressed the ceremony attendees and discussed the focus of the Wing after assumption of command.
"We will continue to man, train, equip, and operate combat-ready and lethal Maritime Patrol and Reconnaissance Forces who are ready to deploy to any corner of the globe," said Pottenburgh. "We will continue to deter aggression and maintain freedom of the maritime domain."
In 1996, Pottenburgh commissioned as an Ensign earning his Wings of Gold upon completion of Naval Flight Officer training in May 1997. Pottenburgh holds a Bachelor of Science in Industrial Design, a Master of Science in Operations Management from the University of Arkansas and a Master of Science in National Resource Strategy from the National Defense University of Dwight D. Eisenhower School. His recent flying tours include VP 40, VP-47 and command of the VP-5 "Mad Foxes" aboard NAS Jacksonville.
After relinquishing command at CPRW-11, Mattingly will serve as the Executive Assistant for the Deputy Chief of Naval Operations for Operations, Plans, and Strategy (OPNAV N3/N5) at the Pentagon in Washington D.C.
CPRW-11 squadrons include Patrol Squadrons (VP) 5, VP-8, VP-10, VP-16, VP-26, VP-45 and VP-62, along with the Unmanned Patrol Squadron (VUP-19).
There are two Patrol and Reconnaissance Wings in Florida and Washington State, composed of 14 Patrol and Reconnaissance squadrons.  There is a single Fleet Replacement Squadron located in Jacksonville, FL.
Patrol and Reconnaissance Wings serve as the Navy's premier provider for airborne Anti-Submarine Warfare, Anti-Surface Warfare, and Maritime Intelligence, Surveillance, and Reconnaissance operations.
But what does it mean to man, train and equipping the Maritime Patrol and Reconnaissance Forces for the new strategic environment?
During my recent visit to Jax Navy, I had a chance to talk with Capt. Pottenburgh, Commodore of Patrol and Reconnaissance Wing ELEVEN, and Captain T. J. Grady, Commanding Officer of VP-30 and the Triton Fleet Introduction Team. The two leaders have worked together on and off again throughout their careers and that collaboration informs and helps synchronize their current efforts as well. And both early on were part of the transition from P-3 to the P-8 and involved in the "training wheels" phase of P-8 development from 2012 through approximately 2017 and the next phase of the deployment of a global fleet and fleet wide modernization efforts since that time.
There were a number of takeaways from our conversation which provide an understanding of one might effectively answer the question posed above. I am not going to quote Captain Pottenburgh and Captain Grady directly, but will identify what I learned from that conversation.
Obviously, introducing a significantly different aircraft from the P-3, one which operates most effectively embedded in networks, is a challenge. It is challenge on several levels.
The first challenge is working through the kinks in the aircraft itself and getting that aircraft fully functional to deliver the baseline capabilities which the aircraft as a fleet might provide.
That takes time for the operators, the operational crew and the maintainers, to gain the experience to inform the engineers and the contractors of what needs to be fixed, improved or replaced.
That initial phase has been completed, but because it is a software upgradeable aircraft, there is an ongoing quality of what will change onboard the aircraft to adjust to the kill web operational realities of the aircraft within the fleet going forward.
The second challenge is training to operate an aircraft operating with a very different concept of operations than the P-3 which operated "alone and unafraid."
Given the nature of the operational capabilities of the aircraft, and how the cabin is configured for operators, there has been a learning process to sort through the kind of crewing and squadron size most effective.
This phase is now under the belt for the Maritime Patrol and Reconnaissance community.
And operating the aircraft over time has led to different crewing approaches as well.
When we visited Jax Navy in 2016, there were five work stations onboard the aircraft. This now has been increased by one, or to having six work stations onboard the aircraft. They have added a second Electronic Warfare Operator or EWO to the operational crew onboard the P-8.
The third challenge is to adapt the enterprise not simply the P-8 as a platform.
Clearly, mastering an ability to operate the P-8 as a platform and one embedded in a kill web is the bedrock from which enterprise management can then be addressed. But because this is a sensor generating, receiving and embedded platform which is both a sensor and shooter, but a sensor-shooter that can enable third party targeting, the enterprise is an important part of the man, train and equip function as well.
Part of this challenge is to work ways to manage data much more effectively in support of the MPA fleet as well as the larger joint combat force.
This has led to the standing up of Tactical Operations Control Squadron (TOCRON) 11 as part of the Patrol and Reconnaissance Wing as well. This command is operational this month and is the latest member of CPRW-11. The squadron is tasked with data support and management for CPRW-11. They are tasked with imaging all of the fleet's mission systems hard drives, and data with regard to software, mission planning and the flight profiles of the fleet.  They are the key enabler to maritime patrol's Tasking, Collection, Processing, Exploitation, and Dissemination (TCPED) process, which helps drive the intelligence analysis cycle.
With the increase in mission system's capability and increasing integration into the joint kill web, the MPRA community clearly relies on TOCRON with a P-8 enabled MPA force.
The fourth challenge is standing up of the Triton squadron and working the challenge of the co-development of Triton with the P-8 to deliver the common operating picture enabling the kill web force.
The Triton is the new kid on the block and is working through the "training wheels" phase much like the P-8 faced earlier.
But the Triton poses other challenges associated with the evolving nature of the enterprise.
How to manage orbital concepts of operations along with more traditional sortie generation operations by manned aircraft?
While the P-8 can operate with autonomy and networkability, the Triton is network generating and enabling asset.  CPRW-11 and VP-30 works cross training for the operators for the P-8 and Triton, as the Navy does want to create an isolated remote piloted operating community.
The Triton puts significant demands on the wave forms and networks enabling the Maritime Patrol and Reconnaissance and the equip function here certainly reaches beyond what the P-8 and Triton platforms organically carry themselves.
I have referred elsewhere as Triton being an example of manned-unmanned teaming but it was suggested in this conversation that there was a better way to put this idea.
What is being shaped are coordinate operations between the two platforms, where the Triton can sweep the field of operations to identify targets and allow the P-8s to focus on those targets and to focus their activity from take-off on where they need to go and what they need to do.
By training operators in both Triton and P-8 operations, crews gain first hand access to the wider range vision which Triton delvers compared to P-8.
In short, the evolution of the Maritime Patrol and Reconnaissance community poses significant challenges in mastering evolving platforms, notably ones designed to work together.
But even greater challenges are posed by the question of training for how that community operates within a distributed maritime force to deliver integrated effects.
JACKSONVILLE, Fla. (April 16, 2020) Capt. Matthew T. Pottenburgh, Commander, Patrol and Reconnaissance Wing (CPRW) 11, observes as Cmdr. Ronald H. Rumfelt Jr., left, relieves Cmdr. Carl E. White III, right, as commanding officer during the change of command ceremony for Patrol Squadron VP-5 aerially above Naval Air Station (NAS) Jacksonville in a P-8A Poseidon. VP-5 is part of the U.S. Navy's Maritime Patrol and Reconnaissance Force, one of the oldest and most storied branches of Naval Aviation. (U.S. Navy photo by Mass Communication Specialist 3rd Class Sergio Montanez)