Captain Paul Russell, Allied Joint Forces Command Norfolk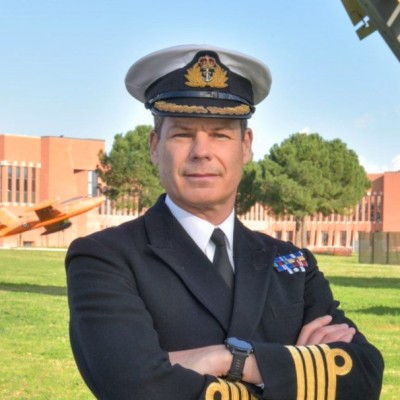 During our March 2021 visit to Norfolk, we had a chance to discuss with a very experienced British Naval Officer serving on the JFC Norfolk staff the way ahead for the Command.
Captain Paul Russell is the Assistant Chief of Staff for Operations at the command.
His experience spans global naval operations. As examples of his experience, he deployed to the Falkland Islands for guard ship duties. He deployed down the West African coast and arrived as the first UK ship to go to Luanda for ten years. And his service has embraced working on the European Union Operation Sophia mission, which has been shaped to deal with the Mediterranean migration crises as well.
During most of his time with the Royal Navy, the size of the force was being reduced, and the Royal Navy had to focus on single ship deployments for their global operations.
Obviously, this is challenging and requires significant seafaring competencies by the Captain and the crew. Captain Russell has navigated those waters for some time.
With the coming of the new carrier to the Royal Navy, there is a new focus on shaping task forces.
Notably, as the U.S. Navy shifts to thinking through new ways to fight as a fleet, in effect, what we call modular task forces are part of the recalibration as well.  There is little doubt that as the Royal Navy and Royal Air Force think through how to do air-sea task forces, their thinking will both influence and be influenced by the U.S. Navy as well.
As Captain Russell put it during the interview: "We provide a portal into NATO for the Second Fleet. Second Fleet is the tactical maneuver headquarters, but as a NATO command, we are focused on our role as an operational headquarters on protecting and defending the strategic lines of communication between Europe and America."
NATO Defence Ministers decided in June 2018 to adapt the Alliance's command structure with a new Atlantic command in Norfolk, and a command for support and logistics in Ulm, Germany. Joint Force Command Norfolk joined NATO's two existing Joint Forces Commands, located in Brunssum, Netherlands, and Naples, Italy.
Captain Russell argued that NATO European navies, in part because of their size, work closely together. He sees the co-location with C2F as an opportunity to bring that experience to be able to work more closely with the U.S. Navy. And as Vice Admiral Lewis has sought to put NATO C2 on U.S. Navy ships, this effort will become more widespread and effective as well.
According to Captain Russell, one focus of attention on working with the U.S. fleet is to ensure that it works to NATO standards, and not just U.S. Navy standards. "NATO procedures are well-founded and need to be incorporated on the US Navy side more effectively as well." Obviously, doing so will allow for a more effective integrated distributed force.
He also noted that changes in NATO policies are allowing for more flexible national engagements with other NATO nation's navies. Rather than a more rigid process of committing national platforms to a particular joint command, more flexibility is being generated whereby national deployments for national purposes can provide capabilities to task forces for a specific duration to achieve a particular policy or combat effect.
He argued that as the size of fleets will not grow to the scale of the challenge, a clear way ahead is shaping more effective integratability.
And he underscored, that he saw this as not only a technological development.
As he put it: "When you discuss the kill web, I would argue that the most gains in being able to do so will come for changes in policy, not simply technology."
The kind of policy changes crucial to progress in better integratability revolve around shaping more effective security management systems, such as foreign disclosure agreements, better use of software gateways to allow for more effective sharing of information, and the key element of shared training and warfare integration.
Captain Russell noted that with regard to the Royal Navy and the United States, the common aircraft, the common training and common operations being shared between the USMC and the Royal Navy onboard HMS Queen Elizabeth is a key element of the kill web.
"That engagement demonstrates an element of trust and information sharing beyond anything that has been shown before."
In short, NATO is evolution; the U.S. Navy is in evolution.
The goal of the Norfolk commands is to shape effective convergence upon effective operational capabilities.