Col. Wellons, MAWTS-1: Shaping a Way Ahead for the USMC and the Joint Force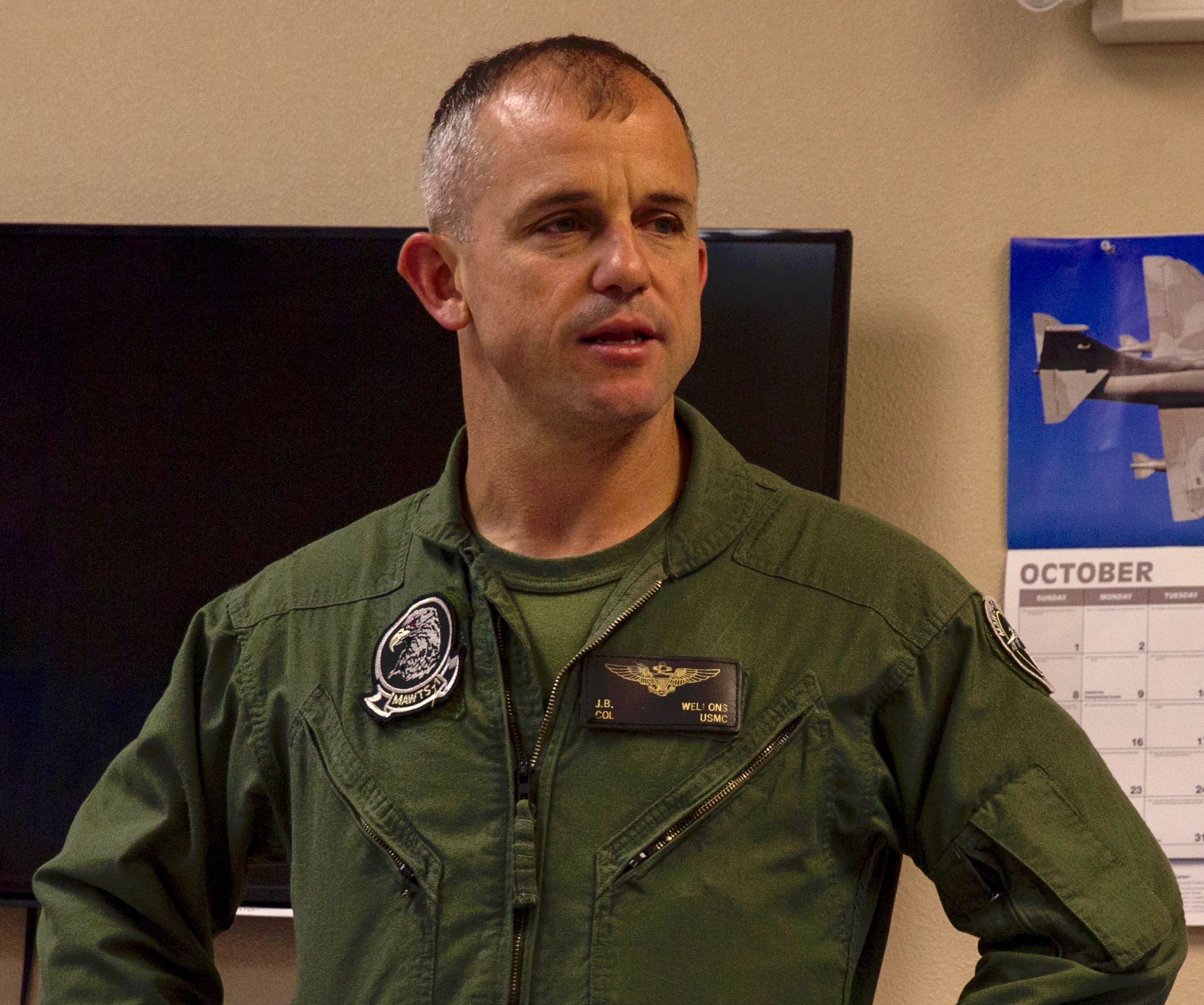 MAWTS-1 plays a unique role within the USMC and in the joint force.
In our book on the reshaping of Pacific strategy and the role of new technologies and concepts of operations, we highlighted the role of the warfighting centers in the development and evolution of US forces, for which MAWTS-1 has played a key role with the Marines first introducing Ospreys and then F-35s into the warfighting force.
MAWTS pilots and trainers are looking at the impact of V-22 and F-35 on the changes in tactics and training generated by the new aircraft. MAWTS is taking a much older curriculum and adjusting it to the realities of the impact of the V-22 and the anticipated impacts of the F-35.
MAWTS is highly interactive with the various centers of excellence in shaping F-35 transition such as Nellis AFB, Eglin AFB, the Navy/ Marine test community at Pax River, Maryland, and with the United Kingdom.
In fact, the advantage of having a common fleet will be to provide for significant advances in cross-service training and CONOPS evolutions. 
Additionally, the fact that MAWTS is studying the way the USAF trains combat pilots to be effective flying the F-22 in shaping the Marine F-35B Training and Readiness Manual is a testimony to a joint-service approach.
This is all extremely important in how MAWTS is addressing the future.
An emerging approach may well be to take functions and then to redesign the curriculum around those functions.1
What we forecast in our book is certainly happening.
During my recent visit to Yuma Marine Corps Air Station in May 2018, I had a chance to discuss the recent experience of Marines shaping and participating in the latest warfighting exercise or WTI Course.
The course is a seven-week training event hosted by the squadron's cadre. The squadron provides standardized tactical training and certification of unit instructor qualifications to support Marine aviation training and readiness and assists in developing and employing aviation weapons and tactics.
The role of the WTI was described in an article by Sgt. Sarah Fiocco and published on April 21, 2015 as follows:
In a seven-week period, the cost of sending one Marine through Weapons and Tactics Instructors course is comparable to the cost of a four-year education at an Ivy League university.
Sponsored by Marine Aviation Weapons and Tactics Squadron 1, the cost to graduate one certified weapons and tactics instructor from the course is $200,000. A cost, which puts each candidate through a full range of advanced aviation operations.
The course serves to train the best pilots in the Marine Corps to return to their units as training experts.  This process requires countless hours from the MAWTS-1 instructors and staff to ensure they are sending exceptionally-trained WTIs back to the fleet Marine force.
"These students will be the people, who the commanding officer looks to when it comes to handling the training plan of an entire squadron," said the Academic Department Head, WTI, MAWTS-1. "He looks at them to be the guy, who says, 'We're good to go to combat.'
"He's the guy the CO will trust."
Before pilots can even attend the advanced course, they must fulfill a slew of prerequisite certifications, to include low-altitude tactics instructor and air combat tactics instructor. Pilots achieve most of these certifications from their units, building their experience base in order to qualify them for the WTI course.
"These pilots are already instructors before they come out here," the Academic Department Head said. "We also go see these Marines fly three to six times a year before they come to WTI.
"We can say, based off our experience, if a Marine we observed is ready to go to WTI, or if they need to work on something." 
On the first day of class, the pilots receive a 50-question inventory test. This is followed by nearly two months of classroom instruction, flight simulators and piloting training flights on their specific aircraft.
The course begins with instruction exclusive to each student's aircraft then expands to advance training that incorporates other platforms and units.
The students will graduate as experts on their particular aircraft, with the knowledge of how to plan and how to train others. These skills acquired from the course will ultimately be applied to their fleet units and Marine Corps operations as part of the Marine Air Ground Task Force.
"During the final exercise, everyone is working together. From close air support, to battalion lifts, the whole MAGTF is involved," the Academic Department Head said. "When we get to that final exercise in WTI, it's all on the students. They know how to put together a plan and execute, so we are sitting back for the most part just being safety backstops."
Much like the selection process for the students, the staff is selected for the high-level of expertise they bring to course. WTI instructors' contribution to training and standardization of coursework is what makes WTI the valuable asset it is to the Marine Corps.
"All the instructors, who teach here are handpicked," the Academic Department Head said. "We do everything we can to ensure the fleet is getting back the best instructors possible."
The Weapons and Tactics Instructor Course is a seven-week course consisting of advanced tactical aviation training designed to produce weapons and tactics instructors.
The course will serve in key training officer billets to act as a training expert in the fleet, ensuring that Marine aviation units continue to train effectively and to a standard across the Marine Corps. It is courses like WTI, which reinforce the Marine Corps' role as our nation's force in readiness.
WTI has become especially significant as the Marines are going through the strategic shift from a predominant counter-insurgency and stability operations period of warfare to preparing for higher-intensity, peer-to-peer conflict.
It means as well that crisis management in a counter-insurgency operations is clearly different from those involving higher levels of conflict and potentially including peer competitiors.
And as the Marines have already introduced the F-35 into the MAGTF and are adding the CH-53K and other new capabilities, there is a clearly a shaping and learning process underway for the USMC and the joint force.
MAWTS-1 is clearly at the center of this process.
During this visit, I had a chance to talk with the outgoing CO of MAWTS, Col. Jim Wellons about his time at MAWTS. 
We have talked before during his time at MAWTS and those interviews as well as follow-ons can be read here:
https://sldinfo.com/2016/12/the-way-ahead-for-usmc-con-ops-the-perspective-of-col-wellons-co-of-mawts-1/
https://sldinfo.com/2017/11/evolving-the-capabilities-of-the-magtf-the-case-study-of-the-f-35-and-himars/
https://sldinfo.com/2017/11/an-overview-on-wti-1-18/
With the coming of the F-35, the Marines have led the way at the outset for the US services which has meant that the Marines have been working closely with the USAF as that service brings its F-35s into initial operating capabilities.
According to Col. Wellons: "We have always had a close relationship with the US Navy.
"We are after all Naval aviators.
"I cannot over-emphasize our close working relationship with the US Navy and Top Gun, where we have always had several USMC aviators filling highly sought after exchange tours.
"We have some challenges but also many opportunities.
"Top Gun has a strong emphasis on Super Hornet and are just beginning to roll out their F-35C course, which we intend to support.
"We have legacy F/A-18s but do not fly the Super Hornet and the USMC has been leaning forward on the establishment of the full spectrum of F-35 tactics, having already executed five WTI classes with the F-35B.
"Recently we have made huge strides in establishing ASLA joint communications standards and we are closer now than ever before to aligning all the service standards with joint communications – all the service weapons schools have been cooperating in this effort.
"With regard to working with the USAF — over the past decade, as we operated together during the wars in Iraq and Afghanistan, we became much closer and better integrated across the service weapons schools.
"But the advent of the F-35 has really accelerated our close working relationship with the USAF.
"The standup of F-35 was "joint" from the very beginning, and the USMC has been  aggressive with the stand up of our operational F-35s – the first of all the services to declare IOC, deploy overseas, and conduct weapons school courses with the F-35.
"As a result, we have been at the forefront of lessons-learned with the aircraft in terms of sustainment, deployability, expeditionary operations and tactical employment."
"We currently have a former USMC F/A-18 instructor pilot flying F-35As on an exchange tour with the USAF Weapons School, and we will soon have the first USAF F-35 exchange pilot coming to Yuma for a tour as instructor pilot in the F-35 division at MAWTS-1.
"We are all learning about employing, supporting and sustaining the F-35, and deploying it to places like the Western Pacific, where VMF-121 has been in place now a year."
Question: During my time in Australia earlier this year, the Commander of the 11thAir Force raised a key question about the need for the USAF to ramp up its mobile basing capabilities.
How has the USAF interacted with the Marines at Yuma with regard to working through a new approach?
Col. Wellons: "Within the USMC, expeditionary operations are our bread and butter. In a contested environment, we will need to operate for hours at a base rather than weeks or months.
"At WTI we are working hard on mobile basing and, with the F-35, we are taking particular advantage of every opportunity to do distributed STOVL operations.
"It is a work in progress but at the heart of our DNA.
"We will fly an Osprey or C-130 to a FOB, bring in the F-35s, refuel them and load them with weapons while the engines are still running, and then depart. In a very short period of time, we are taking off with a full load of fuel and weapons, and the Ospreys and/or C-130s follow close behind.
"We are constantly working on solutions to speed up the process, like faster fuel-flow rates, and hasty maintenance in such situations.
"Of course, we have operated off of ships with our F-35s from the beginning, and that is certainly an expeditionary basing platform.
"We have been pleased with what we have seen so far in regard to F-35 readiness at WTI.
"For example, in the last WTI class we had six F-35s and we had five out of six up every day, which was certainly as good as anything we have seen with legacy aircraft.
"During the most recent class, F-35s supported us with over 95 sorties and a negligible cancellation rate.
"Our readiness rates at WTI are not representative of the fleet, where we continue to work on enhancing overall readiness goals with F-35."
We then discussed the F-35 and USMC operations beyond MAWTS-1.
Col. Wellons: "This is still an early variant of this airplane.
"It is the early days for the F-35 and we are working things like software evolution.
"Yet the aircraft has already had an impact in the PACOM AOR.
"We can put this airplane anywhere in the world, sustain it and fly it and get a key deterrent impact, as we have already begun to see."
Question: Looking back at your two and half years in command at MAWTS-1, what are some of your thoughts about the dynamics of change which you have seen while here?
Col. Wellons: "When I came here, the squadron was in great shape. I had the impression that what I needed to do was to focus on trying to sustain the standard of excellence that had already been established,  because the squadron was really firing on all cylinders.
"I felt we were training at a world-class level and were training to the appropriate skills.
"But during my first year we faced dramatic and significant readiness challenges across Marine aviation, almost at an historic level.
"This led to significant reductions in the level of pilot proficiency and material readiness, and challenged our ability to meet training objectives during WTI."
"The readiness cratering also impacted morale and placed our staff in a difficult position.  If you have students that are coming to WTI that are barely qualified, who have just barely achieved the prerequisites necessary to come to a WTI class, that creates a risk management problem and makes it difficult to train at the graduate level.
"We were looking at dips in proficiency from flying 15-20 hours a month down to 10 or 11 hours a month or lower, and this required us to make some substantial adjustments to how we approached and ran the WTI class.
"Fortunately, this situation has dramatically changed for the better. 
"During this last WTI course we had the highest level of readiness that I think we have ever seen for our fixed wing fleet, and our pilots are back above 20 hours a month across all communities.
"I would caution that we view this readiness recovery as fragile at this point, but it is definitely headed in the right direction."
Question: Clearly, there is a strategic shift underway for US and allied forces to now operate in contested environments. That has happened during your time here. 
How has that affected what you have had MAWTS-1 focus upon?
Col. Wellons: The team at 29 Palms as well as at Yuma have ramped up the contested and degraded environment that we present to our training audience at WTI and across all the other service level MAGTF training venues.
"We have challenged our students, especially this year, to operate in environments where communications and navigation systems are challenged, facing the most sophisticated and capable adversaries we can find.
"We focused on the idea that in the future fight our primary means of navigation and communication will probably be denied, and certainly degraded and our operators may have to use old fashioned techniques to get bombs on target."
Question: You are clearly working what might be called F-35 2.0 while flushing out the dynamics of 1.0. 
And one key area where that is happening is with regard to the sensor-shooter relationship.
We talked last year about this dynamic, what has been happening since then?
Col. Wellons: In part, it is about the transformation of the amphibious fleet whereby the shipboard strike systems or sensor systems can work with the reach of the F-35 as a fleet.
"For example, we see clear interest from the Navy's side in exploiting 5thgeneration capabilities in the amphibious fleet using the Up-Gunned ESG, that will better leverage the capability they have got with the F-35.
"Naval integration will be a major line of effort in the WTI course going forward."
"The F-35 is leading to a fundamental reworking of where we can take the sensor-shooter relationship.
"We tend to focus on the airplane's sensor and how that sensor can go out and find a target and employ its own ordinance on that target.
"That is certainly something which the F-35 can do.
"But it can also enable an off-board shot, as in the case of HIMARS/F-35 integration.
"Or it can work with the G/ATOR radar on the ship or the ground to enable weapons solutions for other platforms in the distributed battlespace.
"It then becomes a question of how do I maximize the number of targets I can hit with the F-35 distributed force rather than how many targets can an individual fighter hit."
"This is part of the combat learning we are working on at MAWTS-1 as well."
Question: Assuming readiness remains at an appropriate level, what challenges do you see in the near term with regard to training?
 Col. Wellons: Clearly, a major challenge we face is the limitations of our training ranges.
"We need to expand the potential of tasks we can do on these ranges to replicate a realistic and lethal contested environment.
"This is another consequence of our budget challenges in recent years, and we are pushing hard for upgrades of all our emitters, target sets, and simulation capability in order to enable full spectrum training at the high end."
The featured photo shows Col. Wellons at MCAS Yuma. Credit Photo: USMC
Footnotes:
Laird, Robbin; Timperlake, Edward; Weitz, Richard (2013-10-28). Rebuilding American Military Power in the Pacific: A 21st-Century Strategy: A 21st-Century Strategy (Praeger Security International) (pp. 258-259). ABC-CLIO. Kindle Edition.