Vice Admiral Mustin on the Way Ahead for the Navy Reserves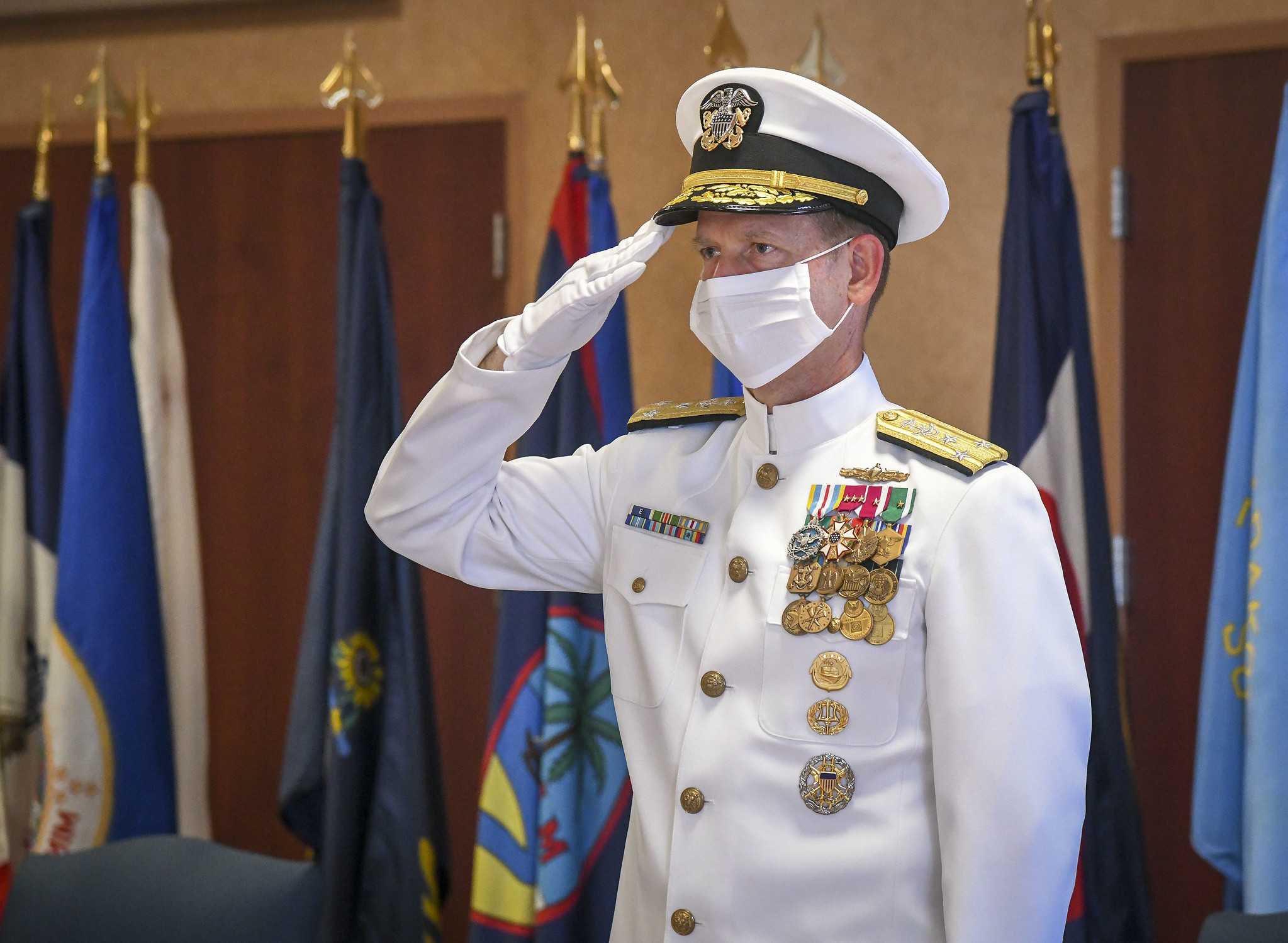 Recently, we had the privilege to talk with Vice Admiral John Mustin, Chief of Navy Reserve, N095, to find out how he was working the way ahead for U.S. Navy transformation.
The key point which he made in the guidance he released last Fall on the way ahead for the Navy reserves is visionary: "… the changing geopolitical environment forces us to modernize our thinking, our force structure, our training and our operations to address the realities of a future conflict. Simply said, we cannot assume tomorrow's war will look like yesterdays. Hence my Theory of the Fight includes accelerating our transformation to ensure we get, and remain, 'future-ready."
Vice Admiral Mustin went on insightfully to state: "The reserve force today is optimized perfectly to support the global war on terror. Many of our processes, our unit structures, billets, training procedures, even the way that we mobilize sailors do a fantastic job meeting the specific requirements of a counterinsurgency, counterterrorism, non-maritime, land-based conflict, particularly in CENTCOM and the horn of Africa.
"My comment in my commander's guidance was that is not likely to be effective to address the next conflict, and if I am reading the tea leaves properly in this era of  great power competition, we're going to need very different skills.
"The Navy has recognized this, and the Navy is transforming. And I did not feel that the reserve force was working quickly enough to reflect that transformation in our reserve-specific force structure, processes, and procedures.
"We are working very closely with the fleet commanders. We are focusing on answering their needs. 'What is it that you need and value?" And equally important; "What does the reserve team do for you today that you don't value?
"My job has been to take fleet feedback and then shape the future structure of the reserve force, to address those specific needs. For the numbered Fleets there are several capabilities that leap to the fore, specifically emphasis on their maritime operations centers, both capacity and capability. Related but not explicitly tied to the maritime ops center is expeditionary logistics that are explicitly tied to our distributed maritime concept of operations. And one echelon down is a focus on expeditionary advanced base operations.
"Everything I just described is ripe for reserve force contribution. We've begun the process now to determine where we have elements of the reserve force that are relatively low value as it relates to CNO and fleet priorities.  How can I harvest some of the current existing units and billets to meet priority needs, and how can I take our sailors out of low value jobs and create new high value jobs given the strategic shift to the high-end fight?
"That's an initiative underway right now, and I'm happy to report there's a number of things that I'm able to do in this fiscal year. There are also certainly things that are on the roadmap for fiscal year 22 and some for 23 and 24 and beyond. But I want to move out now because I just don't know that we're going to have a lot of time to make those changes when the shooting starts."
In World War II a well-respected historian Max Hastings in a seminal work, "Inferno" determined that after a difficult start the US Navy was at the end of the war the most effective fighting force of all combatant forces of all nations. Admiral Mustin took pride in that historical example but correctly observed that today the U.S. Sea Services may not have the luxury of time. They must be trained and equipped to win the fight and get it right, right now.
Question: We are focused on the strategic shift and how that demands significant change in warfighting and escalation dominance.
A different set of skill sets are clearly required.
Clearly, we have seen at Second Fleet, that a key priority is C2 for a distributed integrated fleet.
This requires different skill sets as well.
There is a whole new generation of digital warriors in our society as well.
How are you focusing on re-shaping the reserves to harvest the opportunities in civil society and to focus on the critical skill sets for the "new" Navy, so to speak?
 Vice Admiral Mustin: "That's a perfect scene setter. I completely agree that what made us successful over the last 20 years, post 9/11 is not what's going to make us successful into the next few decades.
"Working with Vice Admiral Lewis has been important as well. As Second Fleet Commander, he clearly understands that we need to shape a new approach. When I was in High School in the 80's, my father was Second Fleet Commander, so I can legitimately say that "The new Second Fleet is not your father's Second Fleet.
"What he wants and what we are offering started with a clean sheet of paper as it relates to the design of the reserve force for C2F.
"I've looked at every other numbered fleet to determine which model works best for us. And then, perhaps not surprisingly, I recognized the reserve design supporting each fleet was different. What that tells me is that there is a need for us to establish a template where we can get at 80% of the core competencies, the missions, functions, andtasks associated with the C2 in the maritime element. And then there's certainly some peripheral amount, call it 20% hypothetically, tailored to the region, the AOR, the theater. Shaping a template for C2 is a key element around which we can shape fleet design going forward, as well as shaping the skills required to support that design.
"If you go on the second fleet watch floor right now, there will be a handful of reserve officers and sailors that are standing watch. And early in my tenure I mentioned to Vice Admiral Lewis, that rather than build a team that shows up a weekend a month, two weeks a year during exercise support requirements, why don't we build a team that's fully integrated so that they work with their chiefs of staff, their division directors, their N codes as we call them, their department heads by function. And let's have them plugged in every day, not just on weekends.
"And I don't mean 365 days, but if an average sailor can do roughly 38 days a year — that's just the sum of a weekend a month, and two weeks a year. There's nothing that says it has to be a weekend a month and two weeks a year, I could do 30 days consecutively and then not see them again for six months, or we could do groups of five days or 10 days., We can be as flexible as we want.
"If we invest time upfront to training them to their watch station, then we get production time out of them by having them show up and actually stand the watch. And that's good for second fleet as well as for the reserve sailors, because they earn a credential that is permeable and enduring. So they can then take a billet at their next job at another fleet.  That means that the skills that we've invested in them are permeable and they can plug in immediately to another fleet.
"Admiral Lewis was very receptive to the idea and frankly, after hearing it said, "Okay, this isn't a course of action. This is your tasking, make it happen."  He has been very receptive to saying, let's build full integration. I don't want there to be a distinction. And I told him if we do this right, no one will ever know the difference between a reserve and an active sailor. You're just a sailor. And you're a sailor that's contributing to the requirements of second fleet, whether that's at an expeditionary environment or operating at the headquarters building."
Question: The reserves bring significant experience to the active-duty force.
This has been a key to navy success in the past, how do you see this going forward?
Vice Admiral Mustin: "The focus on fleet ops is critically important to me. I just had a conversation with CNO today about the strategic imperative to restore seagoing ratings to the reserve force. Right now, we do a fine job in staff headquarters, but when it comes to getting folks on the waterfront, it's more of a challenge.  For every sailor that says I've got the time and the inclination, we can get them afloat, so that's a goal of mine.
"A key problem we face is not having a lot of time to mobilize in the face of significant conflict. With regard to our reserve component, there are two kinds of readiness. There is mobilization readiness, and there's warfighting readiness. Mobilization readiness is the cost of being a reserve sailor. You need to maintain your readiness to mobilize when asked. And that means you've done your dental checks and your medical checks, and you've done your physical fitness assessments and your general military training. That's kind of the standard stuff that title 10 pays for in the number of days, the weekend a month and the two weeks a year, and that's up to you.
"You don't get a Navy Achievement Medal for being mobilization ready.  In fact, if our sailors can't  maintain mobilization readiness, I will ask them to leave the service because it's a privilege to serve, not a jobs program.
"The more challenging side is the warfighting readiness piece. And that's where I'm investing a lot of time and effort to understand the training pipelines, the timelines, the costs, the billets, the units, et cetera, because my assumption is we need to be ready on day one of a conflict. I'm also working very diligently to improve the processes to mass mobilize our people.
"And I've committed to the CNO that in January of 2022, we will be able to mobilize 49,000 sailors in 30 days, which is about 15 times the throughput capacity we had when I took office here.
"We need to be ready to go because we're not going to have five years to ramp up, to get good at our jobs like we did in World War Two. We have to be good at our jobs now. I want to use every penny of training dollars and every iota of time when we have our precious sailors in uniform, and get them training to be good at their billets, because I just don't feel like we've got the luxury frankly, of waiting.
"And that said, I will tell you, I'm thrilled that we just celebrated our hundred- and six-year anniversary as a reserve force. And though we have contributed in every significant conflict in our nation's history, post-World War I, we've never been caught by surprise in mobilizing the reserve force.
"What does that mean? Well, I told you, we have to be ready because it's likely to be short notice. This means having the reserves as a key contributor to the active-duty force, particularly as its builds out for conflict, and that means having the kind of experienced reserve sailors that you referred to as key players in the process."
Question: Do you see the transition of the technological revolution embodied by people being involved with the Navy as reserves as having value added?
Vice Admiral Mustin: "I absolutely do. And you hit the nail on the head. I can write a book on the countless stories of folks who have a unique set of civilian skills, that are ready to serve the nation in uniform.
"There are a wide variety of critical skills that the reserve force brings to bear: think big data and analytics, data visualization, predictive analytics, 3D manufacturing, space, cyber, unmanned and autonomous systems. We've got folks who work in all of those program areas as civilians, and also in units that support the operations or the concepts of employment.
"We've got Silicon Valley folks, we've got venture capitalists, private equity players who understand what's happening in the technology sector and areas where we can take advantage and apply their skills and insights to what we do in uniform. The challenge I wrestle with frankly, is how do you scale that?"
In short, we focus in our forthcoming book on the evolution of the Navy as it is reshaped into a distributed, integrated force, which we see operating through kill web. What we learned from Vice Admiral Mustin is that the reserve force that he is involved in building will give the Navy a unique capability to staff out such a force.  What we learned is that the reserve force that is being shaped going forward, we'll be able to empower the fleet to operate that way.
Vice Admiral John Mustin
Vice Admiral John Mustin is a native of Alexandria, Virginia. He is a graduate of the United States Naval Academy, where he earned a Bachelor of Science in Weapons and Systems Engineering and was commissioned in 1990. He holds a Master of Science in Operations Research from the Naval Postgraduate School in Monterey, California, and a Master of Business Administration (cum laude) in Finance and Management from the F. W. Olin Graduate School of Business at Babson College. He earned his Joint Professional Military Education from the Air University's Air Command and Staff College at Maxwell Air Force Base.
Mustin's sea duty assignments include command of Expeditionary Strike Group 2/Task Force 29; commissioning operations officer on USS Donald Cook (DDG 75), and aboard USS Vincennes (CG 49), where he served as combat information center officer, navigator and the air warfare commander of the Independence (CV 62) Battle Group.
Affiliating with the Navy Reserve in 2001, Mustin served at Navy Reserve (NR) Carrier Strike Group 2 / USS George Washington (CVN 73) Strike Group during Operation Enduring Freedom. Other staff assignments include NR Chief of Naval Operations for Operations, Plans and Strategy (N3N5) at the Pentagon Navy Command Center; Maritime Expeditionary Security Squadron 14; NR Carrier Strike Group 10 / USS Harry S Truman (CVN 75) Strike Group; and Personnel Mobilization Team 101. Additionally, he served as the inaugural Littoral Combat Ship (LCS) Navy Reserve Enterprise Director, responsible for the reserve manning, training and equipping of the 1000-billet LCS surface reserve force.
Other command tours include NR Joint Staff South; NR U.S. Fleet Forces Command Maritime Operations Center, Greensboro; NR Maritime Expeditionary Security Squadron 6; and Inshore Boat Unit 22, including a mobilization to Kuwait during Operations Enduring Freedom and Iraqi Freedom. His other flag assignments include deputy commander of Naval Surface Forces, spanning the Surface Type Commanders of the U.S. Pacific and Atlantic fleets; as a plankowner and the deputy commander of the re-established U.S. Second Fleet; and as vice commander, U.S. Fleet Forces Command.
Mustin became the 15th Chief of Navy Reserve on 7 August 2020.  As Commander, Navy Reserve Force, he leads approximately 59,000 Reserve Component personnel who support the Navy, Marine Corps and joint forces.
His awards include the Defense Superior Service Medal, Legion of Merit, Meritorious Service Medal, Navy Commendation Medal, Navy Achievement Medal, Navy Battle Efficiency 'E', Military Outstanding Volunteer Service Medal and various service, expeditionary, unit and campaign awards.
Featured Photo: Vice Adm. John B. Mustin relieved Vice Adm. Luke M. McCollum as Chief of Navy Reserve and Commander, Navy Reserve Force, during a change of command ceremony at the Washington Navy Yard, Aug. 7, 2020. Credit Photo: https://thezebra.org/2020/08/12/alexandria-native-becomes-15th-chief-of-navy-reserve/