Why Amarillo? Mayor Ginger Nelson on the Amarillo Community and Bell
I recently visited Amarillo, Texas for the ceremony officially launching the new CMV-22B Osprey.
The Osprey is one of the most complex airplanes ever built.
I have also visited the Boeing plant and the Bell plants in Texas.
Since the early 2000s, it has been a challenge to launch the Osprey program.
Now here we are with a growing fleet and its first foreign customer (Japan).
The Navy is also replacing its C-2 fixed wing aircraft with the revolutionary tilt rotor aircraft.
I am often struck by the relative lack of recognition by the many talking heads on military defense that the United States is the only country in the world operating tilt rotor aircraft, as well as the first and only supersonic vertical lift aircraft.
It has taken revolutionary designs, manufacturing approaches and methods to achieve this result.
And without skilled workers, such capabilities would not exist.
When visiting the Bell plant it certainly is obvious that skilled workers are throughout the final assembly line, and these skilled workers are able to incorporate parts of the aircraft trucked in from Philadelphia, Fort Worth and elsewhere.
The importance of the workforce was noted by Col. Kelly, a skilled F-35B operator as well as head of the Osprey program. He has experienced firsthand both revolutionary machines built by a skilled work force.
He also recognized the commitment of the workforce. Col. Kelly mentioned that during his tour of the assembly line earlier in the week, he talked with an Army veteran who worked in the paint shop.
The veteran commented that his job is to make the aircraft look their best.
And as you can see below, they certainly did that.
During the presentation by the Commander of the Fleet Logistics Multi-Mission Wing 1 or COMVRMWING, which had been stood up on Oct. 10, 2019 to manage the CMV-22B entry into the fleet, Captain Dewon "Chainsaw" Chaney emphasized how he saw the importance of the workforce to his mission.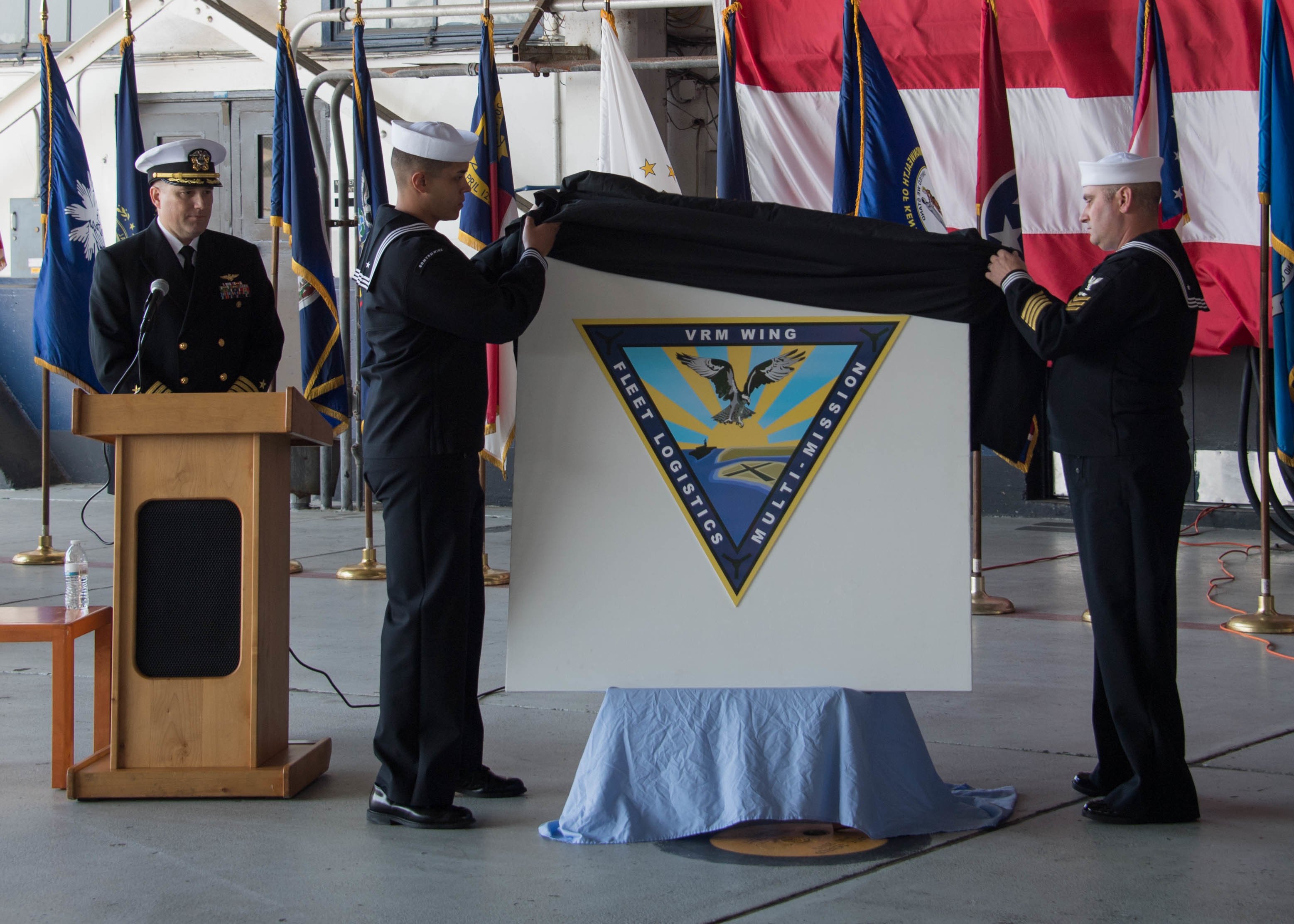 Sailors assigned to Fleet Logistics Multi-Mission Wing (COMVRMWING) 1 unveil the wing's logo at the COMVRMWING 1 establishing ceremony at Naval Air Station North Island (NASNI), Oct. 10, 2019. The Navy established its first CMV-22B Osprey squadron VRM-30) Dec. 14, 2018 at NASNI. The Navy's transition from the C-2A Greyhound to the CMV-22B Osprey is expected complete by 2028. US Navy photo.
 "I would like to first acknowledge the artisans that put this fine machine together. I visited the Bell factory on Wednesday and had a brief walkthrough of this factory yesterday.
"This is an incredibly complex machine that you have built, and I am in awe of your precise talent, and even more inspired by the magic that makes it fly," Captain Chaney said.
Before the ceremony, I was fortunate to have the Mayor of Amarillo, Ginger Nelson, sit next to me, and she graciously allowed me to visit her at her office in the afternoon for an interview.
And my core question was simple: Why Amarillo? 
From where are these skilled workers coming from, and why is Bell here?
"Because we want Bell here, because we have a tremendous workforce here in the Texas Panhandle," Nelson said.
"We are a city fed by the small town rural communities that surround our region.
"Our people are only one or two generations from having grown up on a farm or having owned their own small business.
"And the work ethic for our people is simply: if you are not doing it, it is not going to get done.
"Our work ethic is strong; and patriotism is a core value in the Texas Panhandle.
"For Bell, this means that they need to produce a highly complex aircraft, and they can rely on the ethics, commitment and competence of our workforce dedicated to defend our country by building these machines."
"The culture that Bell brings with its innovation mixes well with our rural roots," Nelson said. "The people that work at Bell are leaders in our community in many other ways – on the Chamber of Commerce and many nonprofit boards."
"We rely on Bell to bring leadership and innovation into our community. Bell relies on us to supply dedicated, competent workers who are ready to meet the responsibilities that include the defense of our nation."
The mayor and I discussed how the local government and Amarillo Economic Development Corporation have focused on the best ways to train the workforce. The mayor highlighted the key role of innovation for the local community college in shaping effective and agile training approaches for students in the region.
"Amarillo has a community college that you would find fascinating," Nelson said.
"It is Amarillo College. The name is simple, but what's happening there is not traditional.
"They are breaking down educational systems to remove barriers so that our kids in our city and in the rural parts of our region can access education more easily than kids in other cities. Seventy percent of the kids at that college are first generation college students.
"We have retooled their systems there so that they do classes in eight-week segments, because the college recognizes that these students aren't traditional four-year college students. Their parents aren't launching them into a dorm room with a car and paying their tuition.
"They are already working, probably two part-time jobs. They already have at least one child. They are trying to get an education, and these are the people that we are depending on to drive the workforce that's going to feed Bell Helicopter and many of our agricultural and other medical industries that are here.
"We have a high need for a skilled, trained workforce, and our college is doing that by partnering directly with industry. We are focused on providing targeted training, and we put our taxpayer dollars behind that from an economic development corporation standpoint.
"And it's not just the college that is involved. Our school districts are involved as well."
The mayor answered my question – why Amarillo?
"And I would tell you what I tell everyone about our city," Nelson said.
"At 200,000 people, we can change faster, we have less bureaucracy and we can move and be agile. And you are seeing that happen in our workforce development. We are the perfect size. We are in the perfect location. We are located in the heart of the country. We are almost equidistant from the West coast to the East coast and from the North border to the South border. We are right in the middle of the country."
Speaking of the middle of the country, I grew up in Ohio and lived in the northeastern part.
And I grew up when industry was significant in the area and we had a sense of community built around working in the industries in the region.
That experience is historic where I grew up; but it is also alive and well in Amarillo, Texas.
Editor's Note: In the video below, produced on July 31, 2018 by Channel 10, Amarillo, Texas in July 31, 2018, a test flight by Bell of their V-280 was highlighted by both the Lt. Governor of Texas and by the Amarillo Mayor. 
V-280 Amarillo 2018 from SldInfo.com on Vimeo.
Lt. Governor Dan Patrick views the company's involvement in Amarillo as a success.
"The fact that Amarillo had the foresight to say, 'we are going to invest in Bell and bring Bell here'," said Lt. Governor Patrick. "It is really a tribute to the forward thinking of the people of Amarillo."
A military contract could spell huge economic growth for the area. If granted a contract, Bell plans to build 120 to 150 V-280 aircraft every year.
"We have over 800 direct jobs here at the plant," said Amarillo Mayor Ginger Nelson. "But, we have over 5,000 indirect jobs related to the work Bell does in our community. When you begin to look at the potential army contract for the V-280, it is a huge impact."
Mayor Nelson said a contract would also bring recognition to the Panhandle.
"When all that comes together to have a national and worldwide impact for us, and we here in Amarillo played a part in that," said Mayor Nelson. "It makes me extremely proud of our workforce here in Amarillo as well as our vision for the economic impact that Bell has in our community."
Lt. Governor Patrick said big businesses investing in small towns is what keeps Texas,Texas.
"When you think about Texas, you think about towns like Amarillo, and it's important that we keep them vibrant," said Lt. Governor Patrick. "We know that most of the population is going to be in the triangle of Dallas, San Antonio, Houston and then now Austin with that corridor, that's where most of the growth is. But it's important we attract businesses to our towns in rural Texas to keep these great cities, and communities alive."
Lt. Governor Patrick hopes more people are inspired by Bell and more areas will receive business that can help local economic growth.
The above comes from the article by Mike Makie published on July 31, 2018.
For background provided on the Mayor during her electoral campaign, see the following:
Growing up in Spearman, Amarillo was Ginger's "shining city on the hill" because of the promise and opportunity it offered.  After high school, Ginger attended Texas Tech University and graduated with degrees in Spanish, advertising and law.  In 1992 she married Kevin Nelson, her high school sweetheart.
In 1995 the Nelsons moved to Amarillo with little more than student loans and enthusiasm to start a family and build their careers in the city they both loved to visit as children.  
Ginger began practicing law and worked vigorously to build a loyal client base.  She and Kevin would eventually open their own firm in 2003.  Board certified in estate planning and probate, Ginger has counseled families and small businesses in Amarillo for more than 20 years and received numerous awards and exemplary peer ratings.  
Looking to further invest in the community they love, Ginger and Kevin bought the historic Amarillo Building in 2011 and began to focus on their real estate business.  Their shared vision was to preserve a piece of local history and spur economic growth.  
Because of her strong work ethic and business experience, Ginger has been chosen to serve on numerous boards and commissions including the Amarillo Economic Development Corporation.  She has earned high praise from colleagues along the way due to her preparation, hard work and deep consideration for Amarillo's future.  She has also volunteered for nonprofits and charities including United Way and Kids Inc.