Australia Shapes a Way Ahead for a New ASW Frigate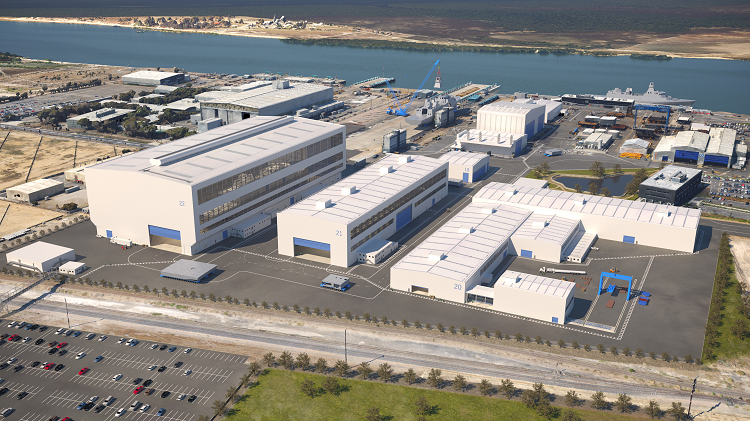 The Commonwealth has chosen to buy British for its next generation of surface combatants, selecting the BAE Systems Type 26-based Global Combat Ship – Australia (GCS-A) as being able to deliver the best capability.
Nine GCS-As – to be designated Hunter class guided missile frigates, or FFGs in RAN service – will replace the Navy's eight Anzac class FFHs from 2027, in a project worth $35 billion.
Named after key Australian geographical regions, the first three vessels will be named Flinders (II) after the South Australian region named for explorer Captain Matthew Flinders who first circumnavigated Australia; Hunter after the NSW Hunter Valley region named for Vice-Admiral John Hunter who was a first fleet Captain and the second Governor of NSW; and Tasman after the state of Tasmania and the Tasman Sea, both of which were named for Dutch explorer Abel Tasman who was the first known European explorer to reach Tasmania, New Zealand and Fiji.
What Australia wanted was an advanced anti-submarine warfare (ASW) vessel to counter the regional proliferation of submarines and, with government acting on advice from Defence, decided the GCS-A is the best option to fulfil that mission.
The project is intended to create a sustainable national shipbuilding industry to produce future generations of Australian Navy warships and also exporting to the region and beyond.
Risk
The RAN has always possessed an ASW capability, but since the end of the Cold War that capability has languished and been overtaken by other operational imperatives.
The GCS-A is so new that no ship actually exists yet, although construction of the first of class – to be named HMS Glasgow – started at the BAE Systems yard in Glasgow in 2017. While the RAN's first ship is currently planned to be the fourth Type 26 hull built, it will obviously have a large number of Australian-specific structural and capability features.
For Australia, the GCS-A was chosen over Spanish shipbuilder Navantia's F5000 design which a derivative of the Navy's Hobart/F100 class DDG, and Italian shipbuilder Fincantieri's FREMM (European multi-purpose frigate) which is based on the Italian Navy's seven vessels.
Considering the government's broad ambitions for this project, there was speculation during the hard-fought competitive evaluation process about just how the final result would be decided. For example, would a strong industry plan be considered over other factors.
So significantly, former Defence Minister Marise Payne used the announcement event to declare Type 26 was chosen solely because it was deemed the best ship for the job. "Ladies and gentlemen, this is a decision entirely based on capability," she said at the June 28 announcement event at the Osborne shipyard in South Australia.
"The best capability to equip the Navy in anti-submarine warfare, with range and endurance, able to operate independently or as part of a task group and to contribute as well in humanitarian assistance and disaster relief and other non-warfare roles."
Navy chief Vice Admiral Tim Barrett concurred, saying the GCS-A was chosen through a stringent evaluation process. "It has also been designed and is being built by a nation which has, on a regular basis in the North Atlantic and elsewhere, been chasing submarines as a matter of course on a day-by-day proposition."
And importantly, the government's announcement clarified one issue – the future of ASC Shipbuilding, an offshoot of the government-owned ASC. While the SEA 5000 tender documents did not mandate use of any shipbuilder, realistically, ASC Shipbuilding with its skilled workforce of 1,600 with current shipbuilding capability and hard-won expertise building the SEA 4000 DDGs was the only choice.
In what defence observers consider an inspired move, Finance Minister Mathias Corman said ASC Shipbuilding would become a subsidiary of BAE Systems during the period of the build, with the Commonwealth retaining a sovereign share.
"That sovereign share gives us certain rights during the build period in relation to any decisions or actions that have national security or other relevant strategic implications," he said.
"But it also means that, at the end of the build period, the ASC Shipbuilding entity with the intellectual property, a highly skilled workforce and all of the associated equipment, returns to Commonwealth ownership. So, at the end of this process what we will have is a significant strategic national asset."
For the UK Australia's selection of the Type 26 is also a big deal. Despite reports of some dissatisfaction in the UK that the vessels wouldn't be built there where they would create jobs for British workers and suppliers, this was never a serious prospect.
UK Prime Minister Theresa May said this was the first export of a British design for new-build frigates since the 1970s.
"The agreement will secure more than 4,000 jobs in Australia and also boost Britain's export economy for generations to come, with huge opportunities set to arise which the Government believes the specialist knowledge and capability of British firms will be best placed to fulfil," she said in a June 28 statement.
"In turn, it is hoped that this will benefit the UK economy, with exports having the potential to drive regional growth, create new jobs and showcase the strength of British innovation on the world stage."
May said this deal was the result of four years of intensive government engagement involving a number of UK government departments, and that she had been directly involved in making their case including with former PM Malcolm Turnbull during his visit to the UK in April.
"We have always been clear that as we leave the EU we have an opportunity to build on our close relationships with allies like Australia," she said. "And while this is an enormous boost for the UK economy, it will also cement our strategic partnership with one of our oldest and closest friends for decades to come."
Whether this will lead to a post-Brexit renaissance in the UK's relationship with Australia which could then lead to a free trade agreement remains to be seen.
Certainly, the Australia-UK defence relationship has been more active in recent years, spurred on by the common mission in Afghanistan and the annual Australia-UK Ministerial talks (AUKMIN), first held in 2008.
There are also reports that the UK is seriously considering acquiring Bushmaster protected mobility vehicles from Thales Australia. There is also reported interest from the UK in Boeing Defence Australia's Currawong battlefield communications system which recently achieved IOC with the ADF, as well as the Wedgetail AEW&C system to replace the UK's ageing E-3D Sentry AWACS.
But PM May's statement raises another question, whether more work will be available for Australian firms in constructing ships for the Royal Navy?
Already two Australian SMEs have won contracts – Tasmanian firm Liferaft Systems Australia will provide the UK Type 26's Marine Evacuation System, while Mackay Consolidated Industries will supply pipe hanger inserts for reducing radiated noise.
Australian content on the RAN's vessels is expected to exceed 65 per cent and, to this end, BAE has pre-qualified more than 500 Australian companies located in every Australian state and territory as part of its proposed supply chain for the build program.
BAE Systems is well established in Australia with 3,500 employees, an established supply chain, and a strong shipbuilding history through the Anzac frigate and Canberra class LHD programs. The Anzacs were constructed in Melbourne between 1993 and 2004, while the LHDs were fitted out from 2008 to 2014. Based on annual turnover, BAE Systems Australia is one of Australia's largest defence companies, often the largest.
Ahead of the announcement, BAE Systems Australia CEO Gabby Costigan said the company's plan for Australian suppliers didn't stop with Australia.
"By being a part of one of the world's largest defence companies, we will work to ensure that Australian companies will have the opportunity to compete for work across our $18 billion annual global supply chain spend," she said. "This is the type of scale that is needed to propel Australia's defence industry onto the world stage."
The decision certainly means that for the first time in almost half a century, UK-designed warships will comprise a major part of Australia's surface fleet.
Currently just the former UK Royal Fleet Auxiliary (RFA) Bay class LSD HMAS Choules was built in the UK, with the rest of the fleet a veritable United Nations of designs of mostly European origin – Swedish submarines with French replacements on the way, Spanish DDGs, LHDs and new AORs, US guided missile frigates, German frigates and new OPVs, and Italian minehunters.
For much of Australia's naval history until the 1960s we bought British, and anything else was inconceivable. But not since the River/Leander class destroyer escorts built in the 1960s have UK-designed warships formed a significant part of the Navy order of battle.
Capability
Each of the SEA 5000 contenders appeared to have demonstrated significant strengths which, depending on the weighting in the assessment process, could have assured victory.
The F5000 and FREMM presented excellent ASW credentials.
Coming off the back of the construction of the three Hobart-class DDGs, Navantia's F5000 appeared to be low risk, with an established supply chain and its ASC Shipbuilding workforce experienced at building their way.
The company also said it could start work soonest, certainly meeting the government's 2020 deadline for cutting of steel.
Having ironed out the many challenges experienced at the start of the SEA 4000 AWD program which ran late and over budget until being re-baselined, Navantia said it could proceed to build the new ships with nil drama.
That's not a trivial consideration, especially for a federal government going to the polls next year, and South Australia a state where it can ill-afford to lose seats should the much-vaunted shipbuilding plan and the promised jobs not occur as speedily as promised.
Navantia Australia chairman Warren King made a strong pitch that Australia already has one risky shipbuilding project under way – the new SEA 1000 submarines – and the government should take the least risk path for SEA 5000.
Fincantieri's FREMM was also considered low risk. It is a proven mature design widely recognised as a versatile and advanced frigate currently in global production for four nations. Currently there are seven in service in the Italian navy and four more in various phases of production, and another eight in the navies of France, Morocco and Egypt.
Significantly for an ASW vessel, FREMM features twin helicopter hangars. However, FREMM did not feature the US Mark 41 Vertical Launch System the RAN prefers to allow it to use its inventory of ESSM and SM2 missiles, plus the potential of the anti-ballistic missile capable SM3 and SM6 systems further down the track.
Fincantieri has had no presence in Australia but it is a global shipbuilding powerhouse, the largest in Europe and fourth largest in the world, building warships, cruise liners and luxury yachts.
Pointing to its experience in transferring technology to the US through that nation's Freedom  class LCS program, it offered Australia a complete shipbuilding industry plus an entrée to its global network.
But the GCS-A was regarded as offering the best ASW capability which was designed from the keel up to be quiet and drawing on the Royal Navy's long-running ASW expertise culminating in the excellent Type 23, a very capable ASW vessel and a mainstay of the Royal Navy's Cold War ASW force.
The GCS-A features UK variants of the Thales CAPTAS 4 variable depth sonar, Sonar 2087 Low Frequency Active Passive (LFAPS) Array and Thales signal processing, which incorporates some unique UK IP which BAE referred to as their 'jewels in the crown' of ASW. It will also feature the next generation 2150 active passive bow sonar currently being developed by Ultra for the RN.
For both Navantia and Fincantieri, losing SEA 5000 is profoundly disappointing. However, both have other alluring projects further afield in their sights. Both designs are also in contention for the US Navy's FFG(X) project, which could involve up to 20 vessels.
Navantia is also proposing its F105 design, equipped with the Australian CEA radar and Saab combat system for the Canadian Surface Combatant program which will involve up to 15 vessels. This is basically the same radar and combat system as aboard Australia's SEA 1448 Phase 2A Anzac ASMD-configured frigates. BAE Systems is also offering Type 26 for the Canadian program.
Integration
Long before the SEA 5000 winner was announced the government made one important determination – whichever design was chosen would be equipped with the Australian CEA phased array radar, Lockheed Martin Aegis combat management system, and the Saab 9LV Australian tactical interface.
Minus Aegis, this forms the basis of what is currently fielded aboard the Anzac ASMD frigates, and is regarded as providing an anti-missile defence capability up there with the best in the world, if not the best.
Australian companies now have substantial experience in integrating complex electronic systems, once regarded as the highest risk in any complex project. But just how these three systems will go together on Type 26 hasn't yet been spelled out, although there have been few if any concerns vocalised that this will pose significant integration challenges.
But he GCS-A does bring some other new and unique systems not currently in use in the RAN. It's powered by a Rolls Royce MT30 gas turbine, while the RAN has much more experience with the US General Electric LM2500 gas turbines which power the Anzacs, DDGs, FFGs and LHDs.
The vessels will also be equipped with BAE Systems' own ship management system which controls everything from engines, power generation and distribution, to air conditioning and firefighting.
Navantia's ship management system is fitted to the RAN's DDGs and LHDs and will also be aboard the two SEA 1654 Phase 2 AORs due to enter service from 2020.
But type 26 comes with one very appealing capability, a large open deck space behind the helicopter hangar. Most of the time the new vessels won't be hunting submarines, so this multi-mission bay can be outfitted for a wide range of purposes.
Depending on requirements, it can house an extra helicopter, a brace of rigid-hulled inflatable boats (RHIBs), or shipping containers for additional accommodation, humanitarian and disaster relief (HADR) supplies, or even a detention lockup. The bay has an integrated crane for the loading and unloading of equipment, or the launch and recovery of the RHIBs.
But for Australia, Type 26 still presents some risk, not at all unusual for a new design, which Australian Strategic Policy Institute (ASPI) senior analyst Michael Shoebridge recently explained on ASPI's The Strategist blog.
"It's not in the water yet," he wrote. "This brings risk both because it's a new ship, and because the UK and Australian builds will overlap.
"The overlap comes from the fact that the first UK ship is scheduled for delivery to the UK Ministry of Defence in mid-2025, with trials taking it to 2027 for entry into service with the Royal Navy. The first Australian frigate is planned to be completed around 2027. So, there's not a lot of time for problems in the UK build to be resolved before they're encountered in the Australian build. Rework and delay from this will drive up costs."
Further, a lesson from the SEA 4000 AWD program was that the shipbuilder/designer needed to be deeply involved from the outset. It was only when Navantia personnel injected some much-needed shipbuilding expertise did that project get back on track, with productivity of the final ship approaching international standards.
Shoebridge said that would be tricky for BAE Systems whose top people would obviously be focused on the Royal Navy's first ship.
That said, ASC Shipbuilding's capability, particularly in project management is far better now than it was at the start of the AWD project. Additionally, work will be starting in a brand-new shipyard which will be one of the most modern in the world.
And unlike the AWD project where hull sections were constructed by ASC Shipbuilding in Adelaide, BAE Systems Australia in Melbourne, and Forgacs in Newcastle, all sections of the Hunter class vessels will be constructed in Adelaide allowing for uniform standards of quality and productivity.
BAE Systems SEA 5000 project director Nigel Stewart said production of ship number three would be underway in the UK before steel was cut for Australia's first ship.
"We look at the first SEA 5000 vessel as the fourth of class. It is definitely not the first of class," he told ADBR earlier this year.
"Five years is an ideal overlap. It will still be a very modern ship, but the UK is going to pick up the development costs and risks in the first of class. The UK is running an 18-month drumbeat. The Commonwealth is probably going to run around a 24-month drumbeat."
In the bid process, BAE Systems pointed to its all-digital design as a key factor in minimising risk in transferring technology and starting construction in Australia. The company said that allowed by far the highest design maturity they had ever achieved ahead of the start of actual production.
"It will make technology transfer to a new shipyard much easier than with traditional engineering processes," Stewart said.
Shipbuilding Program
Banished forever, hopefully, will be any repeat of the shipbuilding 'valley of death.'
That is the period of years between the end of the recent Hobart class DDGs and  Canberra class LHD build programs, and the start of new SEA 1180 OPV and SEA 5000 projects, when shipbuilders had no choice but to lay-off skilled workers.
Construction of the new vessels will start out with most of the skilled workers it will need courtesy of the ASC workforce, who will transition from construction of the first two OPVs when that project moves to Henderson in WA in 2020.
But there is one additional and intangible risk, alluded to by analysts at the ASPI and others and one which would have applied regardless of which design had been chosen.
With the government so invested in using SEA 5000 as the basis for creating a new national high-technology industry sector, it could end up that further down the track, defence force structure decisions are made less on military requirements and more on the need to keep industry busy and politicians happy.
The RAN could end up with more vessels than it needs or can comfortably crew, or could replace classes sooner than required. Or Australia could end up exporting vessels – a stated government goal – less for sound commercial and strategic reasons than to maintain Australian jobs.
That's a very distant concern, remote from the minds or attention spans of the politicians and many others at the June 28 official announcement. This was a glittering occasion, attended by a multitude of political, defence and industry official
Heading the proceedings were former Prime Minister Malcolm Turnbull, then Defence Minister Marise Payne, then Defence Industry Minister Christopher Pyne, Finance Minister Mathias Corman, and South Australian Premier Steven Marshall.
Also in attendance were outgoing Chief of Defence Force ACM Mark Binskin and Chief of Navy Vice Admiral Tim Barrett, BAE Systems Australia CEO Gabby Costigan, SEA 5000 program director Nigel Stewart, UK High Commissioner Ms Menna Rawlings, and CASG Deputy Secretary Kim Gillis.
Warming to his familiar theme of jobs and growth, Mr Turnbull said this project alone would create 4,000 jobs. "…1,500 direct here in Osborne, 2,500 through the supply chain around Australia," he said. "Overall the shipbuilding plan will have 15,000 jobs created, again around 5,000 directly here in South Australia and the rest throughout the country."
Ms Costigan said their plan was to deliver a defence program the likes of which Australia had never seen before.
"We will create a continuous naval shipbuilding industry that will create and sustain around 4,000 jobs including more than 1,000 graduate positions and apprentices. This will be a long-term economic opportunity for Australia.
"The opportunities this program offers Australian industry are huge and today as mentioned before, we have pre-qualified over 500 Australian suppliers. That is just the tip of the iceberg," she said.
In conjunction with the GCS-A selection, the government also announced the new training and capability centre for the frigates will be located at HMAS Stirling at Henderson in Western Australia as part of that base's extensive redevelopment.
Known as 'Ship Zero', the facility will provide headquarters, capability-specific training facilities, through-life test centre, and the potential to establish a land-based system test site. The training facilities are designed to transfer training which was once done at sea to the land-based facilities.
Separate from other elements of the redevelopment, the $670 million 'ship zero' investment will see HMAS Stirling's wharfs extended, the construction of maintenance and equipment storage buildings, the construction of new support facilities including medical facilities and accommodation, and the construction of the new Navy Training Centre – West.
In one of his last engagements as CN, VADM Barrett ratified the decision and issued a challenge to the ASC workforce. "This is the right capability for the Navy, for the ADF, and for the nation. Can I say to the workers here and those that will work in this program in the future; build these ships well. Our sailors expect and deserve nothing less."
The Hunter class vessels will be built at the Osborne Shipyard in Adelaide, and ASC Shipbuilding will become a subsidiary of BAE Systems during the period of the build, with the Commonwealth retaining a sovereign share. (DEFENCE)
The graphic highlights the projected shipbuilding site.
This article was first published by our partner ADBR on August 30, 2018/