An Update on the Indian Navy: December 2019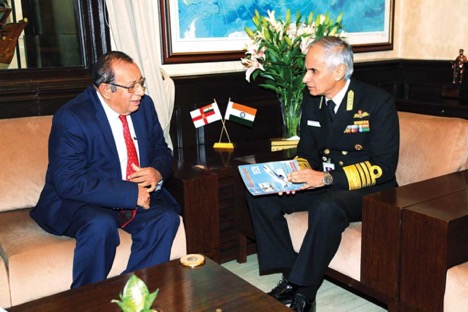 In an interview with India Strategic, the Navy Chief said that acquisition order for US General Atomics SeaGuardians with high Intelligence Surveillance and Reconnaissance (ISR) capability is on the anvil and that the Navy as well as the Army and Air Force are coordinating on inducting their required Predator variants. "We are progressing a joint case for procurement of 30 armed SeaGuardian HALE RPAs (10 each for the three Services) under the Foreign Military Sales (FMS) route of the US Government."
According to diplomatic sources, the US Government had acceded to India's request, made at the highest levels, for arming these High Altitude Long Endurance Remotely Piloted Aircraft, and the Ministry of Defence is now working towards finalising the process by mid next year.
In another significant observation, Admiral Singh told his customary Navy Day press conference that the Navy has decided to go in for electric propulsion for its next aircraft carrier, dubbed IAC II, and that means another win for General Atomics, whose electric propulsion systems, EMALS catapult or Electromagnetic Aircraft Launch System) and AAG (Advanced Arresting Gear) to stop the landing aircraft are the new standards for US Navy aircraft carriers.
The IAC II, or Indian Aircraft Carrier 2, will be non-nuclear, and of 65,000 tonnes.
"The Navy's long term capability plan envisages induction of three aircraft carriers, so that two CBGs (Carrier Battle Groups) are available for dispersed deployment in the Indian Ocean region at all times. The broad contours of IAC 2, to be constructed in India as a 65,000-tonne CATOBAR (Catapult Assisted Takeoff But Arrested Recovery) carrier with electric propulsion, have been formulated and the case will be processed for accord of AON (Acceptance of Necessity). The AON is the final determinant for the MoD (Ministry of Defence) to consider allocation of funds and move the files towards acquisition of a system.
Notably, the USN carriers, all CATOBAR, are generally of 100,000 tonnes. But they are deployed globally, and have unmatched escort, and resulting expenses, much beyond Indian requirements and expenses.
Admiral Singh also told India Strategic that the Navy is already "extensively using RPAs for coastal surveillance, and that three RPA Squadrons have been commissioned at Kochi, Porbandar and Ramnad with an aim of achieving enhanced surveillance ranges."
Augmentation of existing RPA control stations onboard ships is also in progress.
The RPAs, or UAS (Unmanned Aircraft Systems) or also UCAVs (Unmanned Combat Aircraft Vehicles if armed), are integral to modern warfare, and the Indian armed forces started inducting them from the late 1990s, from Israel, thanks to Pakistan's intrusion in Kargil heights, leading to the 1999 Kargil War to evict its troops.
The success of GA Predators, with endurance up to nearly 50 hours in air, has interested the Indian forces, particularly as they have successfully been used to neutralise hostile elements in Afghanistan, even while being controlled from California on the other side of the world through satellites. A video of one operation by USAF in Afghanistan, shown at one of India Strategic seminars, demonstrated how, and with patience, a Predator neutralised four terrorists and their vehicle one by one.
The Naval Chief observed that the Navy was very much keeping track of rapid changes in defence technologies, and that the effort was to put on the best possible sensors and weapons on board various ships and other assets.
Asked about the Boeing P-8I, which is perhaps the single most advanced piece of technology with the Indian armed forces, Admiral Karambir Singh said: "The introduction of P8-I was one such step and (it is) a force multiplier in the Indian Ocean Region."
Also, he pointed out: "The Indian Navy has a dedicated multiband satellite for communication, which has enhanced our connectivity footprint, enabling our platforms to operate seamlessly at extended ranges."
The Navy plans to use the Boeing P-8Is and GA SeaGuardians to observe and neutralise hostile elements at extended ranges. Both these are armed, and the P-8, which the Indian Navy is second to induct after the US Navy, has formidable onboard capabilities to detect and destroy hidden submarines.
The Indian P-8Is have 360 degree radar coverage, and all of them are networked with other aircraft, shore facilities, various Commands, and the Navy's main 24 x 7 control centre IMAC (Information Management and Analysis Centre), located in Gurgaon, south of New Delhi.
At IMAC, officers keep a watch all over and along the Indian coasts, island territories and inputs from the P-8Is and other assets wherever they are. The Navy has already enhanced its presence and mission readiness across "our areas of maritime interests in the Indian Ocean Region."
"The recalibration of our operational deployment has resulted in increasing our footprint and strategic domain awareness of the vast expanse of IOR, enabling rapid deployment of our units to address emerging security challenges."
Admiral Singh said that the Navy has approval for six more P-8Is in addition to the eight operating and four on order, and to be delivered from next year.
Notably, the allocation for funds for the Navy is however down from 18 per cent to 13 over the past five years, and that is why the modernisation of various assets with newer technologies like sensors and EW systems is the key to get the best out of them.
The number of ships planned has also come down from 200 to 175, and again, that is why, the Navy is looking at newer technologies on board its assets, and that too, through the indigenous route, he said.
He pointed out that the best of the EW (Electronic Warfare) systems were not easily available, while the Navy is also importing Marine Diesel Engines, Power generators and Shafting and Propellers. These need to be made in India by public or private companies. "Our aim is to reduce the import dependency and progressively increase indigenous content in our shipbuilding projects."
So, "the Navy has commenced the process of indigenising complex and high end technology equipment, which are presently being imported."
The key player in this effort will be DRDO (Defence Research and Development Organisation), and the future is clearly towards Networked Manned and Unmanned assets, the Naval Chief observed.
This article was published by India Strategic, December 4, 2019.