Training Surface Warfare Officers for the High-End Fight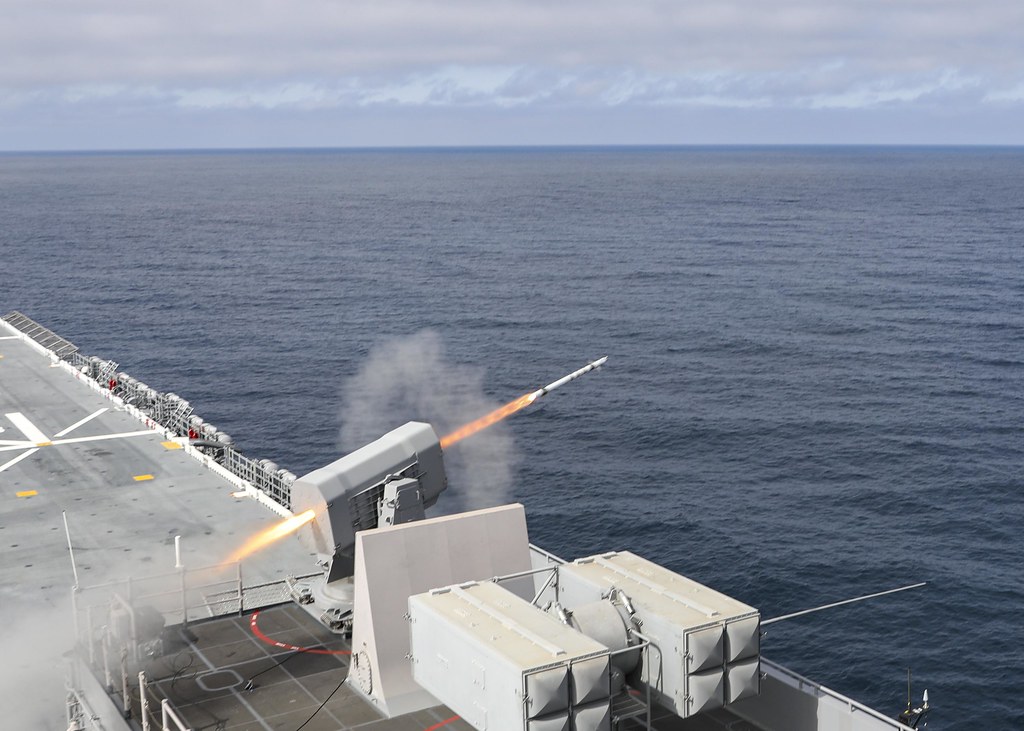 I have argued that the shift from the land wars to the new strategic environment is best described as the shift to full spectrum crisis management.
The return to great power competition and to an ability to dominate the high-end fight is the usual description of the shift, but for me, the focus is upon full spectrum crisis management in a contested environment.
The U.S. services and our allies are focused on reshaping the land war engagement force to becoming an effective integrated distributed force which can operate as interactive kill webs to shape the kind of combat effect essential to support the political objectives necessary in a wide range of combat settings.
For the surface warfare community, this is a significant shift from functioning as flexible mobile bases able to deliver lethal precision effects ashore in relatively low-threat sea environments to operating in highly contested, multi-domain, and distributed environments  in order to achieve new National Defense Strategy objectives.
Both the excellence of the surface warfare community to operate in delivering decisive precision effects ashore and its ability to contribute to crisis management was demonstrated in recent years in Syria.
Ed Timperlake highlighted this dramatic event in an article published March 5, 2019.
"The surface Navy can also undertake independent offensive operations, as the Russians in combat support for the President of Syria recently found out, after the Syrian President used chemical weapons on his opponents:
"When President Trump gave the go order to attack Shayrat Air Base Syria, where a chemical attack had been launched, two US Navy surface warships stood ready to implement the order.
"In one shining moment with Tomahawks fired from USS Porter and USS Ross, the world knew a new Commander-in Chief was at the helm.
"It was reported that 59 of the 60 Tomahawks hit the intended target. Our way of war was to actually warn the Russians to minimize any chance of Russian's being hit or killed — how nice for them.
"The USS Porter and USS Ross successful attack showcased the command structure of the 21st Century Navy. No finer complement can be given to the 21st Century navy and the dynamic and extremely successful contribution's being made by the admission of women to the US Naval Academy than seeing the Commanding Officer of USS Porter have her crew earn an historic famous Flag Hoist "Bravo Zulu" for Job Well Done.  Cmdr. Andria Slough graduated from the academy with a Bachelor of Science degree in ocean engineering. She serves as the commanding officer of the USS Porter, a Navy destroyer in the eastern Mediterranean Sea.
"Performance counts from day one regardless of how one earns a commission. The Skipper of the USS Ross, Commander Russell Caldwell, hails from Johannesburg, South Africa. Commander Russell Caldwell graduated the University of Kansas with a Bachelor of Science in Political Science and was commissioned on January 10, 1998."
A key enabler for such combat success is the shaping of the new warfare training capabilities set in motion in 2014 by the CNO, Adm. Johnathan Greenert. 
Recently, I visited the epicenter of the way ahead for advanced training for surface warfare, Naval Surface and Mine Warfighting Development Center (SMWDC), located in San Diego, California.
According to a recent press release by the Navy:
"Naval Surface and Mine Warfighting Development Center (SMWDC) paused to celebrate the command's fifth birthday, June 9, and reflected on the many milestones and achievements completed since standing up the command in 2015.
"SMWDC was established with a small staff that came from Commander, Naval Surface Force, U.S. Pacific Fleet, into its current form, with a headquarters and four divisions, located in California and Virginia, focused on anti-submarine warfare/surface warfare (ASW/SUW), mine warfare (MIW), integrated air and missile defense (IAMD), and amphibious warfare (AMW).
"SMWDC has produced nearly 400 Warfare Tactics Instructors (WTI)to date and we are continuing to recruit exceptionally talented junior officers into one of four existing warfare programs," said Rear Adm. Scott Robertson, commander of SMWDC. "The continued increase in our surface force lethality is directly tied to consistent recruitment and subsequent mentoring of sharp officers into the WTI program."
"SMWDC accomplishes its four lines of effort – advanced tactical training; doctrine and tactical guidance development; operational support; and capability assessments, experimentation, and future requirements – by leveraging Warfare Tactics Instructors (WTIs) and support staff to increase the lethality and tactical proficiency of the surface force across all domains.
"Surface Warfare Advanced Tactical Training (SWATT) is the surface forces' premiere warfighting exercise. In the lead up to SWATT, warships complete SMWDC-led advanced tactical training such as Advanced Mine Countermeasure (MCM) Evaluator Course, Air Missile Defender Course, Force Air Defense Commander Course, and Sea Combat Commander Course in preparation for certification and deployment.
"Through hard work, innovation, and thoughtful approach, SMWDC has grown and continues to mature into the organization that will continue to drive Fleet lethality, readiness and confidence," said Robertson.
"SMWDC is one of five Navy warfighting development centers (WDCs) – Naval Aviation Warfighting Development Center (NAWDC), Naval Undersea Warfighting Development Center, Naval Expeditionary Warfare Development Center, and Naval Information Warfighting Development Center – stood up when the Chief of Naval Operations, Adm. Johnathan Greenert, approved the transition of Warfare Centers of Excellence to WDCs in 2014 to enhance Fleet warfighting capabilities and readiness across the theater, operational and tactical levels. Each of the WDCs are modeled after NAWDC's 'Top Gun,' taking the top talented warfighters and developing them into experts – warriors, thinkers, teachers."
My visit to SMWDC was hosted by Rear Adm. Scott Robertson, commander of SMWDC.
The key focus of the visit was to discuss with the team how they were preparing officers and the ship combat teams they lead, for the high-end fight in the challenging maritime threat arena.
The first contributor is the recent addition of high-fidelity shore based training simulator and exercise engagement working areas – called Combined Integrated Air and Missile Defense (IAMD) and Anti-Submarine Warfare (ASW) Trainers, or CIAT, managed and run by the Center for Surface Ship Combat Systems.
The Navy has built two has two CIATs, one at San Diego and one at Norfolk.
What I saw going on in San Diego was an entire Aegis Cruiser combat crew training together in a scenario-based operation able to tap into other elements of the task force to deliver the desired combat effect.
It also greatly enhanced the ship combat team's warfare readiness and ability think dynamically before heading to sea to continue exercises or deploy for real-world requirements.
The second element in preparing for the high-end fight is to increase the challenge and scope of at-sea training conducted by SMWDC. 
Rear Adm. Robertson described the upcoming shift of Surface Warfare Advanced Tactical Training (SWATT) to SWATT 2.0.
The training destination is moving from a 'crawl, walk, run' methodology into more complex and evolved scenarios in a 'walk, run, sprint' methodology.
"SWATT 2.0 will include night life-fire events, Live Virtual Constructive integration into at-sea events, and increased complexity of all warfare training events," said Robertson.
"We will also include offensive action and maneuver aspects during Live Fire with a Purpose, a re-introduction of other Warfighting Development Center support to SWATT.
"It will also include a culminating Capstone event – a multi-domain, multi-warfare free-play event designed to challenge Warfare Commanders, unit COs, and watch standers alike in stressful conditions, with the inclusion of assessed battle damage and opportunities for integration of shipboard training teams and toughness training.
"The capstone event will be a game-changer for the Advanced Phase of Training and build readiness for both distributed and reconstituted task force level employment."
A key element of kill web training is for the surface warfare officer to understand what he or she can contribute to the fleet or the integrated distributed force and what that force can deliver to that particular surface ship or task force in which that surface ship is participating.
Clearly, this is a work in progress, but it is about moving in the direction of enhanced full spectrum crisis management capability for the fleet, for the joint and coalition force and for the nation.
Appendix: Surface Warfare Advanced Tactical Training Creates Combat-Ready Warships, Battle-Minded Crews
Naval Surface and Mine Warfighting Development Center Public Affairs | April 21, 2020
SAN DIEGO — Naval Surface and Mine Warfighting Development Center (SMWDC) led U.S. Navy warships through Surface Warfare Advanced Tactical Training (SWATT) exercise, March 30 through April 17, in the Eastern Pacific Ocean.
Units included in the training were the amphibious assault ship USS Makin Island (LHD 8), amphibious transport docks ships USS Somerset (LPD 25) and USS San Diego (LPD 22), and the littoral combat ship USS Freedom (LCS 1).
"This advanced tactical exercise was the most demanding we've had to date for the Surface Force as we navigated being able to safely execute this critical training amidst the challenges presented by COVID-19," said Rear Adm. Scott Robertson, Commander, Naval Surface and Mine Warfighting Development Center. "The ultimate intent was to increase the lethality and combat power of naval surface forces by preparing our units to do what warships are designed to do-fight and win at sea- and that's exactly what was accomplished here."
SMWDC facilitated the advanced level training to increase the tactical proficiency, lethality, and interoperability of amphibious and littoral combat ships within U.S. Third Fleet.
"It was exciting to witness the strength of our ships and Warfare Tactics Instructors (WTI) during the SWATT exercise. The team was united, maximized force readiness, and minimized exposure to the harmful conditions the world is experiencing. They were ready and leaned forward into SWATT, which is an exercise dedicated to improved warfighting skills, increased lethality, and overall tactical proficiency across multiple warfare disciplines" said Lt. Cmdr. Ryan Downing, SMWDC lead SWATT planner. "During this unprecedented time the ships, with embarked WTIs and supporting teams, employed their combat and weapon systems across several live-fire and complex training events during the at-sea period. The result was as expected, a sharpened and more lethal ARG and LCS force."
The warships conducted several training exercises, including anti-submarine warfare, surface warfare, air defense and amphibious warfare. Complex live-fire events included missile exercises, torpedo exercises and gunnery exercises.
The Navy evaluates all exercises and operations on a case-by-case basis during the coronavirus pandemic. Prior to ordering crews to sequester on board and continuing with a planned evolution, commanders of all our units, and at all levels, carefully balanced the need to maintain unit readiness and the health of the force with the impact to families and the Sailors.
SMWDC and each ship followed all CDC and Navy guidelines regarding COVID-19 during the evolution. The training provided essential and vital tactical training and proficiency to the operational fleet, in order to ensure that units remain lethal and ready.
Featured Photo:
The amphibious assault ship USS Makin Island (LHD 8) fires a rolling airframe missile as part of a training exercise. Makin Island is conducting routine operations in the eastern Pacific. (Photo by (U.S. Navy photo by Mass Communication Specialist 1st Class Harry Andrew D. Gordon))