Exercise Talisman Sabre 21: Allied Maritime Collaboration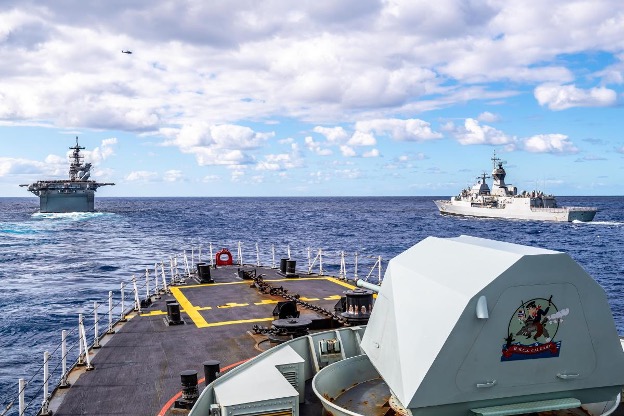 Australia, Canada, Japan and the Republic of Korea have united beyond the shared colours of their collective national flags during Exercise Talisman Sabre 21 (TS21).
Australian frigate HMAS Parramatta, Canadian frigate HMCS Calgary, Japanese destroyer JS Makinami and Republic of Korean destroyer ROKS Wang Geon joined forces to conduct air and anti-submarine warfare serials off the coast of Queensland.
The two-day air warfare serial required the four nations to work as one to defeat a multi-aircraft threat played by four Learjets simulating attacking aircraft.
Parramatta and Makinami were tasked to defend their maritime environment in the first day and were joined by Calgary and Wang Geon for a continued effort on the second day.
Parramatta's Commanding Officer, Commander Anita Nemarich, said the exercises were an opportunity to challenge and strengthen the task group's ability to respond.
"Talisman Sabre is an important exercise for not only our land and air-based defences, but also our maritime capabilities," Commander Nemarich said.
"It allows us to develop important skills that are essential to our Navy's ability to defend Australia and its national interests, and that of its partners in the region.
"During the warfare serials, Parramatta put to test ship-to-ship communications with partner nations, our ability to respond under pressure and work in synchronisation with three other ships in a fast-paced environment.
"It has been challenging, but the crews can be proud of their unrelenting efforts and commitment to ensuring we deliver the best effect possible – from the sea."
Anzac class frigate Parramatta provided long-range air defence, surface and sub-surface warfare, surveillance and reconnaissance in the maritime battlespace to deliver a multi-faceted frontline defence for its accompanying vessels.
During the anti-submarine warfare exercise, Parramatta responded to taskings from serial leads Makinami and Calgary, and later Wang Geon, to simulate attacks on Australian submarines Collins and Rankin.
"This was a great opportunity to allow for the integration of the participating unit's air assets and a Royal Australian Air Force fixed wing aircraft," Commander Nemarich said.
"It allowed the task group to hone in on and develop our collective skills, enhancing our ability to respond to potential submarine threats as a united front."
Australian ships Ballarat, Brisbane, Canberra, Choules, Diamantina and Melville are also participating in TS21, with some of the vessels contributing to the effort with embarked helicopters.
This was published by the Australian Department of Defence on July 31, 2021.
Featured Photo: Canadian frigate HMCS Calgary (foreground), in company with USS America (left) and Australian frigate HMAS Parramatta (right) off the coast of QLD, during Exercise Talisman Sabre 21.
Photo: Corporal Lynette Ai Dang