Can Nations and Navies Create a New Paradigm for Ocean Observation?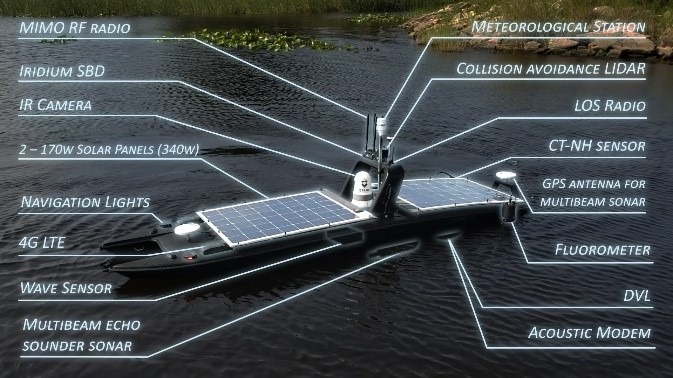 For two weeks in November 2021, the Glasgow climate change summit dominated national and international headlines. While some perhaps rightly criticize the summit as being long on rhetoric and short on concrete actions, what it did accomplish was highlight the potentially disastrous impact of climate change.[1]
When most people think of climate they look to the sky. This is only partially correct, as it is the oceans that sustain the planet. While most climate change activists are energized to prevent pollutants from spewing into the air, they would be well-served to give equal attention to the oceans. Indeed, when most of us look at a globe, we focus on the shape of the seven continents. Rather, we should see the shapes of the seven seas – seas that are increasingly under stress.
Like other navies, the United States Navy plies the oceans and must have in-depth (no pun intended) knowledge of the ocean environment. This is crucial to making optimal decisions regarding naval operations. For decades the U.S. Navy gained its knowledge of the ocean environment by conducting ocean sampling from Navy vessels. This worked – to a point – with a navy of almost six hundred ships. Today, with a ship count of less than three hundred, and with numbers of ships not predicted to increase for some time, the Navy is seeking viable alternatives to sample the ocean environment.
Fortunately, a new pact between the United States Navy and the National Oceanic and Atmospheric Administration (NOAA) has explored the idea of using unmanned surface vehicles equipped with a wide array of sensors to conduct this ocean sampling. This initiative serves two purposes: providing those with stewardship of the environment like NOAA with the information needed to make data-driven decisions to help combat climate change, as well as providing the U.S. Navy with timely and relevant information about the oceans which can then be used in tactical and operational situations.
How this partnership evolved, what has happened thus far, and where it can go in the future provides a best-practices example that nations and navies can leverage to provide an effective and efficient way to gain a comprehensive knowledge of the ocean environment.
Background
Beyond the Glasgow Summit, a number of streams have come together in 2021. Collectively, they highlight the continuing importance of comprehensive ocean observation to the Nation and the Navy. Importantly, there are new, innovative ways and means that this real-time cataloging of oceanic phenomena can be conducted reliably and repeatedly and at relatively low cost.
The open and defense media has been well-populated with stories noting the harmful impact of climate change. Other articles have been more explicit in describing how the new administration will instantiate this imperative, noting, for example, that, "The Pentagon will include climate change-related issues in its National Defense Strategy."[2]
The media has been well-populated with stories noting that climate change is now a U.S. national security priority.[3] Other articles have been more explicit in describing how the administration will instantiate this imperative, noting, for example, that, "The Pentagon will include climate change-related issues in its National Defense Strategy."[4] Most recently, a series of reports from the U.S. Government address the security implications of climate change in stark terms.[5]
An important aspect of dealing with climate change has been – and will continue to be – ocean observation. This is one of the reasons that two major oceans stakeholders, the U.S. Navy and NOAA, signed an agreement to collaborate on ocean observation, data collection and analysis and have now moved forward to conduct detailed experimentation to see if their theory that unmanned surface vehicles can provide an effective and efficient means to conduct ocean observation was, indeed, viable.
This U.S. Navy-NOAA initiative includes the plan to jointly expand the development, acquisition, fielding and operation of unmanned maritime systems in the nation's coastal waters as well as in world's ocean waters.[6] This opportunity has only become possible because of the rapid development of unmanned maritime systems that can be fitted with a package of sensors to accurately and comprehensively measure ocean phenomena and then communicate this information to land-based sites.
Taken together, these trends presage a new era in ocean observation that will lead to comprehensive data collection to support Navy operations across the globe. This effort will also enable a wide range of stakeholders to compile the data that is crucial to addressing the national security threat of climate change by enabling scientists to make data-driven decisions based on the health of the oceans and the atmosphere.
The Oceans and National Security
 Volumes have been written about the negative impact of climate change and global warming. In 2021, this new shift in addressing climate change, not as an abstract issue, but as a clear and present danger, was put this way by Defense Secretary Lloyd Austin: "The Department will immediately take appropriate policy actions to prioritize climate change considerations in our activities and risk assessments to mitigate this driver of insecurity.[7]
In order to address climate change at the national level, a wide-array of federal, state and local officials recognize that they must make decisions based on data, not guesswork. Making these data-driven decisions depends on collecting the right data, at the right place, at the right time. This is not a trivial undertaking, and in a budget-constrained environment, having various agencies collect – but fail to share – oceanic data, is a recipe for failure. These gaps lead to an incomplete picture of the ocean's health, and with it, sub-optimal solutions to achieving long-term ocean sustainment, including dealing with climate change.
This U.S. Navy-NOAA partnership is a natural outgrowth of the fact that both organizations must collect and utilize much of the same oceanic data. Add to this the fact that the Navy and NOAA recognize the importance of unmanned maritime systems for a plethora of missions, ocean observation among them.
A Partnership to Leverage Unmanned Surface Vehicles to Collect Oceanic Data
One of the reasons for this new U.S. Navy-NOAA partnership is that by working together, NOAA will be able to leverage the Navy's expertise, infrastructure, best practices and training to accelerate its science, service and stewardship mission, especially its efforts to address climate change. The Navy's executive agent and key stakeholder in this effort is the Naval Meteorology and Oceanography Command.
The Naval Meteorology and Oceanography Command's mission is to define the physical environment from the bottom of the ocean to the stars to ensure the U.S. Navy has freedom of action to deter aggression, maintain freedom of the seas and win wars. Additionally, Naval Oceanography has been a global pioneer in the development and use of unmanned systems.[8]
Rear Admiral John Okon, Commander Naval Meteorology and Oceanography Command, emphasized why this partnership is important when he noted, "This agreement lays the foundation for collaboration, engagement, and coordination between NOAA and the U.S. Navy that our nation has never seen before. It will help us take advantage of each other's strengths to advance each of our strategic and operational mission priorities."[9]
NOAA conducts research and gathers data about the global ocean and atmosphere to forecast weather, predict climate, protect the ocean and sustainably manage marine resources. These missions rely on a continuous process of testing and evaluation of new technologies such as unmanned systems to improve data gathering.[10]
Retired Navy Rear Admiral Tim Gallaudet, Assistant Secretary of Commerce for Oceans and Atmosphere and Deputy NOAA administrator, emphasized the importance of this partnership, "With the strengthening of our ongoing partnership with the Navy, NOAA will be better positioned to transition unmanned maritime technologies into operational platforms that will gather critical environmental data."[11]
Using Experimentation to Determine a Viable Oceanic Sampling Methodology
One important aspect of the U.S. Navy-NOAA partnership is to enhance the ability of both organizations to conduct data collection. This is critical to ensuring that the Navy Fleet has the right oceanographic and metrological information at the tactical and operational edge.
Much of this same data collected to support the operating forces is also vital to help assess the health and vitality of the world's oceans as well as the ability to make data-driven decisions to combat climate change. For both the Navy and NOAA, a major appeal of unmanned systems is to provide a persistent sensor picture for areas of interest.
One important factor that is driving this move to unmanned maritime systems is the high cost of using manned air or sea craft to conduct these observations. Add to this the dangers of using these vessels in bad weather, in turbulent waters, or at night. Given the totality of these factors, using affordable unmanned surface vehicles to conduct these observations has a strong appeal to a wide array of stakeholders.
The Navy and NOAA agreed to move out rapidly in an effort to experiment with ways to enhance their ability to conduct comprehensive ocean observation. In order to organize an experiment in the near-term, a decision was made to use commercial-off-the-shelf (COTS) technology that was mature and which met the exercise objectives. Based on these criteria, one U.S. corporation, (Maritime Tactical Systems, Inc. (MARTAC)), was invited to demonstrate the use its unmanned surface vehicles to conduct a comprehensive an environmental monitoring evaluation. This month-long endeavor was conducted under the auspices of the Naval Meteorology and Oceanography Command (CNMOC). Under CNMOC's stewardship, an Advanced Naval Training Exercise (ANTX) was conducted in the Gulf of Mexico, south of Gulfport, Mississippi.
Naval Meteorology and Oceanography Command scientists outfitted a COTS MANTAS unmanned surface vehicle with a CNMOC Environmental Monitoring System. These systems and sensors were designed to be carried by this USV to provide a one-vehicle solution to important environmental sensing that was, in the past, conducted by multiple platforms.
CNMOC equipped the MANTAS USV with seven sensors. These included: Teledyne Benthos ATM603 Underwater Modem, FLIR M232 Camera, Teledyne Citadel CTD-NH Conductivity Temperature Depth Monitor, Teledyne DVL with ADCP Doppler Velocity Log, Norbit iWBMSh-STX Echosounder, Turner C3 Fluorometer, Quanergy M8-1 Plus LIDAR, Airmar WX220 MET, Meteorological Sensor, and SeaView SVS-603 Wave Height Sensor. This sensor data was communicated in real-time to the CNMOC control station.
A second unmanned surface vehicle (another MANTAS USV), this one equipped with a different suite of ocean monitoring systems and sensors, was employed to conduct an additional round of testing. The sensors employed included an iWBMSh-STX and Klein UUV 3500 side scan sonar. As testing continued with both USVs, CNMOC scientists and engineers provided vital feedback and suggested several enhancements to these vessels.
The ocean observations included: wave height, wave frequency, current speed and direction, wind speed and direction, air temperature, barometric pressure, fresh and salt water concentration and bottom bathymetry/contour. All of these measurements are essential components that feed environmental models vital to naval operations and also contribute to important data-driven decisions regarding climate change.
The ability to conduct surveys in higher sea states had thwarted other unmanned surface vehicles in the past, but was one of the highlights of this month-long event. The catamaran-hulled MANTAS was able to operate in sea state five conditions. Additionally, the USV has a number of compartments that protected sensor components in heavy weather.
Dealing With Episodic Ocean Events: Another Mission for Unmanned Surface Vessels
Beyond the collection of vial ocean data, another area where unmanned surface vehicles can make an important contribution is in response to real-world environmental events. The testing described above occurred in the littorals of the Gulf of Mexico, an area that has more than its share of environmental challenges. Unmanned surface vehicles provide the ideal asset to evaluate the extent of damage as a first step in triaging the problem.
One persistent issue well-known to those familiar with the Gulf of Mexico is the fresh water runoff from the Mississippi River. Periodically, this runoff reaches levels that can damage the near-shore areas on the Gulf.  Additionally, green tides and red tides have a similar negative impact.  Every time one of these events happens, it hurts tourism in a local region. Using a solar-powered unmanned surface vehicle that can remain at sea and monitor the environment for up to thirty days at a time can alert communities to the extent of these tides.  This enables officials to be more exact in determining which beaches should close and which ones can remain open.
Persistent Oceanic Observation is Within Reach
Given the ongoing importance of collecting the right environmental information at the right time at the right place to support the U.S. Navy, as well as help make data-driven decisions to address the national security implications of climate change, finding a cost-effective means to collect this oceanic information autonomously while having humans on-the-loop (as opposed to in-the-loop) is crucial.
The use of commercial-off-the-shelf unmanned surface vehicles successfully employed during this demonstration can be readily scaled-up in USV platform size and thus provide for added oceanographic sensors. This will allow for a further extension of capability within specific oceans, seas, bays, rivers and other waterways, and can also lead the way for enhanced data collection, transmission and evaluation of water conditions and the ocean environment.
U.S. Navy officials have encouraged MARTAC Inc. to scale-up the 12-foot MANTAS used for this CNMOC ANTX effort and produce larger vehicles in order to conduct more comprehensive ocean observation. To this end, a larger 38-foot unmanned surface vehicle, now referred to as the Devil Ray T38 USV was deployed during U.S. Navy exercises Trident Warrior and Integrated Battle Problem. These larger vessels (including 24-foot and 50-foot Devil Ray USVs) could be ideal USVs to conduct extended and more detailed ocean observation with their added ability to carry considerably more sensors and remain at sea for longer periods.
As one example of what this increased size provides vis-à-vis ocean observation, a 24-foot, or 38-foot Devil Ray, using an ocean bottom surveying speed up to fifteen knots, can remain underway for up to seven days until it needs refueling, after which it can again resume its survey mission.  Multiple USV craft can be used to perform independent scans within the same area, thereby greatly increasing the amount of total area that can be surveyed.
Leveraging these larger USVs to accomplish these priorities will go a long way toward making data-driven decisions to provide valuable environmental information to Navy and Marine Corps forces, as well as help government agencies make better data-driven decisions to address climate change.
Given the capabilities of USVs to conduct comprehensive oceanic observation, there will likely be an increased demand for unmanned systems prototyping and experimentation to support comprehensive ocean sampling. The vast array of technologies emerging in today's unmanned maritime systems provides a tremendous opportunity to move forward with an effective and affordable oceanic observation taxonomy.
[1] John Kerry, "COP26 Prepared the World to Beat Climate Change," The Wall Street Journal, November 22, 2021.
[2] Paul Mcleary. "Biden Orders Pentagon To Include Climate Change In New Strategy & War Games," Breaking Defense, January 27, 2021.
[3] Yaryna Sekez, "Our World in 20 Years," The New York Times, January 31, 2021.
[4] Paul Mcleary. "Biden Orders Pentagon To Include Climate Change In New Strategy & War Games," Breaking Defense, January 27, 2021.
[5] Christopher Flavelle et al, Climate Change Poses a Widening Threat to National Security, The New York Times, October 24, 2021, accessed at: https://www.nytimes.com/2021/10/21/climate/climate-change-national-security.html.
[6] "NOAA, U.S. Navy Will Increase Nation's Unmanned Maritime Systems Operations," NOAA Press Release, accessed at: https://www.noaa.gov/media-release/noaa-us-navy-will-increase-nation-s-unmanned-maritime-systems-operations. See also, "NOAA, U.S. Navy Will Increase Nation's Unmanned Maritime Systems Operations," Ocean News and Technology, August 6, 2020 as just two articles heralding this historic – and important – partnership.
[7] Ellen Mitchell, "Pentagon Declares Climate Change a "National Security Issue,' The Hill, January 27, 2021.
[8]  Naval Meteorology and Oceanography Command website, accessed at: https://www.cnmoc.usff.navy.mil/
[9] Naval Meteorology and Oceanography Command press release, August 4, 2020, accessed at: https://www.cnmoc.usff.navy.mil/Press-Room/Press-Releases/Article/2383205/us-navy-and-noaa-sign-agreement-to-improve-nations-unmanned-maritime-systems-op/
[10] NOAA website, accessed at: https://www.noaa.gov/.
[11] "NOAA Finalizes Strategy to Enhance Growth of American Blue Economy," Ocean News, January 25, 2021
The graphic highlights the payloads which can operate from the MANTAS USV.