Thales Highlights FCAS Project in Annual Earnings Report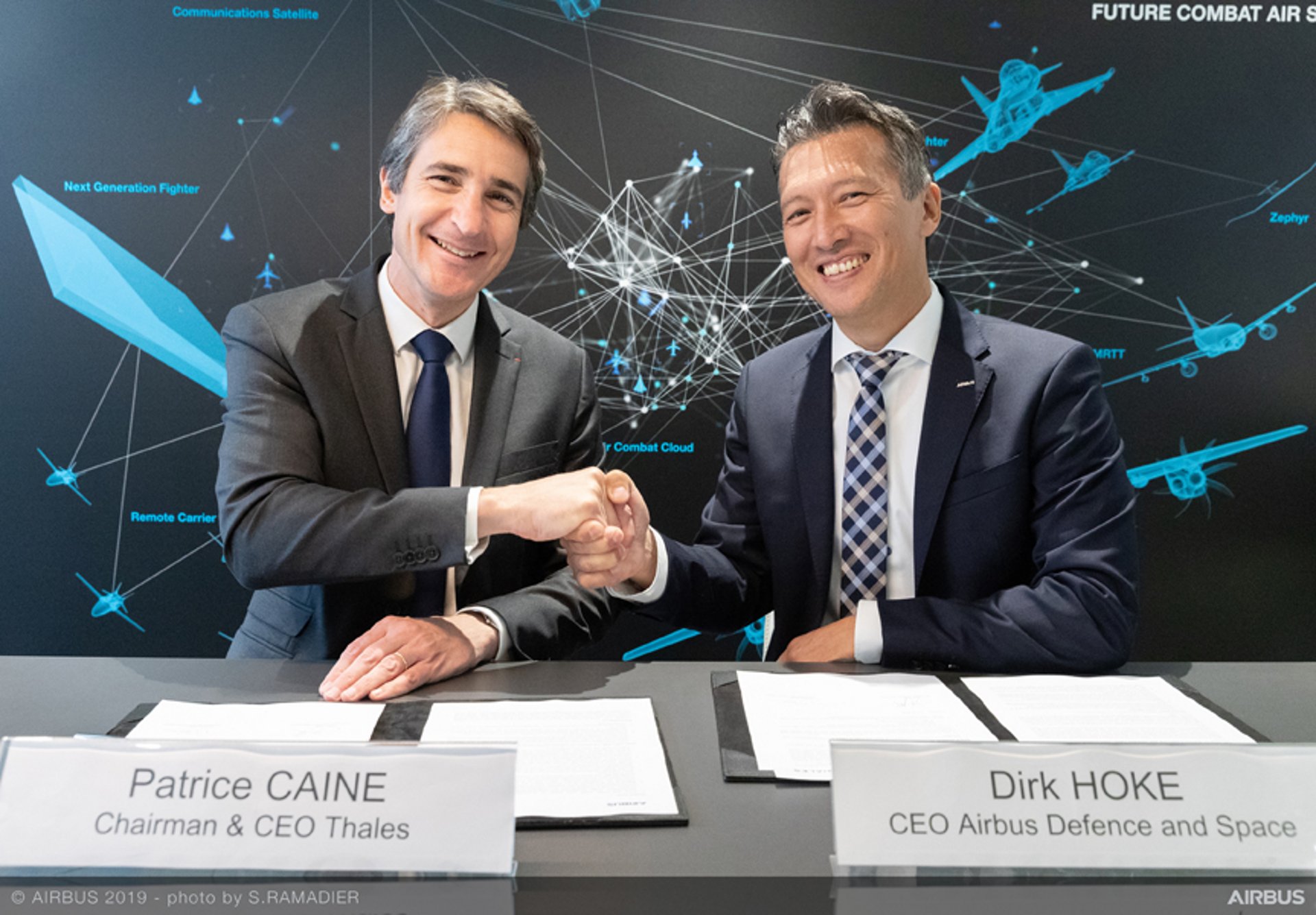 Paris
Thales welcomed the French and German launch of a technology demonstrator for a Future Combat Air System, with the electronics company winning a key role, Patrice Caine, chairman and chief executive, said Feb. 26, 2020.
Thales will partner with prime contractor Airbus on work on the "combat cloud," one of the five key work areas on FCAS, he told a news conference on 2019 financial results.
Launch of the demonstrator program was "great news for Europe," he said.
"This is a great agreement… with a significant role" for Thales.
The combat cloud is intended to provide an extensive network of communications and command to link up a next generation fighter, remote carrier drones, and other elements in the combat air system.
An initial budget of €14.5 million ($16 million) has been set for work on that combat cloud, news agency AFP reported, specialist publication Journal de l'Aviation said Feb. 20.
Some €91 million has been earmarked for initial work on the new fighter jet, led by Dassault Aviation as prime contractor and Airbus as partner.
Studies for a new fighter engine, led by prime contractor Safran and its partner MTU, will receive an initial €18 million.
Prime contractor Airbus and partner MBDA will receive an initial €19.5 million for work on remote carriers, which are intended to penetrate enemy air defense in the first wave and support manned fighter jets.
Some €6 million is earmarked for overall management and simulation. Funding of €4 billion to 2025 is expected, with a total of €8 billion by 2030, AFP reported.
There will be work for Thales on sensors and simulation in FCAS, Caine said.
"There is a lot of hope" on the project, he said.
France and Germany launched Feb. 12 the demonstrator project, with the initial phase 1A backed by some €150 million equally split between France and Germany.
Further funding will be voted for later stages after close review by the German parliamentary budget committee.
There has been much curiosity over Thales's role in FCAS, seen as a critical drive to promote European defense and pursue a pooled sovereignty for military capability.
Defense now accounts for 40 percent of business, with 60 percent from civil sectors for Thales, following last year's acquisition of Gemalto, a digital security company, Caine said.
Thales had "a really great year" in Britain, helped by partner Babcock winning the contract to build the Type 31 frigate, beating BAE System, he said.
That was one of six big defense and security contracts won last year.
The Thales unit in the Netherlands will supply much of the electronic kit for the British frigate, adapted to meet Royal Navy requirements.
On Brexit, the situation was seen as "manageable," as the Thales British subsidiary exported directly to countries outside Europe, and its suppliers were mainly in the UK or also outside Europe, with many in Asia, he said.
That would avoid problems thrown up by tariffs imposed on British trade with EU nations, with much depending on trade negotiations with the UK.
Much will depend on the health of the nation.
Thales employs 6,500 staff in the UK, with 4,500 of those engineers. Britain generates sales of some €1.3-1.4 billion, ranking second or third for Thales.
Perhaps the 10th anniversary this year of the Lancaster house treaty for defense cooperation might relaunch close ties between London and Paris, an executive said.
Thales dismisses as urban legend the view that Thales and NG are routinely in direct competition in naval combat management systems, apart from a Belgian-Dutch tender last year, which saw Naval Group winning the deal.
That defeat was seen in Thales as the only time the electronics company had been in competition with NG, in which Thales holds a 35 percent stake.
There is a view in Thales that the company sells its CMS as part of a package deal with shipbuilders, and that there is not a market for a standalone CMS product.
That stake in NG contributed operating profit of €65 million, €2 million more than the previous year.
Thales reported 2019 operating profit of €2 billion, up four percent from a year ago on a like-for-like basis, stripping out the contribution from Gemalto.
That represents an operating profit margin of 10.9 percent of sales, up 0.3 percent.
That operating profit margin would be 10.6 percent, if the contribution from Gemalto were included for the full year, chief finance officer Pascal Bouchiat said.
Sales rose 0.8 percent to €18 billion, while orders rose four percent to €19 billion. The order book rose two percent to €34 billion. The book to bill ratio, or orders to sales, was stable at 1.
The outlook is for 2020 is world growth in defense sales, particularly in mature markets rather than emerging markets. Sales were expected to rise this year to €19-19.5 billion, with the operating profit margin of 10.8-11 percent. Orders were also expected to grow.
Sales next year were expected to show continued growth, with a forecast operating profit margin of 11.5-12 percent in 2023, helped by contributions from Gemalto.
The following is the press release from Airbus and Thales issued last week. 
Paris, 20th of February 2020 – As part of last week's awarding of the Phase 1A Demonstrators contract for the Future Combat Air System (FCAS), Airbus and Thales have signed an agreement for the development of the Air Combat Cloud which will enable the FCAS system of systems.
Under this agreement Airbus and Thales will work jointly on the structural design of the Air Combat Cloud to support collaborative air operations at national and multinational levels, and will perform a first phase of technology demonstrations of air combat cloud capabilities. This agreement supports the Air Combat Cloud pillar of the Demonstrator Phase 1A  covering the next 18 month period and will serve as a starting point for demonstrators and technology development.
FCAS will deliver increasing operational effects by leveraging the collaborative capabilities of connected manned and unmanned platforms, bringing the next level of Air Power to denied environments. Within FCAS, the Air Combat Cloud will in real time connect and synchronise all the platforms and enable the processing and distribution of information to enhance situational awareness and collaborative operations.
Airbus as European leader in Defence and Security will bring the strength of its wide range of expertise and solutions in combat and mission aircraft (including development and integration of mission and weapon systems), space systems and collaborative C5ISR (digitalized command and control, communication, cybersecurity, intelligence, surveillance, reconnaissance).
Thales will bring its expertise in Defence Equipment and Solutions, in space and aerospace systems, driven by its global leadership in digital security. Both companies' strong skill in digitalisation and operational systems related to collaborative combat are provided through their solutions covering the entire critical decision chain in an increasingly interconnected world.
The two companies will design the Air Combat Cloud, first in the frame of the Franco German FCAS cooperation but with the clear ambition towards enlarging the scope of collaborative combat capabilities between national Air Forces at European level should the member nations decide so. The incremental inclusion of platforms and related collaborative combat capabilities, which when combined with the New Generation Fighter and Remote Carriers in 2040, will achieve the full FCAS ambitious challenge.
Airbus and Thales are convinced that, by combining both companies' capabilities with the wider French and German defence industry, both partners will actively contribute to shaping future European air power, the key to securing Europe's operational, technological and industrial sovereignty for the coming decades.