Weapons Engagement in Talisman Sabre 21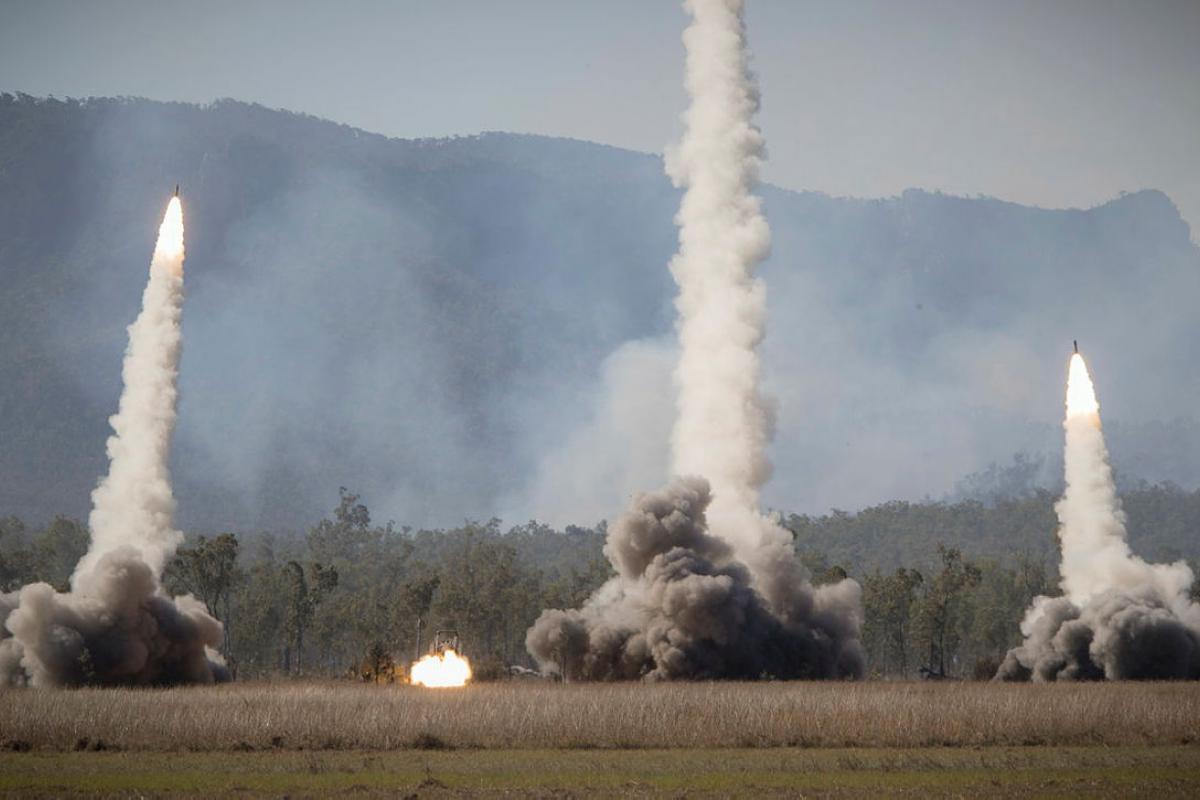 A pair of shells flew over the water and slammed into Townshend Island within the Shoalwater Bay Training Area on the afternoon of July 18.
At sea, the five-inch guns of HMAS Ballarat and USS Rafael Peralta unleashed a further barrage of rounds, beginning the Exercise Talisman Sabre 2021 firepower demonstration.
The bombardment didn't relent as HMAS Parramatta and Japanese destroyer JS Makinami opened fire with guns of their own.
Further inland, a US Marine Corps AH-1Z Viper attack helicopter launched 20mm rockets towards Mount Phipps, accompanied by a UH-1Y Venom helicopter.
They also moved to Townshend Island where the Venom attacked with its minigun, fast-firing .50-calibre rounds and rockets.
Not to be outdone, two ARH Tigers fired 30mm rockets before dropping flares and unleashing a stream of .30-calibre rounds.
They also launched Hellfire missiles over the water at Townshend Island.
A 1000-pound bomb that exploded by the base of Mount Phipps announced an attack run by two F/A-18A/B Hornets.
They tore through the sky above Shoalwater, with loud "burrrrrrrrr" sounds resonating through the area as they strafed with 25mm cannons.
Ground-shaking booms erupted as nine US and Australian M777 Howitzers opened fire, before crews raced each other to launch their remaining nine, high-explosive rounds.
Commanding an M777 was Bombardier Dean Russell, 105th Battery of the 1st Regiment, Royal Australian Artillery, who barked orders as his crew reloaded and fired their gun.
"Not much would survive at the other end," he said.
"There would be a lot of trees splintering and shrapnel flying around. You'd be wanting to get low if you were there."
Back at Townshend Island, American F-35 Lightning IIs attacked with bombs and multiple 25mm cannon strafing runs.
US Army and Marine Corps High Mobility Artillery Rocket Systems (HIMARS) emerged from a hide and together fired a stream of about 20 rockets beyond Mount Phipps.
Task Force Fires commander US Marine Lieutenant Colonel Roe Lemons controlled the system, and said it could hide for months before emerging to deliver long-range precision fires.
"It's wheeled, it can go anywhere. It's very easy to hide," Lieutenant Colonel Lemons said.
"It has the same effects we typically see from aviation, but it can provide that from a ground-based platform.
"We can transport it in anything from a C-130 and up.
"We fly can in, we shoot that mission, then we get out of the area."
It was the first time in his six-year career that Bombardier Russell had seen HIMARS fire and fast jets attack over the gun line.
"Some of the new guys in the detachment had ear-to-ear grins," he said.
"It's amazing to imagine how far HIMARS can shoot and how much ground it can cover on the other end."
A host of international representatives viewed the demonstration along with Minister for Defence Peter Dutton.
His remarks reminded everyone of the strength of Australia's 70-year alliance with the US.
"It sends a clear message to anybody who would want to do harm to Australia," Mr Dutton said.
The demonstration and exercise such as Talisman Sabre also show that Australia can operate on a world-class level with America, according to Mr Dutton.
"Our region has changed significantly in recent years and we need to make sure we have the greatest investment in our people and our equipment," he said.
"We maximise our capacity to keep Australia safe through a deepening of our relationship with the United States, our Five Eyes partners and others who are contributing to Talisman Sabre."
This article was published by the Australian Department of Defence on July 19, 2021.
The featured photo: Rockets are launched from US Army and US Marine Corps High Mobility Rocket Artillery Systems during a firepower demonstration at Shoalwater Bay Training Area. Photo: Corporal Madhur Chitnis