From Cold War to Covid War: The Role of Middle Powers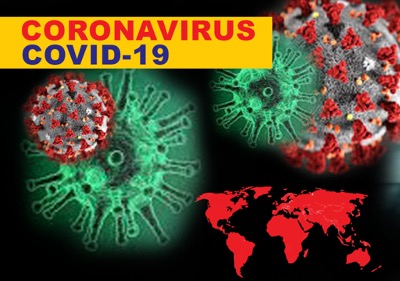 New Delhi. Scarcely had the embers of the euphemistically termed ''Trade War'' between USA and China temporarily settled that the world was struck with the Covid-19 or coronavirus pandemic.
There is not a single country that remains unaffected by it although it is true that some have suffered more than others. It is ironic and somewhat incongruous that the developed and more prosperous countries with relatively better healthcare systems have fared worse than countries in Asia, Africa and elsewhere where the population density is much higher and health care systems are comparatively less developed.
On 26th April, 2020, out of the total infected cases of 2.9 million and more than two hundred thousand deaths in the world, the most powerful and advanced country, the Uited States of America, accounted for more than 960,000 infections and 54,265 deaths. These are the highest single-country numbers in the world although other advanced countries like Spain, Italy, France, Germany and UK stand next to it in the number of positive cases and fatalities.
On the other hand, countries like India, Indonesia and several others with large populations are much below in the pecking order in both the number of positive cases and casualties.
The Covid calamity has brought the two major and significant powers and economies of the world, USA and China, to a direct showdown with each other. USA claims that the deception and obfuscation by China in not sharing information about the virus with the world when it was first discovered in the Chinese city of Wuhan in November, 2019, and its attempts to hide critical details in the initial stages has resulted in the world being faced with a calamity of unprecedented proportions. China maintains that by containing the virus in Wuhan in the initial stages, it had provided valuable time to the international community to take appropriate preventive measures in dealing with the virus. It charges that the world has frittered away this time and hence was being forced to face the wrath of the virus. This argument sounds less than plausible.
If the Director General of the World Health Organisation Dr Tedros Adhanom Ghebreyesus had not stated on 14th January, 2020 in his press conference, apparently under the pressure of China, that there was no evidence of human to human transmission and continued to maintain as late as early February that there was no need to impose restrictions to international travel and trade from China which would only go to stigmatise the country and its people, the number of deaths as also the geographical spread of the virus, would have been much more limited.
All this notwithstanding, the Director General of WHO continued to heap encomiums of praise on Chinese President Xi Jinping and Chinese leadership for what he termed its exemplary behaviour in controlling the virus and sharing all information transparently with the world. Tedros refused to take cognisance of the scientific evidence and information provided by Taiwan about the nature of the virus and likelihood of its transmission from human to humans in December last year.
Because of its acts of omission and commission the Japanese Deputy Prime Minister Taro Aso termed the World Health Organisation as the ''Chinese Health Organisation.'' The United States has charged that WHO has been too lenient as far as China's complicity in spread of the virus is concerned and has stopped its annual contribution of about US$500 million, the highest among member States of the United Nations, pending a major review of its functioning. Many countries, international organisations and NGOs have pleaded with President Trump to reverse his decision to withhold the funding of the WHO as that is the only organisation which has the expertise, technical capacity and global mandate to deal with this insidious virus.
Several fault lines have become visible as a result of the onslaught of this catastrophe which over the last two months has overwhelmed the collective consciousness of the global community. The first and probably the most significant is the perceived decline of America. The United States was already on a downward slope for some years in economic terms. Although the US still continues to be the biggest economy with a GDP of US$23 trillion with the Chinese economy being at number two at US$14 trillion, it was expected that China will supersede the US economy by 2029, if not earlier. China seems aggressively to aim towards that as a goal.
Since the advent of Donald Trump as President of America in 2017, USA has been withdrawing from its global leadership role and focussing more on ''America First.'' In the past whenever such challenges emerged, the United Sates always assumed the leadership role to bring the global community together. In recent years, this was evident during the international economic crisis in 2008, in the aftermath of 9/11 to fight the Global War on Terror and on several other occasions. America has been missing from the global leadership throughout this disaster.
President Trump could not get a consensus joint statement in the G7 Summit to discuss this pandemic because of his insistence on characterizing the virus as the ''Chinese virus.'' G20 Summit and the much-delayed meeting of the UN Security Council due to Chinese intransigence were also dismal failures.
It is felt that China is moving seamlessly to occupy the top position which has been vacated by USA and is making a vigorous bid to fill the vacuum created by America. This appears to be a simplistic if not a naïve assessment. We are still in relative early stages of the manner in which the after-effects of the virus will play out.
In addition to the health pandemic, the death and destruction caused by the virus has resulted in an economic crash around the world the like of which has not been witnessed by the world for more than a century. The global economy will return to some semblance of normalcy only after a credible cure or vaccine is discovered for the ailment. This could take a few months.
By supplying medicines and medical equipment like ventilators, Personal Protective Equipment (PPEs), masks etc to a large number of countries, China is thinking that it will be able to obliterate the unhappy memory about its deceitful and criminal behaviour at the beginning of this fiasco.
In addition to attempts to rewrite history about the origin of this virus, China is making concerted attempts to emerge as a hero in place of a villain. It has been successful to some extent in the initial stages particularly with smaller countries who might not have had very many casualties due to the virus and who might be feeling beholden to China for its timely help and support in cash and equipment. China is also trying to sow dissensions within the European Union by supplying medical equipment to Italy when the appeal from Italy to the European Union member states went unheeded as they were busy in dealing with the emergency in their own countries
European Union Institutions have however woken up to their responsibilities and have, after apologizing to Italy for their initial apathy and insensitivity, vowed to help each other in these times of gloom and suffering. It is expected that there could be a strong pushback against China once things assume some semblance of normalcy. Then, there are allegations that many Chinese girls, possibly prostitutes infected with the virus, visited European cities.
On the diplomatic front, Multilateralism has experienced a huge shock as a result of this pandemic. Multilateralism was already under severe attack even before the pandemic. However, the assault by the coronavirus has dealt a further body blow. All countries have been busy individually to take care of their citizens in the midst of this disaster which has overwhelmed medical capacities and devastated economies of most countries of the world.
International institutions have been found severely wanting in their responses. They have failed to acquit themselves with credibility. Even earlier, the vital and critical issues of climate change and world trade and functioning of global institutions like the WTO, UNEP etc were under severe attack. With the coronavirus pandemic, the integrity and reliability of these institutions has got further eroded. The most important reason for the ineffectiveness and dysfunctionality of the UN, WHO, WTO etc. is the lack of harmonious working relations between the two big powers, USA and China.
Globalization has also come under increased attack because of the pandemic. President Trump had already started withdrawing from the outside world by espousing the ''America First'' doctrine. China which has been the biggest beneficiary of globalisation by gaming the rules and laws of international trade rather than by observing them in letter and spirit has tried to emerge as the flag-bearer of globalization. It was earlier believed that a more inter-dependent world will result in greater transparency, openness and better relations between China and other countries.
This hasn't happened, unfortunately. While China has taken the maximum advantage of its membership of the WTO since 2001, it has refused to open its market to imports and investments. That is why while China exports US$2.4 trillion of goods every year, its import bill is only around US$1.4 trillion. In the case of India, China exports about US$70 billion to India and imports a paltry amount of US$12 billion as a result of which India suffers an unsustainable, annual trade deficit of around US$58-62 billion with China.
Also, China forces foreign companies, particularly from USA, to share their technology with China as a precondition for permission to invest in China.
The full impact of the China virus is yet to be seen, but that is an unprecdented disaster, is there for everyone to see. Airlines are closing, hotels and tourism are gone, roads are empty due to Social Distanciing norms enforced nearly all over the world, and China is taking advantage of the situation by aggressive acquisition of gold chip companies in other countries whose market values are declining due to the Corona Virus misery.
Will globalisation continue? Perhaps yes, as after restoration of normalcy, the world will have to take cooperative measures to survive, possibly in a somewhat different configuration.
Many countries in the west have been painfully shocked to see their over- dependence on China even in the sphere of critical goods like pharmaceuticals and medical equipment. For instance, America depends to the extent of 97 percent on China for its consumption of antibiotics.
India is also dependent to the extent of 70-80 percent of active pharmaceutical ingredients (API) on China. It can be expected that once the pandemic is over, there will be a huge rethink and action on revising and reshaping the global value supply chains.
Several countries have already announced that they will encourage and persuade their enterprises to relocate themselves outside China. It might not happen immediately but the general trend will be to move out of China. India could be a huge potential beneficiary of the likely jettisoning of the industry out of China.
As compared to most of the developed world, India has been quite successful in dealing with the sudden and unanticipated assault by the Chinese virus. India was one of the first countries to stop arrival of flights and passengers from China notwithstanding the advice to the contrary by WHO as also the critical comments by China against USA when it took similar steps.
India brought back its students and citizens not only from Wuhan and other cities of China but also its pilgrims and citizens from Iran, Europe and other places. In pursuance of the philosophy of ''Vasudhaiva Kutumbakam'' India brough back citizens of other countries also from China. In the spirit of multilateral cooperation and partnership, Prime Miinster Modi convened a meeting of SAARC Heads of State and Government on 15th March 2020 and encouraged the countries to work together to defeat this common enemy of virus.
India contributed an amount of US$ 10 million to a SAARC fund for fighting the Chinese virus. PM Modi also encouraged and exhorted the current Chair of G20, Saudi Arabia, to convene a Summit meeting of the members. This took place on 26th March in which the countries decided to cooperate and collaborate to deal with the common enemy. In his comments, PM Modi emphasised the need to reform and strengthen the WHO as also to work together to stop the spread of the virus.
Over the last few weeks, the Indian Prime Minister has interacted with more than two dozen world leaders including Presidents Trump, Putin and Macron, Chancellor Angela Merkel, Prime Ministers of Japan, Australia as well as several Sultans and Emirs of the Gulf countries to devise a cooperative and collaborative approach to vanquishing the virus.
Domestically also, he has been successful in getting the Chief Ministers of all States and Union Territories on the same platform to enforce the lockdown on the whole country of 1.35 billion for more than a month. He has conferred with the Chief Ministers on four occasions and also interacted with leaders of all major opposition parties and different segments of the society including NGOs, businessmen, farmers, village heads and others to manage the pains of this unprecedented catastrophe so far.
From February to April 2020, the world has changed, perhaps for ever. The post Covid-19 world is likely to be very different from what we have been used to thus far.
China's virus powerplay has become dangerous not only for interstate relations but also for humanity. It cannot be estimated as to how many more will lose their lives. 200,000 gone in two months globally is an unbelievable number. It will however be safe to assume that there will be no military conflict in the near future. Although China's aggressive postures around Taiwan and in South China Sea are a cause for serious worry.
Under such circumstances, it is essential for middle powers like India, Japan, Russia, France, Germany, Brazil and others to work together to ensure that global multilateral institutions work effectively in a cordial and harmonious atmosphere and the abominable curse of the Covid 19 virus is overcome.
This article was published by India Strategic on April 30, 2020.