Ensuring Reliability in the Era of Private Space Exploration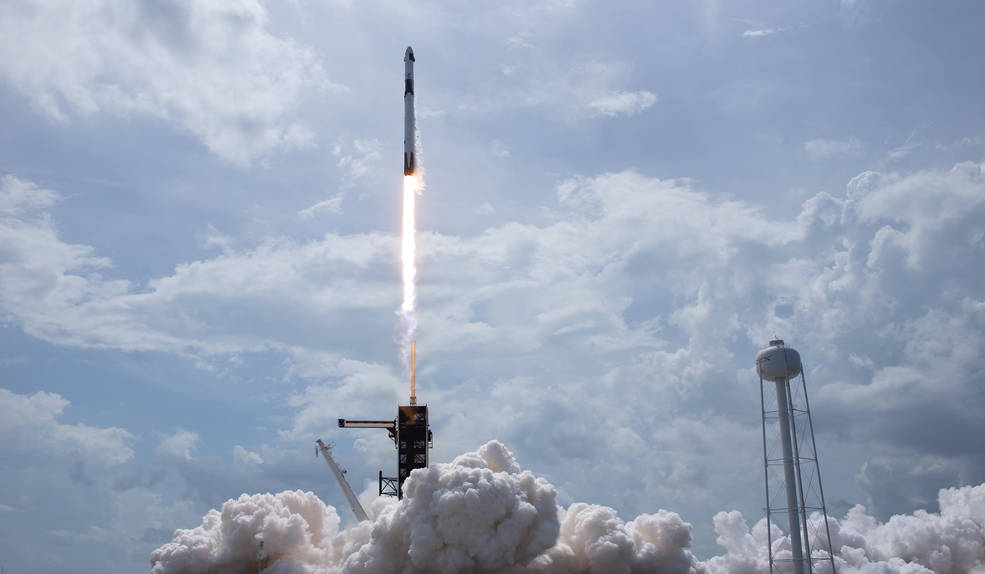 On January 27th, 1967, on the cusp of launching the United States to the forefront of the space race, tragedy struck when an electrical fire killed three American astronauts as they prepared for the Apollo 1 mission. The disaster led to a significant overhaul of capsule design, material selection, and safety protocol. From the disaster, however, came a more reliable space agency that landed men on the moon only two years later.
Now, after decades of leading America's charge into space, NASA has begun to accept private sector participation in space travel and exploration.
The recent launch of astronauts on the SpaceX Crew Dragon spacecraft demonstrates private companies possess the capacity to move the industry forward.
But without an unwavering commitment to safety, they could delay or impede the private sector's future contributions to the exploration and economic exploitation of outer space.
Today, Elon Musk, Jeff Bezos, and other space entrepreneurs are climbing the steep learning curve of spaceflight, just as NASA did in the years leading up to that historic day in 1969. The day before its successful Crew Dragon launch, the SpaceX  Starship prototype exploded on a  Texas launch pad. Bezos' Blue Origin has also experienced several mishaps, including numerous explosions of its rockets.
The complications NASA faced in the Sixties demonstrate how in the business of launching rockets, there is no avoiding early-stage mistakes.
However, today's contractors must prioritize reliability over speed and cost-cutting, assessing and addressing each error as carefully as NASA did after Apollo 1.
The U.S. is no longer in a national security battle with the Soviet Union, so these companies' tolerance for failure should be lower than it was in the Cold War.
But for all of the great potential that SpaceX and its cohort have demonstrated, their underplaying of the importance of quality control remains a sticking point of concern they must correct.
The recent SpaceX explosion in Texas helps to demonstrate this point, but a look backwards illuminates it further.
In 2018, for example, NASA  investigators discovered that a 2015 SpaceX rocket explosion occurred because of the company's use of an industrial grade, as opposed to aerospace grade, part without proper screening or testing or abiding to the manufacturer's 4:1 safety recommendations for using that part.
SpaceX has experienced failures in the years since this incident, so is it continuing to rush ahead in its pursuit to commercialize space?
Free marketeers may applaud the rapid approach SpaceX and other private spaceflight companies have taken at this early point in their histories. A government monopoly on launches and decades of generous congressional appropriations to favored contractors kept entrepreneurs  out of the marketplace until recently, so they  may feel the need to make up for lost time.
But this rushed approach, while understandable, may be contributing to mixed results.
NASA's inattention to reliability after the 1976 Apollo-Soyuz mission led to the Space Shuttle failures of 1986 and 2003, and it realized it had to revive its earlier safety-first practices.  Today's private spaceflight companies must accept the same lesson:  saving lives must always come before saving time.
The future of space travel lies in its commercialization.
Making our economy multi-planetary will bring endless resources and opportunities to the billions who inhabit our planet, but NASA and the Defense Department must ensure that all the contractors drive slowly and cautiously towards that goal.  The government has an ally in their project: the insurance industry, which will reward safe operators and refuse to cover unsafe ones. Insurers will do more to ensure safe spaceflight than an army of bureaucrats, armed with checklists but no personal money at risk, ever will.
When selecting the contractors for its missions, the government must always ensure they are taking all the steps necessary to prevent failure.
Cautious early steps will build a foundation for a robust private space sector in the future.
James Durso (@james_durso) is a regular writer on foreign policy and national security issues.
Mr. Durso served in the U.S. Navy for 20 years and has worked in Kuwait, Saudi Arabia, Iraq, and Central Asia.
The featured photo shows a SpaceX Falcon 9 rocket carrying the company's Crew Dragon spacecraft being launched from Launch Complex 39A on NASA's SpaceX Demo-2 mission to the International Space Station with NASA astronauts Robert Behnken and Douglas Hurley onboard, Saturday, May 30, 2020, at NASA's Kennedy Space Center in Florida.
The Demo-2 mission is the first launch with astronauts of the SpaceX Crew Dragon spacecraft and Falcon 9 rocket to the International Space Station as part of the agency's Commercial Crew Program.
The test flight serves as an end-to-end demonstration of SpaceX's crew transportation system. Behnken and Hurley launched at 3:22 p.m. EDT on Saturday, May 30, from Launch Complex 39A at the Kennedy Space Center. A new era of human spaceflight is set to begin as American astronauts once again launch on an American rocket from American soil to low-Earth orbit for the first time since the conclusion of the Space Shuttle Program in 2011.
Credits: NASA/Bill Ingalls