The Royal Canadian Navy and the Joint Support Ship Challenge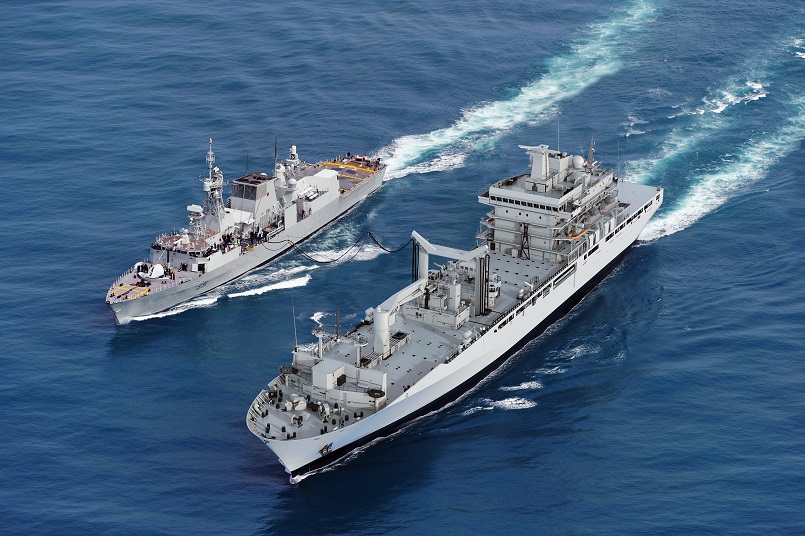 Back in June 2010, some six years after the Royal Canadian Navy (RCN) had begun studying its options, the Conservative government of Prime Minister Stephen Harper unveiled a plan to replace the RCN's two auxiliary oil replenishment (AOR) ships. After decades of service, these naval work horses had "been ridden hard and put away wet," were long overdue for replacement and, being single-skin hulls, were no longer environmentally friendly (and probably never were) despite major refits. Coupled with serious safety issues, the RCN was eventually forced to pay them off early: HMCS Preserver in 2015 and HMCS Protecteur in 2016.
The first phase of the project to replace them with modern new Joint Support Ships (JSS) was underway. RCN planners initially had hoped for three or even four new ships delivered under the National Shipbuilding Strategy by 2012, but budget realities reduced the shopping list to just two.
Although lumped into the non-combat category of shipbuilding contracts, the Protecteur Class JSS is designed to increase the range and endurance of naval task groups by delivering fuel, ammunition and other supplies enroute and in-theatre. They also will have medical and dental facilities and be a floating base for maritime helicopter maintenance and repair at sea.
The capability is widely acknowledged as a critical element of a modern RCN, yet what should have been a fairly straightforward procurement fell victim to government and industry politics.
The original expectations of being operational by 2012 were quickly dashed by delay. It would be June 2013 before the government chose an "off-the-shelf" design from ThyssenKrupp Marine Systems Canada. Based on the German Navy's Berlin Class combat support ship, it ostensibly offered "the best value and overall combination of benefits in terms of capability, risk and affordability" at an original estimate of $2.6 billion each.
In August 2014, Seaspan's Vancouver Shipyards was contracted to review the ThyssenKrupp design, but it would be December 2016, before a preliminary design review (PDR) was completed and Vancouver Shipyards was awarded a design and production engineering contract to get the design to a production-ready state.
Then, in May 2018, the yard received approval to start construction, and by December 2019, work had progressed to the point where, in June 2020, a $2.4-billion contract for full-rate construction followed, setting the stage for delivery of the first JSS in 2023, and the second a year or so later. After customary RCN sea trials, full operational capability is possible in 2026.
In the meantime, to fill the mission gap between the legacy AORs being paid off and their replacements' arrivals, the RCN was forced to lease Chilean and Spanish supply ships until it was decided that a domestic stopgap was preferable (cheaper). According to a report in the Ottawa Citizen at the time, RCN spokesman LCdr Desmond James confirmed that Canada was paying Chile $6 million for access to their naval supply ship for the 40 sea days.
The government then contracted Federal Fleet Services to convert a 182-metre commercial vessel, the Asterix, originally built in Germany in 2010, to provide the replenishment capability. Conversion at the Davie Shipyard in Quebec resulted in delivery on schedule and on budget.
The RCN was given extra funding to specifically cover the cost of leasing Asterix. Funding was a approved, a contract was signed, and a "spending authority" was given to the Navy to invoice costs associated with operation of the vessel, and things seem to have been going very well.
Operational since 2018, Asterix is owned by Federal Fleet. The vessel is part of Project Resolve and was successfully converted at the Chantier Davie Shipyards. Designated a civilian Motor Vessel, MV Asterix is under a "provision of service" contract to the government for an initial five-year period, ending in January 2023. The government then has the option of annual extensions for up to five more years, at the end of which is an option to buy her. If the government did exercise that option, she could be redesignated Her Majesty's Canadian Ship (HMCS) Asterix if commissioned into the RCN or, if not, she would become a Canadian Naval Auxiliary Vessel (CNAV).
Asterix has a civilian crew of 36. The military complement can range from 45 to 114, depending on operational requirements. As of late November, the RCN personnel were mainly from the Atlantic and Pacific bases, rotated to fit training opportunities. A few Army personnel were onboard in medical, dental and logistics roles. The ship also can have Air Force personnel aboard when Sikorsky CH-148 Cyclones or Boeing CH-147 twin-rotor Chinooks are involved in operations. Usually unarmed, Asterixcan be quickly fitted with defensive weapons.
On taking delivery from Davie in December 2017, the RCN wasted no time putting Asterix to work. FrontLine was told that she spent 154 days at sea in 2018, including supporting Exercise Rim of the Pacific (RIMPAC), the massive biennial multinational operation coordinated by the U.S. off the coasts of Hawaii. In addition to supporting RCN ships, she also replenished other countries' warships during RIMPAC, which was sandwiched between sailings in support of Op Projection Asia-Pacific from April to December.
The following year saw 53,581.7 nautical miles logged in 2019 over a total of 171 days as Asterixsupported RCN operations in the Asia-Pacific region, including participation in Talisman Sabre a massive multinational exercise led by Australia and the U.S. and designed to enhance combat readiness and interoperability between the two main participants.
Back home that September, she participated with NATO allies in Exercise Cutlass Fury – the largest Canadian-led naval exercise to take place off Canada's east coast in decades, involving 20 ships and 36 aircraft off Nova Scotia and Newfoundland.
So far in 2020, Asterix has spent 89 days at sea, the reduced time a reflection of the COVID-19 pandemic. In one key deployment, she supported the U.S. Navy Harry S. Truman Carrier Strike Group in a major homeland defence exercise in the Atlantic in May. In partnership with North American Aerospace Defense Command and coordinated by U.S. Northern Com­mand, it also involved the Transportation, Strategic and Space Commands.
From there, it was back home to help prepare HMCS Toronto HMCS Ville de Québec for deployments to the annual Operation Nanook in the North in August. A few weeks later, she was off to Scotland with several RCN frigates for Exercise Joint Warrior, a major biannual multinational cooperative deployment led by the Royal Navy.
While there's no denying the utility and capabilities of Asterix, there's also no avoiding that she will be eclipsed by the JSS platforms. "The ship is not built to the full suite of military requirements we expect," an RCN spokesman told FrontLine. "Although convenient and useful […] our requirements in terms of survivability and self-defence capability, armament, additional equipment and performance go beyond what a commercial ship offers."
On the other hand, replenishment vessels are rarely sent into harm's way, so the Parliamentary Budget Office is probably asking if a slightly lower level of protective systems actually restricts Naval operations very much. One retired naval officer notes that the only time Canada sent an AOR to the front line in recent times, was during the Gulf War of 1990-91.
When Asterix had completed her first full year of operations, Alex Vicefield, CEO of the Inocea Group, an international conglomerate that owns both Davie and Federal Fleet, pointed out a potentially alarming reality. There are "no support ships to service the rest of the fleet, specifically those operating within and defending Canada's three coastlines," he said.
In fact, Federal Fleet had offered to convert sister ship, the Obelix, originally built in 2008, to provide support close to home, but the government declined.
VAdm Darren Hawco, then acting Vice-Chief of the Defence Staff, subsequently told the Standing Senate Com­mit­tee on National Finance, during hearings on DND's 2018-2019 budget, that "we never really looked at the need for or validated the need for a second AOR." Hawco retired last August and Obelix remains in commercial service.
That might have been the end of the debate, but on 9 June 2020, the House of Commons Government Operations and Estimates Committee asked the Office of the Parliamentary Budget Officer (PBO) to prepare an independent estimate of the JSS costs as well as the Asterix project.
Released on 17 Nov, the PBO's fiscal analysis report estimates JSS construction costs at $2.4 billion plus an additional $600 million for "budgetary contingency." Non-construction costs from DND pushed the total to $4.1 billion, including a 7% provincial sales tax. It also put the potential net cost of the Asterix upgrades at $733 million, and determined that the initial five-year service contract would cost $801 million (both figures include sales tax).
"As the project costs of the JSS cannot be directly compared to the costs associated with the provision of service contract of Asterix or any potential similar contract for Obelix, we opt for a comparison of the JSS project to the cost of the purchase options," the PBO says. "Our calculations suggest that the Asterix and Obelix replenishment vessels could be obtained […] for a total of approximately $1.4 billion, as compared to our estimated $4.1 billion JSS project cost."
That's quite a difference, but DND defends its procurement process vigorously. In a statement released within hours of the PBO report, DND noted that "a number of key factors" outside the scope of the report had not been taken into account, particularly the "very different" natures of upgraded commercial vessels and the purpose-built JSS platforms.
"When sending our sailors into dangerous situations, we insist on providing them with the best and safest equipment possible," DND said. "That is always our first priority. […] The Joint Support Ships were designed to be able to deploy into harm's way, a key element of the military design." For example, the JSS design includes a mine-avoidance degaussing system and others for detecting and protecting against chemical, biological, radiological and nuclear threats. They also have redundant propulsion systems, military-standard damage control, cyber-resistant command management, extensive self-defence capabilities, a helicopter hangar and flight deck, and magazines for transporting munitions such as torpedoes.
"These additional features provide a survivability that is critical to ensure the safety of our sailors in high-risk areas, as the Royal Canadian Navy […] must have the capability to maintain a persistent presence in high-threat areas if the security of Canadians demands it. No modifications to […] Asterixcould provide the survivability offered by a built-for-purpose ship."
DND noted that the PBO's numbers did not include funds already spent on Asterix, or money that will be needed going forward. Moreover, the proposed 40-year service life of the converted commercial ship was "unlikely to be realized" without significant investments.
"The operational and maintenance costs that would be required […] would not represent value for money," DND said. "Our choice of the Joint Support Ships was made after years of industry consultation and analysis of possible options."
Clearly, the RCN is eagerly anticipating the eventual arrival of what it considers the more capable JSS to accompany and support warships on potentially dangerous missions. But there remains the fundamental question what does Canada want these ships to do? Are they considered a non-combat ship build because they are not intended to be weaponized or sent into harm's way? How important is it to Canada to have the capability to send resupply ships into a war zone?
At a February 2019 International Naval Support Ships conference in London UK, delegates were told that European supply ship projects were facing a minimum five-year build schedule. It wasn't surprising when Federal Fleet's presentation, by then-CEO Spencer Fraser, on how the Asterixconversion had been completed in two years, drew vigorous applause.
Supply ship operations and their place in a conflict zone was discussed extensively at that conference. The general consensus was that such vessels need not be on the front lines of any combat mission, they can be at the back or the side. As such, attendees saw potential for significant cost savings with civilian construction standards.
Likewise, it was noted that US Navy Military Sealift Command no longer sees a need for close-support weapons on supply ships. Similarly, the German Navy's Berlin Class ships – essentially the same design as Canada's JSS – is considered "not a warship."
The conference was also told that more navies are using civilians to operate supply ships and Davie welcomed the PBO's November report on the AOR options. Having already pushed back against assertions that its vessels are less capable than military platforms, Davie cited the stellar performance of Asterix in first year operations, suggesting this is more evidence of the value of eventually buying Asterix as well as Obelix.
Canada must provide the best equipment to accomplish any military task, but we can also only get what we can afford. It might be time to revisit the traditional requirements of an AOR. The Navy needs four support ships, but Canada has approved only two (one on each coast). This leaves no options during a crisis or for periodic maintenance, major docking, or deep maintenance. Would it make sense to improve the support capacity by adding two commercially-leased vessels? Short of going into a war zone, a converted commercial ship readily handle such heavy lifting, as evidenced by Asterix.
"It has […] been widely acknowledged that Canada needs four supply ships to meet its growing operational requirements," Davie's vice-president of public affairs, Frederik Boisvert, said in a recent email. "There is, therefore.
This article was published by our partner Front Line Defence.
© 2020 FrontLine Defence (Vol 17, No 2)
Featured graphic: Artist rendering of the future Protecteur-class ship replenishing a Canadian vessel at sea