NATO's Backstage: Working the "3 Cs" Rules at Allied Command Transformation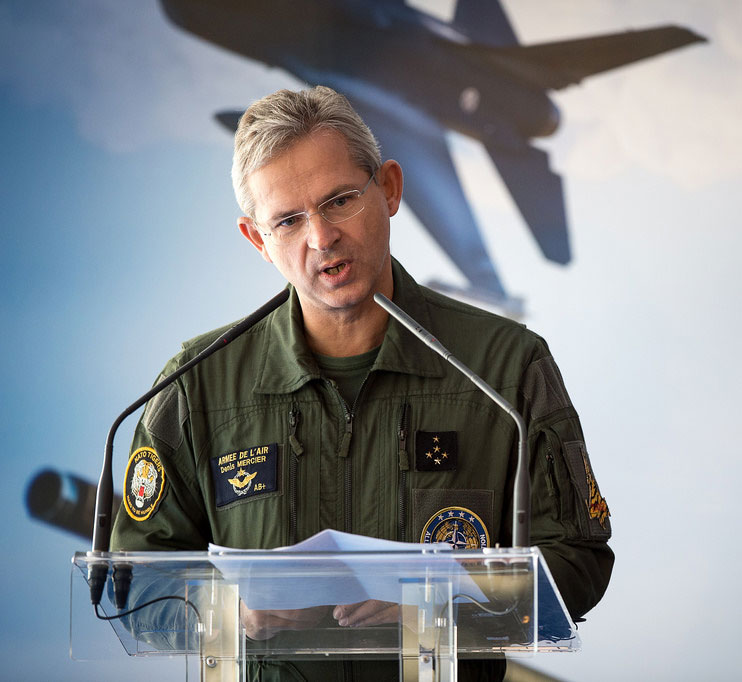 This article focuses on some of NATO's challenges and the way the Alliance is addressing them through the prism of the action of one of its two commands, Allied Command Transformation (ACT).
It is based on various interviews conducted in Norfolk, Virginia, and in particular with Supreme Allied Transformation Commander (SACT) General Denis Mercier.
In the wake of February's NATO Defense ministers' two-day meeting in Brussels and the reform of the command structure, the ACT is working a number of the practical aspects of transformation.
This effort can be characterized as shaping NATO's version of the 3 C rule.  
"3 C's rules" exist in various fields and in every language.
In English, one can find a 3 C's rule in marketing (Company, Customers, Competitors), credit (Character, Capacity, Capital), negotiation (Confrontation, Cooperation, Collaboration), web design (Content, Code, Conception), even relationships (Communication, Cooperation, Compromise) and life (Choices, Chances, Changes), just to name a few.
Last March, in the midst of the public revival of NATO's burden sharing debate triggered by the arrival of President Trump in the White House and prior to the May 2017 Brussels Summit, the Alliance's Secretary General Jens Stoltenberg defined NATO's own 3C's rule: Cash, Capabilities, Commitment.
As SACT General Mercier explains:
"The 3 C's rule is important and has been reaffirmed: the 2% GDP goal is one of the objectives each NATO nation must aim at, but within these 2 %, 20 % must be spent on new capabilities, while making sure they are compliant with NATO's standards of interoperability and ready to be deployed under the Alliance's umbrella if need be. (…)
Besides the GDP percentage allocated to military resources, which has been a long-lasting goal in the past four years, what is changing in the midst of the adaptation process the Alliance is going through is what I refer to as a "persistent federated approach", i.e. the establishment of a much more persistent bond between the command structure on the one hand, the force structure on the other.
One should indeed stress that NATO's philosophy is based on a federated approach: NATO is not just a command structure commonly funded by the member states, but it is also the capabilities the latter provide to be able to fight as one. (…)
The goal is not to establish a catalogue listing all available capabilities, but to best construct a force able to address today's and tomorrow's threats." [1]
Easier said than done, when the specificities, histories, sensitivities of twenty-nine nations – Montenegro being the latest nation to join the North Atlantic Treaty Organization last June – have to be aligned into one single political guidance, which will then be translated into military capabilities.
There was one issued in 2011, then another one in 2015, and the two NATO strategic Commands – ACT (as the leader in this process) and ACO (Mons-based Allied Command Operations) – are currently working on the strategic military considerations to support the next one planned for 2019 in the aftermath of the next July Summit planned in Brussels.
The continued adaptation of the Alliance to the new threat environment, as well as the reassertion of missions aimed at projecting stability – such as the reinforcement of the post-war Iraqi training, which has was announced at the Defense ministers' meeting in February- are among the sure guidelines to be pursued and proposed.
Developing a Common Understanding Picture
But what does it take to have 29 nations agree to a common strategic goal?
That is exactly what ACT's task is all about.
It starts with the definition of a common understanding picture, as, of course, each country's threat assessment not only depends on its geography, history and politics, but also relies on its strategic culture and the existence of a structured capability development process that vary widely among nations.
"Not all nations base their program laws on a formal defense review process or publish a defense white paper and we can help those who wish to assess and match their priorities according to their political and strategic national ambitions "explains Lieutenant-Colonel Pierre Ascencio, who is part of a ten person staff at SPP (Strategic Plan and Policy) directorate in ACT.[2]
SPP is ACT's brain and brainstorm on a regular basis via thematic workshops gathering a network of about 2,000 military and civilian experts from armed forces, but also academia, industries and medias.
The result comes under the form of three milestone documents:
The first is the Strategic Foresight Analysis (SFA), which identifies the trends affecting the future over the long-term (the latest one published last October projects the Alliance towards 2035, as it represents the time necessary to complete a full programmatic cycle from the decision to launch R&D till its Full Operational Capacity).
The second is the Framework for Future Alliance Operations (FFAO), which, along with ACO, narrows down the threats down to military scenario and implications for the Alliance: the next one is being reviewed and should be published soon.
These two preparatory reports then feed the NATO Defence Planning Process (NDPP), conducted by the NATO HQ in Brussels and both strategic commands and aimed at advising nations in future program development to meet the Alliance's level of ambition.
"One of the advantage of NATO ", underlines SACT, "is to be able to give an unfettered military advice that nations are of course free to follow or not.
Some of them have niche capabilities (such as Estonia which cyber expertise is remarkable) and we are able to orient them, so they can synchronize their future investments to complement other nations.
We just happened to do that with Luxemburg, which satellite communications' capabilities are to become part of the complex puzzle of forces NATO assembles into a ready to deploy force.
"The NDPP is there to orient national defence plans, and encourage countries to join forces in clusters of abilities such as smart defence initiatives or the Framework Nation Concept (FNC) developed by Germany a few years ago, enabling the building of large forces thanks to years of joint training between Germany and the nations willing to participate. "
At a time of a renewal of the ongoing debate about the NATO-EU relationship, it is not a bad idea to recall that these kinds of nations' arrangements – such as the FNC – can and are already be used for other organizations than NATO, including the EU.
It is also useful to highlight the fact that NATO's NDPP actually helped the EU to develop its own capability-building processes, tools and scenarii, while NATO's centers of excellence can be also used by NATO and the EU.
According to General Mercier: "Each organization has its own deliverables, but we make sure our priorities are well coordinated. We have indeed been working very closely with the European Defense Agency over the past two years."
For Lieutenant-Colonel Ascencio, the beauty of having a tool like SPP is to project one's thinking in another nation's mindset: "you cannot understand America for instance, if you have not studied Gettysburg and General Sherman ", he notes, concluding that this effort to create and share a common vision and a global picture of the threat and geopolitical environment has lead ACT to become paradoxically "a place that the United States considers the voice of Europe and that Europe considers the voice of the United States": a place of open and constant discussion, where all can try to amend their own thinking if a proposition is proven valid, and where, at the end of the day, a certain form of stability begins.
The recently issued SFA enacts a common perception of Russian activities for the first time since the end of the Cold war may seem obvious, but is in fact no small achievement considering the current propensity of nation states to look more inward or to emphasize there differences for domestic political consumption.
Developing a Common Situational Awareness
Only twelve nations were NATO's founding members when the organization was created in 1949.
Today that number more than doubled and exercises can sometimes gather up to fifty countries.
In order to go from a common understanding picture to a common operational one, it is necessary to develop a common situational awareness and the key word here is "interoperability ."
Without the ability for the people, the process and the technology to work and talk together, there would not be an alliance and that is the strength – while at times the weakness – of such a unique organization, making it America's remaining "number-one alliance"[3]as General Mattis, US Defense Secretary, recently referred to and despite last year's presidential rhetoric.
"[Interoperability] is a rather young word created in the 1950's, which did not become popular until the 1990's.
The reason is because we technically associate that word with technology and as we increasingly worked with computers, we found out that they were not working together ", explains the man in charge of developing interoperability within NATO, Johan Goossens, head of the branch of technology and human factors at ACT[4].
"So how do we do it?
"How do we have the military of twenty-nine different nations do that same handshake?
"First we look at what need to be interoperable, then how to make it so.
We develop specifications and standards.
We work with industries and test equipment in their infancy to see if they can operate together.
We mostly focus on information systems as opposed to platforms."
With the coming of "next gen" equipment the distinction between systems and platforms however tends to be blurred and the challenge is to keep up with the progress realized among allies across the board to be able to keep doing that hand shake.
Such a paradigm shift worries General Mercier, who was Chief of the French Air Force before becoming SACT: "as a pilot I am indeed concerned when I see today's exercises.
In my Tiger Meet community[5],we used to share an enormous amount and that is what made us strong.
Today, with the new systems, aviators fly together, but with less and less awareness of what their wingmen are able to do. Debrief comes, and pilots share what they did, but not why and how they did it.
This is a potential catastrophe in terms of interoperability, as it is a matter of mutual trust. If we are not able to solve it within NATO, it will never work…
So NATO has a lot of work to do! "
There are however at least three good reasons to remain optimistic – no matter how vast the challenge seems today to make 4thand 5thgeneration air assets work together seamlessly – and be able to maintain a common situational awareness in all areas as best as possible:
First of all, this kind of technological revolution is not a first within the alliance.
If each nation is of course doing its own research and defends its own industrial interests, the role of ACT is precisely to coordinate and orient, so that too much technological unpredictability does not "break compatibility," notes Johan Goossens.
He has witnessed similar breakthroughs over the many years he worked at NATO, whether in jet fuel technology or when cyber first emerged or even in processes and culture changes.
"With the end of the Cold war, the maritime situational awareness changed and brought with it a fundamental cultural change, as the growth of pirate attacks in several parts of the world led NATO operators to track not only grey, but also white shipping.
This was a major departure from a traditionally military-oriented prospective and it took a bit of time for nations to adapt…"
Secondly, technology differences among twenty-nine nations is a fact of life, which NATO has been accommodating for nearly seventy years through joint operations, but overall through a robust exercise programs.
If the number of participating countries has been fluctuating over the years, depending on budgets, but mostly on the intensity of the perceived threat, three types of exercises have alternatively been conducted on a yearly basis among allies: "Live Exercise (LIVEX), Command Post Exercise (CPX)/Computer Assisted Exercise (CAX), or an Exercise Study[6].
Mr Goossens' branch at ACT is the one organizing CWIX[7], which takes place every year in Poland and is a preparation to the next Livex, such as Trident Juncture 2018, which is to take place this fall in Norway.
Symptomatic of how palatable the threat is today, these exercises have been gathering the largest number of participants – including from the "Top 6" or Non-NATO Nations such as Finland or Sweden – ever since the height of the Cold war.
Finally, bridging technology is already there for most of the challenges NATO needs to meet.
If we go back to the "4th/5thGen " debate, the recent Red Flag 18-1 exercise, which took place and ended February 16that Nellis AFB demonstrated the ability to upgrade tactical link 16 programs in order to make data sharing possible among all generations, the F-22 being a case in point.
In fact, for NATO planners, the problem is today's exponential speed of technological development, mostly coming from the commercial sector as opposed to the military one,  the way it was just two decades ago – and how to cope with such a trend by creating the appropriate framework for everyone.
For SACT, this raises the key (and next) question of  the acceptability level of technology by each NATO member.
Developing a Common Technological Awareness
Being ready for the next battles and imagining new forms of combat beyond Maginot lines require to "bring tomorrow's topics to the table ", and especially the tables where national political decision-makers meet.
For General Mercier, one of ACT's main missions is indeed to raise our leaderships' technological awareness.
There are two reasons: one is that, first of all, no one is of course caught by surprise by an adversary's potential breakthrough in developing or capitalizing on a new technology; secondly, the rationale is to ensure that each nation is comfortable with the set of rules framing the use of disruptive technologies, and in some cases new concept of operation generated by a specific innovation.
ACT has developed in the past seven years an "innovation hub ", which mission is precisely "to monitor and master all topics related to disruptive technologies ", explains Major Cedric Sauvion, Staff Officer in the Future Solutions Branch[8].
The idea has been to join forces with industry, academia, think tanks etc, in particular via NATO Industry Forum or NIF branded events, but also video conferences held on a regular basis with a large number of participants and experts.
And, if there is one single issue to bring to the general attention, the Transformation Chief bets on managing and leveraging Big Data trends.
"Big data is THE strategic resource by excellence.
It is everywhere.
Why do we interoperability?
In order to share data via connected systems.
Why do we do cyber?
To protect data as well as data exchange, and be aware of an attack, so that there is no doubt about the reliability and accuracy of the latter.
But the real issue is how do we manage an increasing amount of data the human brain cannot process alone anymore: in other word, to which extent do we introduce artificial intelligence (AI) in our military digital architectures?
That is, from my point of view, the key issue we need to address beforehand.
And that is what our "Autonomy project" is all about, since I am not convinced every nation will accept the same level of AI," General Mercier underscored.
The shift from "data management" to "data managing" and the human-machine teaming evolution brings a genuine deontological ethical debate to the forefront, already partially addressed a posteriori when the Obama administration used armed drones on a regular basis against terror groups provoking numerous voices of opposition in various parts of the world.
Indeed, for François du Cluzel, CAPDEV/CEI/Future Solutions Branch, "what one has to be aware of is that all these technologies overlap with each other.
When you speak about autonomy, you cannot envision it without artificial intelligence, since it is a mean to an end to gain in autonomy.
With big data, the goal is to: first, protect our data; second, access our adversaries'data ; and three, manage data flow to obtain a Big Data Analytics via AI precisely, which will ensure that we can access quickly the right and useful information and are able to send it to the right recipient.
That is what is at stake."[9]
Anticipating the impact of lethal autonomous weapon systems – already considered by many scientists as a "third revolution " in military affairs to be banned since no human being would be in the "OODA loop "  is therefore rather urgent.
Indeed this coming generation of "fast leaders " is already confronted with tomorrow's challenge, since the systems already exist and have been used.
These systems can actually – if used appropriately – save lives in operations, while AI is a fantastic opportunity to improve responsiveness in drastic ways. For one thing, and as Bob Work recently stated, it is the optimal "alliance friendly offset strategy."
Because it is a great resource equalizer since algorithmic warfare is cheaper than conventional weapons, even small nations within NATO do not have to be left out from this warfare revolution.
Furthermore, it is already alleviating the previously discussed problem of gaps in security levels among allies, by demonstrating the fact that it allows them to work together by using various sources of intelligence with different levels of clearance. It has been the purpose of the last Unified Vision exercise, which is to be re-enacted this year and more generally of NATO's Federated Mission Network.
For General Mercier, "Unified Vision can be considered as the successful first trial of the Federated ISR NATO Transformation Command is thriving for."
The same way NATO is said to be "interoperable by design ", NATO Chiefs want to make it "Flexible by design."
The goal is to have both the Command structure on the one hand, and the nations' armed forces, on the other hand, work closely together to face any type of military scenario thrown at them in the not so far away future.
Technology seems to allow such a vision and that is the whole point of the command structure reform announced at the recent NATO defense minister's summit.
Footnotes:
[1] Interview conducted at ACT, Norfolk, January 2018z
[2] Interview, ibid
[3] "[Just] to look around that room and see 29 nations all working together … you have to remember the fundamental strength of that alliance," said General Mattis, as quoted in: https://www.defense.gov/News/Article/Article/1444956/mattis-heartened-by-nato-nations-increased-defense-budgets/

[4] Interview, ibid
[5] Here is the origin of the NATO Tiger Meet according to its official website: "Following the wishes of M.Pierre Messner, the then French defense minister, the USAFE (United States Air Force Europe) 79th TFS (Tactical Fighter Squadron) took the initiative and on 19 July 1961 they invited No.74 Squadron Royal Air Force and EC 1/12 Squadron of the French Armée de l`air to Woodbridge in England. And so the Association of Tiger Squadrons was established to improve relationships between individual squadrons within NATO. Each of these squadrons had a Tigers' head in their squadron crest." (https://www.natotigers.org/origin-and-goals)

[6] See: https://www.ac.nato.int/page805182

[7] The Coalition Warrior Interoperability eXploration, eXperimentation, eXamination, eXercise (CWIX) is always held at the Joint Forces Training Centre (JFTC) in Bydgoszcz, Poland (For more information, see: http://www.act.nato.int/cwix)
[8] Interview, ibid
[9] Interview, ibid
The reforms to NATO's command structure are reviewed in the following NATO document released in February 2018.
1802-Factsheet-NATO-Command-Structure_en
This article was first published by our partner Front Line Defence, in Issue 2, 2018 and reprinted with their permission. 
The featured photo shows  Supreme Allied Commander Transformation, Gen Denis Mercier, during a Joint Press Conference after Trident Juncture 2015 live demonstration at San Gregorio training area, Spain. November 4, 2015. Credit: NATO Photo by NIC Edouard Bocquet