Norwegian Weapons to Ukraine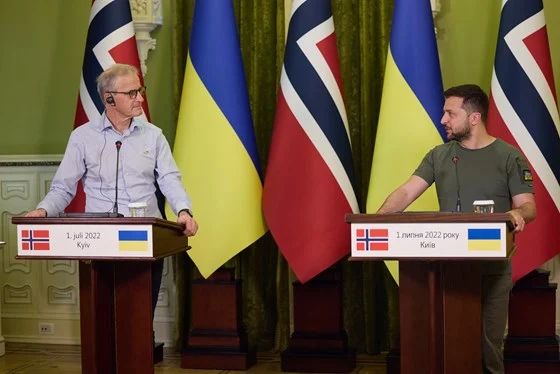 The Ukrainian Crisis has left Ukraine short of credible weapon systems to fight the Russians. This resulted from NATO countries stepping up to support Ukraine with weapon systems.
Norway has been one of the NATO countries supplying Ukraine with credible weapon systems ranging from anti-tank, anti-aircraft, coastal defence, artillery weapon systems and many more to ensure that Ukraine could resist the Russian invasion. The Norwegian government also stated, "Like other countries, Norway has an idea of the military equipment Ukraine needs. With that in mind, the armed forces assessed what Norway can offer promptly."
In March 2022, Norwegian Government donated Ukraine two thousand M72 light anti-tank weapons (LAWs.). According to reports, these weapons can be deployed against not only tanks (with the high-explosive anti-tank round) but buildings and lighter-armored vehicles such as Russian armored personnel carriers. As of September 2022, Norway has donated a total of four thousand of such weapons.
In April 2022, Norway reportedly sent hundred French-made Mistral anti aircraft missiles. According to the Norwegian Defence Minister Bjorn Arild Gram, though the system "is going to be phased out of Norwegian Armed Forces, but it is still modern and effective weapon that will be of great use to Ukraine."
Norway also donated artillery systems to Ukraine among which were multi rocket launchers (MLRS) and self propelled howitzers after realizing the need to donate heavier artillery and weapon systems. It has donated twenty two 155mm M109 including gear, spare parts and ammunition.
By June Norway agreed to send its M270 MLRS to the United Kingdom to ensure that the systems are upgraded and sent to Ukraine.
According to Gram, "Our weapon (Norwegian – Ed.) is in need of a significant modernization, so we agreed with the British that they will receive Norwegian weapons to be able to ship part of their MLRS to Ukraine." Not just this, Norway has also committed to donate NOK 400million to a UK-led fund that coordinates the procurement and transport of defence equipment to Ukraine like the process of the M270s. In July, Norway transferred fourteen IVECO LAV III armoured patrol vehicles.
The Norwegian government had confirmed that the demand for such vehicles from Ukraine is same as those used in Afghanistan. The same month, Norway's Ministry of Defence also assisted Germany to find a manufacturer for producing ammunitions for Germany's self propelled anti-aircraft system that it would provide for Ukraine.
Norway by August was set to contribute micro drone Black Hornet units, spare parts, transportation and training. This too has witnessed the procurement, training and delivery of the material is done in collaboration with and coordinated by the British authorities.
In September 2022, Norway has also pledged to send Ukraine Hellfire missiles including one and hundred and sixty missiles, launching pads and guidance units and also night vision equipment. This missile is also scheduled to be phased out soon.
Apart from arms transfer, Norway has also sent military equipment to Ukraine which includes helmets, bulletproof vests, field rations, gas masks with filters, sleeping bags, sleeping pads, and clothing. Apart from this, Norway is also training Ukrainian soldiers in the United Kingdom.
All these defence equipments are being transferred to Ukraine despite Norway's own restricted policy on exporting defence products.
The Prime Minister, Gahr Støre had stated, "but Ukraine is now desperate and extra-ordinary situation."
As clear from the Defence Minister's statement, "Norway continues to contribute to the Ukrainian fight for freedom. The government is constantly assessing how Norway can provide further support to Ukraine in protecting the country from Russian invasion."
There is little doubt that Norway, as stated in its foreign policy objectives of 2018, is focused on ensuring "political and economic stability and prosperity in Ukraine that would benefit the whole continent and its people."
That Norway shares thousand years old military cooperation with Ukraine is clear from Norway's determination in playing a key role as a responsible NATO ally.
Not only does Norway's actions ensure its strengthened image as a responsible NATO ally, but also as Norway aspires to modernise its weapon systems, its old yet credible weapon systems are finding another outlet for use for combat purpose.
Debalina Ghoshal
Non Resident Fellow, Council on International Policy, Canada
Featured Photo: Norwegian prime minister Jonas Gahr Støre in Kyiv July 1st 2022.
Credit: President's press office, Ukraine
Editor's Note: Norway has also pursued a policy of enhancing the defense capability of front line NATO states.
For example, Norway and Romania have concluded an agreement whereby Norway is selling its decommissioned F-16s to Romania.
According to an article by Maciej Szopa: 
The contract that Romania has negotiated since 2021 (when the Norwegians decided to decommission their F-16s) has a value of USD 385 million. This amount is much lower than USD 450 million – and that was the sum discussed in springtime this year.
The jets would be delivered in 2023 and 2024, with a majority of deliveries scheduled to happen in 2024. The delay stems from the fact that the agreement, apart from the airframes, also includes spares, ground support equipment, maintenance services, and training for the Romanian ground crews.
The price also includes the M6.5.2 upgrade, so that the Norwegian F-16 AM/BM jets match the 17 Vipers that Romania already operates.