Reshaping Australian Defence Infrastructure and Leveraging Australian Territory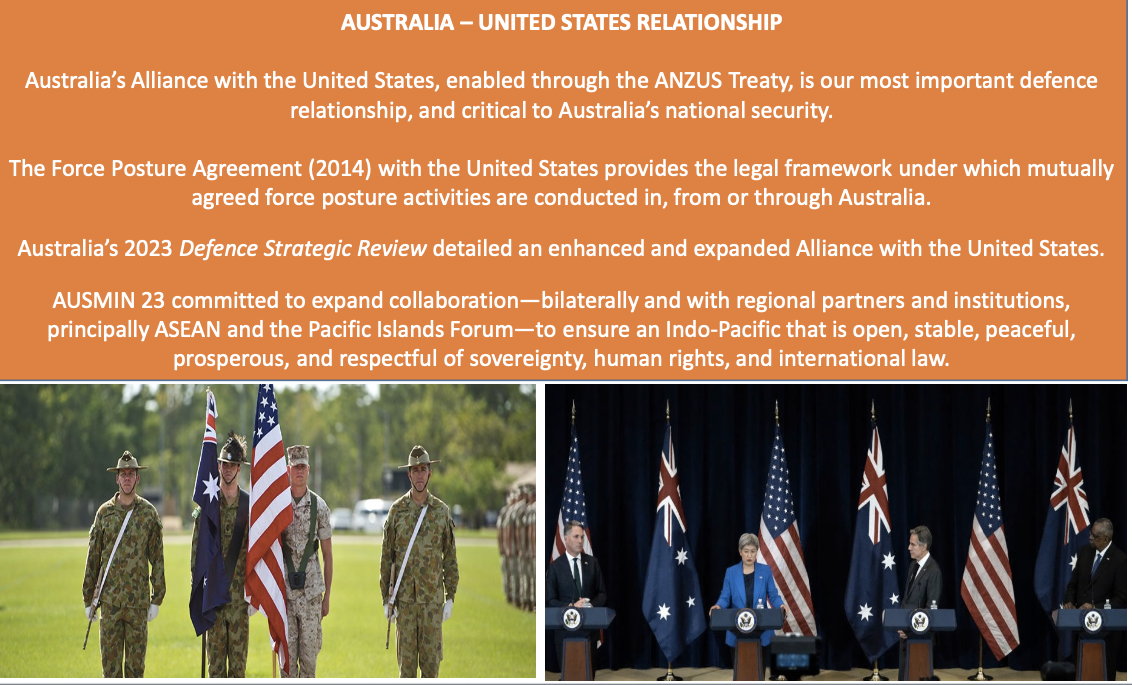 Part of the re-working of Australian defence entails enhancing Australian defence infrastructure. It is about enhanced hardening, resilience and redundancy. It is as well working ways to enhance the engagement of allies with the ADF in terms of operating together from Australian territory.
This clearly involves the Americans but increased involvement with other allies as well, such as the Japanese.It is about building enhanced defence in depth.
At the 27 September 2023 seminar, there were two presentations which dealt with the issues of infrastructure and what I am calling the con-ops of an enhanced ability to leverage Australian defence, although I think much more consideration needs to be given to this con-ops dimension.
Air Commodore Sandy Turner, Director General of Force Posture Initiatives, provided an overview brief on how Australia is working with the United States with regard to the overhaul of Australian defence infrastructure. Her main responsibility is overseeing and planning with regard to the U.S. Force Posture Initiatives in Australia.
She noted that such activities are governed by the 2015 Force Posture Agreement with the United States. "The FPA gives permission for U.S. activities to be conducted in and through Australia. The agreement allows for U.S. forces and contractors to undertake construction on and improvements to these agreed areas and facilities.
"When completed, the projects that are constructed and funded by the U.S. become the property of the Commonwealth of Australia, while they are approved for use by the U.S. forces until no longer required.
"Under the agreement, both nations are investing in a range of infrastructure projects, including airfield upgrades and fuel storage facilities, and accommodation and training area upgrades. The costs are shared between Australia and the U.S…"
Air Commodore Turner highlighted work in the major areas covered by the agreement which can be seen in the slide below from her presentation: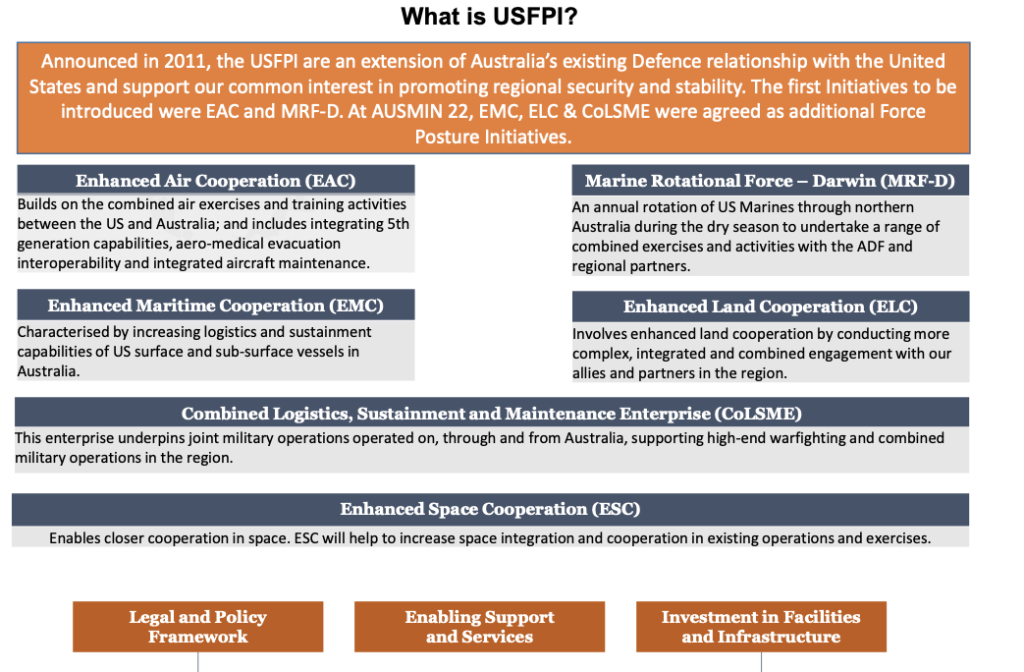 She underscored:"Key USFPI related elements within the DSR include further investments in our defence capabilities to deter through denial, or any attempt to project force against Australia, enhancing the ADF's ability to operate from our northern bases, and a shift to a national defense strategy which involves a mobilization of the entire nation, including state territory and federal government agencies."
But sho posed a key question with regard to shaping an effective way ahead: "How can we find ways to include our industry partners and regional allies to meet the challenges of these growing expectations?"
Air Commodore Turner noted a number of recent developments:
Upgrades at Northern bases, including RAF bases Darwin and Tyndall, as well as scoping new investments at RAF bases, Curtin, and Shergar;
Increased rotations of U.S. capabilities in Australia, including U.S. Navy maritime patrol and reconnaissance aircraft, and army watercraft;
More frequent and longer nuclear powered submarine visits to Australia;
The pre-positioning of U.S. Army stores and material following exercise Talisman Sabre, a first step towards a longer-term establishment of an enduring logistics support area in Australia.
She then provided a more detailed look at current & completed USFPI Australian and U.S. funded projects which can be seen In the following slide:
Air Commodore Turner concluded her talk with a cautionary note with regard to the challenge of translating investments into capabilities.
"Australia is currently experiencing a record level of investment in infrastructure. Defence in industry cooperation will only grow as USFPI continues to deliver on the government's strategic objectives. To that effect. Australia and U.S. Defence representatives routinely engage with industry interested in delivering force posture initiative construction projects.
"To date, Australian businesses and joint ventures have won four from five U.S .funded contracts at a value of 198.4 U.S .million dollars. Earlier this year, the U.S .released four requests for proposal for US-funded infrastructure.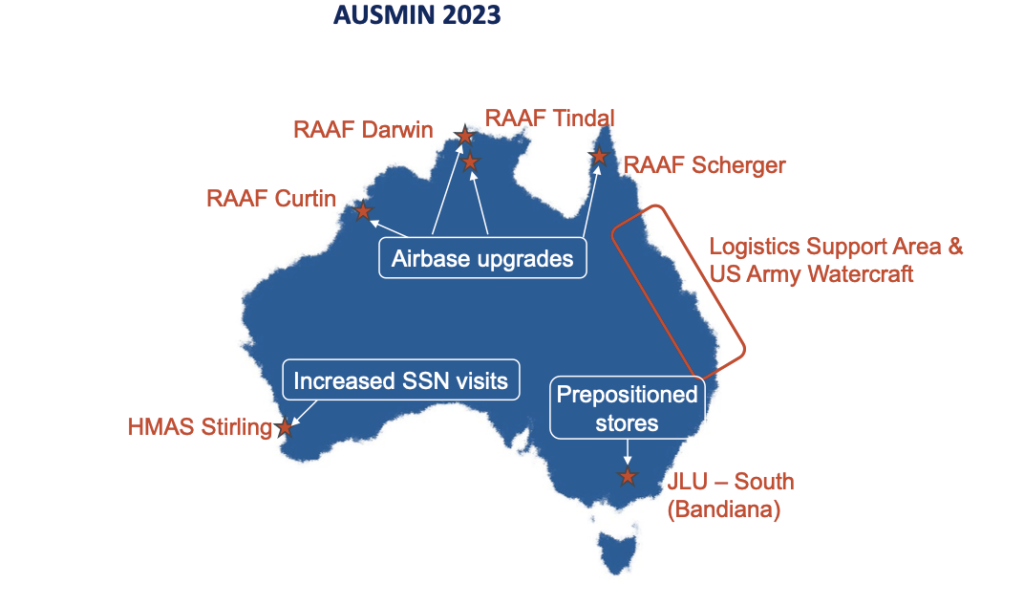 "These will provide additional opportunities for Australian businesses, particularly on a subcontractor basis.
"But we cannot shy away from the fact that we are still facing workforce and resource challenges to deliver on the current and future programme of work. The government has already had to approve a significant real cost increase for Tyndall upgrades due to supply chain issues, labor shortages and increased costs of doing business. The average annual growth rates in work availability outstrips industry's confidence in being able to deliver on time and on budget.
"The scale of demand for skills and resources is highly likely to exceed the normal capacity increases expected in the market over the next five years. We must continue our planning and engagement with industry and government agencies to ensure our developments are delivered as and when required."
Building an adequate defence infrastructure is part of the problem. Shaping the con-ops to leverage Australian geography is another part of the challenge.
During my visit in March and April 2023, I talked with RAAF leaders about this aspect of the challenge which boils down to how to use Australian territory to disperse RAAF assets in times of crisis.
In the presentation by Air Vice Marshal Stephen Chappell, Head of Military Strategic Commitments, he outlined such a con-ops. He projected a future "fictional" scenario.
"Australia's DSR investments in hardening and dispersal of our northern bases, and infrastructure along with the implementation of concepts for resilient and agile maneuver have paid dividends. The realization by defense bases within Australia were no longer sanctuaries has led to a deep understanding of vulnerabilities and increased preparedness to operate systems in contested environments.
"The need was the need was identified to protect bases and critical supply lines, and when necessary, generate alternate pathways to sustain operations. This included combat support with command and control that will less vulnerable to disruption."
He goes on to provide more detail with regard to the scenario, but the point I want to underscore is a rather simple one: just building better infrastructure will not lead to effective deterrence unless it is combined with an ability to operate more effectively as a dispersed force across Australian territory.
If we are talking about multi-domain strike, an effective strategy must encompass this scenario.