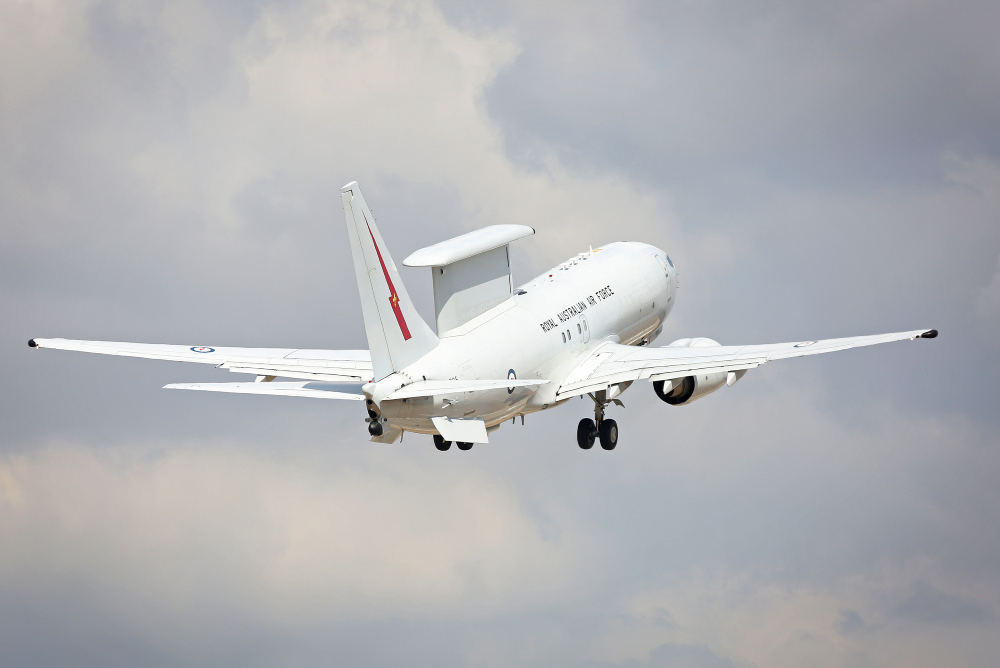 A senior UK Defence official has said the final assembly of the UK's planned acquisition of the Boeing 737 AEW&C for the RAF will be conducted in the UK.
Following the September announcement by UK Defence Secretary Gavin Williamson that the UK MoD was in discussions with Boeing to acquire the 737 AEW&C to replace the RAF's ageing E-3D Sentry, Parliamentary Under-Secretary of State for Defence Stuart Andrew told parliament in early November that final assembly will be conducted in the UK.
"Final assembly of the E-7 aircraft and radar combination would be undertaken in the UK and Boeing have confirmed that it intends to use the same facility to meet any future E-7 sales opportunities for other customers," Mr Andrew said in response to a parliamentary question.
"Through-life, we anticipate that support and training would be undertaken within the UK, directly leading to UK jobs." It should be noted that, despite Mr Andrew's optimism, the respected US-based Leeham News reported on November 6 that, while discussions are underway, no agreement has been reached.
The first of Australia's fleet of six E-7A Wedgetails upon which the UK's aircraft is expected to be based was manufactured and modified by Boeing in Seattle, while the remaining five aircraft were flown to Australia as 'green' 737-700 airframes to be modified with Northrop Grumman's large dorsal MESA radar and other military systems by Boeing at RAAF Amberley.
Like Australia, the first of four 737 AEW&C aircraft each operated by Turkey ('Peace Eagle') and South Korea ('Peace Eye') were manufactured and modified in Seattle, with Turkish Aerospace Industries (TAI) and Korean Aerospace Industries (KAI) respectively performing the modification work on those countries' remaining three aircraft.
COMMENT: There has been some speculation as to what model 737 the UK may choose for its planned six AEW&C aircraft. With Boeing's 737-700 'Next Generation' or NG model unlikely to be available by the time a contract is signed, the UK's aircraft will possibly be based either on the larger military P-8A Poseidon, or a newer 737MAX variant.
There have been anecdotal reports that, if the RAAF could have its time again it would have chosen a larger airframe upon which to base its E-7A Wedgetail. While the -700IGW/BBJ airframe provides long endurance through its auxiliary fuel capacity, cabin space and growth capacity in the short-fuselage model is at a premium.
Therefore, this may present an opportunity for Boeing to develop and offer future 737 AEW&C models on a P-8-common platform. The P-8A utilises the 20 foot longer 737-800 fuselage combined with the -900ER's longer tapered wing which provides space for additional operator stations and crew rest as well as more growth capacity, but also greater commonality with the P-8 which the UK is also buying.
Alternatively, if Boeing has longer-term plans for the 737 AEW&C aircraft, the UK's aircraft may even be based on a new MAX BBJ variant which offers more modern systems, more modern and fuel-efficient engines, and greater endurance.
Another consideration for the UK is whether to integrate a probe refuelling system which is compatible with the RAF's A330 MRTT Voyagers which only have a hose and drogue capability, or to stay common with the E-7A and P-8's Universal Aerial Refuelling Receptacle Slipway Installation (UAARSI) system which is compatible only with boom-equipped tankers.
This article was first published by Australian Defence and Business Review on November 7, 2018.
The featured photo shows a Royal Australian Air Force No. 2 Squadron E-7A Wedgetail aircraft departing RAAF Base Tindal in support of APEC 2018.