The RAF and the Luftwaffe Step Up Eurofighter Integraiton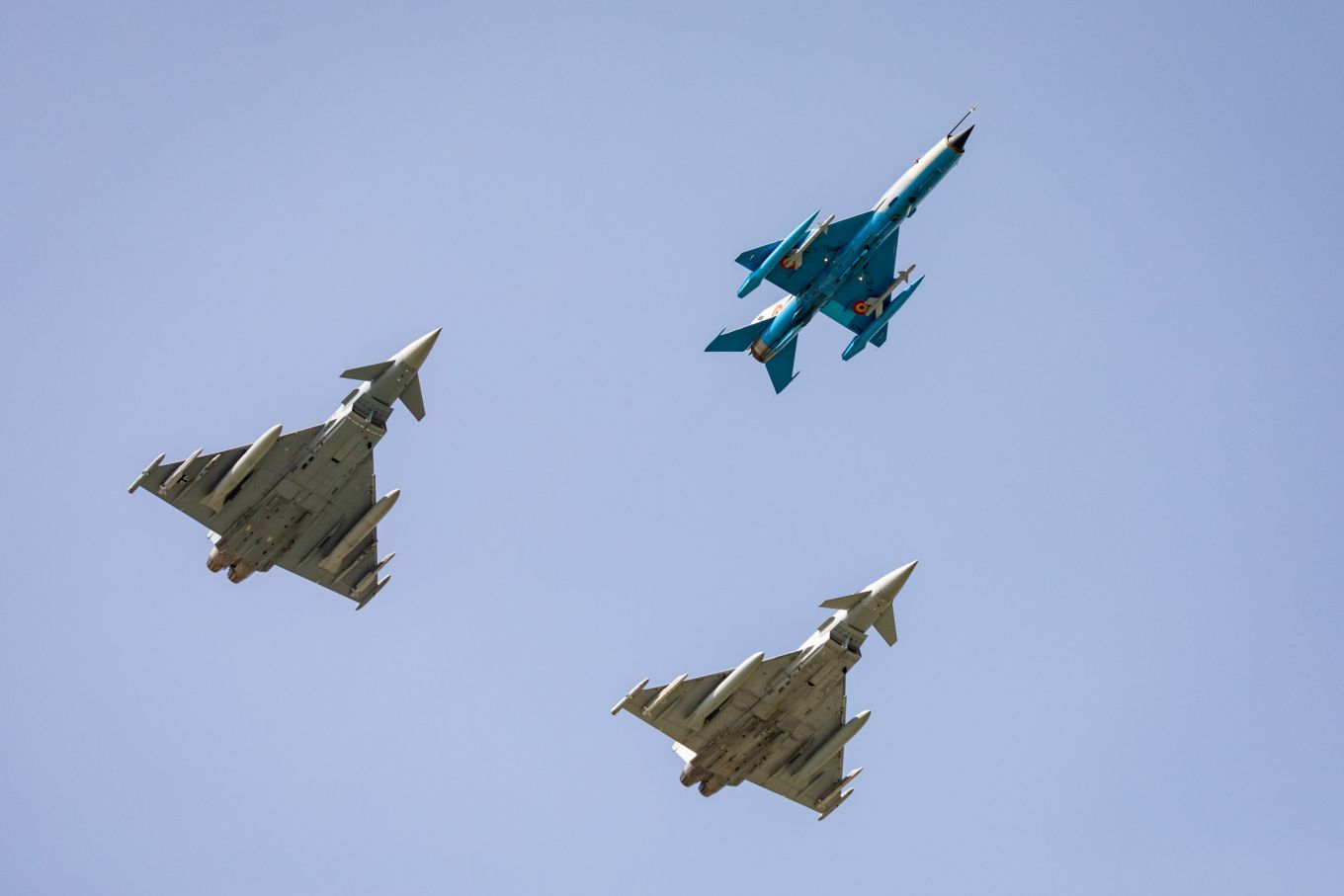 According to an RAF article published on July 2, 2021:
The RAF Deputy Commander Operations and the German Inspector Luftwaffe have each flown to Romania to witness the joint NATO Air Policing that detachments from each Air Force are conducting. 
Air Marshal Mayhew from the RAF and Lieutenant General Gerhartz from the German Luftwaffe were joined by Major General Pana, the Chief of the Romanian Air Force, together with other guests, to witness the first ever live armed training scramble carried out by a RAF Typhoon, Luftwaffe Eurofighter and The Romanian Air Force Mig-21 LanceR.
Earlier Air Marshal Mayhew and Lieutenant General Gerhartz had met, flying over Germany where they refuelled from a RAF Voyager tanker aircraft, before flying on to land at Mihail Kogalniceanu Air Base in Southern Romania.  On arrival at the Romanian Air Base, the two senior officers were welcomed by Major General Pana.
Lieutenant-General Gerhartz, German Inspector Luftwaffe commented: "With our enhanced UK-German NATO air policing mission and our advanced concept of interoperability we have reached a new level of cooperation within the NATO Air Power community.   Now, together with the RAF we are deepening our cooperation in various fields.  In future, we will cooperate even closer, operating our Eurofighter fleets together wherever possible to exploit effectiveness and efficiency.  An alliance is only as strong as the allies' mutual support."
The RAF detachment in Romania is formed by 121 Expeditionary Air Wing which is carrying out the NATO enhanced Air Policing mission.  The German Luftwaffe detachment from the Tactical Air Wing 71 Richthofen is currently integrated into 121 Expeditionary Air Wing and together the personnel from the two Air Forces are carrying out the latest round of NATO Air Policing integration.
After attending a parade and witnessing an overflight when the aircraft conducting the scramble returned to base, Air Marshal Mayhew, Lieutenant General Gerhartz, and Major General Pana each re-iterated their nations' commitment to closer integration as NATO allies.  
During the ceremony Lieutenant General Gerhartz and Major General Pana, signed a Declaration of Intent for the development of bilateral relations in the Air Domain between Romania and Germany.  Air Marshal Mayhew and Lieutenant General Gerhartz also stated that a Common Declaration on UK and German Typhoon/Eurofighter interoperability was to be signed soon. 
According to Air Marshal Mayhew, RAF Deputy Commander Operations: "The next step will be the signing of a Common Declaration on UK and German Eurofighter/Typhoon interoperability, which the Air Chiefs look forward to signing when they next meet; this important document will facilitate future combined exercises and operations between our nations."
As noted in an EU Today article published on July 15, 2021:
"Both Air Forces regularly train together but presently carry out independent NATO Air Policing missions. A programme of interoperability and integration training, for flying and aircraft engineering, has been ongoing so that the goal of both Allies deploying together on such missions in the future can be achieved.
"Previous combined operational training deployments have taken place, in Lithuania in 2020 and Estonia in 2020. This year for the first time however, the two NATO Allies have conducted armed Quick Reaction Alert training scrambles and intercepts during a NATO Air Policing mission."
And finally in a Defense News article published on July 1, 2021:
"From June 28 to July 9, 2021 two German Eurofighter Typhoons are policing the skies over the Black Sea region, side by side with British Typhoons and Romanian MiG-21s. The German Luftwaffe aircraft will rely on maintainers, refuelers and other servicers from Britain's 121 Expeditionary Air Wing, and the two nations' jets will scramble in a mixed formation during missions.
"With our enhanced U.K.-German NATO air-policing mission and our advanced concept of interoperability, we have reached a new level of cooperation within the NATO air power community," German Air Force Chief of Staff Lt. Gen. Ingo Gerhartz said at a July 1 ceremony on the airfield."
The Royal Air Force Deputy Commander of Operations Air Marshal Gerry Mayhew also underscored the importance of stepping up specific operational integration between the two Eurofighter nations.  "Our adversaries exploit our seams, and they exploit our legal, moral and ethical thresholds for response," Mayhew said during the ceremony. "That is why integration — and interoperability — is so critical."
"Gerhartz noted that such integrated partnerships were sometimes a challenge for NATO allies: While the Typhoon was a multinational program, led by the Eurofighter consortium that included Airbus Defence and Space, BAE Systems, and Leonardo, the aircraft underwent separate configurations and added different weapon systems and sensor packages once each nation received its platforms."
The featured photo: An armed RAF Typhoon, German Eurofighter and Romanian MIG 21 LanceR fly in formation after carrying out the very first armed joint NATO practise Air Policing scramble. Credit: RAF