The B-2 Operates with the RAAF Down Under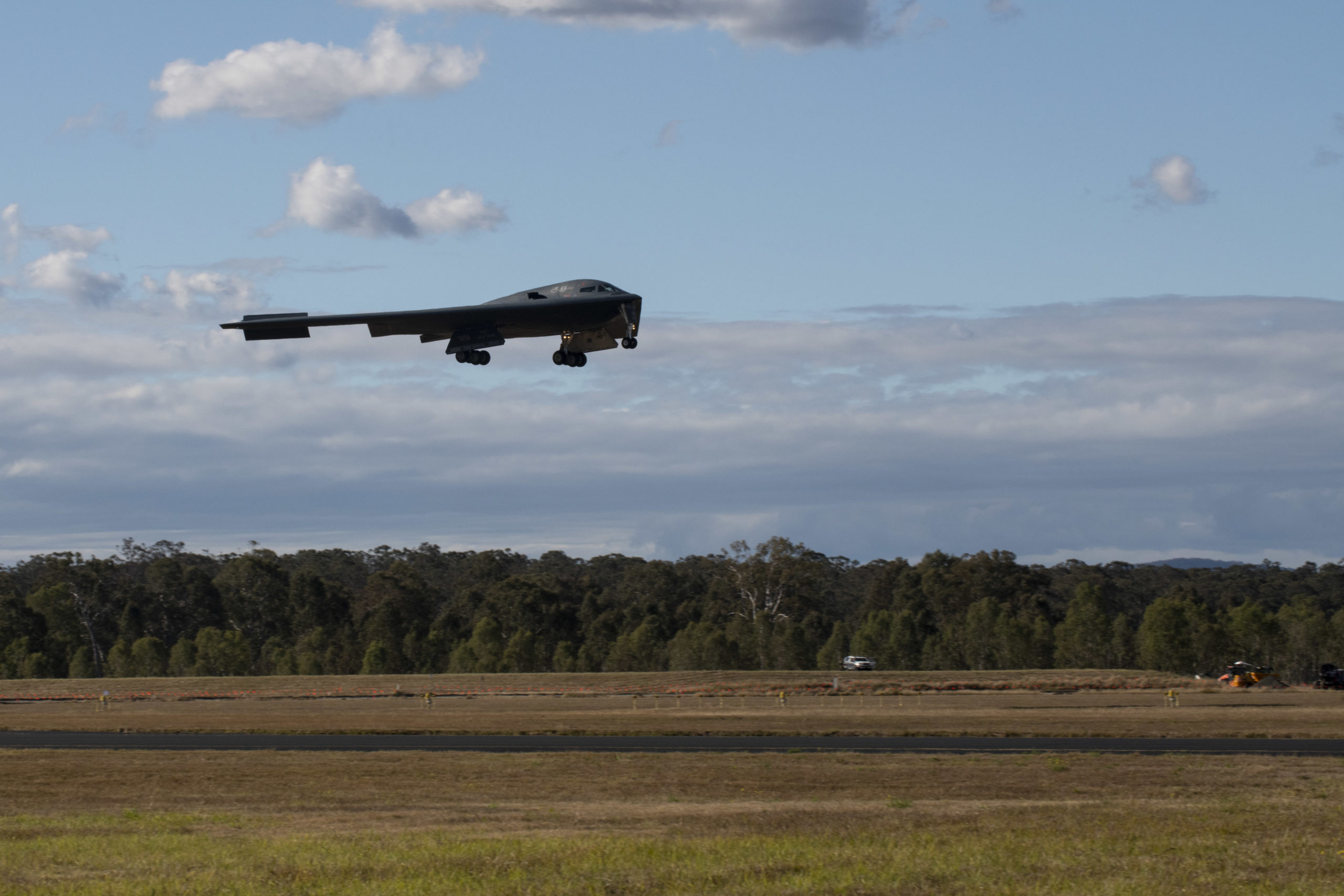 In an Australian Department of Defence article published on July 11, 2022, the arrival of B-2 aircraft to Amberley airbase was highlighted.
B-2 Spirit bomber aircraft from the Pacific Air Forces (PACAF) will be visiting RAAF Base Amberley this month as part of the Enhanced Air Cooperation (EAC) initiative.
Several PACAF KC-135 Stratotanker aircraft will be supporting the B-2 Spirit aircraft, providing refuelling capability for the visiting bomber aircraft while they integrate with the Royal Australian Air Force (RAAF) to conduct various training exercises and activities.
The EAC initiative commenced in February 2017 to build on a broad range of long-standing air exercises and training activities undertaken between Australia and the United States.
EAC aims to deepen advanced air-to-air integration between the Australian Defence Force and United States air elements to enable the two countries to operate together seamlessly. The EAC initiative has been operating successfully for several years as one of the United States Force Posture Initiatives.
EAC also provides opportunities for Australia and the United States to enhance engagement with regional partner air forces through exercises and training activities.
The RAAF welcomes the visiting aircraft and personnel and looks forward to working with them during this activity.
A USAF story published on July 10, 2022 highlighted the same effort. 
U.S. Air Force B-2 Spirit stealth bombers arrived from the 509th Bomb Wing, Whiteman Air Force Base, Missouri, to support a Pacific Air Forces Bomber Task Force deployment, here July 10.
The bomber aircraft deployed as part of a rotational Bomber Task Force, supporting the Enhanced Cooperation Initiative under the Force Posture Agreement between the United States and Australia. The Airmen will employ the B-2 to conduct training missions and strategic deterrence missions with allies, partners and joint forces in support of a free and open Indo-Pacific.
"This deployment of the B-2 to Australia demonstrates and enhances the readiness and lethality of our long-range penetrating strike force," said Lt. Col. Andrew Kousgaard, 393rd Expeditionary Bomb Squadron commander. "We look forward to training and enhancing our interoperability with our RAAF teammates, as well as partners and allies across the Indo-Pacific as we meet PACAF objectives."
U.S. Strategic Command routinely conducts Bomber Task Force operations across the globe as a demonstration of U.S. commitment to collective defense and to integrate with Geographic Combatant Command operations and activities.
This deployment is in line with the National Defense Strategy's objectives of strategic predictability and operational unpredictability. The BTF enables different types of strategic bombers to operate forward in the Indo-Pacific region from a broad array of overseas and Continental U.S. locations with greater operational resilience.
We underscored the importance of such cooperation in a story published on Breaking Defense on June 21, 2021.
The Chinese, who have been conducting economic and political warfare against Australia for several months, are now directly threatening Australia with a military strike.
In response, the Australian government has clearly indicated that it will build up its long-range strike inventory.
The recent G-7 statement about China is nice, but we have suggested that the Biden Administration do something more concrete with regard to deterrence, namely, to fly two B-2s into Northern Australia as part of an enhanced support to our core ally and to provide a concrete contribution to escalation control.
But now the question for Australia is what long-range strike capabilities it should develop or purchase from other countries, and when, how and what deterrent impact are they likely to have?
We recently discussed this question with former Air Marshal Geoff Brown, chairman of the Williams Foundation. Brown, a former F-111 operator, directly experienced the impact of long-range strike, and Ed has experienced the F-111 during his time in the air in Cambodia when flying his F-4. The F-111 fighter-bomber entered RAAF fleet service in 1973 and was retired in 2010.
Brown sees long-range strike as a flexible element for crises within the future ADF tool kit: "I think long-range strike is about trying to keep stability in a crisis situation. And if you're going to use it as a deterrence. It's got to be responsive, it's got to be potent, but you've also got to be able to signal that you can use it."
The most flexible tool for those purposes, he said, is a bomber.
"If you end up in a hot war, all options are good, whether it's cruise missiles or land based. But from a pure deterrence point of view, I think the bomber's got some significant advantages. Crisis management is a skill set which has atrophied since the end of the Cold War. Because the advantage we've had since the end of the Cold War is that nobody's had the ability to hit us back," he said. "We have been able to fly strike airplanes from carriers or close land biases, and they not held at threat, but I think in upcoming operations, that's changed. I think the closer you are to the fight, the more at risk those assets will be."
The crucial difference between a bomber and sub-launched and land-launched long-range-strike "is that you do have that ability to signal. I think in any sort of crisis, everybody's going to want to solve the crisis before you end up in a nuclear war. You need a potent conventional capability which has strategic weight to play in such a crisis situation."
He points to the risks inherent in using other assets: "One of the advantages of a manned or unmanned bomber is that it's much easier to signal in a crisis period than if you're trying to launch strike from submarines. Land-based strike missiles tend to be sort of a binary approach.
And fighters are constrained by their limited range. "They can look very offensive to somebody you're trying to deter. And it actually could have the opposite effect of what you're after, whereas the long-range bomber is flexible. You can probably keep it safer than most other forms of strikes," Brown said.
Effective deterrence requires both flexibility and great striking power.
"The thing that people forget is this isn't always about objective reality. It's really about what's in decision-makers' beliefs and their perceptions and their expectations. And I think that's what people miss in the real advantage and flexibility of bomber aircraft over all the other strike options to influence the adversary's perceptions. They're a tremendous signaling device that actually makes people think about what they're about to do," the former air marshal said. "In the end, you actually don't want to fight the war. You want stability. You can't let the other guy think that he's actually got a chance at getting an advantage. You've really got to attack that belief and his perceptions with capabilities that have strategic weight."
In keeping with those arguments, Brown noted that our proposal of sending B-2s on a rotational basis to Northern Australia made a lot of sense as a near term contribution and to demonstrate their utility and effectiveness: "This is quite doable. A lot of the infrastructure improvements we're actually doing in the north would support that sort of deployment anyway, it's not as though we're not ready to do it."
There is a debate going on in the American defense community over whether the focus of effort should be upon build out of capabilities to operate close to China and inside their weapons engagement zone, or whether to focus on dominating the blue water maneuver space and enhancing long-range strike to go into the inside engagement zone.
Brown's insights remind those engaged in this debate that this is about deterrence, and deterrence of a nuclear power. With the United States and its allies facing three nuclear powers in the Pacific (China, North Korea and Russia), fielding a credible deterrent force — one able to signal without triggering World War III — certainly makes sense to us.
We added further thoughts on the B-2 integration with ADF warfighting efforts in a piece published by the ASPI Strategist on July 12, 2021.
In the past, the U.S. has brought B-1 bombers to participate in exercises with the ADF in northern Australia. Now, a rotational force of B-2s could bring a stealth bomber capability to Australia's defence. It would not only be an important input to responding to China but would also underscore to the Chinese that their military build-up in the Pacific and specifically directed against Australia is not in their own interests.
For now, it would be a modest response, but the integration of US Air Force bombers into the ADF has to be taken seriously in the face of continued direct threats against Australia. By training the Royal Australian Air Force and the Royal Australian Navy to work with the B-2s, B-1s and B-52s, those two key Australian power-projection forces can train with an operational long-range strike asset. That would demonstrate that long-range strike isn't primarily focused on reaching downtown Beijing, but rather on providing rapidly deployable enhancements to air–naval task forces throughout the Indo-Pacific region.
Such a strategy would also enable Australia to determine if the B-21 is the right fit or whether there are other ways to bring long-range strike to the operating force. And it would help guide decisions on building the kind of sovereign missile industry Australia desires—which is not simply about buying off-the-shelf US or European kit. For it's also clear that allies like the US need a different approach to the one they have followed to date to get a less expensive and more effective mix of strike assets.
And as the U.S. shapes a more effective support strategy for allies' approaches in the region, the US Navy and the US Air Force will need to work on more effective integration of the bomber force with the operating fleet. In our forthcoming book for US Naval Institute Press on maritime kill webs, 21st century warfighting and deterrence, we argue that a kill-web approach that integrates bomber and fleet operations can empower significantly greater collaboration between air and sea services and provide a more survivable, lethal and distributed force. And this is not about preparing to fight World War III; it's about effective crisis and escalation management.
Part of the way ahead would be to build reinforced bases from which US bombers could operate in the near to mid-term as Australia builds out its own desired capabilities. These bases could be used for rotations to exercise with the ADF or to reinforce Australian defence in a crisis.
These proposals are about taking the U.S.–Australia alliance forward in an effective way to deal with the defence of Australia today, and not simply speculating about the long-term options. It's also about demonstrating to Beijing that bullying isn't going to lead to the compliance of the liberal democratic states to a future Chinese global order. China's leaders need to pause and consider what Australia as an arsenal for democracy might mean to their future as well.
Featured Photo: A U.S. Air Force B-2 Spirit, assigned to the 509th Bomb Wing, Whiteman Air Force Base, Missouri, arrives in support of a Bomber Task Force training exercise at Royal Australian Air Force Base Amberley, Australia, July 10, 2022. The bomber aircraft deployed as part of a rotational Bomber Task Force, supporting the Enhanced Cooperation Initiative under the Force Posture Agreement between the United States and Australia. U.S. Air Force photo by Tech. Sgt. Dylan Nuckolls)