Eric Trappier on the Challenge of Interoperability for Allied Combat Fleets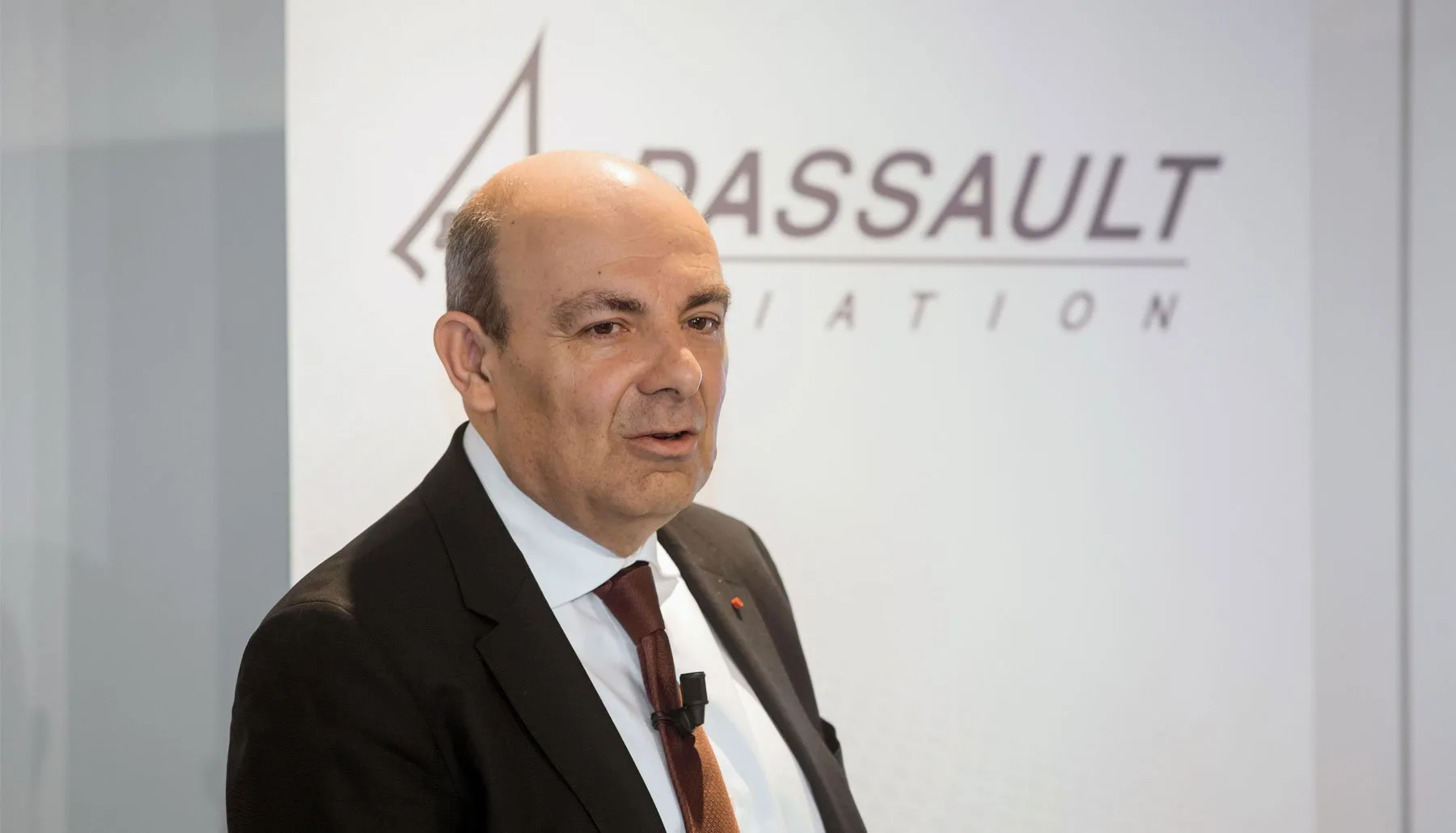 Paris – Military officers are studying the future capability of fighter jets to share more data, setting the interoperability of allied fleets through a combat cloud, Eric Trappier, executive chairman of Dassault Aviation, said May 31.
The present Link 16 allows data exchange among Nato partners, he said, but the combat of tomorrow will see fighters linked to weapons of allied fighters, flying with drones, and faster data exchange, raising the need for greater interoperability.
"There are military groups charged with looking at that," he told the Anglo-American Press Association, a press club.
"It is necessary to put in place the capability to work together, and to exchange a certain amount of data," he said. That poses questions on the data –  to whom does it belong, how to distribute, how will the combat cloud be shared among the allies?
"It is a real question posed to Nato, Western, and allied forces," he said. It is a crucial question for the interoperability required among partners.
"To cooperate militarily, there has to be interoperability," he said.
Asked about the interoperability of American and European fighters, Trappier said he was making something of a reproach to the U.S., which he said was saying, "if you want to work with the F-35, just buy an F-35."
Dassault builds the Rafale, which competes with the Lockheed Martin F-35 for export sales.
Trappier said when he was younger, he worked on the Nato interoperability groups in Brussels, where members of the alliance defined the level of interoperability. This work with Nato allies was often based on U.S. standards, which applied to European fighters, maritime patrol and surveillance aircraft, with Link 11 for navies and Link 16 for air forces.
"The way in which the F-35 works with non-F-35 aircraft appears to be more complicated," he said.
Collaborative combat is seen as a key element in the future combat air system, which will fly a new fighter and remote carrier drones, all lined up in a combat cloud communications network.
Belgian Riposte
Belgium has expressed interest in joining the planned Future Combat Air System (FCAS), sparking annoyance at the French firm which leads work on the New Generation Fighter (NGF) at the heart of the European project.
The Belgian defense minister, Ludivine Dedonder, said May 31 recent remarks by Trappier against Belgium joining FCAS were unhelpful for building European defense.
"Mr Trappier – an all powerful executive chairman he may be – is not going to tell me how I should act, and I hope the governments of other European nations favorable to European defense will not follow this advice," she said on Belgian radio, La Première.
Dedonder was commenting on Trappier's remarks May 24 to the French senate committee on foreign affairs and defense, making clear he opposed Belgium's joining the European FCAS project. A Belgian partnership would lead to splitting up work already shared between the three nations – France, Germany and Spain – and loss of French jobs, which would go to Belgian companies, he said.
"This makes me smile because this statement really does not surprise me," Dedonder said. "This kind of statement has held up European defense for years."
A Belgian order for the F-35 rankled Dassault, as Brussels selected the U.S. joint strike fighter in 2018 in a deal worth €4 billion ($4.3 billion), beating European offers of the Eurofighter Typhoon and Rafale.
Belgium became the 12th European nation to order the F-35A Lightning II. Since that Belgian pick, Germany and Switzerland joined European nations selecting the F-35.
On a Belgian entry into FCAS, Trappier told the AAPA, "It is not I who decides. I prefer to work with nations which have confidence in us rather than those which buy American.
"If they buy American, they expect an industrial return from American companies.
"It is not up to me to offer work to Belgian companies if they buy American," he said. "This is not a penalty, but commercial logic. I give work to those who buy my product."
If Belgium ordered the new generation fighter, there would be no problem, he said, but work had yet to start on building the future fighter.
Designing A Demonstrator
The industrial partners started work in April on detailed design studies in phase 1B of an FCAS technology demonstrator, after signing the contract at the end of 2022, Trappier said.
"We are at the beginning of the beginning," he said, with French, German, and Spanish engineers looking for a compromise on the new fighter's stealth and aerodynamics.
There were also teams from French company Safran and German partner MTU working on the engine, electronics teams working on the combat cloud and sensors, and there were also "operational" teams of the services of the three partner nations, he said.
"It is going well," he said, with teams "co-working" on a secure computer network at the Dassault design office at Saint Cloud, hooked up to offices in the three nations.
There were good relations between Airbus and Dassault engineering teams, he said. There had been commercial and contractual challenges, he said, with "tough challenges on responsibilities." But now those were clearly expressed and signed, and the engineers – mostly young – were working well together, he said.
Trappier said he had visited the design office the day before, where there was "strong enthusiasm to define this new future," with the partners seeking to fly "an ambitious demonstrator a little before 2030."
War in Ukraine
It was too early to draw conclusions on the war in Ukraine, he said, but it could be seen that Russian forces – thought to be one of the great armies – had been held in check by a "little country," namely Ukraine.
What could be seen was support from the U.S. and certain European nations, the importance of intelligence gathering, and lack of Russian control of the skies over Ukraine, he said.
A gathering of intelligence was important. "If you know when your enemy takes off, and you have got an effective air defense system, you can disrupt an air campaign," he said.
A mystery lay in why the Russians failed to take control of the skies, he said, adding that for the U.S. or any Western nation, mastery of the sky was the priority, as could be seen in allied campaigns in Iraq, Syria, and Libya.
Western forces were trained to take control of the sky, he said, and it was "amazing" the Russians failed to do so in Ukraine. One of the questions in a Ukrainian counter-offensive was how Russian aircraft would be used.
For now, Russian forces were firing missiles and shells, and using tanks and infantry, all conventional land warfare without control of the sky, he said. The use of technology, with satellites, communications, and interoperability of capabilities could be seen on the Ukrainian side, but not with the Russians.
"Quite surprising," he said.
Western forces saw the importance of the command of tactical forces on the ground which contrasted with the Russian centralization of command, far from the combat zone, he said.
For France, there was need for more technology for an effective air campaign, he said, but also a sufficient volume of ammunition. Both quality and quantity were required.
That did not rule out a call for Rafale versions with more advanced technology for communications, reliability, cyber-security, interoperability, and collaborative network, he said. There should be greater connectivity with other systems, both with allies and own forces in the air, at sea, and on the ground.
The architecture needed to resist more effective cyber attacks, with cyber security a critical subject, he said, protecting communications by satellite and tactical means.
F-16 for Ukraine
Politics were seen as underpinning the choice of the F-16 for Ukraine.
Ukraine preferred American over European fighters such as the Typhoon, Gripen or Rafale, the Dassault chief executive said, adding that was a pity for the Europeans, even if de facto, they were comparable.
There were "very political reasons" for choosing the F-16, he said. Nato is a transAtlantic organization, led largely by the U.S. even though the secretary general was from Norway, which was not a member of the European Union.
"There has clearly been American power since World War Two, so there are certain nations which opt for American equipment rather than European," he said.
On the political front, Ukrainian President Volodymyr Zelensky attended June 1 a meeting of the 47 nations of the European Political Community in Moldavia, formerly part of the USSR.
Zelensky was seeking support for Ukraine's application for membership of Nato, and renewing calls for Western fighters to secure the Ukrainian skies.
French president Emmanuel Macron delivered May 31 a speech on the eve of the EPC meeting, seen as hardening the French line against Russia, that Paris should have given greater support for East European nations, and offered more backing for Ukraine.
The French head of state and commander in chief also called for a strong European defense pillar in Nato, seen as acknowledging Donald Trump was likely to run in the U.S. presidential election next year.
Some countries are now less keen to buy Russian, but they do not want to buy American, Trappier said. France was "a little bit more neutral," even though it was an ally which made a strong and loyal contribution to the Western coalition, he added.
France has sold fighters to India since 1953, he said. "There is history," he said, "a political history."
India has also been a large operator of Russian aircraft, including Sukhoi fighters and Mi-17 attack helicopters, reflecting New Delhi's policy of non-alignment in the Cold War.
Egypt, which has bought the Rafale, had bought Mirage 3 and Mirage 2000, and the United Arab Emirates had also bought those fighters, he said. Indonesia was a new client nation.
Those export sales were "a result of today's geopolitics in relation to the past," he said, adding there were orders intended to dissuade prospective aggressor nations.
There were political and strategic relations between France and the client nations, he said. With the Paris air show coming up next month, there may be visits from foreign high and mid-level military and civil delegations, but detailed talks over deals were held away from the exhibition stands.
Rafale Exports, and Combat Drone
Besides the political dimension, there were operational and economic reasons for foreign sales of the Rafale, Trappier said. On the former, the fighter was multirole for air superiority, ground attack, and flying from air bases on the ground and aircraft carrier at sea.
That multirole meant compromise in capability against competing fighters, but offered  economic gain, with simpler service, one pilot, and one type of fighter sent in time of crisis.
A naval version of the Rafale was competing against the U.S. F-18 in a competition to equip the Indian navy, Trappier said. New Delhi was concerned over China's carrier fleet.
The Indian air force was also looking to expand its Rafale fleet and has many aging fighters to replace, he said.
The Rafale's air-to-sea capability appealed to Indonesia, which may lack an aircraft carrier, but had many islands, he said.
There is a French amendment in the draft military budget law 2024-2030, for flying a combat drone with a planned F5 version of the Rafale. The drone will follow on from a demonstrator for an unmanned combat air vehicle (UCAV), dubbed Neuron.
Trappier said he could not say much on that project, which the defense minister has talked about in parliament, and the project will have to be funded and developed with other projects.
Dassault has long worked on the Neuron, which flew with manned aircraft and the company was developing the Rafale F4 version, he said.
Military Budget Law
The €413 billion of the 2024-2030 military budget law increased the defense budget and was to be welcomed, he said. It was important to have this program, which backed a defense effort at a time when "universal peace" – which European nations had expected after the fall of the Berlin Wall – had not come to pass.
Nations needed to develop their own weapons and to buy equipment for self defense, he said, and the defense budget needed to set aside a sufficient amount to deal with a new threat or a revived old threat.
The budget should allow pursuit of technological development, but also sufficient volume to build munitions to help Ukraine and stock domestic reserves.
France also invested in its nuclear deterrence, which was purely a French strategy, not a European or Nato approach, he said. The latter relied on U.S. nuclear weapons prepositioned in certain allied countries, which explained the choice of F-35.
Bullish On Thales
Asked about Thales, Trappier said Dassault was satisfied as a shareholder, and encouraged the electronics company to continue to develop through external and internal growth.
Thales now had a profit margin above 10 percent, having in the past issued profit warning, he said, and had strengthened its business in digital and cyber security after the acquisition of Gemalto. Thales was a leader in satellite technology and worked in defense in aeronautics, land, naval sectors, he said. The company also built avionics.
It was a broad company which worked well, was well organized, and worked around the world, he said. The company should continue to develop in the predictive digital domain, including its TIRIS activity.
TIRIS refers to high tech maintenance in railway transport systems.
"We do not look at the share price – we take a long term view," he said. "The share rises and falls. What we invested into Thales is worth a lot more, and pays a dividend every year. It is a very good company."
Trappier sits on the board of Thales, in which Dassault holds a 24.6 percent stake. There is a shareholder pact with the French state, which holds 25.6 percent of Thales.
Featured Photo: The photo of Eric Trappier is credited to Dassault Aviation.