"Great Power Competition," Deterrence and Projection: Navy Future Vertical Lift (FVL) in the Pacific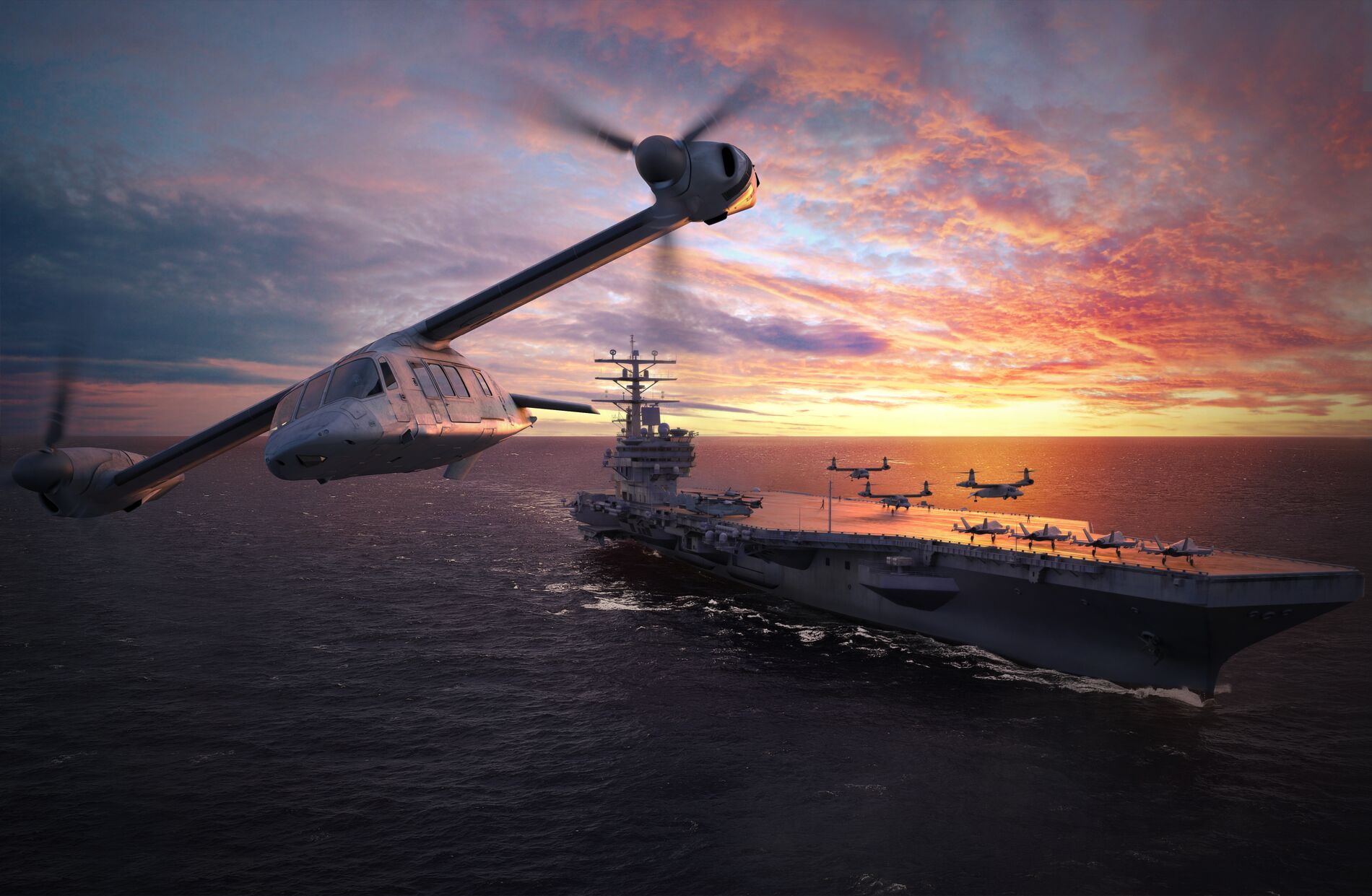 The United States faces many global challenges, but the existential threat posed by a "Great Power Competition" is playing out before us and will remain relevant for decades.
Our competitors seek to broaden their economic, territorial, and regional influence using all the tools of national power at their disposal – noticeably through increasing investment in military capability.
This activity is particularly noticeable in the Indo-Pacific area of responsibility (AOR) where military and diplomatic power projection typically occurs at the expense of America's strategic allies.
We are at an inflection point in the security postures of many countries throughout the region.
For the U.S. and its allies, there is broad consensus that modernization is needed to keep up with the current pacing threat. For the U.S. Navy in particular, those efforts must address the challenges of this competitive era by ensuring the military capability and industrial capacity is in place to deter threats and project strength globally.
U.S. and allied naval strategy must effectively respond to any challenges that threaten regional stability and the international maritime environment. As our competitors continue to seek an advantage in their immediate spheres of influence, successful deterrence requires military capabilities that operate across multiple domains while enabling economic, technological, informational, and diplomatic solutions short of actual conflict.
One essential element of an effective naval strategy is the ability to leverage tiltrotor technology to our advantage.
With the U.S. Navy already in possession of the CMV-22 Osprey, the acquisition of Future Vertical Lift (FVL) tiltrotor platforms that are manned, unmanned, and optionally manned will play a key future role in deterring potential adversaries and projecting power across the Pacific.
If you consider the daily shipping traffic in the western Pacific for example, a major vulnerability is that potential adversaries could attempt to disrupt Sea Lines of Communication (SLOC) throughout the region. Tiltrotor aircraft such as the V-22 can provide the range, speed, and loiter time required to contribute to the protection of these vital choke points in ways that far exceed the capabilities of traditional rotary wing aircraft.
The added advantage of runway independence makes these aircraft even more operationally relevant given the geography of the region. Today, the MV-22, the CV-22, and the CMV-22 are critical warfighting enablers in the region supporting the needs of the U.S. and Japanese military.
A modernized and sustainable V-22 is a key component to ensuring the flexibility and agility needed to address future conflict worldwide. V-22 aircraft have logged over 700,000 flight hours and the U.S. Navy is leading the way in developing an understanding of the enhanced capability the CMV-22 brings to the Carrier Airwing. In the short term, Navy leadership is working to determine if they have the proper CMV force structure in place to support a distributed force in a contested environment.
In the meantime, we must continue to seek the modern technology required to preserve freedom of navigation, deter aggression, and, if required, win a future fight. A modular open systems approach to the architecture, coupled with a solid model-based systems engineering foundation, will facilitate a rapid and affordable iteration of these overmatch capabilities.
As we look to the future of tiltrotor technology, the Navy will be able to leverage the experience gained through decades of V-22 operations. Future vertical lift tiltrotor variants will undoubtedly incorporate those lessons as well as the teaming of manned and unmanned systems in ways previously thought to be impossible.
One thing is clear: if we are going to act differently when it comes to how we fight a potential well-armed, well-trained adversary – we need to think differently and equip ourselves differently.
To make the cost affordable to the American taxpayer, the services will have to tackle warfighting functions jointly and leverage multi-service development opportunities jointly. For example, the basic FLRAA aircraft design includes a modular open systems approach (MOSA) to the architecture with a solid model-based systems engineering (MBSE) foundation, as well as step change improvements in affordability and sustainability core characteristics.
As the Navy reviews the Analysis of Alternatives (AoA) for its Maritime Strike Program, it will become clear that the Bell V-247 Vigilant unmanned aerial system (UAS) and a marinized variant of the Army's Future Long Range Assault Aircraft (FLRAA) will offer very attractive solutions to ensure the U.S. Navy is relevant, dominant, and fully prepared to deter any potential adversary.
A similar calculus applies to the Marine Corps as it builds its VTOL Family of Systems; a V-247 and FLRAA could provide long-awaited tiltrotor speed and range to the attack/utility and MAGTF Unmanned Aerial System Expeditionary and Medium Altitude Long Endurance (MUX-MALE) mission sets.
These aircraft could provide commanders with precision strike and targeting, medical evacuation, combat search and rescue, personnel recovery, anti-surface, and anti-submarine warfare capabilities that would be unmatched by traditional rotary wing aircraft. These advanced tiltrotor aircraft provide critical overmatch capabilities and operational agility at affordable program lifecycle costs and low maintenance and support burdens in theater.
Force Design 2030 and our National Maritime Strategy highlight the Marine Corps' and Navy's need to conduct expeditionary advanced base and distributed maritime operations.
The Indo-Pacific poses the greatest challenge to our nation's naval forces and will be the barometer used to determine where and how advanced weapons systems will be needed and used to meet the challenges of the current pacing threat.
Reach, flexibility, interoperability, and survivability are just some of the requirements for operational success in the Pacific and each of these operational traits are inherent in the capabilities only tiltrotor technology can provide.
Chris Misner is Senior Manager, Bell Military Sales & Strategy