MARTAC Unmanned Maritime Systems: The Perspective of CEO, Bruce Hanson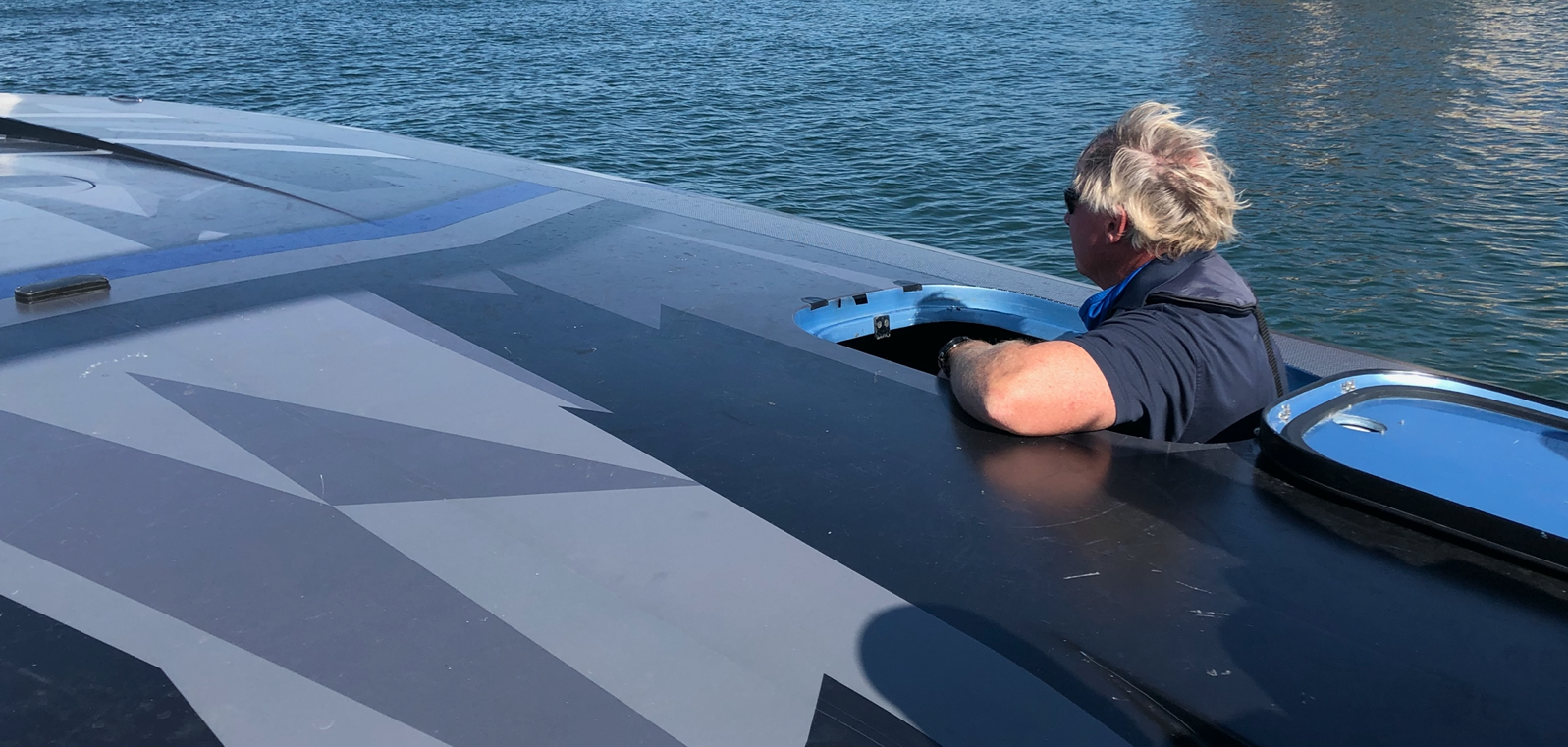 During my recent visits to Jax Navy, Mayport, Fallon Naval Air Station and to North Island Naval Air Station, I had a chance to meet with a wide range of Navy officers focused on reshaping air-maritime capabilities to have a more effective and lethal combat force.
The re-shaping of the fleet into an integrated distributed force over the decade ahead, will see a new chapter written about the role of maritime remotes within the fleet as well.
The challenge will be to work through how the evolving sensor networks will inform C2, rather than overwhelm it. As solutions are worked, the way will be opened for new innovative ways to expand the contribution of sensors to enhancing the effectiveness, agility, lethality and survivability of the air-maritime combat force.
One way ahead with regard to the introduction of maritime remotes into the fleet could well be the introduction of autonomous mine detection and destruction systems introduced into the fleet.
The advantage of counter-mine autonomous package is rather straightforward: it can be deployed from a variety of ships in the fleet, rather than having to be managed by a specialized ship which will have to be present to execute the mission.
It is clear that the challenge of dealing with mines is a major one for any fleet, and that adversaries have focused on the use of mines as part of the package of capabilities which they are building and shaping to challenge the maritime forces of the United States and our allies.
As Greg Mapson has noted: "With China's expansion into the South China Sea and its militarization of several reefs far from its shores, its minelaying forces have a more expansive role to play. The People's Liberation Army Navy has a fleet of ships and conventional submarines with crews that are well practised, and indeed lauded, for their minelaying skills.
"They also possess very capable minelaying aircraft. The exercise demonstrated China's commitment to mine warfare as a pillar of its naval strategy.
"Notwithstanding China's potent capabilities in laying mines, many strategists wrongly believe they'll be used in offensive operations, but they're more versatile than that.
"One possible scenario is that China will use its growing mine stocks in a period of tension to further control access to areas surrounding its South China Sea claims by laying protective minefields—or even just claiming to."
The threat is clear; the response less so.
There is significant interest and focus on shaping maritime remote capabilities in this area for sure.
And my discussions with Australian, British and US Naval officers has underscored the importance of leveraging new maritime remote capabilities as part of the solution set.
During my July visit to San Diego, I had a chance to view and be briefed on one approach to shaping a way ahead.
At the Trident Warrior 2020 exercise, I had a chance after landing from my visit to Fallon Naval Air Station, to visit the MARTAC team working their solution to the mine warfare challenge.
My colleague, George Galorisi, has introduced our readers and myself to the MARTAC solution as well as highlighting a number of ways in which maritime remotes can significantly enhance fleet capabilities and security.
In later articles, I will discuss with Galorisi his experience and thoughts on the way ahead in this area as well as more comprehensive look at my visit with the MARTAC at the end of their time at Trident Warrior.
Teledyne Technologies is the system integrator for the autonomous countermine systems carrier onboard MARTAC's catamarans.
The team is using two key platforms carrier onboard the MANTAS which have significant operational experience in allied navies.
The first remote platform is SeaScout.
It is described the Teledyne Brown Engineering brochure as follows: "SeaScout is an advanced subsea imaging system designed for min hunting, change detection, and routine surveys of strategic ports and waterways. Founded on Kraken's high-speed Synthetic Aperture Sonar Towfirsh and combined with ThayerMahan's remote operations and communications system. SeaScout enables high resolution, real-time intelligence to mission planners over the horizon from both manned and unmanned platforms."
The second remote platform is Pluto Plus.
It is described the Teledyne Brown Engineering brochure as follows: "Pluto Plus is a remote operated underwater vehicle (ROV) primarily used for heavy duty mine identification and mine disposal. PLUTO PLUS is capable of countermining missions in strong current and lack of visibility conditions, A smart combination of medium power high speed vehicle with the smallest communications capable and special purpose acoustic camera makes PLUATO PLUST the top mine hunting vehicle."
My picture of the PLUTO PLUS at the Trident Warrior exercise can be seen below:
The two autonomous platforms operate from the MANTAS catamaran and the vessel can operate independently but is also connected to the host ship via data links which enables collaboration between the host ship and the autonomous counter mine vessel.
With regard to the MANTAS, the MARTAC web page describes it as follows:
"Maritime Tactical Systems, Inc. (MARTAC™) has patented a unique class of MANTAS™ next generation unmanned vessels. Our unmanned surface and hybrid vessels are accompanied with a robust Command and Control (C2) system known as TASKER™. Our MANTAS USV enables the coverage of open ocean and littoral waterways with extended on-station persistence capability. Our product line of unmanned vessels can range from 6′ (2m) to 50′ (15m) and capable of extreme high surface speeds.
"Our patented catamaran hull is suitable for surface, subsurface and unaided air drop operations."
Together, the C2 links, the ROVs and the catamaran make up the mine hunting ecosystem.
A key focus of the program has been to build a system which can be operated from any ship with an 11 meter RHIB space onboard.
The system as well could easily fit into a transport helicopter to be brought to a fleet which would need the capability or have their capability enhanced as well.
Recently, I had a chance to talk about MARTAC and their approach to shaping a way ahead with their integrated systems for the U.S. and allied navies with the CEO of MARTAC, Bruce Hanson.
In a teleconference conducted on July 24, 2020, we discussed a number of issues.
A core theme in the discussion was how the MANTAS ecosystem could fit nicely into the evolved integrated distributed force.
Hanson underscored the variety of ways an autonomous maritime counter mine system can be deployed throughout the fleet, and the keen interest which allies have in the system as well.
My own experience, notably in Australia, has underscored that the counter-mine mission is of significant short to mid-term significance.
And with the OPV program on track, certainly Australia will be looking for such an autonomous counter mine capability as well,
It is clear as well that getting operational experience with remote systems is crucial to the way ahead.
It is not just about endless R and D; it is about getting operational experience with a novel system.
We have certainly seen that with Triton whereby the system is being deployed earlier than its IOC which led to the coining of the term EOC or early operational capability.
Perhaps this is a new way ahead for software defined and operated autonomous systems.
According to Hanson, the package which has been developed is available now and can enhance fleet capabilities in the near to mid-term.
With regard to the vessel, the history of the firm goes back to Hanson's father he launched the catamaran innovations.
And according to Hanson, they recently found his father's original work on autonomous maritime systems back to the 1960s, in which his father was using what would be considered a primitive IBM card system to operate the vessel. They found both his father's original drawings and the original vessel to test the concepts.
During his own career, Hanson brought together design work from a colleague on high speed vessels with his own experience in aerospace.
The result was to build autonomous vessels and to then test those vessels and their ability to operate safely and effectively at sea.
Small vessels are exactly models of the bigger ones.
"We ran our six-foot boat on a wide variety of maritime environments and ran that T6 over 5000."
"The product line we have now has its heritage from the six-foot ship and we have built out to a 70-foot length.
"And the boat you were on a 44-foot variant."
Hanson underscored the working relationship with Teledyne Brown Engineering.
As Hanson described it, they had already done a first round of integration with regard to the MANTAS, but by partnering with Teledyne Brown Engineering they have been able to build a more effective integrated platform.
Teledyne Brown Engineering has engaged the global market to find off the shelf solutions which can deliver capability now and at low risk.
Hanson concluded with an explanation of how the MANTAS solution was quite unique.
"What this integrated platform is capable of doing is a single sortie mission.
"With a fairly small platform, and reduce the counter-mine task to be done in hours what used to take days."
"The catamaran design is very stable and because you can drop it directly into the water you do not have to have a complicated crane system to get the ship in the water.
"This design means that we can operate from a wide variety of ships.
"The MANTAS itself is extremely light which means the payload goes up relative to vessel size.
"This allows us to be able to put more sensors on the vessel at one time and to integrate them onboard.
"We are very stable in a variety of sea states.
"The data that is collected onboard the vessel, gets interpreted for the anomalies back to the professionals onboard the fleet."
In short, there is an interesting new option for the integrated distributed fleet which participated in this year's Trident Warrior exercise.
The photo below shows Hanson aboard the vessel they brought to Trident Warrior before several of us went on the boat for a spin in the North San Diego Bay.
Bruce Hanson, Chairman & CEO, MARTAC
Mr. Hanson is a technology development executive who combines a unique blend of business acumen, perceptive entrepreneurial savvy and technical insight to create innovative solutions.  Prior to founding MARTAC, Mr. Hanson was a founder and CEO of The Software Specialists, Inc. (TSS), an aerospace corporation that provided sophisticated engineering services to major defense, aerospace and avionics companies. Most of this work involved state of the art communications, navigation, surveillance, inertial and control systems that are in service throughout the world.
Under Mr. Hanson's direct leadership, TSS developed a number of innovate approaches to develop mission critical technology systems.  Mr. Hanson has a track record of converting innovative ideas into long-term income generating products supported by accomplished solution-based teams. His areas of expertise with advanced technology systems combine practical business operations with the development and implementation that span strategic planning and execution, business development, operations management, sales and revenue growth, cost, schedule and quality optimization and engineering.
Mr. Hanson has a deep passion for high performance vehicles of all kinds which led him to invest in, then design and build state of the art computer and control systems for the world's fastest offshore racing boats. Bruce has been on the design team for some of the world's most technologically advanced and powerful street cars.   This passion led to the formation of MARTAC which is the culmination of the years of aerospace experience coupled with the high-performance offshore powerboat technology.  This resulted in the development of the family of MANTAS Unmanned Surface and Undersea Vehicle platforms.
Bruce has been involved with a number of startups as part of the management team and as an investor.  Bruce's background as an investor in startups gives him a keen sense of investor concerns in his approach to management. Bruce holds degrees in Physics, Mathematics and Master of Electrical Engineering attending SUNY Potsdam, Clarkson College and Binghamton University School of Engineering.
https://martacsystems.com/bruce-hanson/
This article was first published on November 7, 2020.