Task Force 59 Works Concepts of Operations for Unmanned Maritime Systems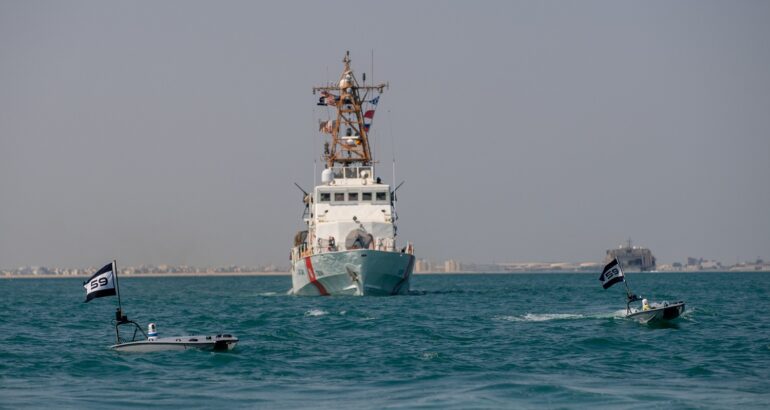 In September 2021, the U.S. Fifth Fleet established Task Force 59 to work ways to operate unmanned maritime systems and to integrate them into fleet operations,
According to Captain Michael Brasseur, the head of the task force:
"The type of technologies we're looking at are the dual-use maritime robotics, very inexpensive, allow us to get a lot of sensors in the water. When you partner with allies and partners, that gives you a chance to scale quickly. When you scale quickly, you can start to close those maritime domain awareness gaps, and then you can … deter the illicit and malign activity that's happening over here, whether it's on the low end, illegal fishing [or] on the high end, weapons transfers supporting the Houthis in the southern Red Sea,"
And it is not just about ramping up U.S. capabilities for the task force is working with allies and partners in the region as well.
The task force commander added:
"We're also in parallel working with partners in the region to help us scale. There's a lot of interest in unmanned over here, and once you start bringing in partners you can scale and then start to close some of those gaps."
When I presented to the BIDEC 2019 Conference, I discussed with participants the coming of autonomous systems as part of the shift towards an evolving concept of operations for the fleet as well.
In a piece I published on November 16, 2021, I highlighted those discussions and the importance of maritime unmanned systems as part of the kind of innovation crucial to strengthen security capabilities in a challenging region.
During my two visits to Bahrain in 2019, I had a chance to talk about the evolving defense and security capabilities being reshaped in the region and in October 2019 provided a presentation on the final day of the BIDEC 2019 Conference.
One of the subjects which I raised during my presentation was the coming of maritime autonomous systems and the value to Bahrain of such systems,.
Significant investments are being made in Bahrain in science and technology, and applications to he maritime autonomous systems domain make a great deal of sense.
Also, the ISR capabilities which such systems can provide to Bahrain as a pillar for their evolving information base for security and defense also make a great deal of sense as well.
In a September 23, 2021 press release by NAVCENT, the cooperation between the U.S. Navy and Bahrain in this domain was highlighted.
BAHRAIN – During a visit to the U.S. Navy installation in Bahrain, Sept. 23, Bahraini leaders committed to partnering with U.S. Naval Forces Central Command (NAVCENT) to accelerate integration of new unmanned systems into regional maritime operations.
Major Gen. Ala Abdulla Seyadi, commander of the Bahrain Coast Guard; Rear Adm. Mohammed Yousif Al Asam, commander of the Royal Bahrain Naval Force; and Vice Adm. Brad Cooper, commander of NAVCENT, U.S. 5th Fleet and Combined Maritime Forces discussed future opportunities for cooperation.
"We have an enduring strategic relationship with the Kingdom of Bahrain and our mutual commitment to advancing new unmanned systems demonstrates us strengthening the partnership in a new way," said Cooper. "This initiative enables us to expand maritime domain awareness on, above and below the water and enhance regional deterrence."
NAVCENT commissioned Task Force 59, Sept. 9, to rapidly integrate unmanned systems and artificial intelligence into U.S. 5th Fleet operations and drive discovery in human-machine teaming technologies.
Cooper briefed the Bahraini leaders on NAVCENT's latest unmanned surface, underwater and aerial vehicles on site at U.S. Naval Support Activity Bahrain.
In October, Bahrain's maritime forces will be the first regional partners to collaborate with Task Force 59 on a manned-unmanned teaming exercise to evaluate advanced unmanned surface vessels. The at-sea event will kick off a series of maritime exercises that integrate manned and unmanned systems during operations with regional and coalition partners.
The Middle East region's unique geography, climate, and strategic importance offer an ideal environment for unmanned innovation. The area includes the world's largest standing maritime partnership and three critical choke points at the Strait of Hormuz, the Suez Canal and the Strait of Bab-al-Mandeb at the southern tip of Yemen.
And in October 26, 2021 update from U.S. Naval Forces Central Command, the evolving work in the region with allies with regard to maritime autonomous systems was provided:
U.S. Naval Forces Central Command is leading the way as the Navy tests out new operational concepts for unmanned surface vessels in front-line operations. On Monday, NAVCENT completed exercise New Horizon, the first at-sea trial for its new unmanned task force, which is among the first Navy units to integrate USV technology into real-world service – in this case, ensuring maritime security in the Persian Gulf. 
During the two-day training exercise, the command's newly-established Task Force 59 tested out its MANTAS T-12 USVs alongside U.S. Navy, U.S. Coast Guard and Bahrain Defense Force manned vessels. It was the first time that NAVCENT has integrated USVs with manned assets at sea in the U.S. 5th Fleet area of operations. 
The first phase of New Horizon, conducted Oct. 20, saw operators controlling the USVs aboard the Cyclone-class patrol ship USS Firebolt, while the small surfboard-shaped vessels conducted high-speed maneuvers in formation. Participating units included the cutter USCGC Maui, a Seahawk helicopter, a V-BAT unmanned aerial vehicle and a Royal Bahrain Naval Force patrol craft. Both U.S. and Bahraini forces practiced operating the vessels in formation.
"This is a significant milestone for our new task force as we accelerate the integration of unmanned systems and artificial intelligence into complex, cross-domain operations at sea," said Capt. Michael Brasseur, commander of Task Force 59. "Real-world evaluation is essential."
NAVCENT established the task force on September 8, and it is the first unit of its kind in the Navy. Extended unmanned trials are key to the service's push to figure out how to use (and sustain) these systems in the real world. In the years ahead, the Navy hopes to deploy full-size, oceangoing unmanned warships to augment the fleet's lethality at low cost. In order to get there, the Navy's leadership is well aware that it will have to work out several thorny technical problems – particularly comms, command and control, and keeping propulsion running – and operations like Task Force 59 will help with the practical shakedown process.
And in an update on the work of the task force, Mallory Shellbourne noted in an article published on January 14, 2022:
U.S. 5th Fleet is using commercial unmanned surface systems that include the wind-powered, 23-foot-long Saildrone Explorer that has operated out of Jordan and MARTAC's Mantas T12 USV that has operated from Bahrain.
The task force is serving as another testbed for unmanned systems so the Navy can experiment with the concept of operations and determine practical ways to employ the platforms.
"We're taking off-the-shelf emerging technology in unmanned, coupling with artificial intelligence and machine learning, in really moving at pace to bring new capabilities to the region. I think in 2022 we're going to see continued efforts in this regard into the operational realm and impacting operations. It will be exciting," Cooper said.
IMX 22 will be designed to verify concepts for unmanned surface vehicles.
"The pace that we've been able to move at is going to result in IMX validating about 14 different concepts of operation imaginable a few months ago and then shifting into the more operational mode in the future," Cooper said.
Featured Photo: Two MANTAS T-12 unmanned surface vessels (USV), front, operate alongside U.S. Coast Guard patrol boat USCGC Maui (WPB 1304) during exercise New Horizon in the Arabian Gulf, Oct. 26. Exercise New Horizon was U.S. Naval Forces Central Command Task Force 59's first at-sea evolution since its establishment Sept. 9. (U.S. Navy photo by Mass Communication Specialist 2nd Class Dawson Roth)