Indian Army's African Exercise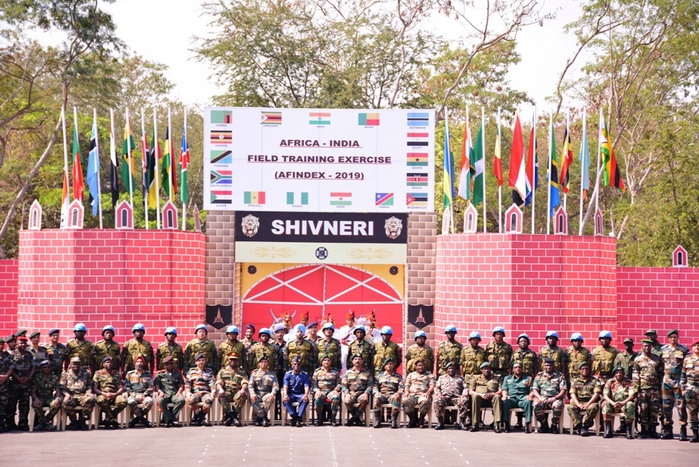 The Indian Army is about to conclude its ten-day inaugural Africa-India Field Training Exercise with 17 African nations, which comes as part of India's efforts to improve military cooperation with African states.
The exercise started with an opening ceremony on 18 March at the Aundh Military Station in Pune, India. Contingents from 17 African Nations (Benin, Botswana, Egypt, Ghana, Kenya, Mauritius, Mozambique, Namibia, Niger, Nigeria, Senegal, South Africa, Sudan, Tanzania, Uganda, Zambia and Zimbabwe) came together alongside a contingent of Maratha Light Infantry representing India. There are also observers from Rwanda, Congo and Madagascar.
Major General Sanjeev Sharma, General Officer Commanding, Golden Katar Division, who was the Chief Guest for the opening ceremony, reviewed the parade, in presence of a large number of Defence Attaches and other officials of participating nations. A fly past by a set of Dhruv Advanced Light Helicopters and Cheetah helicopters of the Indian Army was the highlight of the opening ceremony, the Indian military said.
The aim of the exercise is to practice planning and conduct of humanitarian mine assistance and peacekeeping operations under Chapter VII of United Nations peacekeeping operations. The exercise is focussing on the exchange of best practices between the participating nations, team building and tactical level operations in conduct of United Nations mandated tasks to include establishment of a new mission, siting of a United Nations Headquarters for peacekeeping operations, siting of Military Observer sites, protection of civilians, combat deployment, convoy protection, and humanitarian mine assistance.
The mine assistance component included demonstrations and training on the establishment and functioning of a Mine Action Centre, identification and survey of contaminated areas, mechanical and manual demining, disposal of improvised explosives devices and air causality disposal.
The training of the participating nations was conducted at the College of Military Engineering (CME) in Pune and the Foreign Training Node at Aundh Military Station.
The mine assistance aspect of the programme included training the trainers from the participating nations. The second phase involved detailed training of the entire contingent of around 180 trainees on various aspects of humanitarian mine assistance. The third phase involved practising drills on the ground as part of a validation exercise. During this exercise, a Dhruv helicopter was used for simulating mine casualty evacuation.
The Africa-India Field Training Exercise concludes on 27 March.
First published by defenceWeb on March 27, 2019.
https://www.defenceweb.co.za/featured/indian-army-wrapping-up-exercise-with-african-militaries/