The Royal Navy's New Offshore Patrol Vessels: Enhancing the Size of the Royal Navy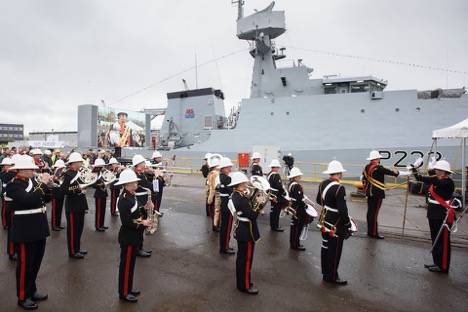 In a recent story published on the UK Ministry of Defence website, the naming of the first in class of offshore patrol vessels was reported.
HMS Tamar, the fourth of the Royal Navy's five cutting-edge new Offshore Patrol Vessels, has been formally named in Glasgow today.
The next-generation River Class ship will boost Britain's counter-terrorism and anti-smuggling work and provide essential support to defence operations.
The 90-metre vessel, which is equipped with a 30mm cannon and flight deck capable of accommodating a Merlin helicopter, is part of a five-strong OPV contract with BAE Systems, worth a combined £635m.
Minister for Defence Procurement Stuart Andrew said:
"From patrolling our coastlines and protecting UK waters, to anti-smuggling and counter terrorism operations, these ships are a key part of our Royal Navy fleet.
"Today's naming marks an important milestone in HMS Tamar's programme ahead of starting sea trials and being accepted into operational service next year."
At Scotstoun today, the ship's sponsor, Lady Peach, officially named HMS Tamar by pressing a button to smash a bottle of Camel Valley 'Cornwall' Brut against the hull – in recognition of the ship being affiliated to Cornwall.
All the vessels are initially constructed in BAE System's Govan yard, before being moved to their Scotstoun site to be fitted out with their systems ahead of rigorous sea trials.
Alongside the Type 26 anti-submarine frigate programme, the Royal Navy work has filled the Glasgow shipyards' order books until the early 2030s, protecting 1,700 Scottish jobs and supporting a further 2,300 roles across the nation through the supply chain.
Sir Simon Bollom, chief executive for Defence, Equipment and Support, the MOD's procurement agency, said:
"HMS Tamar continues the legacy of ships being built on the Clyde for the Royal Navy and will perform a vital role defending the UK's interests.
"It is great news that we are celebrating this milestone alongside our partners in the Royal Navy and BAES.
"We look forward to the delivery of the remaining OPVs and the further progress on the Type 26 build programme."
All the Batch 2 OPVs, named HMS Forth, HMS Medway, HMS Trent, HMS Tamar and HMS Spey, are set to be delivered to the Royal Navy by the end of 2020.
Last year it was announced by Defence Secretary Gavin Williamson that the Batch 1 Offshore Patrols Vessels, HMS Tyne, HMS Mersey and HMS Severn, which currently support the Fishery Protection Squadron, would also be retained for at least the next two years.
In this article published last year on the Save the Royal Navy website, the retention of the older vessels while introducing the new ones, is seen as an intelligent way to expand the size of the operational fleet.
This website has been covering the challenges faced by the Royal Navy since 2007 but it is hard to remember a time when there were so many positive developments in such a short period. There are still fundamental weaknesses in the fleet but there is now a little more substance in the claim that we have a 'growing Royal Navy'.
Yesterday while on board HMS Tyne alongside in Newcastle, the Defence Secretary announced that 3 of the Batch 1 OPVs will be retained in service. This is a reversal of the 2015 SDSR decision that they would permanently retire from service as the Batch 2 OPVs were delivered. In fact, HMS Severn and HMS Tyne had already decommissioned. HMS Tyne was reactivated in July and HMS Mersey is still operational.
HMS Severn is currently in Number 3 Basin in Portsmouth, de-stored but reportedly in good condition.
We have campaigned for some years to retain these relatively young ships (15 years old) in service and this announcement is a vindication of this common sense.
By retaining these ships and with the addition of five new OPVs, the fleet will actually grow by three new ships above the 2015 plan. (Assuming HMS Clyde is decommissioned). OPVs do not represent significant combat power but they reduce pressure on the force as a whole. Brexit is the prime reason these ships are being retained and it is not entirely surprising, it was announced in March 2018 that £12.7 Million had been allocated to the RN for 2018-19 from the Chancellor's 'Brexit preparedness fund'.
(The Batch 1 OPVs cost around £6.5 million per annum to operate.)
It is unclear at this stage what agreements will be made with the EU on fishing rights but reinforcement of UK territorial waters and Exclusive Economic Zone (EEZ) patrol capability is long overdue anyway.
The Batch 1 OPVs will be retained for "at least 2 years" but it must be hoped that funding and manpower can be found to keep them in service for at least another decade. Post-Brexit it is likely that long-term maritime law enforcement and monitoring will be needed.
The featured photo shows the HMS Tamar on the day it was formally named in Glasgow on March 21, 2019.  BAE Systems copyright.