Indian Government Clears the Deck for Missile Exports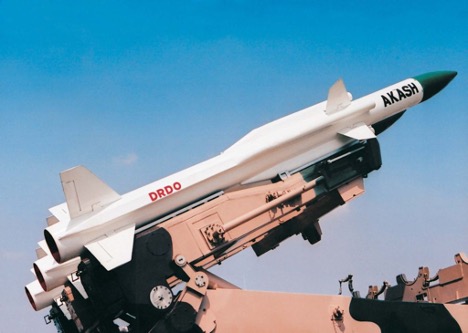 New Delhi. The Indian Government has decided to export advanced missile systems, and set up a committee to accord fast procedural clearances for friendly countries.
The first item on the list is the Made in India medium-range Akash Surface to Air Missile (SAM), which has successfully demonstrated hitting aerial targets at 25 km, and is already in service with the Indian Army since 2015 and Indian Air Force since 2014. But for some electronics, the Indian content in this SAM is more than 90 percent, including its phased array radar, Rajendra, developed and built by Defence Research and Development Organisation (DRDO) on Israeli technology.
India had imported a few Green Pine radars from Israel more than a decade back.
The decision to export missiles, in which India has made good progress since it was set up in 1983 under the able leadership of missile scientists Dr Abdul Kalam – later the President of India – was taken by the Union Cabinet chaired by Prime Minister Narendra Modi on December 30. The Government has not identified any country although reports of interest in the system has been reported from a couple of capitals in India's East and West.
The Cabinet approval on December 30 will facilitate Indian manufactures to participate in RFIs/RFPs issued by various countries. Indian manufacturers are being encouraged to take part in international defence shows.
The high power committee includes Defence Minister Raj Nath Singh, External Affairs Minister S Jaishankar and National Security Adviser (NSA) Ajit Doval.
The Akash batteries are now standard SAM deployments at Army and IAF bases across the country along with other Short Range and Long Range systems. Akash, meaning sky in Hindi, has a pre-fragmented warhead to engage a single or multiple targets. Akash can be fired from fixed or mobile platforms.
The export version of the Akash SAM would be different from what is used in India, and might have a little higher content of imported electronics. Details were not disclosed.
India has sourced some electronics like seekers in the past, reportedly from France and Russia, but now the requirements are met indigenously.
The more than 35 years old India's Integrated Guided Missile Development Programme (IGMDP) has led to the creation of Long Range Missiles that can be fired from land, ships and submarines as well as the induction of a home-made, successfully demonstrated, Anti Satellite Missile. There is also an Air to Air missile for India's Light Combat Aircraft (LCA).
Variants of nearly all of these missiles are under further development to increase their range and reduce their weight. There is an Akash NG (Next Generation) under development to ensure an Effective Hit Range of 40 km or more.
India is among the biggest importer of weapons and systems due to its long borders with varying terrain from coastal to mountainous, and the Government of Prime Minister Narendra Modi has laid emphasis on indigenous systems under what is called the Atma Nirbhar Bharat or ANB (Self Reliant India) programme. There is speed now in according official procedures and clearances to this otherwise sluggish 50-year old programme.
There is in fact a target to export some $5 billion worth of systems, utilising the Offsets opportunities in acquisition of advanced systems like aircraft, tanks, ships and submarines. A certain percentage, of around 30 percent, is utilised in acquiring high-end technologies and investments in India from the big Original Equipment Manufacturers (OEMs), preferably, but not necessarily, in the defence sector.
Historically, India has desisted from exporting even small arms due to its traditional Policy of Peace and Friendship, but over the years, the dynamics of international relations and the increasing costs of imported systems has compelled New Delhi to be practical and look for exports. One item asked for by some countries is the Indo-Russian BrahMos superconic missile, but a decision to supply to other countries has to have Moscow's concurrence.
Its variants are deployed by the Indian Army, Navy and Air Force. An air -launched smaller version has already been tested successfully for deployment with IAF's Su 30 MKI aircraft.
According to a Ministry of Defence (MoD) statement: "So far, Indian defence exports (have) included parts/components etc. The export of big platforms was minimal. This initiative of the Cabinet (Government) would help the country to improve its defence products and make them globally competitive." Under the ANB, India is growing in its capabilities of manufacturing a wide variety of Defence platforms and missiles.
"Besides Akash, there is interest coming in other major platforms like Coastal Surveillance System, Radars and Air platforms. To provide faster approvals for export of such platforms," a Committee comprising the Defence Minister, the External Affairs Minister and National Security Advisor has been created, the Ministry said.
"This Committee would authorise subsequent exports of major indigenous platforms to various countries. The Committee would also explore various available options including the Government-to-Government route," the Ministry said.
India has been taking part half-heartedly in defence exhibitions for some time, and perhaps the first such participation was at IDEX 1993 in the UAE capital of Abu Dhabi. India had the best of the display area but showed poor presence with a Jonga jeep and the light L 70 anti aircraft gun, both of which were leaking oil.
At the IDEX'95 there though, the newly-created India's Defence Exhibitions Organisation(DEO) made a good display of models of HAL's Advanced Light Helicopter (ALH) and Arjun Tank as well as some missiles. Although not much has happened, there was good interest, and the then Chief of Staff Shaikh Mohammed bin Zayed – now the Crown Prince – even visited some Indian defence facilities after this event.
I witnessed both the events, and also made a documentary for India's state-run Doordarshan TV on IDEX'95.
Notably, exports are possible only after a system is well developed and deployed with demonstrable success at home.
Shaikh Mohammed is a good friend of India, and of Prime Minister Modi, and indications are that something is in offing for a deal with the UAE.
India meanwhile has decided to buy nearly 100,000 assault rifles from UAE's Caracal – an EDGE company – which makes the advanced Car 816 NATO standard 5.56 x 45mm assault rifle in collaboration with Germany's Heckler & Koch. The rifle will also be Made in India, in the north-eastern state of Uttar Pradesh (UP), under license from Caracal.
This article was published by our partner India Strategic on December 31, 2020 with the title: "India Approves Export of Akash Surface to Air Missile System."