Will the Syrian Earthquake Usher Damascus into the Middle East Mainstream?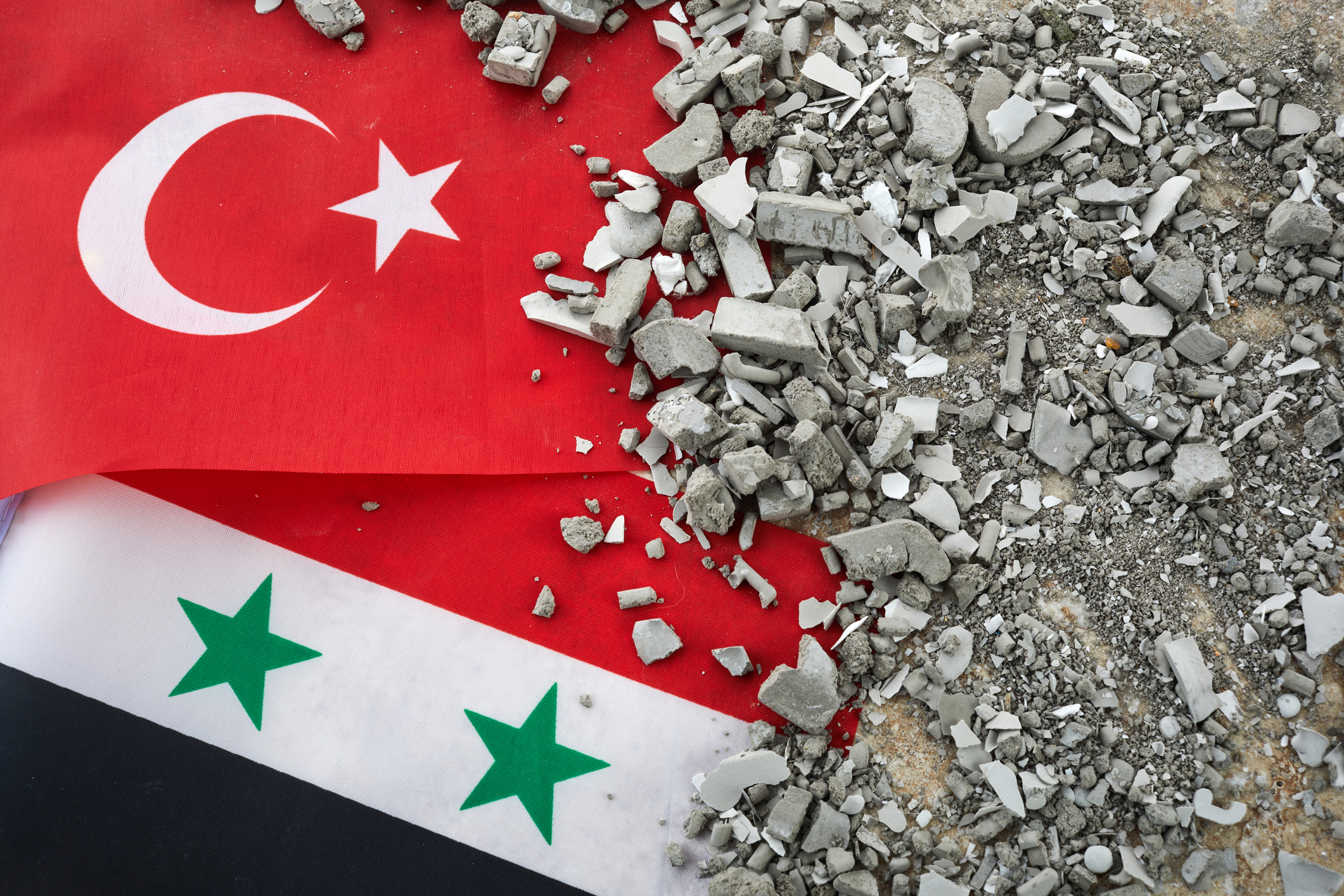 Bashar and Asma al-Assad were as good as it was going to get in Syria.
The West probably thought it found its preferred leader of Syria, the nerdy, reforming physician with the fashionista wife, an English-speaking clone of a European Social Democrat. Bashar's mild demeanor and gangly stature, and confession that he studied ophthalmology because there was "very little blood," probably gulled foreigners into thinking he would fold under pressure.
But Bashar al-Assad is, according to Brad Pearce, "…the sort of man Plutarch would have written a "Life" about: talented, determined, flawed, brutal, and the only one who could save his people…" His father, Hafez Al-Assad, who ruled Syria for three decades, was reviled for the 1982 Hama massacre to stop a Muslim Brotherhood uprising that destroyed the city and killed up to 40,000 people – no one knows for sure. What we do know for sure is that it worked – a lesson Bashar probably absorbed no matter how preoccupied he was with his studies.
In this regard, the son has surpassed the father: since the start of the Syria civil war, the United Nations (UN) documented the deaths of at least 306,877 civilians (as of 2021), though the UN admits any census is "certainly an undercount." Now if Bashar can bring his country back into the Middle East mainstream, he will have eclipsed his father as the Syrian strongman.
The February 2023 Turkey-Syria earthquake killed almost 7,000 people, most in the rebel-held areas. In June 2020, the U.S. State Department highlighted that Syria sanctions and those implemented by the Caesar Syria Civilian Protection Act "do not generally sanction bona fide humanitarian assistance or activity."
However, in late 2022, a UN special rapporteur reported that sanctions harm civilians, "including by causing a shortage of medicine and medical equipment" (as the U.S. uses them to impede the reconstruction of the country until a compliant government is in place). Likely in response to the UN's and other criticisms, in February 2023 Washington did an about-face and the U.S. Department of the Treasury issued a General License expanding authorizations to support earthquake relief efforts in Syria, to include using U.S. financial institutions to send aid, which was previously banned.
Media mournfully reported the earthquake would allow Assad to consolidate his rule and rehabilitate Syria's image, and that will be just fine with the neighbors, who are concerned about refugee flows, cross border violence, and economic disruption of the civil war, and who promptly sent planeloads of aid. The earthquake will accelerate the ongoing rapprochement between Syria and its Arab neighbors and Türkiye that started in March 2022 when Assad visited the United Arab Emirates (UAE) and met the ruler of Dubai, Sheikh Mohammed Al Maktoum, and other leaders. (The UAE reopened its embassy in Damascus in 2018.)
After the UAE visit, delegations flocked to Damascus to the dismay of Washington, and regional leaders picked up the phone to talk to Assad. Egypt, Qatar, Saudi Arabia, Türkiye, and Qatar, that had all backed Assad's opposition, spoke of reconciling with Syria.
Assad's next prize is readmission to the Arab League, from which Syria was suspended in 2011. Then he will be able to secure his position in the Levant via alliances with Hezbollah and friendly Lebanese politicians, and Syria will be back; bruised, bloodied, and poorer, but back, to the dismay of many in the U.S., Europe, and Israel.
Even if Assad secures these prizes, there's still work to do. Syria's neighbors want to help reconstruct the country but the U.S. has threatened sanctions against anyone who cooperates with the Assad government. But Washington is busy prosecuting its war against Russia, talking up a conflict in the Taiwan Strait, and pondering what to do with Iran now that a revived nuclear deal is "off the table," so Syria's neighbors may think the time to act is when the Americans are distracted.
U.S. troops have occupied Northeast Syria since 2015, though the U.S. provided material support to the Syrian rebels and the Free Syrian Army since the outbreak of civil war in 2011. In 2014, the U.S. and its allies targeted the Islamic State (IS) and the Al-Nusra Front, and vanquished the IS in 2019, but then took on a new mission: preventing the rejuvenation of the caliphate and a "lasting defeat" of ISIS. (If you wonder what "mission creep" looks like, this is it.)
General Mark Milley, chairman of the U.S. Joint Chiefs of Staff, recently visited U.S. units in Syria and signaled continued U.S. support for the mission against the remnants of IS, though the real mission is preparing local allies to oust the Assad government, and "even the stones know it".
The American operation  has the added bonus of hindering East-West transportation across northern Syria, pressuring Syria's ally Iran, hindering a future Qatar-Europe natural gas pipeline, and blocking Turkey if Ankara attacks Washington's Kurdish proxies, U.S. troops also protected the local operations of U.S. oil company Delta Crescent Energy LLC in 2021-2022 which was a priceless propaganda gift to Damascus that could fulminate about Westerners stealing the Arab's oil wealth.
The Pentagon hopes the American tenure in Syria is indefinite, but American congressmen are pushing back against yet another occupation of another Middle East country. If the U.S. redeploys from Syria, that won't stop the Assad government from claiming Syrian resistance carried the day.
What government ever let the facts get in the way of a useful narrative?
And the Pentagon isn't helping the U.S. image – in Syria or anywhere else – board by blocking disclosure of evidence of alleged Russian war crimes in Ukraine out of concern it will set a precedent that could be used to prosecute Americans.
Any U.S. troops who wondered why they were  muscle for an oil company could consider the war hero General Smedley Butler who confessed, "I helped make Mexico, especially Tampico, safe for American oil interests in 1914."
Washington's war of attrition against Syria, like its sanctions campaigns in Iraq and Iran, is unpopular with the Middle Eastern public. Local leaders see engagement with Damascus as an opportunity to spur local economic growth, acknowledge the reality that Assad isn't going anywhere, and respond to public sentiment, inflamed by the policies of Israel's new government which has killed large numbers of Palestinian civilians.
Washington has to decide if it will accept the reality that another generation of Assads has bested its smart guys, or go to (economic) war with its friends – major oil and natural gas producers – a needless distraction that will create more problems than it solves.
James Durso (@james_durso) is a regular commentator on foreign policy and national security matters. Mr. Durso served in the U.S. Navy for 20 years and has worked in Kuwait, Saudi Arabia, and Iraq.
Credit Graphic:Photo 269535606 / Syria Earthquake © Vetre Antanaviciute-meskauskiene | Dreamstime.com