Indian Defense Modernization: Surge in Artillery Capability for the Army as Key Element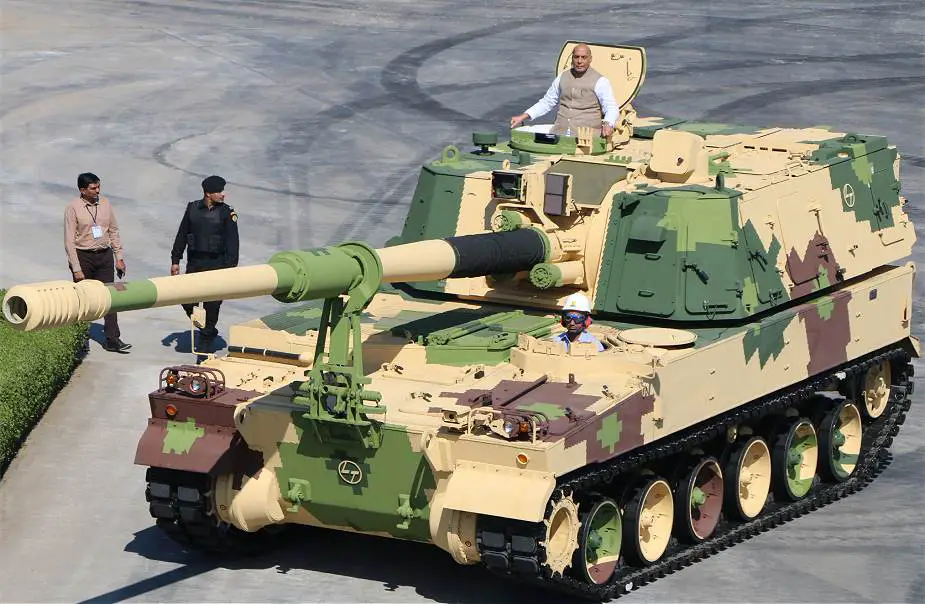 The growing tensions over the Line of Actual Control (LAC)  vis a vis China calls for the Indian Army to enhance capabilities to counter People's Liberation of Army (PLA).
Army modernization is being pursued through a multi pronged approach.
But within that approach artillery modernization is a key aspect.
The Indian Army has focused on 155mm/52Vajra-T guns, inducting additional 155mm/45 calibre Dhanush towed guns, Sharang, longer range Pinakas and precision munitions as the core of the effort.
The K-9 Vajra guns are self propelled guns capable of operating in mountainous terrain. In 2021, the first K-9 Vajra regiment was deployed in forward areas in Ladakh along the LAC. In September 2022, there were reports that the Indian Army would introduce more of such guns. An advantage of these guns is that they can operate independently instead of relying on a tank transporter trailer. The first batch of the Vajras was capable of being deployed in Western borders in dry regions of the Thar Desert.
However, as is known, India also faces challenges across its borders in the mountain regions. The Army has focused on this challenge in part through winterisation kit that includes items such as oil and lubricants that would have a viscosity suitable for even sub-zero temperatures, and batteries that can remain active in extreme cold conditions. This would not only enable India to operate this gun in the hills but also increase the credibility of the gun in the deserts when it is cold.
The focus in future for Future Artillery would be on 155mm guns.
This has led India to focus on other 155mm guns too like the indigenous Advanced Towed Artillery Gun System (ATAGS). This gun has suffered its share of hiccups with barrel bursting during a test in 2020. However, the hiccups were fixed and in 2021, the guns completed successful trials in high altitude areas including mobility trials.
In 2022, the gun also successfully completed week long Preliminary Service Quality Requirements (PSQR) validation trials in which the reliability of the guns were proven by conducting two second line of firing. In this test, accuracy and consistency were also achieved. The issue of the guns being over-weight and hence, a misfit for operating in mountainous terrain is also resolved.
The ATAGS has been developed by the Defence Research and Development Organisation (DRDO) and produced by private firms like Tata Advanced Systems Limited (TASL) and Bharat Forge. In 2022, there were reports that the Army wanted the acquisition process of this gun to be fast tracked.
Surveillance and Target Acquisition (SATA) is the most crucial element of the Artillery. The Army is also looking for weapon locating Swati radars and Unmanned Aerial Vehicles (UAVs) for surveillance and reconnaissance systems.
Swati radars would enable India to track adversary's artillery guns.
This radar is being used in Jammu and Kashmir to track Pakistan's artillery guns' source of attack. These WLRs are reported to provide fast, automatic and accurate location of enemy weapon systems within the range of 50kms as well as detect multiple projectiles fired from different weapons at different locations.
The New Mark II version which would be used in LAC has lighter footprint for mountain operations. Enhancing long-range and high volume firepower has been the need of the hour for artillery for which the focus has not only been on guns and missiles but also on focused on remotely piloted aircraft systems for tactical roles for over the hill surveillance in mountainous terrains.
In 2021, the Ordnance Factory Board (OFB) announced successful completion of the upgraded gun Sharang which is a 130mm gun upgraded to a 155mm caliber. The up-gradation contract included replacement of barrel and breech block, new sighting systems, and new hydraulic systems for easy loading of shells.
In 2022, India also conducted successful test firing of PinakaMk-1 Enhanced Rocket System and Pinaka Area Denial Munitions. Different variants of munitions and fuses that could be used in the Pinaka have undergone successful testing for evaluation.
In June 2021, the U.S. Army issued a Foreign Military Sales (FMS) contract modification for Raytheon Missiles and Defense to provide India with $9.17million worth Excalibur Increment Ib projectiles for close support situations. It is a fin stabilized projectile with GPS guidance and hence, more lethal against enemy armoured formations. Excalibur will enable Indian artillery to hit targets with more precision given its fin stabilised projectile and over longer ranges. These projectiles are compatible with 155mm howitzers and hence, will be critical to India's indirect firing capability.
In 2022, there were also reports that India deployed M777 ultra light howitzers (ULH) in the LAC. These guns can also be air-lifted by Chinook helicopters.
The induction of the M777 ULH was a part of the 'mediumisation' process of the artillery in which guns of low caliber like the 105mm caliber would be phased out and replaced with guns of high caliber.
Under the 'Make in India' approach, Mahindra Defence has partnered with BAE Systems assembling, integrating and testing of these gun systems which would enable the Indian Army to access maintenance, spares and support for the guns locally itself. In fact, it is Mahindra Defence that would cater to Army's need for more ULHs along the LAC.
Dhanush guns, another 155mm gun has faced many muzzle brake instances which has delayed their deployment process.
According to reports, cheap Chinese parts were used in the gun which passed off as "Made in Germany" parts. Presently the OFB is undertaking the modification process. The gun is reported to receive its high strength steel for the gun barrel from a defence public sector enterprise, Midhani being supplied to OFB.
OFB developed ammunitions for the gun systems do not meet the qualitative parameters and leads to accidents frequently. In fact, the Army even noted that the money used to purchase these faulty ammunitions could have bought them 100 155mm medium artillery guns.
However, the OFB has denied such allegations claiming that accidents have occurred due to other failed parameters too and not just because of ammunitions. Nevertheless, in March 2022, reports came in that the Indian Army is ready to deploy these guns after successful reliability tests were conducted. During the test, the guns fired 5500 rounds at various stages creating a record of its own.
The Gun Carriage Factory (GCF) that was involved in the Dhanush guns project has also developed a 155mmx52 caliber guns with longer range than Dhanush guns. The guns have not yet been offered to the Indian Army.
In December 2022, the defence ministry cleared the proposal of deploying one hundred and twenty Pralay tactical ballistic missiles to deter China and Pakistan allowing the use of ballistic missiles for tactical role.
The missile will be first inducted by the Indian Air Force and then by the Indian Army. It is a solid propelled, road mobile missile capable of carrying conventional warheads.
The Army has also time again successfully tested the BrahMos supersonic cruise missile.
Supersonic cruise missiles would provide the Regiment of Artillery with greater speed to deliver conventional payload at greater ranges. The missile provides the Artillery with an enhanced conventional superiority for two reasons: i) that it possesses cruise missiles that can reach longer ranges rather than only having to rely on guns and rockets, ii) the ability to stay un-intercepted provides the Artillery a credible 'deterrence by punishment' option.
Missiles also enable the Artillery to reduce its reliance on multi launch rocket systems (MLRS) that would otherwise require credible and sufficient airpower to protect these rockets.
Indigenization of guns has been the major focus in the artillery modernization process to reduce reliance on foreign countries.
Indigenization has helped the Army to acquire weapon systems that would suit their requirements based on weather conditions, terrain requirements and the threat perception.
Debalina Ghoshal is a Non Resident Fellow, Council on International Policy, Canada.
Editor's Note: South Korea's role in ground combat equipment has been highlighted by its activity in Ukraine.
But the following should be noted as well with regard to its role in India:
According to one source: "The K-9 Vajra is an Indian version of the South Korean K9 Thunder 155mm self-propelled howitzer produced under license in India by the company Larsen &Toubro. The Indian version is fitted with indigenous components including a fire control system, direct fire system, and ammunition handling systems developed and manufactured by the company L&T.
"The K-9 Vajra is armed with a 155mm/52 caliber gun which has a firing of three rounds per 15 seconds and a maximum rate of fire of 6 to 8 rounds a minute for 3 minutes. With HE (High Explosive) projectiles, it has a maximum firing range of 30 km but it can also fire K307 Base Bleed HE ammunition to reach a maximum firing range of 40 km.
"The turret and the hull of the K-9 Vajra are made of welded steel construction providing ballistic protection against 14.5mm armor-piercing ammunition and 155mm artillery shell splinters. the vehicle has a crew of five including a driver, commander, gunner, and two loaders.
"The K-9 Vajra is motorized with an MTU MT 881 Ka-500 8-cylinder water-cooled diesel engine developing 1,000 hp coupled to the Allison ATDX1100-5A3 transmission. It can reach a maximum road speed of 67 km/h with a maximum cruising range of 360 km."
Featured Photo: The Indian Minister for Defence, Shri Rajnath Singh in the K9 VAJRA 155mm self-propelled howitzer at L&T Armoured System Complex, at Hazira, Gujarat on January 16, 2020. (Picture source: Wikimedia)